James B. Francis, CFA
Chief Research Officer, CRB Monitor
Cannabis-linked Equity Performance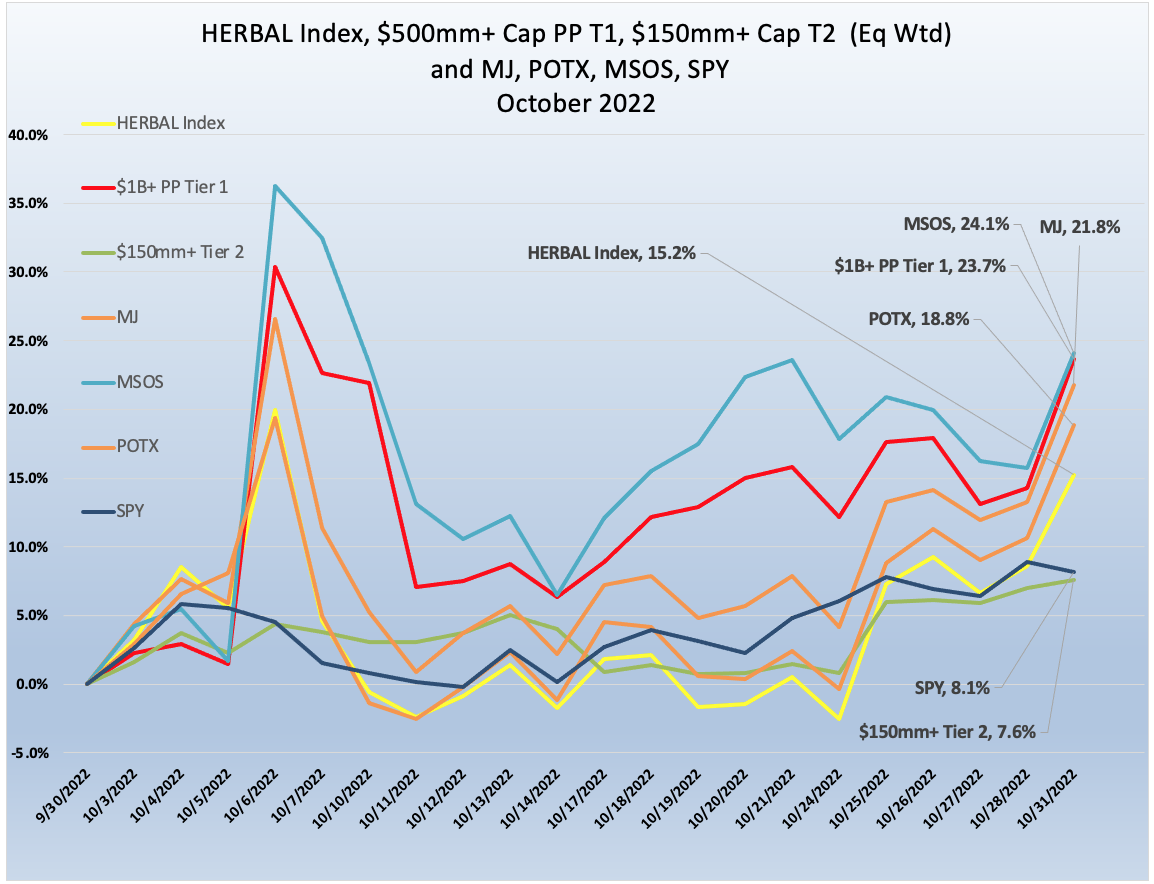 Source: CRB Monitor, Sentieo, Nasdaq
Cannabis Index Returns
The Nasdaq CRB Monitor Global Cannabis Index (HERBAL), is a mix of Pure Play Tier 1 and Tier 2 cannabis related equities, weighted by both investability and strength of theme (SOT). A full description of HERBAL's strengths and benefits can be found here: Introducing: The Nasdaq CRB Monitor Global Cannabis Index.
Riding the October cannabis wave, the HERBAL index gained 15.2% in October 2022. Our index trailed the competition, namely the ETFMG Alternative Harvest ETF (NYSE Arca: MJ) (+21.8%), the Advisorshares Pure US Cannabis ETF (NYSE: MSOS) (+24.1%), and the Global X Cannabis ETF (Nasdaq: POTX) (+18.8%). MJ's performance will deviate from HERBAL's due to a significant percentage of non-Pure Play cannabis holdings, particularly tobacco stocks with either very small or even no cannabis exposure at all. POTX is a pure play cannabis ETF and any deviations from the return of the HERBAL index will generally be due to security weightings. With that said, MSOS's performance will deviate from HERBAL, POTX, and MJ largely due to its holdings of CRBs with US Marijuana touch-points, which dominate in that fund. [MJ, POTX and HERBAL cannot hold any securities with direct US touch points.]
The CRB Monitor equally-weighted basket of Pure Play Tier 1 CRBs with $500mm+ market cap had a significant reversal, posting an impressive +23.7% return in October 2022. Looking at the table below, we see that Tier 1 Pure Play CRBs rebounded across the board on positive news out of Washington and providing a ray of hope to cannabis investors who have held long positions through this difficult year.
The CRB Monitor equally-weighted basket of Tier 2 CRBs with $150mm+ market cap underperformed the Tier 1 CRB basket in October, but still turned in a respectable +7.6% return. As a reminder, we expect Pure Play Tier 1 and Tier 2 CRBs to display high correlation (~0.8) in the long term; however, their respective performance has a tendency to diverge in the short term. This can be due to (among other factors) the lag from the impact (positive or negative) of market forces that affect their sources of revenue that are derived from the Tier 1 group.
Tier 1 Pure Play CRBs w/Mkt Cap Over $500mm – October 2022 Returns


Source: CRB Monitor, Sentieo
CRB Monitor Tier 1
Isn't it interesting how one piece of good news can change everything? In this case, the news doesn't change much of anything, YET. But investors and cannabis consumers took a collective exhale on October 6th, when President Joe Biden finally delivered the message that they all wanted to hear:
"As I often said during my campaign for President, no one should be in jail just for using or possessing marijuana. Sending people to prison for possessing marijuana has upended too many lives and incarcerated people for conduct that many states no longer prohibit. Criminal records for marijuana possession have also imposed needless barriers to employment, housing, and educational opportunities. And while white and Black and brown people use marijuana at similar rates, Black and brown people have been arrested, prosecuted, and convicted at disproportionate rates." - President Joe Biden, October 6, 2022
We should take note that decriminalization of cannabis was a plank in the Biden/Harris platform back in 2019 when the democratic presidential campaign was launched. And we wrote about the impact on cannabis equities in more detail in our October 12th article, Biden's Cannabis Pardons: What does it mean for Cannabis Equities?.
The immediate impact of the Biden announcement on cannabis-related equities was positive across the board (see chart above). With that said, we've seen this movie before and will continue to watch for the ending but this has been the most definitive statement from the Biden administration on cannabis to date. And whether or not we see full legalization, the President's long-awaited involvement was like a shot heard around the world.
Tier 1 companies spiked on the announcement, with Canadian CRBs such as Tilray Brands, Inc. (Nasdaq: TLRY) (+48.0%), Canopy Growth Corporation (TSX: WEED) (+35.7%), Cronos Group Inc. (TSX: CRON) (+17.6%), and Sundial Growers, now called SNDL, Inc.(Nasdaq: SNDL) (+12.8%) all finishing strong for the month. Canopy's performance could be partly due to investors' reaction to the announcement of their divestment of retail operations in Canada as well as their October announcement of their new strategic alliance in the US with Acreage.
It's clear that any steps toward US legalization will have a positive impact on the industry not only here, but globally. That is because US legalization suggests that Canadian (and other) operators would presumably be legally cleared to transact with MSO's and even acquire US-based CRBs. Stay tuned!
In the MSO space, we witnessed a similar impact. Columbia Care Inc. (CSE: CCHW) (26.6%) closed ahead but generally in line with its future parent company Cresco Labs Inc. (CSE: CL) (+16.3%). Verano Holdings Corp. (CSE: VRNO) (+16.1%) continues its campaign to be one of the most broadly-diversified CRBs in the US, now operating in 13 states plus the District of Columbia. Powerhouse MSO Trulieve Cannabis Corp. (CSE: TRUL) (+35.4%) was the big winner in this group, having recently expanded its operations across 15 US states and 3 Canadian provinces with 125 active cannabis licenses. Also performing well in this reversal of a terrible September were Curaleaf Holdings, Inc. (CSE: CURA) (+7.3%) and Green Thumb Industries Inc. (CSE: GTII) (+20.7%).
Chart of the Month: CRB Quarterly Revenue
Typically we are drawn to revenue as a measure of the overall operational health of a company, and rightfully so. And while the total revenue number does not tell the whole story (analysts need several other revenue-based measures and multiples to calculate relative value) we still can appreciate a chart like the one below. Here we show three of the largest CRBs doing business on each side of the border. We have the MSOs (CURA, TRUL, GTII) vs. the Canadian CRBs (CGC, CRON, ACB). It's no mystery where the money is earned in the cannabis industry.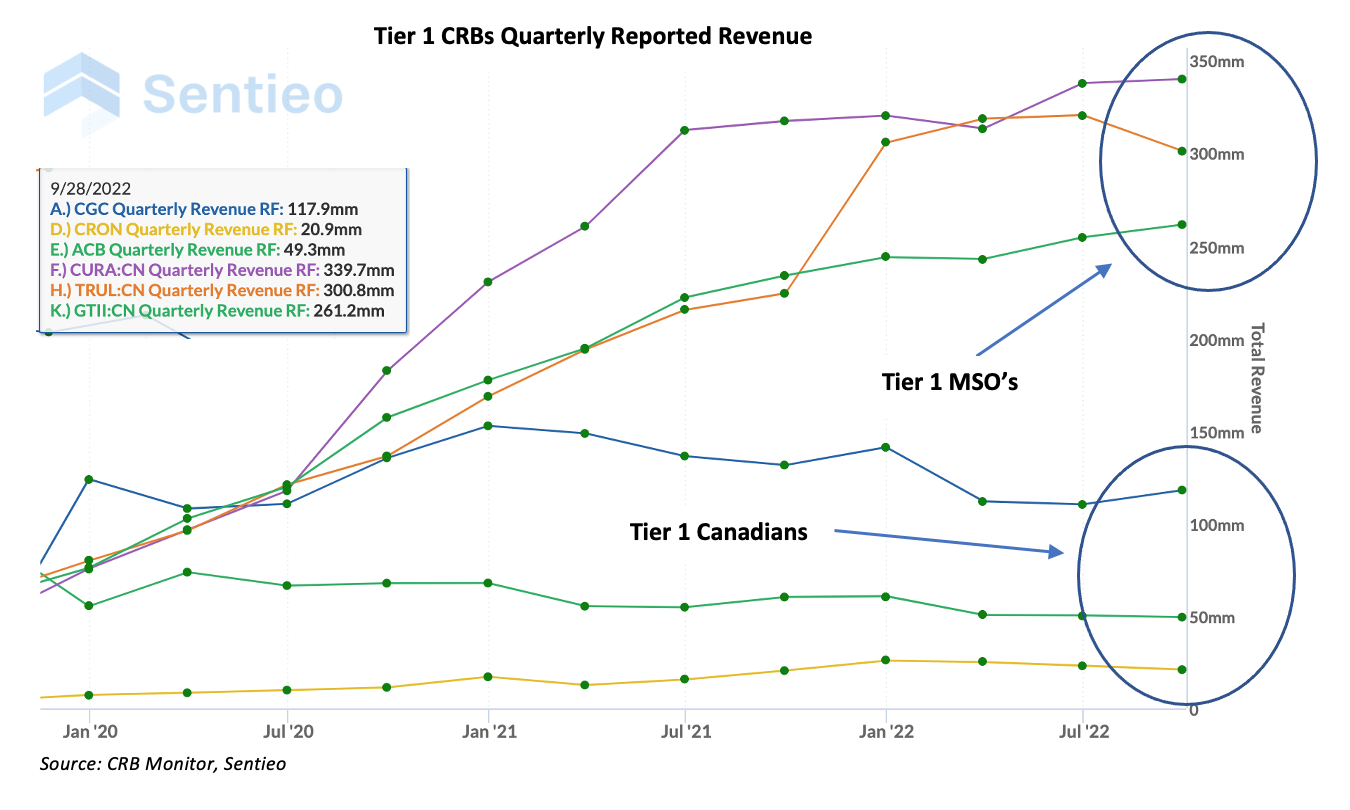 Tier 2 CRBs w/Mkt Cap Over $150mm – October 2022 Returns

Source: CRB Monitor, Sentieo
CRB Monitor Tier 2
An equally-weighted basket of the largest CRB Monitor Tier 2 companies had a +7.6% return for October 2022, which underperformed the equally-weighted Tier 1 basket by about 16%, which is essentially a reversal from September's underperformance. While this "see-saw" between the two tiers is unsettling on a month-to-month basis, investors would be wise to invest in these two baskets with an eye toward the long term and while they are highly correlated, there is no need to try to play the mean reversion game with them. With that said, when these two portfolios deviate it could be a signal for investors to rebalance into (out of) the Tier 1 basket and out of (into) Tier 2's given the direct revenue relationship, but the time it takes to mean revert is not so easy to predict.
The best performing Tier 2 CRB in the basket was the exceedingly illiquid Bakhu Holdings Corp. (OTC Pink: BKUH), a non-plant touching, development-stage company, which was up 66.7% on very little volume. In fact, BKUH rarely records a print two days in a row. Hence, it is worthwhile to look elsewhere for good value in Tier 2. An example of this would be Hydrofarm Holdings Group, Inc. (Nasdaq: HYFM) (+33.0%) which is still down 91% YTD in spite of returning +33% in October. Innovative Industrial Properties, Inc. (NYSE: IIPR) (+22.1%) has had a rocky 2022 to say the least but rebounded on the Biden announcement. IIPR's price has been lifted out of the abyss perhaps in part due to its announcement on September 1st that it closed on the acquisition of a property comprising approximately 104,000 square feet of industrial space in Webster, Massachusetts. According to the press release, "The purchase price for the property was $21.5 million (approximately $207 per square foot), which is fully built out and operational as a regulated cannabis cultivation and processing facility. Concurrent with the closing of the purchase, IIP entered into a long-term, triple-net lease agreement for the property with a subsidiary of Curaleaf Holdings, Inc. (CSE: CURA) (OTCQX: CURLF) (Curaleaf)."
CRB Monitor Database Updates - October 2022
CRB Monitor's research team monitors the information cycle daily and maintains securities' profiles to reflect the current state of the cannabis ecosystem. Here is a summary of the updates for October 2022: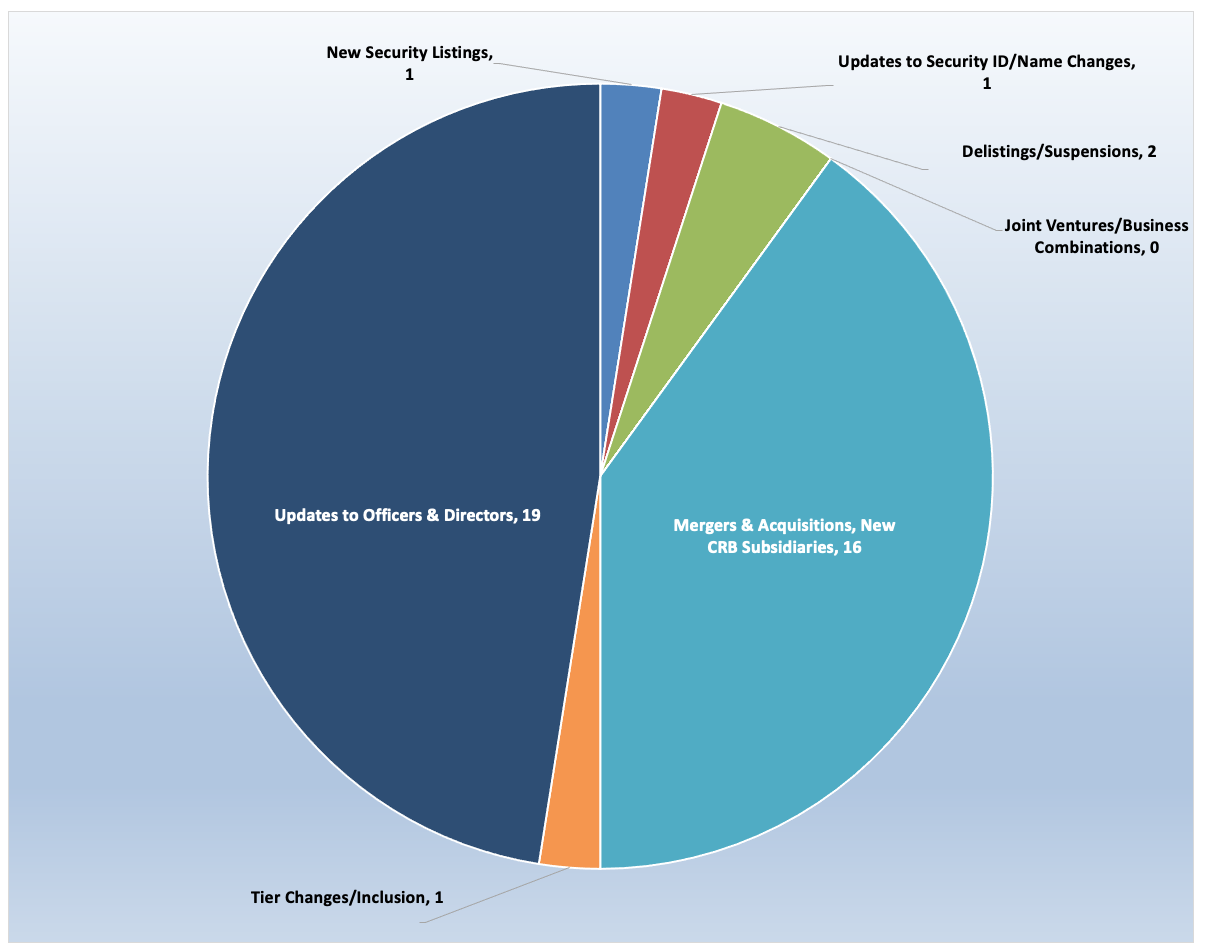 Cannabis News: M&A Activity/Operational Expansion
Companies in the publicly-traded cannabis space continued to seek to expand operations in October 2022. With that said, M&A activity has slowed to a crawl and we have seen few, if any significant acquisitions in the last two quarters. But as we have noted in the past, the market is still well-positioned for growth, given that only approximately 10% of the active licenses in North America are ultimately held, either directly or indirectly, by publicly-traded CRBs. With the recent revelations out of Washington we expect continued growth into the future, but stress patience as the critical investor virtue.
Here are some of the October highlights:
Tier 1A CRB Canopy Growth Corporation (TSX: WEED) made the news once again following their blockbuster announcement in September that they had entered into agreements to divest its retail business across Canada which includes the stores operating under the Tweed and Tokyo Smoke retail banners. Then in October Canopy Growth turned heads once again with its announcement that it has entered into an arrangement with Acreage Holdings, Inc. (OTCQX: ACRDF) whereby Canopy USA will acquire all of the issued and outstanding Floating Shares by way of court-approved plan of arrangement for consideration of 0.4500 of a common share of Canopy in exchange for each Floating Share. Here's the key part of the deal:
"Upon exercise of the Fixed Option and completion of the Floating Share Arrangement, Canopy USA will own 100% of all outstanding Fixed Shares and Floating Shares. Pursuant to a press release issued today, Canopy announced that, on exercising of the Fixed Option and closing of the Floating Share Arrangement, options to acquire 100% of the membership interests of Mountain High Products, LLC, Wana Wellness, LLC, and The Cima Group, LLC (together, "Wana") and 100% of the shares of Lemurian, Inc. ("Jetty"), which are or will be held directly or indirectly by Canopy USA, will be exercised, and Canopy USA is expected to retain its conditional ownership position in TerrAscend Corp. (CSE: TER, OTCQX: TRSSF)."
What this means for Canopy shareholders is that they now own options to purchase a number of CRBs with US operations. While this should be a red flag for institutions that restrict CRBs with US touchpoints, Canopy has assured its investors that the options are structured so as to comply with TSX and Nasdaq exchange rules. We will plan to follow this closely so stay tuned for updates!
Tier 1A CRB Bright Green Corporation (NASDAQ: BGXX), one of the few companies selected by the U.S. government to grow, manufacture, and sell, legally under federal and state laws, cannabis and cannabis-related products for research, pharmaceutical applications and affiliated export, issued a press release announcing that it has completed its previously announced strategic partnership and acquisition of 25% of the issued and outstanding common stock of Tier 2 CRB Alterola Biotech Inc. (OTC PINK:ABTI), a U.K.-based pharmaceutical company focused on developing cannabinoid and cannabinoid-like medicines and products, for total consideration of $4 million. Bright Green holds just the one active cultivation license that was issued by the US Drug Enforcement Administration.
Canadian Tier 1B CRB The Green Organic Dutchman Holdings Ltd. (TSX: TGOD) announced its merger with Tier 1A private business BZAM Cannabis. In an October press release, TGOD outlined the highlights of the deal:
Creates sixth largest Canadian Licensed Producer(1) with right sized facilities in the largest provinces and a complete portfolio of popular products and brands(2)(3)(5)
TGOD's market strength in Quebec and Ontario complements BZAM's strength in western Canada markets, with opportunities to expand distribution
Combined entity forecasts net revenue of at least $100 million for calendar year 2023 and adjusted EBITDA positive by mid 2023(2)(3)(4)
Expected annualized savings of at least $10 million in COGS and SG&A through rationalization and economies of scale(2)(3)(4)
Addition of BZAM materially strengthens TGOD's financial position including improved debt ratios
Combined entity will be led by experienced leadership team with track record in execution and disciplined cost management
TGOD's share price had been falling over its entire history and was trading at just $0.07 on 10/31/22, suggesting that this merger was not only timely, but essential for their survival going forward.
Finally, Tier 1B CRB Franchise Global Health Inc.(TSXV: FGH), a multi-national operator in the medical cannabis and pharmaceutical industries, issued a press release in October announcing that it has signed a definitive agreement with respect to the acquisition of the Company by Flora Growth Corp. (NASDAQ: FLGC), a leading all-outdoor cultivator, manufacturer and distributor of global cannabis products and brands. The transaction values FGH at approximately CA$40.0 million. In the words of Flora's CEO Luis Merchan, "Through this proposed acquisition, we are connecting our commercial infrastructure and medical cannabis product portfolio to the German and EU medical markets, while gaining direct access to European pharmaceutical distributions…We believe Franchise will significantly increase our commercial international revenue and provide essential distribution to German pharmacies and a growing wholesale market."
Select M&A/Operational Expansion Highlights:
Security/Exchange Highlights:
Select New Additions to CRB Monitor:
| | | | |
| --- | --- | --- | --- |
| Name | Ticker Symbol | CRBM Tier | CRBM Cannabis Sector (CLS) |
| | | Tier 3 | Pharma & Biotech |
| | | Tier 3 | Fertilizers & Agricultural Chemicals |
| | | Tier 1B | Owner/Investor |
| | | Tier 2 | Pharma & Biotech |
Regulatory Updates - October 2022
We continued to monitor the regulatory news cycle in October in real time, and in spite of some obvious distractions (global economic woes, Russia/Ukraine conflict, the upcoming 2022 midterms) there is always cannabis-related regulatory news to report and this month featured a major development in the progress toward cannabis legalization at the federal level.
As we reported in early October on CRBMonitor.com, President Joe Biden announced his intention to pardon thousands of people who have been convicted by the federal government of marijuana possession. This represented the first concrete announcement from the Biden administration regarding cannabis legalization and it was well-received by the market. As we wrote earlier in this newsletter, cannabis equities rallied on the news, which hit the tape on October 6th and continued to perform well for the rest of the month. Biden's announcement not only called for the expulsion of federal cannabis-related convictions but also the de-scheduling of THC on the DEA's schedule 1 narcotics list.
Additionally, Biden called for governors in states who have not yet decriminalized marijuana possession to do so. "Just as no one should be in a Federal prison solely due to the possession of marijuana, no one should be in a local jail or state prison for that reason, either."
Also in October, tensions mounted as citizens in several states prepared to vote on legalization measures hitting the midterm ballot on November 8th. This is one to watch for next month, as legalization hangs in the balance in Arkansas, Maryland, Missouri, North Dakota, and South Dakota.
We are also following the progress of the article we highlighted in our September newsletter, where it was reported by Marijuana Moment that while US Senate leadership took steps to pass a House-approved marijuana research bill, at least one GOP senator objected to the process, and threatened to delay the vote. The bill, called the "Medical Marijuana and Cannabidiol Research Expansion Act (H.R.8454)" was expected to pass under unanimous consent; however, Sen. John Cornyn (R-TX) threw a wet blanket on the proceedings by objecting to passing the bill via unanimous consent.
The only apparent update to the progress of this bill, which is still on hold, was an October 4th article in Marijuana Moment about two marijuana reform groups' apparent objection to it.
In a letter sent to Senate Majority Leader Chuck Schumer (D-NY), the Global Alliance for Cannabis Commerce (GACC) and Law Enforcement Action Partnership (LEAP) said they support streamlining marijuana research, but the House-passed bill that's now pending a final vote in the Senate "would create more problems than it would solve." The letter claims that if passed, this bill "does not expand research into existing cannabis medicines and only permits research for the purpose of a pharmaceutical New Drug Application (NDA) by large pharmaceutical companies."
One more quote from the letter: "The Act fails to address the real issues. The barriers to research exist in obtaining existing market products for approval in non-drug pathways (such as dietary supplements, food additives, and other FDCA pathways); in obtaining existing products for health and safety testing across state lines to ensure consistency of products; in using human subjects in testing highways safety, motor skill, and other studies to determine more exactly intoxicating levels and effects."
Finally, the world looks on, effectively helpless as the Brittney Griner saga continues. In late October, a Moscow court rejected Brittney Griner's appeal of her nine-year sentence on drug charges. According to an article published by ESPN.com, "U.S. officials have said they believe Russia will eventually send the WNBA star home in a prisoner swap but have expressed frustration over what they say is Russia's failure to respond to the "significant" offer the United States made in June."
The article goes on to say, "The United States continues to try to negotiate for her freedom, along with that of fellow American prisoner Paul Whelan. Griner's fellow professional basketball players, in both the WNBA and NBA, keep saying her name. NBA Finals MVP Stephen Curry gave public support to Griner on Oct. 18, her 32nd birthday and the night of the Golden State Warriors' ring ceremony, telling the crowd, "We hope that she comes home soon, and that everybody's doing their part to get her home."
CRBs In the News
The following is a sampling of highlights from the October 2022 cannabis news cycle, as tracked by CRB Monitor. Included are CRB Monitor's proprietary Risk Tiers.
Wondering what a Tier 1, Tier 2 or Tier 3 CRB is?

See our seminal ACAMS Today white paper Defining "Marijuana-Related Business" and its update Defining "Cannabis-Related Business"