James B. Francis, CFA
Chief Research Officer, CRB Monitor
Cannabis-linked Equity Performance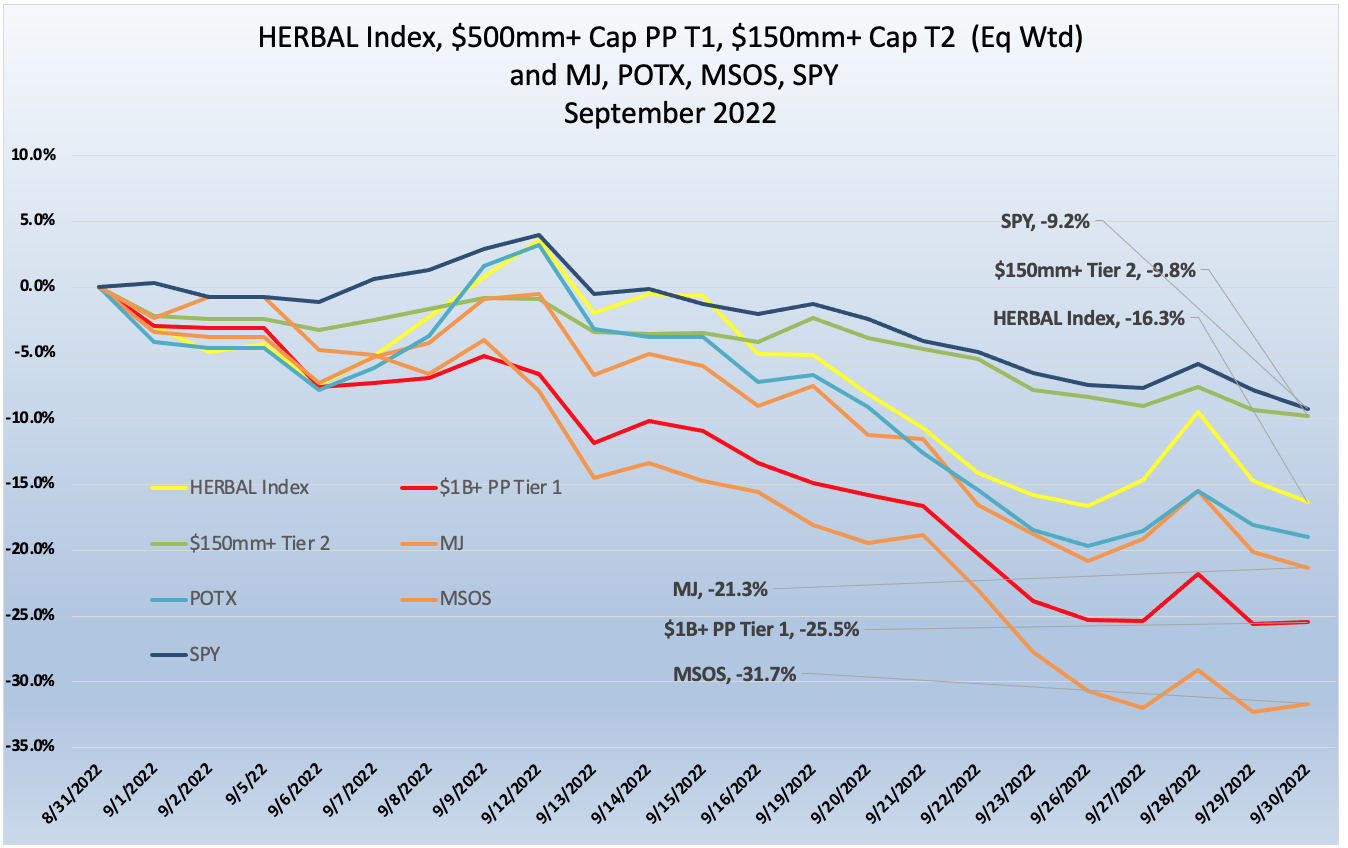 Source: CRB Monitor, Sentieo, Nasdaq
Cannabis Index Returns
The Nasdaq CRB Monitor Global Cannabis Index (HERBAL), is a mix of Pure Play Tier 1 and Tier 2 cannabis related equities, weighted by both investability and strength of theme (SOT). A full description of HERBAL's strengths and benefits can be found here: Introducing: The Nasdaq CRB Monitor Global Cannabis Index.
In a stunning reversal from the previous two months, the HERBAL index fell by 16.3% in September 2022. Our index was fortunate to outperform two of its competitors, the ETFMG Alternative Harvest ETF (NYSE Arca: MJ) (-21.3%) and the Advisorshares Pure US Cannabis ETF (NYSE: MSOS) (-31.7%). MJ's performance will deviate from HERBAL's due to a significant percentage of non-Pure Play cannabis holdings, particularly tobacco stocks with either very small or even no cannabis exposure at all. And MSOS's performance will deviate from both HERBAL and MJ largely due to its holdings of CRBs with US Marijuana touch-points, which dominate in that fund. [MJ and HERBAL cannot hold any securities with direct US touch points.]
The CRB Monitor equally-weighted basket of Pure Play Tier 1 CRBs with $500mm+ market cap was similarly challenged, posting a negative 25.5% return in September 2022. Tier 1 Pure Play CRBs got hammered over the course of the month, giving back much of what was gained in the prior two months. As one can see in the table below, Tier 1's were hit hard across the board with nearly every CRB on the list in double-digit negative territory.
The CRB Monitor equally-weighted basket of Tier 2 CRBs with $150mm+ market cap outperformed the Tier 1 CRB basket in September, returning a still-dismal -9.3%. As a reminder, we expect Pure Play Tier 1 and Tier 2 CRBs to display high correlation in the long term; however, their respective performance has a tendency to diverge in the short term. This can be due to (among other factors) to the lag from the impact (positive or negative) of market forces that affect their sources of revenue from the Tier 1 group.
Tier 1 Pure Play CRBs w/Mkt Cap Over $500mm – September 2022 Returns


Source: CRB Monitor, Sentieo
CRB Monitor Tier 1
What happened? Tier 1 CRBs were on a two-month positive performance streak, with the Tier 1 basket returning 14% for July and August. While this was little consolation for investors who have been faithful to their cannabis equity portfolios, it was that ray of hope that they were able to cling to amid the overall pessimism in the global economy. And this is the problem. No market segment, particularly a wildly volatile industry like cannabis, can stand up to the headwinds we are currently facing. Persistent inflation, which hits resource-heavy cannabis cultivation and production is going to take a direct hit on equity prices. And while medical marijuana might be considered a non-discretionary item, the more discretionary recreational cannabis will most likely bring revenues down during economic crises.
Were there any highlights from the Tier 1 basket to discuss? In short, not really, but we will try. In the non-US-plant-touching space (i.e. Canadian CRBs) the best performing company was Cronos Group Inc. (TSX: CRON), which returned a respectable -4.1% relative to the rest of the basket. Cronos' performance this year has been dismal (-56%) and in spite of this small ray of hope, there is not much to write home about. In their August earnings report, Cronos posted positive second quarter results that unfortunately disappointed analysts. The most interesting nugget from this report was the increase in revenue from Israeli subsidiaries, which now comprises more than 30% of total revenues.
Besides Cronos, Canadian CRBs in the Tier 1 basket faced a virtual bloodbath in September. Investors in Tilray Brands, Inc. (Nasdaq: TLRY) (-27.6%), Canopy Growth Corporation (TSX: WEED) (-22.8%), and Sundial Growers, now called SNDL, Inc., Inc. (Nasdaq: SNDL) (-23.5%) faced extreme volatility in the wake of a possible global recession. As we comment on below, Canopy Growth announced in late September that it "entered into agreements to divest its retail business across Canada which includes the stores operating under the Tweed and Tokyo Smoke retail banners." This announcement had no lasting impact on WEED's share price, which could be a sign that investors are losing interest in this industry, at least until we see tangible progress toward US federal legalization.
The MSO group fared even worse in September. Once again, we see the common theme of two months of peace and tranquility followed by an across-the-board crash of these CRBs. Columbia Care Inc. (CSE: CCHW) (-39.3%) fell the furthest as it prepares to close its imminent acquisition by future parent company Cresco Labs Inc. (CSE: CL) (-29.6%). One must wonder how investors are able to stomach this deal, which is essentially the only M&A deal of any size in the cannabis space this year. To round out the basket, Verano Holdings Corp. (CSE: VRNO) (-26.8%), Trulieve Cannabis Corp. (CSE: TRUL) (-37.0%), Curaleaf Holdings, Inc. (CSE: CURA) (-17.5%) and Green Thumb Industries Inc. (CSE: GTII) (-23.1%) all gave back essentially all of their July and August gains in month of September.
Typically we will point to news stories that better explain performance but when the entire space loses anywhere from 17-39% en masse individual company news loses is relevance. Suffice it to say that this breathtaking drop in value reflects exhaustion on the part of the investor with a global economy chaser. As we stated above, two things will help this situation: avoidance of a recession at home and positive steps toward federal legalization of marijuana.
Chart of the Month: Tier 1/Tier 2 Correlation
We frequently talk about the persistence of high correlation between Tier 1 and Tier 2 CRBs and why it makes sense. Using our two equally-weighted baskets, we calculated the correlation for the 3 years ended 9/30/2022 to be about 0.84, which is high given the high volatility of this group of equities. The implication is that if one had the stomach for it he/she could swap one group for the other and capture mean reversion. But this is not recommended given the uncertainty in these two paths.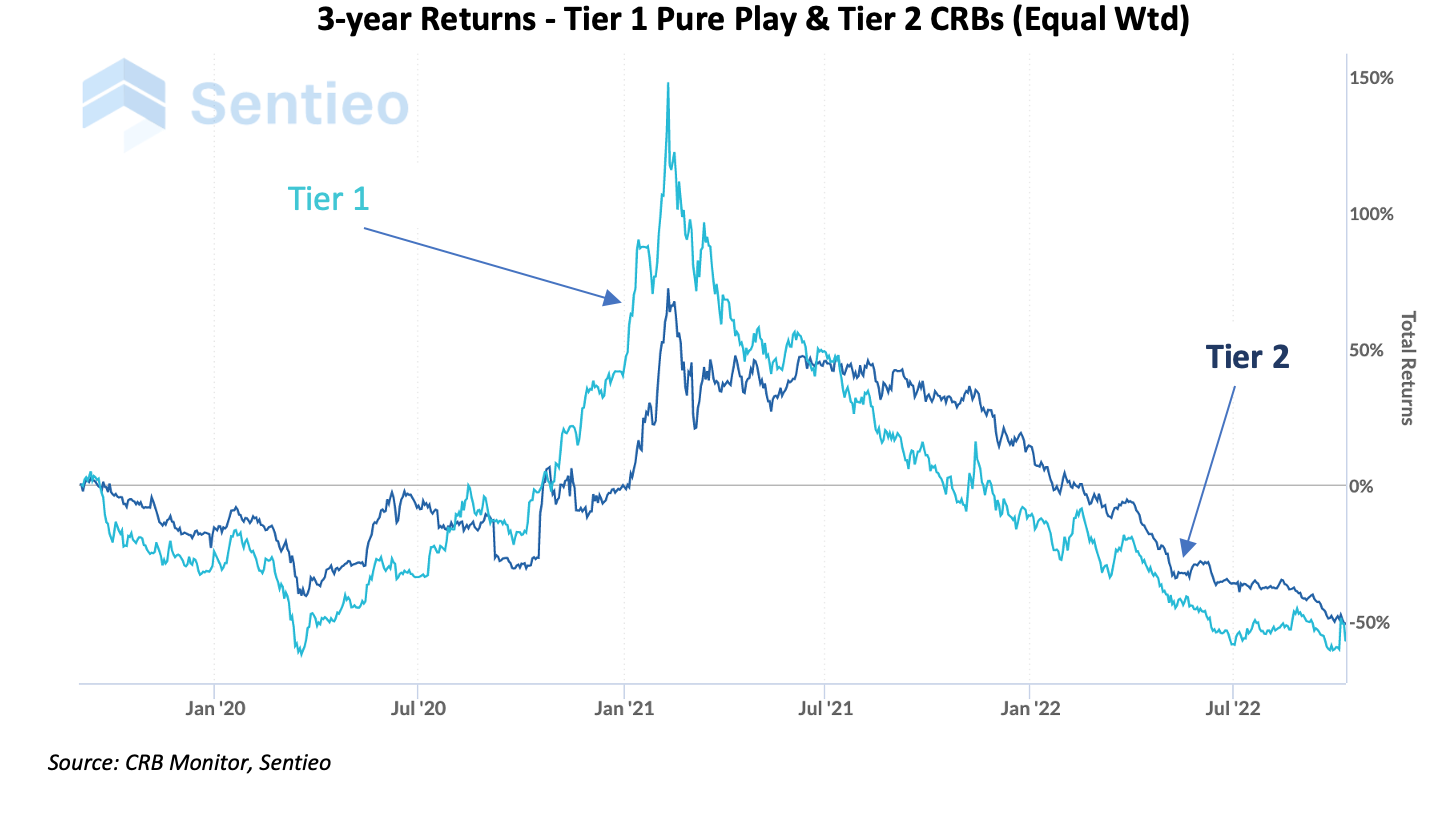 Tier 2 CRBs w/Mkt Cap Over $150mm – September 2022 Returns

Source: CRB Monitor, Sentieo
CRB Monitor Tier 2
An equally-weighted basket of the largest CRB Monitor Tier 2 companies had a negative 9.8% return for September 2022, which outperformed the equally-weighted Tier 1 basket by about 16%, which is essentially a reversal from August's underperformance. As you can see in the above 3-year chart, when these two portfolios deviate it could be a signal for investors to rebalance into (out of) the Tier 1 basket and out of (into) Tier 2's given the direct revenue relationship, but the time it takes to mean revert is not so easy to predict.
The fact that this basket was still mostly negative across the board while outperforming Tier 1 informs us about the lackluster cannabis ecosystem in general, but we have been hearing these sirens for several months.
The best performing Tier 2 CRB in the basket was Revelstone Capital Acquisition Corp. (Nasdaq: RCAC), a small SPAC that has stated its intent "to identify a prospective target business will not be limited to a particular industry or geographic location, although we intend to focus our search for target businesses in the cannabis industry." CRB Monitor includes pre-acquisition SPACs in Tier 2, then moves them to their most appropriate tier (or removes them from the database) once their acquisition has been announced. One explanation for Revelstone's outperformance versus the Tier 2 basket is their status as a pre-cannabis company with no current ties to any cannabis-related revenue.
The largest company in the Tier 2 basket, Innovative Industrial Properties, Inc. (NYSE: IIPR) delivered a respectable return of -1.5% for September, which was a breath of fresh air for investors. During its magnificent run which began in September 2019 and peaked in November 2021, IIPR returned more than 215% before crashing down to earth. In less than a year, IIPR's stock price fell from a high of $280 to its current levels, trading around $91 on 9/30/2022. The big news about IIPR was its announcement on September 1st that it closed on the acquisition of a property comprising approximately 104,000 square feet of industrial space in Webster, Massachusetts. According to the press release, "The purchase price for the property was $21.5 million (approximately $207 per square foot), which is fully built out and operational as a regulated cannabis cultivation and processing facility. Concurrent with the closing of the purchase, IIP entered into a long-term, triple-net lease agreement for the property with a subsidiary of Curaleaf Holdings, Inc. (CSE: CURA) (OTCQX: CURLF) (Curaleaf)."
On the extreme negative side of the Tier 2 basket was the incredible shrinking Hydrofarm Holdings Group, Inc. (Nasdaq: HYFM), which continued its slide, collapsing further into the abyss with a -42.9% return. It is stunning to see this company's precipitous fall, which resulted in HYFM's share price to dip below $2.00 at the end of September. This is a far cry from late 2021, when HYFM traded above $43. HYFM is clearly in trouble, having announced its second quarter 2022 results, which revealed a decrease in Net Sales to $97.5 million compared to $133.8 million while Gross Profit decreased to $7.3 million compared to $29.6 million. To add insult to injury, A September article on Benzinga.com reported that HYFM's Return on Capital Employed (a measure of yearly pre-tax profit relative to capital employed by a business) was a negative 0.5%. In the words of the Benzinga report, "A higher ROCE is generally representative of successful growth of a company and is a sign of higher earnings per share in the future. A low or negative ROCE suggests the opposite. In Q2, Hydrofarm Holdings Group posted an ROCE of -0.5%."
CRB Monitor Database Updates - September 2022
CRB Monitor's research team monitors the information cycle daily and maintains securities' profiles to reflect the current state of the cannabis ecosystem. Here is a summary of the updates for September 2022: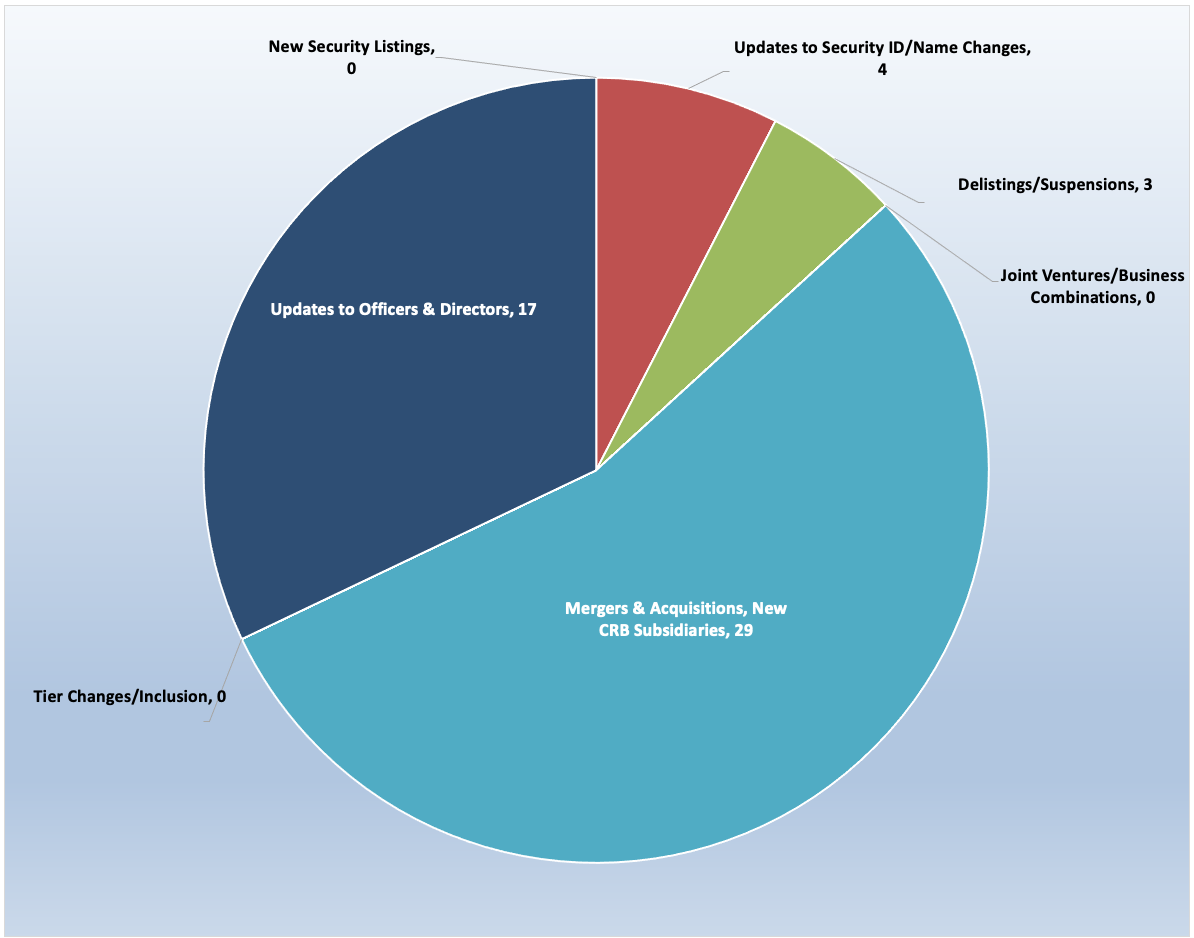 Cannabis News: M&A Activity/Operational ExpansionM&A activity in the publicly-traded cannabis space continued to be quiet in September. With that said, there has been a continuous parade of acquisitions of licensed, private Tier 1A CRBs by publicly-traded companies as they expand operations regionally. We estimate that approximately 10% of the active licenses in North America are ultimately held, either directly or indirectly, by publicly-traded CRBs. And so there is plenty of room for expansion of these subsidiary businesses, as long as balance sheets allow.
Here are some of the September highlights:
In the biggest news of the month, Tier 1A CRB Canopy Growth Corporation (TSX: WEED) issued a press release announcing that they had entered into agreements to divest its retail business across Canada which includes the stores operating under the Tweed and Tokyo Smoke retail banners. In the words of the press release, "the announcement reinforces the Company's focus on advancing its path to profitability as a premium brand-focused cannabis and consumer packaged goods (CPG) company."
The press release goes on to state that Canopy "has reached an agreement with OEG Retail Cannabis, an existing Canopy Growth licensee partner that currently owns and operates the Company's franchised Tokyo Smoke stores in Ontario. As part of this agreement, OEGRC has agreed to acquire all of Canopy Growth's corporate stores outside of Alberta as well as all Tokyo Smoke-related intellectual property. The Company has also reached an agreement with 420 Investments Ltd. pursuant to which FOUR20 has agreed to acquire the ownership of five retail locations in Alberta."
David Klein, Canopy Growth's CEO, put a positive spin on the sale: "By realizing these agreements with organizations that possess proven cannabis retail expertise, we are providing continuity for consumers and team members. Through the best-in-class retail leadership that OEGRC and FOUR20 have demonstrated, they will continue to serve Canadian consumers with the high-quality in-store experiences that are essential for success in a new industry.''
With this transaction, which is pending approval by Canadian Authorities, Canopy Growth's footprint covers six Canadian provinces and two ex-North American countries. Canopy holds 80 licenses through its subsidiaries that are either in active status or are pending approval.
Also in the news: Tier 1B CRB High Tide Inc. (TSXV: HITI) announced in a press release that it has completed its acquisition of the final retail cannabis location out of the nine store portfolio from Choom Holdings Incorporated (CSE: CHOO) for CAD$1.1 Million. These nine stores are a reference to a story that we shared in our July newsletter, which reported that HITI would be purchasing them from Choom Holdings. The press release goes on to list the locations of the acquired retail dispensaries. With this transaction High Tide's footprint in Canada expands to 173 active or pending cannabis licenses issued across six Canadian provinces.
Also in September Tier 1A CRB and MSO Trulieve Cannabis Corp. (CSE: TRUL) issued a press release announcing the opening of its first Trulieve-branded dispensary in Tucson, Arizona. According to the press release:
"Trulieve entered the Arizona market in October 2021 as part of its acquisition of Harvest Health & Recreation, Arizona's largest cannabis retailer. Over the course of the next year, existing Harvest locations will be rebranded to Trulieve. Harvest and Trulieve-affiliated dispensaries in Arizona are located in Avondale, Casa Grande, Chandler, Cottonwood, Glendale, Guadalupe, Lake Havasu, Mesa, Peoria, Phoenix, Scottsdale, Tempe, and Tucson." Trulieve currently operates in 18 states and 3 Canadian provinces and has control of, either directly or through its subsidiaries, 126 cannabis licenses in either active status or pending approval.
Tier 1B MSO Verano Holdings Corp. (CSE: VRNO) continued on its quest for control of the US cannabis market, announcing the completion of its acquisition "of all of the equity interests of…Sierra Well, adding two operational dispensaries and an active cultivation and production facility in Nevada, along with two real estate properties in Carson City and Reno." Verano's plans for operational expansion in the US have resulted in new acquisitions of licensed CRBs nearly every month since its IPO in February 2021. Following its most recent acquisitions, VRNO now has operations in 16 states plus the District of Columbia and Puerto Rico and controls, through its subsidiaries, 87 cannabis licenses that are either active or pending approval.
Finally, in a September press release Tier 1A MSO Schwazze aka Medicine Man Technologies, Inc. (NEO: SHWZ) announced that hat it has signed definitive documents to acquire certain assets of Lightshade Labs LLC. According to the 9/14/22 press release, "This acquisition continues Schwazze's aggressive expansion in Colorado and upon close will bring the Company's total number of Colorado dispensaries to 25." And in the words of Collin Lodge, Division President of Schwazze in Colorado, "Schwazze is excited to add to our retail footprint in the greater Denver area, providing two additional retail locations to our existing 23 throughout Colorado. We look forward to extending our exceptional customer service and wide product selection to both new and existing customers in these new locations." Schwazze currently operates in six states: Colorado, Pennsylvania, Hawaii, New Mexico, and Massachusetts, and controls either directly or through its subsidiaries 96 active licenses and one license that is pending approval.
Select M&A/Operational Expansion Highlights:
Security/Exchange Highlights:
Security/Exchange Highlights:
| | | | |
| --- | --- | --- | --- |
| Name | Ticker Symbol | CRBM Tier | CRBM Cannabis Sector (CLS) |
| | | Tier 1B | Owner/Investor |
Cannabis News - Regulatory Updates
We continued to monitor the regulatory news cycle in September in real time, and in spite of some obvious distractions (global economic woes, Russia/Ukraine conflict, the upcoming 2022 midterms) there is always cannabis-related regulatory news to report.
In late September it was reported by Marijuana Moment that while US Senate leadership took steps to pass a House-approved marijuana research bill, at least one GOP senator objected to the process, and threatened to delay the vote. The bill, called the "Medical Marijuana and Cannabidiol Research Expansion Act (H.R.8454)" was expected to pass under unanimous consent; however, Sen. John Cornyn (R-TX) threw a wet blanket on the proceedings by objecting to passing the bill via unanimous consent.
A few words about this legislation: Once signed into law, "the U.S. attorney general would be given a 60-day deadline to either approve a given application or request supplemental information from the marijuana research applicant. It would also create a more efficient pathway for researchers who request larger quantities of cannabis."
Second, and what we would consider the most significant measure of the bill, it would encourage the Food and Drug Administration (FDA) to develop cannabis-derived medicines. According to the article: "One way it proposed doing so is by allowing accredited medical and osteopathic schools, practitioners, research institutions, and manufacturers with a Schedule I registration to cultivate their own cannabis for research purposes." This could be a possible game-changer for the cannabis industry in the long run.
A couple of additional highlights of this bill:
The Drug Enforcement Administration (DEA) would get a mandate to approve applications to be manufacturers of marijuana-derived, FDA-approved drugs under the bill. Manufacturers would also be allowed to import cannabis materials to facilitate research into the plant's therapeutic potential.
The Department of Health and Human Services (HHS) to look at the health benefits and risks of marijuana as well as policies that are inhibiting research into cannabis that's grown in legal states and provide recommendations on overcoming those barriers.
Statement that it "shall not be a violation of the Controlled Substances Act (CSA) for a State-licensed physician to discuss" the risk and benefits of marijuana and cannabis-derived products with patients.
The article goes on to say that this legislation "would mark the first time in history that a standalone cannabis reform measure would be enacted into law." It also states that Cornyn's office did not provide a reason for his objection. We will be watching this one as it looks like it has a good chance to pass once Cornyn's concerns are addressed.
Also in September, Congress seemed to venture into the upside-down, as two GOP congressmen asked the Biden administration to study the environmental impacts of marijuana cultivation. Yes, this is not a typo! As reported in Marijuana Moment the two Representatives were making reference to the "intensive electrical demand that growing cannabis can involve as well as the role that legalization can play in setting regulations for the plant."
According to the report, Reps. Earl "Buddy" Carter (R-GA) and Doug Lamborn (R-CO) "sent the letter to the heads of the Department of Energy (DOE), Interior Department, Environmental Protection Agency (EPA) and Energy Information Administration. It argues that, as Congress considers legislation to federally legalize marijuana, lawmakers need to better understand "serious concerns regarding the energy and resource-intensive nature of marijuana cultivation.""
While these seem like noble concerns, it must be noted that these two congressmen should never be accused of being serious environmentalists, neither should they be confused with pro-cannabis legalization activists. The article goes on to say: "The anti-legalization lawmakers said that they have "reservations regarding marijuana cultivation's subsequent emissions and believe more research is needed on this industry's rapidly growing demands on our country's energy systems, along with its effects on our environment."" Our guess is that the Reps' "concerns" over the environmental impact of cultivation are not sincere but rather an attempt to obstruct the legalization process as it develops in congress.
Finally, as reported by Benzinga.com: Speaking at a marijuana conference in September, Sen. Cory Booker (D-NJ) and Pennsylvania Lt. Gov. John Fetterman (D) pushed for federal legalization ,as they encouraged people to apply for state-level pardons for prior cannabis convictions.
Booker, Senate Majority leader Chuck Schumer (D-N.Y.) and Sen. Ron Wyden (D-Ore.) introduced the outline of the Cannabis Administration & Opportunity Act (CAOA, S.4591) in July 2021. According to the article, "the proposal seeks to decriminalize marijuana at the federal level by removing it from the Controlled Substances Act (CSA), expunging prior convictions and allowing people serving time for applicable crimes to petition for resentencing."
As for John Fetterman, longtime cannabis advocate and currently a candidate in a tight Senate race, he has launched a program with Gov. Tom Wolf whereby Pennsylvanians convicted of possessing small amounts of marijuana can apply to get their records cleared. According to this article, "recently urged President Biden to deschedule marijuana from a Schedule I drug and work to decriminalize it. Shortly after, Fetterman and the President crossed paths in Pittsburgh and discussed potential changes to the status of cannabis under the CSA prior to Biden's Labor Day at a union hall."
As we have written on several occasions, the removal of THC from the DEA Schedule 1 list is the ultimate game-changer, as any meaningful progress toward legalization and open markets in the cannabis industry hinges on this action.
CRBs In the News
The following is a sampling of highlights from the September 2022 cannabis news cycle, as tracked by CRB Monitor. Included are CRB Monitor's proprietary Risk Tiers.
Wondering what a Tier 1, Tier 2 or Tier 3 CRB is?

See our seminal ACAMS Today white paper Defining "Marijuana-Related Business" and its update Defining "Cannabis-Related Business"