James B. Francis, CFA
Chief Research Officer, CRB Monitor
Database Announcement: CRB Monitor adds CBD-themed Sector Coverage and Cannabis Revenue Ranges
We are pleased to announce that starting in March 2023 CRB Monitor made two additions to our data set.
First, we added five new CBD-themed sectors to our data coverage. These sectors, applied to Tier 2 and Tier 3 CRBs, are as follows:
CBD - Food, Beverage & Tobacco
CBD - Online Wholesale and Retail
CBD - Personal Products
CBD - Pharma & Biotech
CBD - Traditional Retail
Second, we have added an additional field to our customer user interface and securities extract file which (for Tier 1 CRBs) estimates the direct cannabis-related revenue as a percentage of total revenue. These ranges are 0-10%, 10%-50%, and 50%-100. The main purpose of these data enhancements is to provide our clients with new flexibility as they use CRB Monitor data to implement their specific, Internal cannabis-related policies.
Cannabis-Related Equity Performance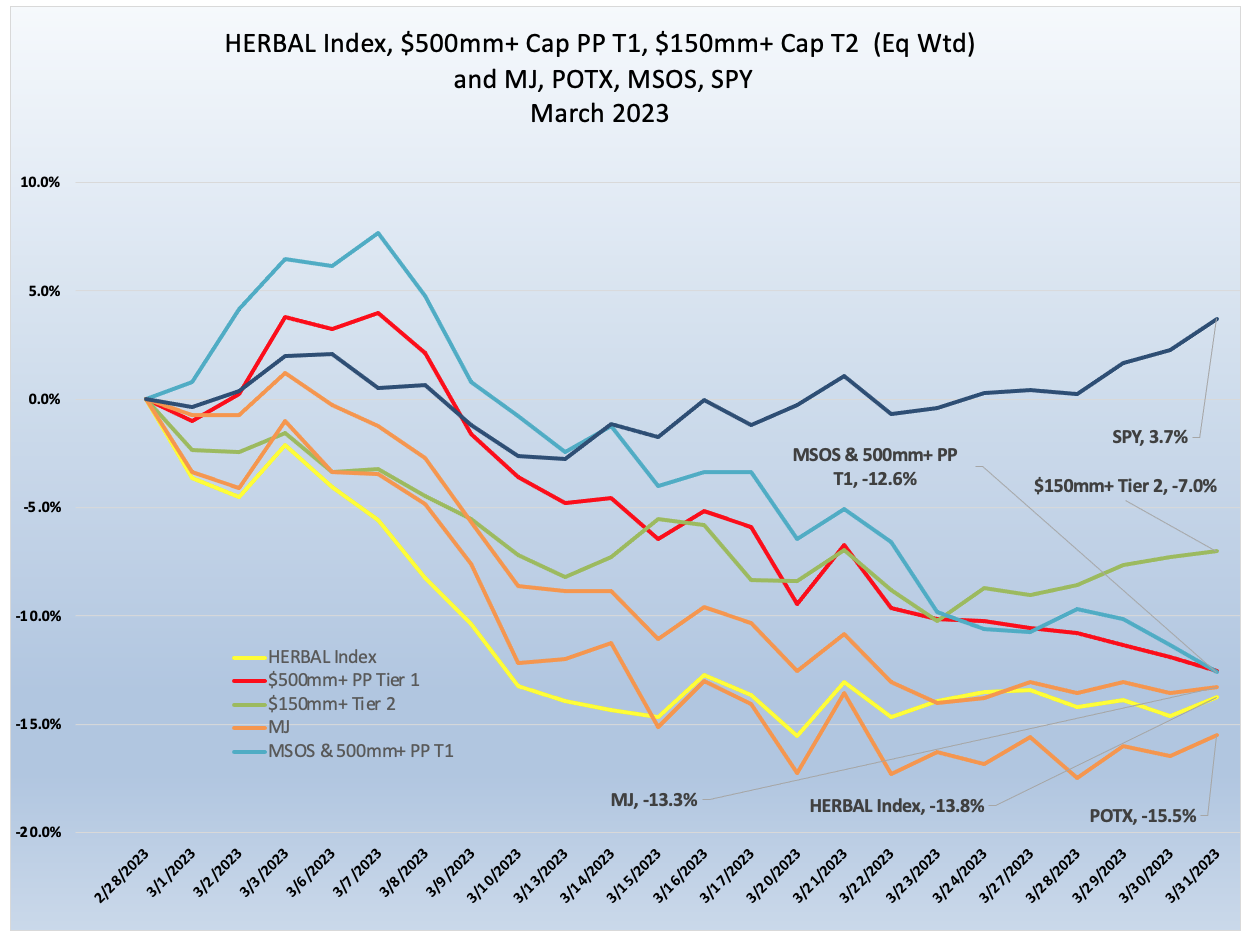 Source: CRB Monitor, Sentieo, Nasdaq
Cannabis Index Returns - More Gloom
For the second consecutive month, cannabis equities sat firmly in negative territory. We continue to hear the same song in our ears, as the path toward federal legalization grows increasingly unclear to investors. The Nasdaq CRB Monitor Global Cannabis Index (HERBAL), a mix of Pure Play Tier 1 and Tier 2 CRBs weighted by both investability and strength of theme (SOT), finished March in the middle of the pack of cannabis-themed indexes. A full description of HERBAL's strengths and benefits can be found here: Introducing: The Nasdaq CRB Monitor Global Cannabis Index.
The HERBAL index fell by 13.8% in March 2023 and finished stronger than its closest competitor in the cannabis equity universe, the Global X Cannabis ETF (Nasdaq: POTX) (-15.5%). Similar to HERBAL, POTX is a pure play cannabis ETF with no US touchpoints and any deviations from the return of the HERBAL index will largely be due to differences in security weightings. This is the third consecutive month in which HERBAL has finished ahead of POTX.
HERBAL was slightly behind the ETFMG Alternative Harvest ETF (NYSE Arca: MJ) (-13.3%) as well as the Advisorshares Pure US Cannabis ETF (NYSE: MSOS), which finished March at -12.6%.
MJ's performance is likely to deviate from HERBAL's due to a significant percentage of non-Pure Play cannabis holdings, more specifically tobacco stocks with either very small or even no cannabis exposure at all. And more recently, MJ added a 20% US plant-touching component via a holding in its sister fund, MJUS. The US plant-touching component also has the potential to impact MJ's eligibility on investment platforms that restrict US cannabis exposure.
The self-described and largest US plant-touching fund, MSOS, has performance that can deviate materially from HERBAL's as well, largely due to its holdings of CRBs with US Marijuana touch-points. [POTX's and HERBAL's methodologies prohibit them from holding any securities with direct US touch points while MSOS (and now MJ) can.]
The performance of the CRB Monitor equally-weighted basket of Pure Play Tier 1 CRBs with $500mm+ market was -12.6% in March 2023, with the basket being negatively affected by the Canadian (non-MSO) component. Looking at the table below, we see how the CRBs without US touchpoints provided the drag on the basket for the month.
The CRB Monitor equally-weighted basket of Tier 2 CRBs with $150mm+ market cap finished the month ahead of the Tier 1 CRB basket, posting a negative -7.0% return. While we expect Pure Play Tier 1 and Tier 2 CRBs to display high correlation (~0.8) in the long term, their respective performance has a tendency to diverge in the short term. This can be due to (among other factors) the lag from the impact (positive or negative) of market forces that affect their sources of revenue that are derived from the Tier 1 group. We'll take a closer look at these later in this newsletter.
Tier 1 Pure Play CRBs w/Mkt Cap Over $500mm – March 2023 Returns


Source: CRB Monitor, Sentieo
CRB Monitor Tier 1
CRB equities struggled in March, falling by double digits and continuing their February slide. And while we saw different performance from Canadian CRBs vs. MSOs, there were no winners in March. Performance differences between the two baskets is understandable given a few factors, the most dominant of which is the anticipated impact of US Federal cannabis reform and the accompanying sentiment. And what we are seeing is sentiment being the only factor that is driving returns, until any concrete legalization (or realistically, any reform at all) passes the US House of Representatives and the Senate and makes it to the President's desk.
The MSO basket - Curaleaf Holdings, Inc. (CSE: CURA) (-23.0%), Trulieve Cannabis Corp. (CSE: TRUL) (-13.5%), Green Thumb Industries Inc. (CSE: GTII) (-8.7%) and Verano Holdings Corp. (CSE: VRNO) (-3.7%) suffered by varying degrees in March, as state-level legalization continued to spread in the US and while federal legalization stagnated. While it is possible to highlight individual stories that might suggest attribution for each CRB's negative performance, their prices are sufficiently depressed that those stories have little impact.
And the one story that everyone is watching, Tier 1A MSO Columbia Care Inc. (CSE: CCHW)'s long-anticipated but yet-to-close acquisition of Cresco Labs Inc. (CSE: CL) apparently has not helped the share price of either company. As CRB Monitor reported in its recent article entitled Multi-state Divestitures Delay Cresco-Columbia Merger, "Cresco Labs will enter six new states, while needing to divest in at least five more. So that's 11 sets of state authorities that have to approve the transfer of cannabis assets, with divestitures needing to be secured before the company can get final approval of the larger acquisition deal."
The "legal" Canadian CRB basket had a difficult month as well, and it is unclear how long these businesses will be able to withstand this value hit before we see significant consolidation. Tilray Brands, Inc. (Nasdaq: TLRY) (-10.6%), Canopy Growth Corporation (TSX: WEED) (-25.2%), Cronos Group Inc. (TSX: CRON) (-12.2%) and SNDL, Inc.(Nasdaq: SNDL) (-14.9%) all suffered double-digit losses for the second month in a row.
Unlike the dismal performance of the CRB space, US equities rebounded somewhat in March, as investors just might be seeing an end to the Fed's hawkish activities for a while. The S&P 500 posted a +3.7% for the month, outperforming essentially all of the largest CRBs in the Tier 1 basket.
Tier 2 CRBs w/Mkt Cap Over $150mm – March 2023 Returns

Source: CRB Monitor, Sentieo
CRB Monitor Tier 2
An equally-weighted basket of the largest CRB Monitor Tier 2 companies had a -7.0% return for March 2023, which outperformed the equally-weighted Tier 1 basket by 5.6%. While they are highly correlated (please see the "Chart of the Month" from our January 2023 newsletter), we expect Tier 1 and Tier 2 CRBs to "mean revert" periodically, but we also feel that there is no need to try to game them as a strategy. We have always said that when these two portfolios deviate from one another it could be a signal for investors to rebalance into (out of) the Tier 1 basket and out of (into) Tier 2's given their direct revenue relationship, but the time it takes to mean revert is not so easy to predict.
Performance across the Tier 2 basket was generally negative in March, with most of the Tier 2 CRBs challenged for the month. Tier 2 agriculture supplier Hydrofarm Holdings Group, Inc. (Nasdaq: HYFM) (-9.9%) reversed course in March, but the illiquid nature (and accompanying wide bid/ask spread) of HYFM can cause wild performance swings on any given day. According to HYFM's Q422 earnings report on March 9th, sales were down significantly from Q421 and HYFM is in the midst of a restructuring, which includes the consolidation of their product portfolio and phasing out of several manufacturing facilities.
Tier 2 REIT Innovative Industrial Properties, Inc. (NYSE: IIPR) (-12.0%), came crashing down to earth following a reasonable February and posted a return that was in line with its customers in the Tier 1 MSO basket. To review, On February 27 IIPR reported its Q4 2022 and full year results that it "Generated total revenues of approximately $276.4 million, net income attributable to common stockholders of approximately $153.0 million and adjusted funds from operations ("AFFO") of approximately $233.7 million, representing increases of 35%, 36% and 34% over 2021, respectively."
While investors seemed to take this report well, IIPR's performance quickly reversed in March, and so it would appear that their troubles are far from over. Nevertheless, IIPR remains the largest Tier 2 CRB by market cap and it's difficult to imagine that this will change unless a new $2+ billion company surprises everyone and plunges into the cannabis space.
Finally, Tier 2 REIT AFC Gamma, Inc (Nasdaq: AFCG) (-17.8%) did its death drop following its earnings report on March 7th, which was a miss in the eyes of investors and analysts.
Chart of the Month: Pure Play CBD Performance
Over the last 2 months we have seen renewed interest in CBD, not so much because of its attractiveness as a cannabis sub-industry but rather due to new concerns from compliance groups. More specifically, the news that CBD has been outlawed in Hong Kong has sent chills throughout the APAC region and as a result, we have created 5 new CBD-themed cannabis sectors that apply to Tier 2 and Tier 3 CRBs.
With this renewed interest came our own curiosity regarding the performance of pure play (aka Tier 2) CBD businesses relative to 1) the rest of the cannabis ecosystem and 2) mainstream equity indexes. [While Tier 3 companies with ties to CBD are covered in CRB Monitor, they were left out of this analysis given their incidental exposure to cannabis.]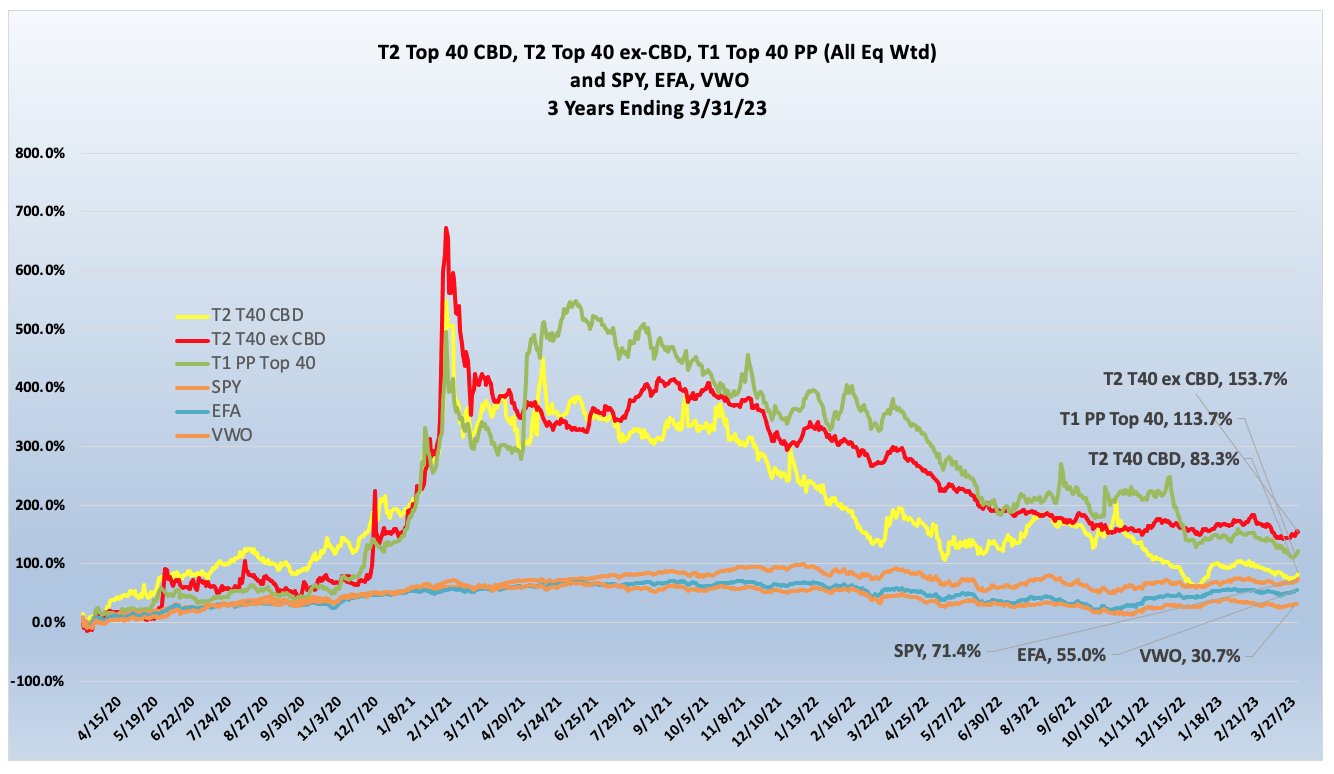 Source: CRB Monitor, Sentieo
What is to be gained from this analysis? Excellent question. To be sure, we are only looking at 3 years of history, and volatile years at that; however, the returns are highly correlated, which is similar to the Tier 1/2/3 analysis we did a couple of newsletters ago. Also of interest is cannabis's (CBD or otherwise) high correlation with emerging markets equity, as represented by the Vanguard Emerging Markets ETF (VWO). And while CBD has underperformed non-CBD over this period (83% vs. 153%), the standard deviation is substantially lower (108% vs. 131%).
CRB Monitor Securities Database Updates - March 2023
CRB Monitor's research team monitors the information cycle daily and maintains securities' profiles to reflect the current state of the cannabis ecosystem. Here is a summary of the updates for March 2023: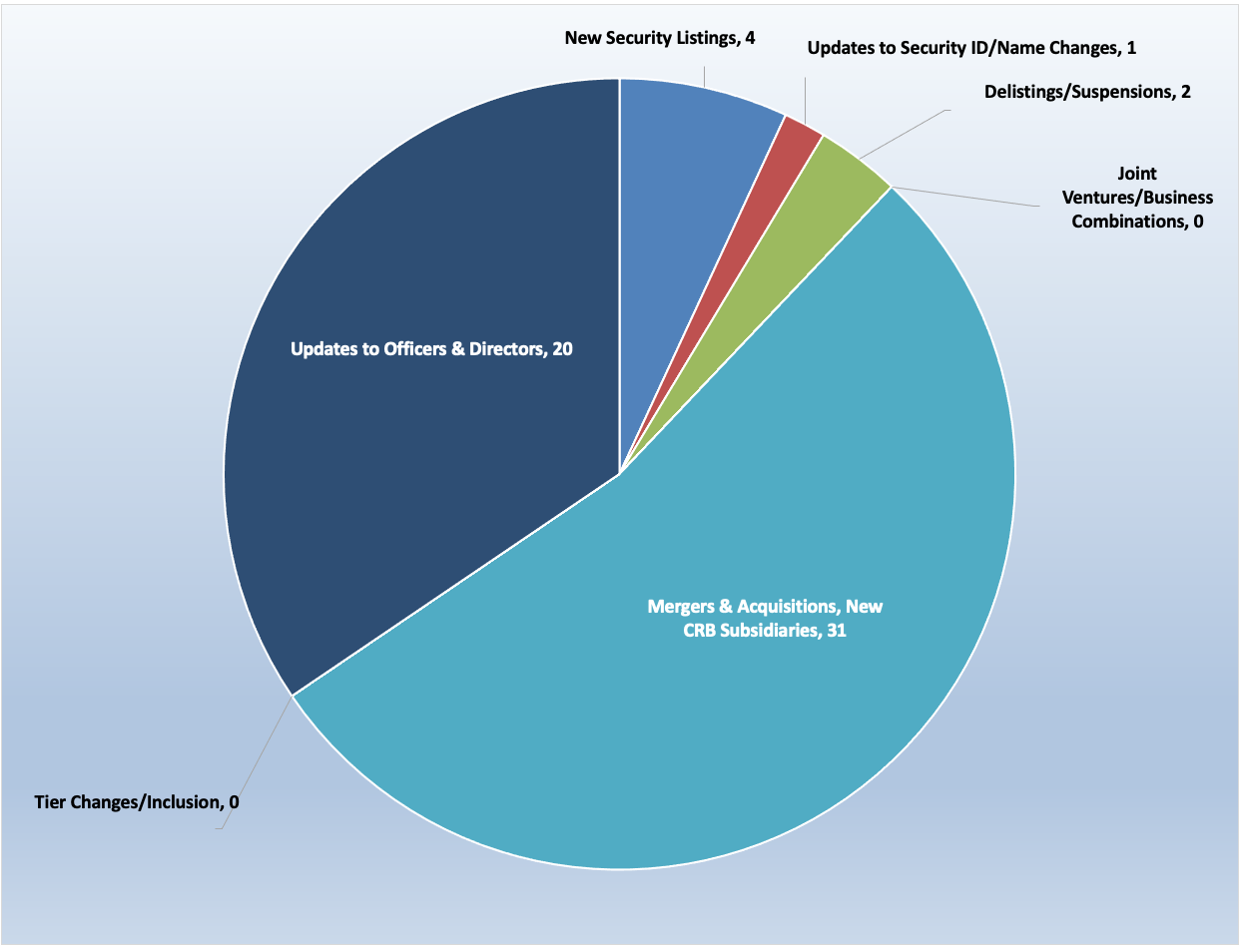 Source: CRB Monitor, Sentieo
Cannabis Business Transaction News - March 2023
It would be an understatement to say that M&A activity has slowed to a crawl, except for the usual group of MSOs (Verano, Trulieve, etc.) expanding operations by opening new local dispensaries across the US. As we continue to report, what these companies are facing is the harsh reality that the US federal government has not gotten any closer to legalization, decriminalization, or "SAFE" banking of cannabis, and this is having a profound (negative) impact on the profits and earnings forecasts of many, if not all, cannabis-related businesses.
And with prices falling as precipitously as they have, we are seeing signs of consolidation in the cannabis industry and expect an increase in acquisitions in the months to come.
Here are some of the March highlights:
In early March, Tier 1A MSO Curaleaf Holdings, Inc. (CSE: CURA) issued a press release that it will commence adult-use sales at its Hartford, Connecticut location beginning March 1 at 9:00 am EST. Curaleaf Hartford, located at 92 Weston St, is the Company's second dispensary to serve adult-use consumers in Connecticut and the first dispensary in the capital city to offer adult-use products. As stated in the press release, "Curaleaf's dispensaries in Hartford and Stamford both offer adult-use consumers a diverse collection of cannabis goods and services, including whole flower, pre-rolls, Select Elite vaporizers, and Curaleaf's breakthrough vape hardware, Cliq by Select. Patients and customers across Connecticut can participate in Curaleaf's revamped rewards program earning loyalty points for every dollar spent that can be redeemed for savings on future purchases made at any Curaleaf-operated dispensary." With this new dispensary, CRB Monitor tracks 143 cannabis licenses in either active status or pending approval, across 19 regions globally.
Also in March, the always-expanding Tier 1B MSO Verano Holdings Corp. (CSE: VRNO) issued a press release announcing the Opening of MÜV Winter Springs, the Company's 66th Florida Location and 125th Retail Location Nationwide. As Florida has yet to legalize cannabis for recreational use, this dispensary will sell only medical cannabis products. In the words of the March press release, "As a demonstration of Verano's commitment to provide a convenient and reliable experience for Florida patients, MÜV dispensaries feature online menus for effortless browsing of their extensive, award-winning product selection, including the Company's signature Verano Reserve, MÜV and Sweet Supply flower, Encore edibles, and Savvy flower and extracts." With this new dispensary, Verano's footprint has expanded to 70 cannabis licenses across 13 states in the US.
Amidst the tension surrounding the completion of its pending acquisition of Columbia Care, Tier 1A MSO Cresco Labs Inc. (CSE: CL) announced that it opened its fourth Sunnyside dispensary in the greater Orlando, Florida region. Sunnyside South Orlando is located at 2051 Town Center Blvd. The new store is the Company's 26th dispensary in the state and 61st nationwide. In a March 2nd press release, Charlie Bachtell, Cresco CEO stated, "We're opening new retail stores in prime locations to sufficiently cover greater Orlando's four corners and serve the needs of the growing patient population in this Florida region...Orlando is home to over 2.5 million residents and attracts over 75 million visitors annually. In addition to our Fern Park, West Orlando and Winter Park locations, we look forward to serving the patient community out of our newest store in South Orlando." With this new business the combined Cresco/Columbia Care entity will ultimately have control over 178 licenses across 15 states in the US plus the District of Columbia.
It was reported in March that Tier 1A Canadian CRB SNDL Inc. (NASDAQ: SNDL) entered into an agreement with Lightbox Enterprises Ltd. to acquire four cannabis retail stores operating under the Dutch Love Cannabis banner. According to the March 28th press release: "Under the Agreement, SNDL will acquire from Lightbox the rights to four Dutch Love stores and the rights to use certain Dutch Love related intellectual property for a total consideration of $7.8 million....As part of the Agreement, SNDL will acquire the rights to three Dutch Love stores in British Columbia and one store in Ontario. The combined assets generated annual revenue of $11.5 million in 2022, with an average gross margin of 36.5%. The completion of the acquisition is expected to further solidify SNDL's position as a multi-banner cannabis retail operator by enhancing the Company's market share and its exposure to a broader consumer base in two key markets." As a CRB with no US cannabis touch points, SNDL operates legally in Canada with 164 licenses across 7 provinces.
Finally, perennial favorite of the South, Tier 1A CRB Trulieve Cannabis Corp. (CSE: TRUL) announced the opening of its Beckley, West Virginia dispensary on March 3. In the words of its March 3rd press release, "Trulieve patients across West Virginia can choose from a large selection of THC products available in a variety of consumption methods, including flower, concentrates, tinctures, topicals, ingestibles, and more. Designed to meet every patient's needs, our portfolio of in-house brands available in Beckley include Cultivar Collection, Momenta, Muse and more." With this opening, Trulieve's licence count swells to 127, and although they are known primarily as a Florida cannabis provider, they operate in 5 Canadian provinces in addition to 13 US states.
Select CRB Business Transaction Highlights:
Security/Exchange Highlights:
Select Database Updates in CRB Monitor:
| | | | |
| --- | --- | --- | --- |
| Name | Ticker Symbol | CRBM Tier | CRBM Sector |
| | | 2 | CBD - Pharma & Biotech |
| | | 3 | CBD - Pharma & Biotech |
| | | 3 | Financial Services |
Cannabis Regulatory Updates - March 2023
Here are some of the cannabis-related regulatory highlights from March 2023:
In late March a story in Marijuana Moment reported that a bill to legalize marijuana in Colombia cleared another key hurdle on its path to enactment, advancing through a Chamber of Representatives committee that brings it more than halfway through the legislative process.
According to the article: "The legislation, which the Chamber and Senate reconciled to be identical in December after previously clearing each full body in differing forms, needs to go through eight total stops in the Colombian Congress over two consecutive years. Tuesday's 26-6 vote by the First Committee of the Chamber marks the fifth stop, sending it to the floor for consideration before returning to the Senate for final votes."
If this bill were to pass both houses and eventually signed into law, Colombia would be only the third country in the world to legalize marijuana for recreational use. This will be one to watch going forward.
Meanwhile in Delaware, as reported on the website NORML.org, Senate members approved legislation legalizing marijuana possession and regulating the adult-use market. By a vote of 16 to 4, Senate lawmakers passed HB 1, which removes criminal and civil penalties for the possession of personal use quantities of cannabis flower and other products, including marijuana paraphernalia, for those age 21 or older. (The use of cannabis in public remains penalized under the measure, and underage possession of cannabis remains subject to civil fines.) Following this bill lawmakers additionally passed HB 2, complimentary legislation that licenses and regulates marijuana production and retail sales. It calls for the issuance of up to 30 initial retail marijuana licenses, 30 manufacturing licenses, 60 cultivation licenses, and five testing licenses. Senators approved the measure 15 to 5.
A March article on the website PBS.org attacks the touchy subject: Weed is legal in New York, but the illegal market is still booming. Here's why. The issue is that while there are quite a few dispensaries in New York City, the vast majority are unlicensed. In the words of the article: "As the first dispensaries have opened across the city in the last several months, and more than 60 licenses have been issued across the state, a sea of unlicensed, illegal shops still dot the streets of all five boroughs, selling marijuana everywhere from small bodegas to large operations that one might confuse for a legal retailer. "Officials have calculated conservatively that there are 1,400 unlicensed shops in the five boroughs. I think that number is probably quite a bit higher," said Alyson Martin, founder of Cannabis Wire, which covers the marijuana industry in New York and nationwide." While the article does not offer too many answers to this ongoing problem, it does mention, "To curtail illegal businesses, without sending individuals to jail, the state is turning to civil enforcement...At least something like 400 letters have been sent to landlords and building owners saying, 'Hey, if you've got unregulated activity happening within your building, we're sort of putting you on notice that if you don't stop, we'll intervene.'"
Also in March, Marijuana Moment reported that a bill (HB 639) to legalize marijuana in New Hampshire is going back to the House floor after a second committee passed the legislation with amendments. The proposal, which is being sponsored by Majority Leader Jason Osborne (R) and Minority Leader Matthew Wilhelm (D), cleared the House Ways & Means Committee in a 16-4 vote. According to the article, "Gov. Chris Sununu (R), who was reelected last year, remains opposed to legalization—but his more recent comments on the issue seem to show a softening of his position. He said during a debate last year that reform "could be inevitable," but he added that states need to "be patient about how you do it.""
Finally, also reported in an article in Marijuana Moment, Federal marijuana trafficking cases continued to decline in 2022, according to the latest annual report from the U.S. Sentencing Commission (USSC). In the words of the article, "As more states have moved to legalize cannabis and federal priorities have shifted, prosecutions for marijuana-related cases have significantly declined over the years. The number of federal cannabis trafficking offenders has fallen from about 5,000 in 2013 to just under 806 last year, USSC found."
"The report also shows that marijuana cases carry the lowest sentences among the six drug types that USCC tracks, with the average sentence in a cannabis trafficking case being 33 months, compared to 94 months for methamphetamine and 65 months for fentanyl, for example...The commission has separately proposed amending its guidelines for federal judges to treat prior marijuana possession offenses more leniently in sentencing decisions. Earlier this month, the Justice Department testified in support of the change at a USSC public hearing."
CRBs In the News
The following is a sampling of highlights from the March 2023 cannabis news cycle, as tracked by CRB Monitor. Included are CRB Monitor's proprietary Risk Tiers.
1B)




Wondering what a Tier 1, Tier 2 or Tier 3 CRB is?

See our seminal ACAMS Today white paper Defining "Marijuana-Related Business" and its update Defining "Cannabis-Related Business"