James B. Francis, CFA
Chief Research Officer, CRB Monitor
Cannabis-Related Equity Performance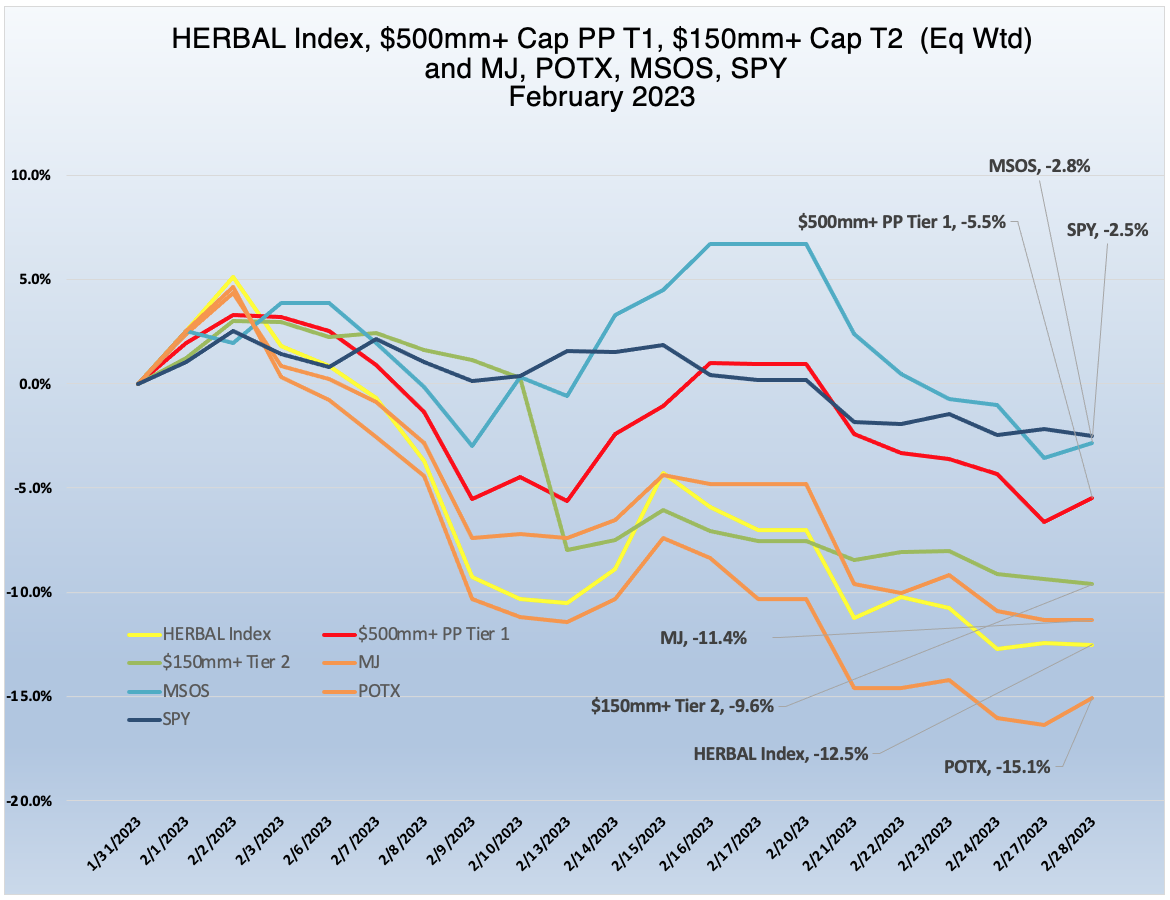 Source: CRB Monitor, Sentieo, Nasdaq
Cannabis Index Returns - A February Reversal
Cannabis equities took a turn for the worse in February amid persistent fears of inflation around the world and little to no progress toward US federal legalization. The Nasdaq CRB Monitor Global Cannabis Index (HERBAL), a mix of Pure Play Tier 1 and Tier 2 CRBs weighted by both investability and strength of theme (SOT), finished the month in the middle of the pack of cannabis-themed indexes. A full description of HERBAL's strengths and benefits can be found here: Introducing: The Nasdaq CRB Monitor Global Cannabis Index.
The HERBAL index fell by 12.5% in February 2023 and finished stronger than its closest competitor in the cannabis equity universe, the Global X Cannabis ETF (Nasdaq: POTX) (-15.1%). Similar to HERBAL, POTX is a pure play cannabis ETF with no US touchpoints and any deviations from the return of the HERBAL index will generally be due to differences in security weightings. This is the second month in a row that HERBAL has finished ahead of POTX and it will be interesting to see what happens in March when HERBAL is reconstituted.
HERBAL underperformed the ETFMG Alternative Harvest ETF (NYSE Arca: MJ) (-11.4%) as well as the Advisorshares Pure US Cannabis ETF (NYSE: MSOS), which finished February at -2.5%.
MJ's performance is likely to deviate from HERBAL's due to a significant percentage of non-Pure Play cannabis holdings, more specifically tobacco stocks with either very small or even no cannabis exposure at all. And more recently, MJ added a 20% US plant-touching component via a holding in its sister fund, MJUS. The US plant-touching component also has the potential to impact MJ's eligibility on investment platforms that restrict US cannabis exposure.
The self-described and largest US plant-touching fund, MSOS, has performance that can deviate materially from HERBAL's as well, largely due to its holdings of CRBs with US Marijuana touch-points. [POTX's and HERBAL's methodologies prohibit them from holding any securities with direct US touch points while MSOS (and now MJ) can.]
The performance of the CRB Monitor equally-weighted basket of Pure Play Tier 1 CRBs with $500mm+ market was -6.6% in February 2023, with the basket being negatively affected by the Canadian (non-MSO) component. Looking at the table below, we see how the CRBs without US touchpoints provided the drag on the basket for the month.
The CRB Monitor equally-weighted basket of Tier 2 CRBs with $150mm+ market cap finished the month ahead of the Tier 1 CRB basket, posting a negative 0.5% return. While we expect Pure Play Tier 1 and Tier 2 CRBs to display high correlation (~0.8) in the long term, their respective performance has a tendency to diverge in the short term. This can be due to (among other factors) the lag from the impact (positive or negative) of market forces that affect their sources of revenue that are derived from the Tier 1 group. We'll take a closer look at these later in this newsletter.
Tier 1 Pure Play CRBs w/Mkt Cap Over $500mm – February 2023 Returns


Source: CRB Monitor, Sentieo
CRB Monitor Tier 1
Following an impressive turnaround in January, CRBs made an about-face in February and returned to their languishing, old ways. And once again, February 2023 saw significantly different performance by two distinct groups, the Canadian CRBs and the MSOs. This oscillation between the two baskets is understandable given a few factors, none the least of which is a degree of randomness, but considerably more interesting is the expected impact of cannabis reform and the accompanying sentiment. The fact of the matter is that nearly all value has gone out of the CRB market, leaving growth, which is also hard to find, and finally sentiment, which is essentially the only factor driving these returns.
This time around the MSO basket - Curaleaf Holdings, Inc. (CSE: CURA) (-5.0%), Trulieve Cannabis Corp. (CSE: TRUL) (-3.8%), Green Thumb Industries Inc. (CSE: GTII) (+4.2%) and Verano Holdings Corp. (CSE: VRNO) (flat)-were largely in line with the equity markets and seemed less affected in February by the slow crawl of the US federal government. The idea that these companies have largely been oversold over the last 2 years is a distinct possibility, and it should not be overlooked that it has already been two years since the February 2021 "spike" that temporarily excited cannabis investors.
The one apparent exception to the bloodbath was TerrAscend Corp.( CSE: TER) (+17.5%), who announced late in February the upcoming closure of their $545 million acquisition of private Tier 1A Gage Cannabis. "The transaction provides access to Gage's sought-after brand and pheno-hunting capabilities as well as its exclusive licensing partnerships in Michigan with Cookies, Blue River, Pure Beauty, Khalifa Kush and others."
TerrAscend had previously issued a press release in January announcing the closing of its acquisition of Allegany Medical Marijuana Dispensary in Cumberland, Maryland.
On the other side of the cannabis coin was the "legal" Canadian CRB basket, which struggled relative to the MSO group. Tilray Brands, Inc. (Nasdaq: TLRY) (-12.7%), Canopy Growth Corporation (TSX: WEED) (-21.3%), and SNDL, Inc.(Nasdaq: SNDL) (-18.3%) all but reversed January's gains. And Cronos Group Inc. (TSX: CRON) (-11.9%) slumped again in February. As we reported last month, major Cronos investor and tobacco giant Altria Group, Inc (NYSE:MO) announced that its wholly owned subsidiary, Altria Summit LLC, notified Cronos Group Inc. of "its irrevocable abandonment of its warrant to purchase additional common shares of Cronos and (ii) all rights that it may have held in the Warrant or any common shares underlying the Warrant for no consideration." While Altria will maintain its ownership stake in CRON, these warrants and rights will lapse due to their out-of-the-money status (the share price has fallen significantly below the exercise price of the derivatives).
US and global equities suffered in February as well, as the notion of runaway employment numbers and accompanying inflationary fears weighed on investors' minds. As such, the S&P 500 posted a negative 2.5% for the month, largely in line with the MSO group but well ahead of the Canadian CRB group.
Tier 2 CRBs w/Mkt Cap Over $150mm – February 2023 Returns

Source: CRB Monitor, Sentieo
CRB Monitor Tier 2
An equally-weighted basket of the largest CRB Monitor Tier 2 companies had a -0.5% return for February 2023, which outperformed the equally-weighted Tier 1 basket by 6.5%. While they are highly correlated (please see the "Chart of the Month" from our January 2023 newsletter), we expect Tier 1 and Tier 2 CRBs to "mean revert" periodically, but we also feel that there is no need to try to game them as a strategy. We have always said that when these two portfolios deviate it could be a signal for investors to rebalance into (out of) the Tier 1 basket and out of (into) Tier 2's given their direct revenue relationship, but the time it takes to mean revert is not so easy to predict.
Performance across the Tier 2 basket was generally flat-to-negative in February. Tier 2 perpetual roller coaster CRB Hydrofarm Holdings Group, Inc. (Nasdaq: HYFM) (+2.7%) had its second positive month in a row. Typically we limit our write-up to news within the reporting month, but HYFM reported Q422 earnings on March 9th and so we will mention it here. Not surprisingly, sales were down significantly from Q421 and HYFM is in the midst of a restructuring, which includes the consolidation of their product portfolio and phasing out of several manufacturing facilities.
Tier 2 REIT Innovative Industrial Properties, Inc. (NYSE: IIPR) (-1.5%), finished the month in-line slightly negative and in line with the rest of the Tier 2 basket. On February 27 IIPR reported its Q4 2022 and full year results:
Generated total revenues of approximately $276.4 million, net income attributable to common stockholders of approximately $153.0 million and adjusted funds from operations ("AFFO") of approximately $233.7 million, representing increases of 35%, 36% and 34% over 2021, respectively.

Recorded $5.52 of net income attributable to common stockholders per diluted share and $8.45 of AFFO per diluted share.

Declared dividends to common stockholders totaling $7.10 per share, a 24% increase over 2021.

Invested approximately $394 million (excluding transaction costs), including nine acquisitions of properties located in seven states and twelve lease amendments to provide funding of qualifying real estate infrastructure improvements at properties in seven states, expanding IIP's footprint to 110 properties totaling 8.7 million rentable square feet in 19 states at year end.
Investors seemed to take this report well, and IIPR's stock price jumped 7% on February 28th. And as their revenues are so closely linked to the US plant-touching cannabis space, it remains to be seen if IIPR's value can be resurrected after a rough 2021 and 2022.
Tier 2 CRB NewLake Capital Partners, Inc. (OTCQX: NLCP) (-3.4%) had a bit of a reversal following a strong January. NewLake is an "internally managed triple-net lease REIT that purchases properties leased to state-licensed U.S. cannabis operators." NewLake currently owns a geographically diversified portfolio of 27 properties across 10 states with 8 tenants, comprised of 17 dispensaries and 10 cultivation facilities." In February, NewLake, which paid its investors a $0.39 dividend (9% yield), has become an interesting alternative to IIPR, which has been plagued by mismanagement over the last 2 years (see all 2022 CRBM newsletters on crbmonitor.com). NewLake is reporting Q422 earnings in early March and it will be interesting to see if there is room for more than one cannabis-related REIT in the long term.
Chart of the Month: CRBs and Retained Earnings
The website accountingtools.com defines Retained Earnings as such: "Retained earnings are the profits that a company has earned to date, less any dividends or other distributions paid to investors. This amount is adjusted whenever there is an entry to the accounting records that impacts a revenue or expense account. A large retained earnings balance implies a financially healthy organization."
If there has been any doubt about the profitability of companies that set out to make their fortune in the cannabis industry, here is a sobering chart. The uncomfortable truth about CRBs is they, generally speaking, have been bleeding cash somewhat consistently since this industry burst on the scene in the late 2010's. This idea is easy to see when we take a look at historical retained earnings for a handful of CRBs, represented by both the MSO and Canadian baskets. It can be illustrative to look at these groups separately, given their respective circumstances.
First, it's important to note that, given potential violations of anti-money laundering laws, none of these companies pay dividends. And so the calculation of retained earnings is fairly straightforward - just subtract liabilities from assets. When we look at this handful of pure play Tier 1's as their RE has hovered just under zero for the last three years, it is clear that they have consistently underperformed to varying degrees.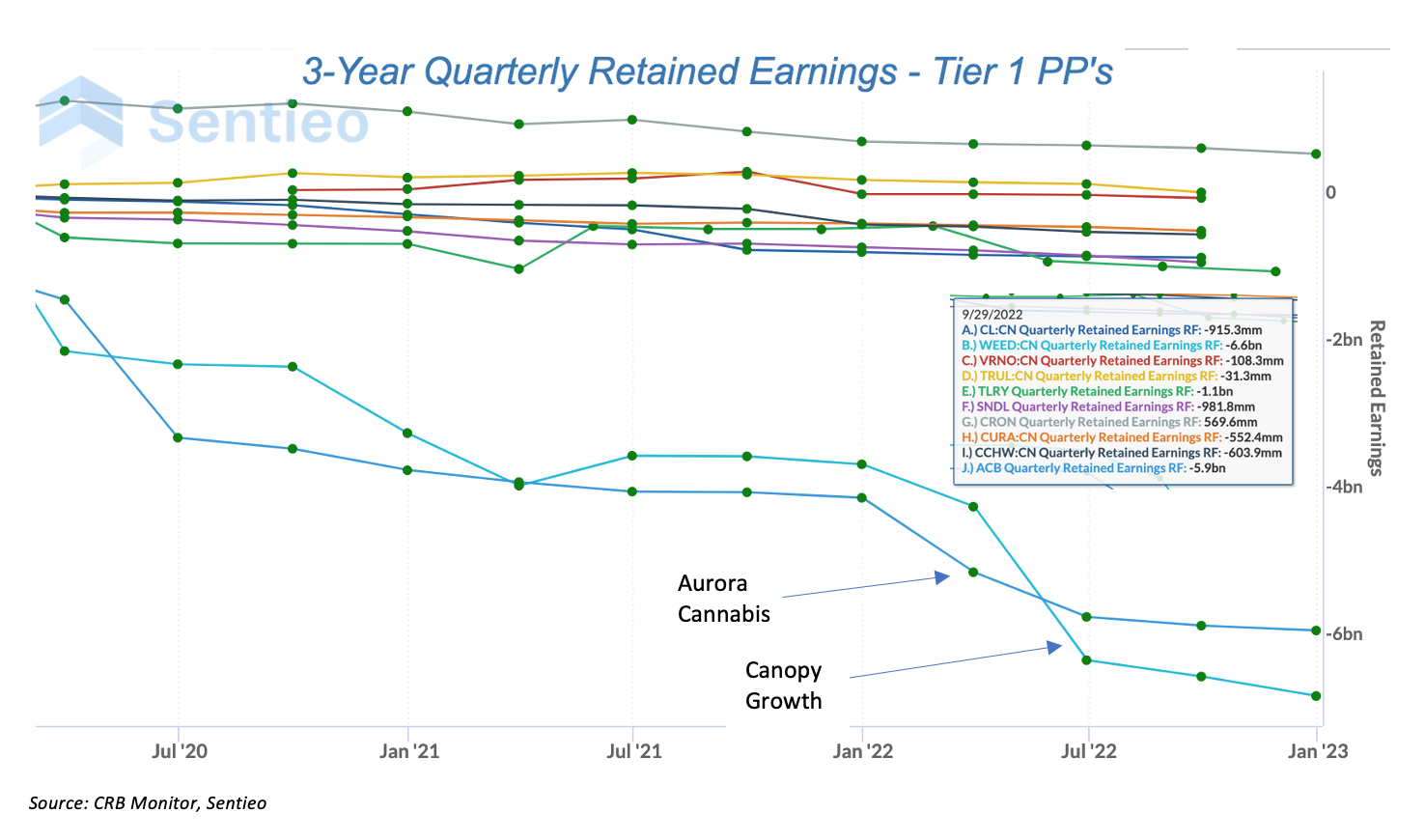 Source: CRB Monitor, Sentieo
And in spite of its overall doom and gloom, this analysis does not disappoint, as two of the more recognizable names in cannabis, Canopy Growth Corp. (TSX: WEED) and Aurora Cannabis Inc. (Nasdaq: ACB) are drastic outliers. One would argue that companies with market capitalizations that are $1.5 billion or lower should not exist with retained earnings in the negative $6 billion range.
In a February 23rd article in The Motley Fool, ACB is referred to as "Abysmal, atrocious, horrible, rotten". In fact, ACB is at risk of having its stock delisted by Nasdaq, given that its share price is now hovering above Nasdaq's minimum price of $1. As for Canopy Growth's share price, it's currently safe from delisting, but there can be rough seas ahead. In their February essay entitled This Popular Cannabis Company Moves Closer to Financial Trouble New Cannabis Ventures cites Q322 earnings as a cause for alarm. In the words of author Alan Brochstein, "an SEC filing revealed that the company sold $100 million of 5-year debt for $95 million and could issue 98.93 million shares...If Canopy Growth ends up issuing shares to redeem the convertible, it could be effectively selling stock at $0.96."
CRB Monitor Securities Database Updates - February 2023
CRB Monitor's research team monitors the information cycle daily and maintains securities' profiles to reflect the current state of the cannabis ecosystem. Here is a summary of the updates for February 2023: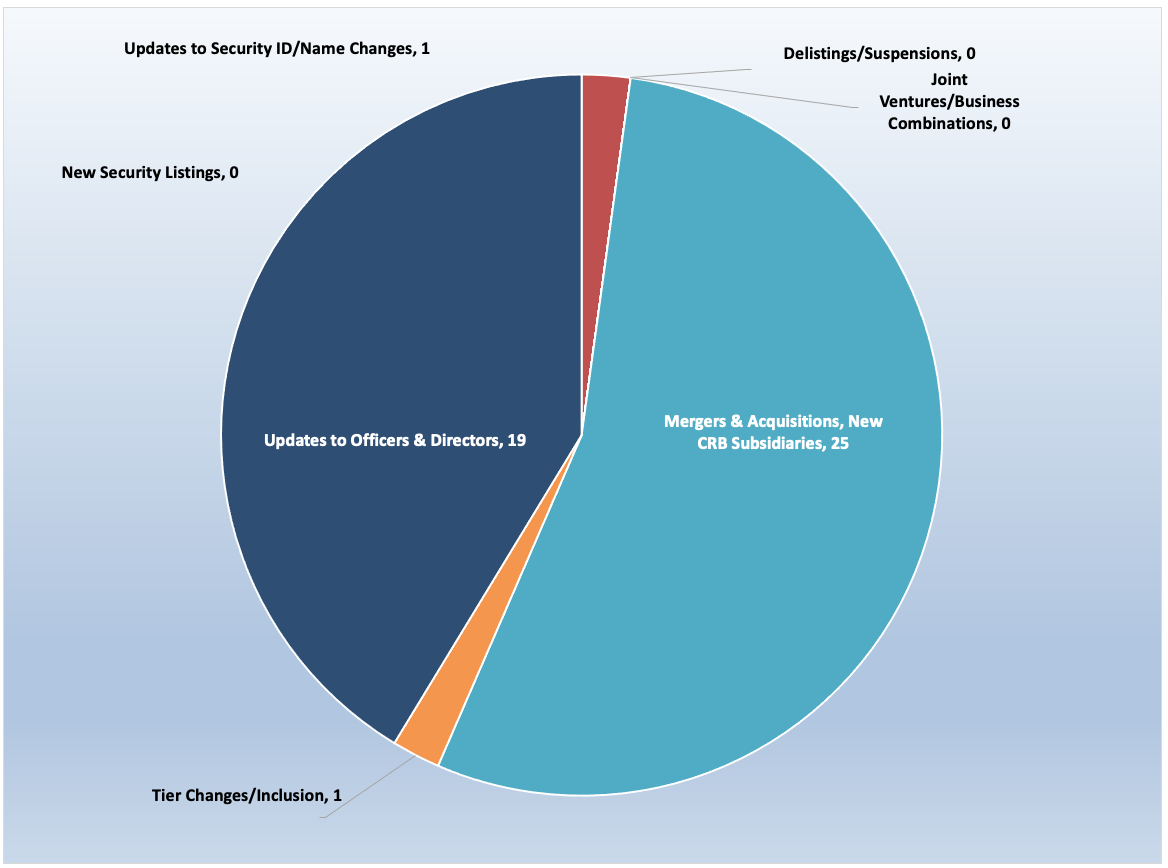 Source: CRB Monitor, Sentieo
Cannabis Business Transaction News - February 2023
As 2023 continues in earnest, the volume of M&A activity has not improved since early 2021. The reality is that the US federal government has not gotten any closer to legalization, decriminalization, or "SAFE" banking of cannabis, and this is having a profound (negative) impact on the operations of most, if not all, cannabis-related businesses. With that said, CRB Monitor covers all relevant cannabis company news on a daily basis, and there has been no lag in operational expansion as publicly-traded CRBs seek to acquire licensed businesses wherever possible.
Here are some of the February highlights:
In February a press release from Tier 1B MSO MariMed, Inc. (CSE: MRMD), announced its intention to acquire the operating assets of Ermont, Inc., a medical licensed vertical cannabis operator, located in Quincy, MA. According to the press release, this acquisition "will provide the Company with its third dispensary in Massachusetts, substantially completing its buildout to the maximum allowable by state regulations." The addition of Ermont expands MariMed's footprint to 20 active licenses across 5 states.
Also in February, Tier 1B RIV Capital Inc. (CSE: RIV) announced in a press release that it has entered into a settlement agreement that has resulted in JW Asset Management, LLC consenting to the dismissal of its application related to the Company's acquisition of Etain, LLC and Etain IP, LLC. According to the press release:
"Under the terms of the settlement agreement, RIV Capital has repurchased for cancellation all RIV Capital Class A common shares currently owned or controlled by JWAM and its affiliates...amounting to 33,733,334 shares, for an aggregate purchase price of U.S.$19,625,000. RIV Capital has also reimbursed certain legal expenses incurred by JWAM as part of its application and related matters in the amount of U.S.$375,000. RIV Capital funded such amounts with cash on hand. As part of the settlement, JWAM and its affiliated funds have also withdrawn their requisition for a special meeting of the Company's shareholders currently scheduled for June 6, 2023, which meeting will be cancelled by the Company."
In the press release RIV also announced that "The Hawthorne Collective, Inc., a subsidiary of The Scotts Miracle-Gro Company (NYSE: SMG), has advised the Company that the litigation between The Hawthorne Collective, JWAM, Jason Wild and certain related parties of JWAM has been settled."
CRB Monitor is tracking the details of this transaction as they unfold, given Tier 3 CRB SMG's proximity to the event. Meanwhile, RIV's operational footprint includes 153 cannabis licenses in either active status or pending approval.
On February 9th Tier 1B MSO Verano Holdings Corp. (CSE: VRNO) in a continuation of its expansion across the United States, issued a press release announcing the opening of MÜV Orlando Colonial, which will be the Company's 64th Florida dispensary and 122nd nationwide. In the words of the announcement,
"MÜV Orlando Colonial is the third MÜV retail location in Orlando, complementing existing dispensaries that are situated on Garland Avenue and Vineland Avenue. The Orlando Metropolitan Area is the third largest metropolitan region in Florida, with a population of 2.6 million2 people... MÜV's comprehensive product selection includes edibles, chocolates and lozenges, flower, pre-rolls, an array of vaporizer pens, concentrates, metered-dose inhalers, topicals and oral sprays; along with patented encapsulation formulations in its EnCaps™ capsules, tinctures, 72-hour transdermal patches and transdermal gels." Verano is the MSO that never seems to stop expanding its US footprint. CRB Monitor counts 68 licenses for Verano either in active status or pending approval, across 12 states plus the District of Columbia.
Also during February Tier 1A MSO Columbia Care Inc. (CSE: CCHW) announced in a press release that it began adult-use sales on February 4 at its Cannabist dispensary, located in Hermann, Missouri. The dispensary has been serving the medical patient community since 2021. In the words of Jesse Channon, Chief Growth Officer of Columbia Care, "We are thrilled to see the swift action taken by the Department of Health and Senior Services to bring recreational cannabis to Missourians so soon after the ballot measure passed in November. It has been a privilege to operate in such a rapidly growing market and serve our patients in the local Hermann community. We look forward to welcoming new customers through our doors in the coming weeks and introducing them to our Cannabist experience." This news comes as CCHW is about to be acquired by Cresco Labs Inc. (CSE: CL), a multibillion dollar deal that will now be extended into June 2023.
Finally, there was more news out of Boston in February as Tier 1B MSO TILT Holdings Inc. (NEO: TILT) and Doobie Delivery announced their formation of a direct-to-consumer (DTC) recreational cannabis delivery partnership in Massachusetts. According to the press release, Doobie will partner with TILT's Massachusetts retail dispensary Commonwealth Alternative Care, which has a medical dispensary in Cambridge and medical and recreational dispensaries in Brockton and Taunton. Currently TILT's operational footprint covers 5 states and it holds 20 licenses in either active status or pending approval.
Select CRB Business Transaction Highlights:
Security/Exchange Highlights:
Select Database Updates in CRB Monitor:
| | | | |
| --- | --- | --- | --- |
| Name | Ticker Symbol | CRBM Tier | CRBM Update |
| | | 1B | Moved from Tier 1A to Tier 1B |
| | | 3 | Moved from Tier 2 to Tier 3 |
Cannabis Regulatory Updates - February 2023
Here are some of the cannabis-related regulatory highlights from February 2023:
In mid-February it was reported that a North Carolina Senate committee approved a bill to legalize medical marijuana. This happened just days after a top House lawmaker said "his chamber is positioned to enact the reform this session after blocking similar legislation last year." The Senate Judiciary Committee, which held an initial hearing on the cannabis legislation from Sen. Bill Rabon (R) last week, advanced it in a voice vote. The Senate also adopted several amendments. The measure would allow patients "with qualifying conditions such as cancer, epilepsy, post-traumatic stress disorder (PTSD) and multiple sclerosis to possess and purchase cannabis from licensed dispensaries."
In an interesting development out of the South, Knoxville news channel WATE reported that there's a push by veterans to get medical cannabis legalized in Tennessee. WATE reported in February that some veterans are planning to speak before state legislators during an upcoming Senate committee meeting. According to the article, "A proposal includes legalizing the cultivation, sale, and usage in Tennessee...all but two states bordering Tennessee — Georgia and North Carolina — have medical cannabis programs." Air Force Veteran Bill Summers, Founder of TNVet.org was quoted as saying: "The brain issues, the chronic pain, bodily injuries that would have probably killed many of our soldiers on the field, they now survive. But with that, when they get back home or after the trauma, they do have the pain, the mental issues, PTSD, and so forth. And medical cannabis is shown to help that...With all the issues on opioids and other drugs, we think it's time that Tennessee join the other 38 and recognize that this can help our troops when they come home." With that said, the legalization of marijuana has not moved forward in Tennessee, given its heavily Republican legislature that has historically been opposed to it.
From the great state of Kansas, an article in Marijuana Moment reported that senators have filed a new bill to legalize medical marijuana in the state, "though leadership has tempered expectations about the scope of what might be passable this session." The legislation is being carried by the Senate Federal and State Affairs Committee. According to the article, an earlier medical cannabis reform measure cleared the House in 2021, but it stalled out in the Senate. In the words of Kevin Caldwell, a legislative manager at the Marijuana Policy Project, "We are excited to see the Kansas legislature introduce legislation that would provide legal access to safe, laboratory tested medical cannabis products for patients suffering from debilitating conditions...The patients of Kansas have been eagerly anticipating the opportunity for a program and to join the 37 other states that have adopted comprehensive medical cannabis programs. Patients have been forced for too long to have to go to the illicit market for products that have not been tested for contaminants as well as face legal repercussions for possessing medicine that can greatly improve the quality of their lives."
Also in February, it was reported on NPR website WSH.com that Connecticut Attorney General William Tong is cracking down on the illegal sale of THC products. According to the article, "he has sued five retailers for allegedly selling the drug in packaging attractive to children. Tong said the products, called delta-8, are being packaged like snack foods." The article reminds us that in Connecticut, "a product with more than .3% THC is considered cannabis and requires a license to sell." Currently there are only 10 retailers that are licensed to sell recreational cannabis, and still only 58 total active retail licenses have been issued there. The article goes on to say, "Only a handful of Connecticut retailers are licensed to sell delta-8 and other cannabis products. The products must comply with strict regulations — including packaging that is not appealing to youth. Tong is also sending warning letters to licensed retailers of electronic vaping products, warning them not to sell cannabis without a license."
On February 22nd, a measure to legalize marijuana was approved by the New Hampshire House of Representatives. As reported on WMUR.com, the measure, backed by Minority Leader Matthew Wilhelm (D) and Majority Leader Jason Osborne (R), was overwhelmingly passed by a vote of 234 to 127. A significant modification to the legislation from its original version would use the state's current Liquor Commission to regulate the marijuana market rather than calling for the establishment of a new, independent commission as was suggested in HB 639's original draft. The Liquor and Cannabis Commission would be the new name for the organization. The removal of measures enabling home cultivation and expunging earlier cannabis offenses from the law as submitted has saddened advocates, but it was seen as a necessary compromise.
Finally, some news from the US Federal Government: A February article in marijuanamoment.com reported that according to recently-released federal data, marijuana seizures by Customs and Border Protection (CBP) decreased to a historic low in Fiscal Year 2022. According to CBP data, the reasons for this drastic decline in seizures include "shifting enforcement priorities, but experts generally view the trend as a reflection of reduced demand for smuggled illicit cannabis as more states have moved to legalize marijuana and provide people with access in a regulated, domestic market." The article notes that, "over the previous ten years, CBP marijuana seizures have decreased…from a total of 2,822,478 pounds in Fiscal Year 2012 to just 154,797 pounds in 2022. The annual decline has been substantial and has continued in recent years. The weight of marijuana seized fell by 73 percent between 2020 and 2022, from 319,447 pounds in 2021 to a figure of roughly half in 2022."
CRBs In the News
The following is a sampling of highlights from the February 2023 cannabis news cycle, as tracked by CRB Monitor. Included are CRB Monitor's proprietary Risk Tiers.
Wondering what a Tier 1, Tier 2 or Tier 3 CRB is?

See our seminal ACAMS Today white paper Defining "Marijuana-Related Business" and its update Defining "Cannabis-Related Business"