James B. Francis, CFA
Chief Research Officer, CRB Monitor
Cannabis-linked Equity Performance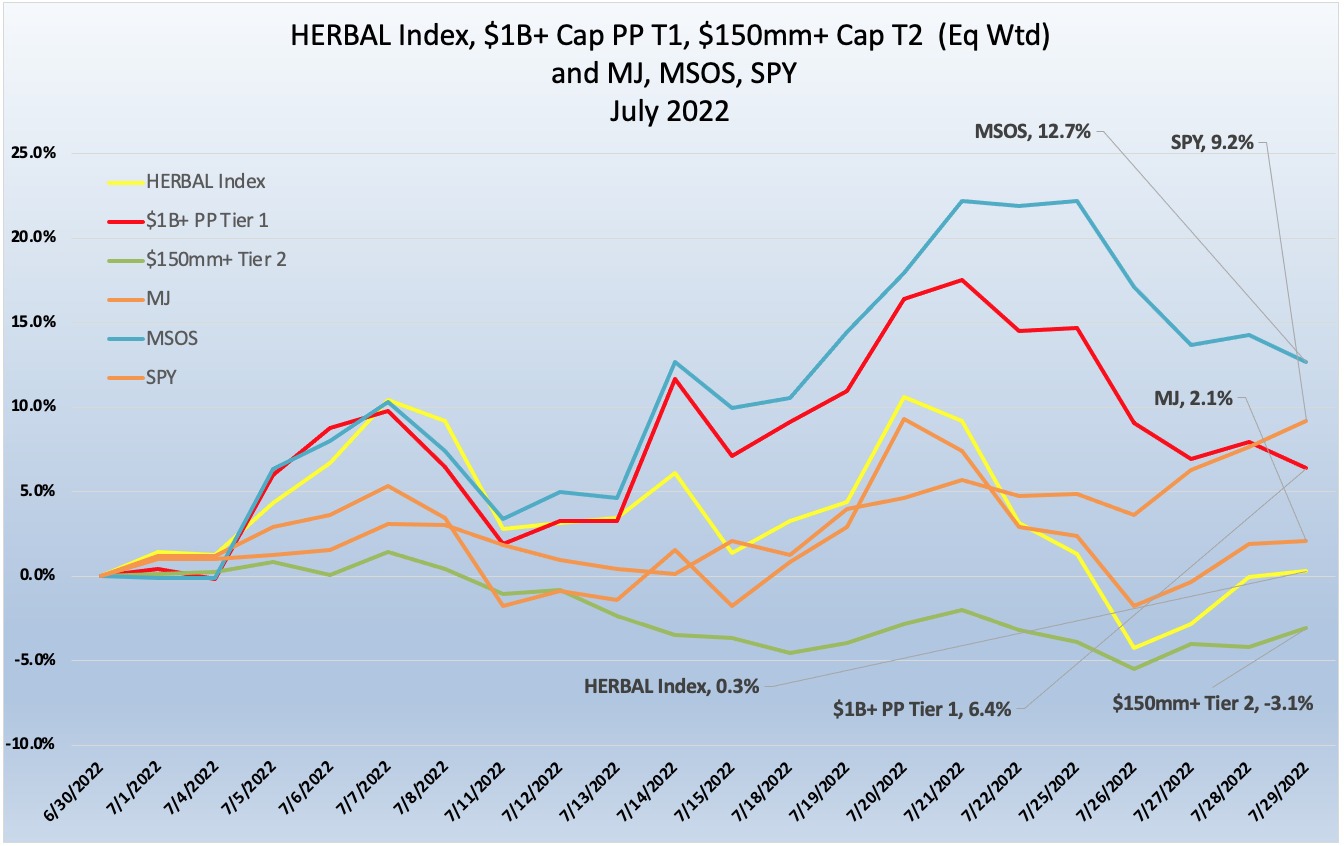 Source: CRB Monitor, Sentieo, Nasdaq
Cannabis Index Returns
The Nasdaq CRB Monitor Global Cannabis Index (HERBAL), is a mix of Pure Play Tier 1 and Tier 2 cannabis related equities, weighted by both investability and strength of theme (SOT). A full description of HERBAL's strengths and benefits can be found here: Introducing: The Nasdaq CRB Monitor Global Cannabis Index.
An excellent representation of the universe of legal, pure play cannabis equities, HERBAL was up 0.3% for the month of July 2022. HERBAL's performance was consistent with other cannabis-themed vehicles, like the ETFMG Alternative Harvest ETF (NYSE Arca: MJ). MJ's performance (+2.1%) was helped by the fund's 20% holding in non-pure play CRBs. The MSO-heavy Advisorshares Pure Us Cannabis ETF (NYSE: MSOS) rebounded with a return of 12.7% for the month of July. The MSOS performance will deviate from both HERBAL and MJ largely due to its holdings of CRBs with US Marijuana touch-points, which dominate in that fund. [MJ and HERBAL cannot hold any securities with direct US touch points.]
The CRB Monitor equally-weighted basket of Pure Play Tier 1 CRBs with $1b+ market cap was up 6.4% in July 2022. Similar to MSOS, the securities of US plant-touching multi-state operators helped performance overall and we will look at some of the individual company performance below.
The CRB Monitor equally-weighted basket of Tier 2 CRBs with $150mm+ market cap underperformed the Tier 1 CRB basket in July, falling by 3.2%. As we have indicated in the past, Pure Play Tier 1 and Tier 2 CRBs tend to display high correlation in the long term, but their respective performance has a tendency to diverge in the short term, given the occasional lag from the impact (positive or negative) of market forces. One lingering reality cannot be avoided, that Tier 2 CRBs will eventually inherit the overall success or failure of the Tier 1 universe.
Tier 1 Pure Play CRBs w/Mkt Cap Over $1B – July 2022 Returns


Source: CRB Monitor, Sentieo
CRB Monitor Tier 1
July 2022 was a breath of fresh air for investors, who had been waiting for any sort of rebound for nearly 18 months. Make no mistake about it, July was only one month and there is still a long road ahead for shareholders that have gritted their teeth and held on for the duration of the storm. And the headwinds have hardly gone away. On the regulatory front, it could be argued that the US is no closer to legalization than it was in 2021; and the latest version of the SAFE Banking Act has not been tested in either house, let alone made it to the President for a signature. The global economy is still mired in inflation and we have seen no evidence to suggest that the illicit market for cannabis has gone away. With that said, equities recovered in July amidst investor optimism and Fed action (see SPY return above @ 9%) and seemingly dragged CRBs along with them.
Tier 1 Canadian CRBs helped most by the rebound were Tilray Brands, Inc. (Nasdaq: TLRY) (+17%) and Cronos Group Inc. (TSX: CRON) (+13.1%). What seems to have applied much of the upward pressure on TLRY and CRON as well as the cannabis industry in general was the mid-July announcement that Germany's chancellor Olaf Scholz, along with his new coalition government, is reportedly intent on legalizing adult-use cannabis in the country by 2024. According to an article in The Motley Fool, "Tilray, for its part, would be a major beneficiary of such a move thanks to its state-of-the-art medical cannabis center located in Neumunster." CRON, with international operations and backing by tobacco giant Altria Group, Inc. (NYSE: MO), would be positioned to benefit as well.
One Canadian CRB that did not seem to feel the positive vibes from Germany was Tier 1A CRB Sundial Growers Inc. (Nasdaq: SNDL). Most of the negative pressure on SNDL's price followed the announcement of a reverse stock split of SNDL shares at a ratio of 1:25. The reverse split was intended to avoid expulsion of SNDL's listing from Nasdaq due to noncompliance with Nasdaq's $1 minimum bid price requirements. Apparently Investors were not thrilled with this news and sent shares into a downward spiral and closing down 31% for July.
The MSO group had a stunning reversal in July, performing well across the board. Verano Holdings Corp. (CSE: VRNO) (+3.6%), Green Thumb Industries Inc. (CSE: GTII) (+14.3%), Trulieve Cannabis Corp. (CSE: TRUL) (+10.8%), and Curaleaf Holdings, Inc. (CSE: CURA) (+9.2%) all performed in line with the US equity market and appear to be the result of some post-collapse bargain hunting. Cresco Labs Inc. (CSE: CL) (+34.0%), was the big winner following a three month slump after the announcement of its acquisition of Tier 1A MSO Columbia Care Inc. (CSE: CCHW). This could have been due in part to the announcement in early July that Columbia Care shareholders overwhelmingly approved the acquisition.
Chart of the Month: Price Momentum
This time around we thought it might be interesting to look at a popular tool that has been a long-time favorite signal in the quant investment world: Price Momentum (PM). This measure can be calculated in several different ways, but the premise is generally the same, that there is a basic tendency for a stock's price to move, directionally, like it has done in recent days. In other words, if recent performance has been positive, then today's performance will also be positive. [When the opposite happens the factor is called Reversal.]
For this analysis we selected three large CRBs (Tilray, Trulieve, Canopy Growth) and charted the 10-day trailing price momentum over the last 3 years. For contrast, we added in SPY, the S&P 500 ETF. We calculated PM by subtracting the most recent closing price from the price 10 days earlier and divided by the earlier price, so this is essentially a daily, 10-day return calculation for each security.
What does this tell us? Not surprisingly, the SPY momentum line oscillates very closely around the zero line for the entire period, while the CRBs are displaying all of the investor sentiment that one might expect in this risky space. In several instances, Tilray (in blue) is showing periods of extreme positive and negative sentiment which was brought on by heavy demand/low supply in the securities lending market. The other CRBs display significant swings in investor sentiment over the last 3 years as well. And while a lucky trader might inadvertently profit from this signal, it is more likely that any gains from a momentum-based strategy for cannabis would get swallowed up by the turnover and transaction costs.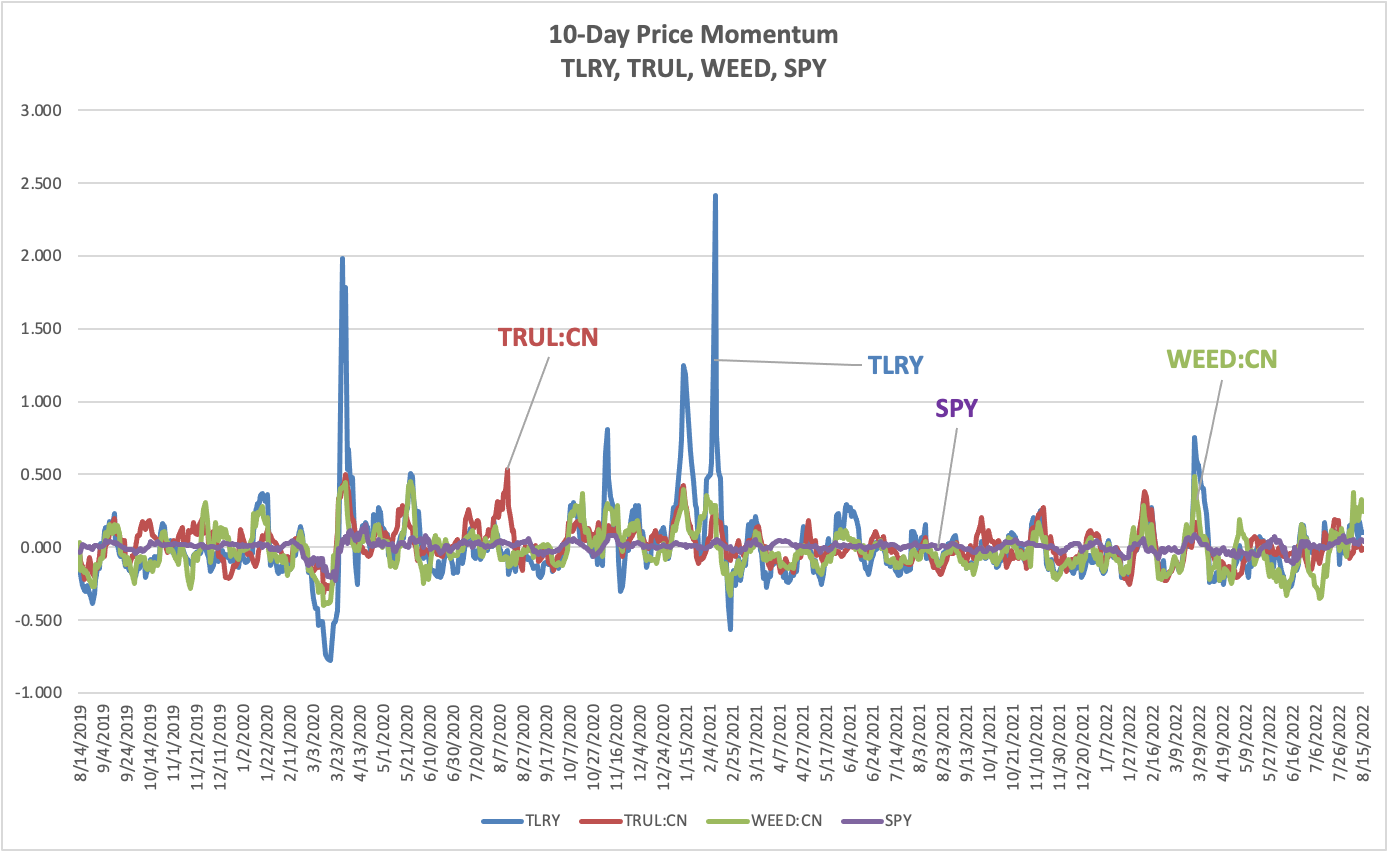 Source: CRB Monitor, Sentieo


Source: CRB Monitor, Sentieo
CRB Monitor Tier 2
An equally-weighted basket of the largest CRB Monitor Tier 2 companies had a negative 3.1% return for July 2022, which underperformed the equally-weighted Tier 1 basket by 9.5%, which appears to be a reversal of June's outperformance. When these two portfolios deviate, it could be a signal for investors to rebalance into (out of) the Tier 1 basket and out of (into) Tier 2's given the direct revenue relationship, but the time it takes to mean revert is not so easy to predict. July is a good example of this convergence.
Sadly there were few encouraging Tier 2 CRB stories in July. With that said, AFC Gamma, Inc. (Nasdaq: AFCG) (+7.0%) posted a rebound of sorts following a dreadful run since the beginning of 2022. AFCG, a provider of institutional loans to cannabis companies nationwide, declared a $0.56 quarterly dividend in June (a 47% increase from the prior year and an increase for the 4th consecutive quarter). Still down close to 50% YTD, it will be interesting to see what happens following AFCG's earnings announcement in August.
There was no relief for investors in the largest company in the Tier 2 basket, Innovative Industrial Properties, Inc. (NYSE: IIPR) (-12.3%). It seems there is nothing good to say about IIPR, and we will not dwell on it since we referenced a scathing research report on them in our June Securities Newsletter. Suffice it to say, things have not improved for IIPR as their stock is now down 62% in 2022.
And it was another difficult month for investors in perennial underperformer Hydrofarm Holdings Group, Inc. (Nasdaq: HYFM). Now in apparent free fall, HYFM lost another 7.2% in July and is now down just over 88% YTD. Hydrofarm is an independent distributor and manufacturer of controlled environment agriculture (CEA) equipment that is used to grow, farm and cultivate cannabis (among other crops). Apparently HYFM's stock still has not recovered from a dismal Q4 earnings report, in which they reported an $11mm net loss, in spite of an increase in sales over that quarter.
CRB Monitor Securities Database Updates
CRB Monitor's research team monitors the information cycle daily and maintains securities' profiles to reflect the current state of the cannabis ecosystem. Here is a summary of the updates for July 2022: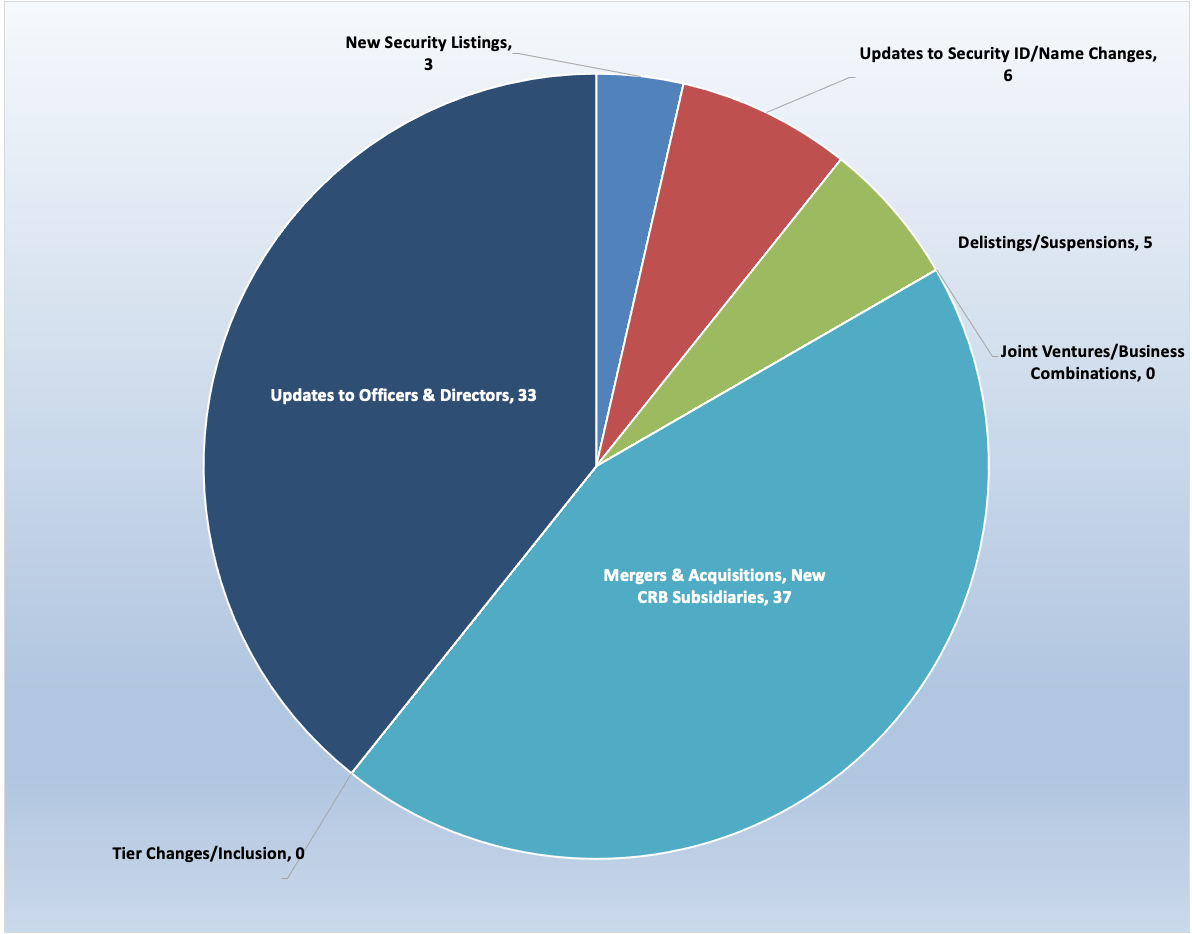 Cannabis News: M&A Activity
M&A activity in the publicly-traded cannabis space has tapered off significantly in 2022. With that said, we continue to see a steady stream of acquisitions of licensed CRBs by publicly-treaded companies. We estimate that approximately 10% of the active licenses in North America are ultimately held, either directly or indirectly, by publicly-traded CRBs. This means that there is plenty of room for expansion, as long as balance sheets allow.
Here are some of the July highlights:
Early in the July Tier 1B MSO Verano Holdings Corp. (CSE: VRNO) announced in a press release the opening of MÜV Tamarac, Verano's 49th Florida dispensary and 102nd nationwide. According to the announcement, "MÜV Tamarac's close proximity to Fort Lauderdale and Boca Raton will allow us to reach even more patients in Florida's growing medical marijuana program," said John Tipton, President of Verano. "Tamarac marks our second location in Broward county, the second most populous county in Florida, and we are excited and ready to expand access to our premium cannabis products to more patients in the state." With this acquisition Verano continues its expansion in the United States which has resulted in operations in 16 states plus Puerto Rico, and controls over 88 cannabis licenses in either active status or pending approval.
Meanwhile, Canadian Tier 1 CRB High Tide Inc. (TSXV: HITI) announced on July 7th that it would acquire nine licensed retail stores from Choom Holdings Incorporated (CSE: CHOO). In the words of Raj Grover, President and Chief Executive Officer of High Tide, "I am thrilled to be announcing this deal today, which represents the third public company whose assets we have integrated into the High Tide portfolio since November 2020, following the acquisitions of Meta Growth and Smoke Cartel. Choom was one of the original and long-standing brands in cannabis retail with a presence across the country and a similar brand personality to Canna Cabana. This will make the integration of Choom into the Canna Cabana brand seamless". Following the closing of this acquisition, High Tide will hold, through its subsidiaries, 175 cannabis licenses that are either active or pending approval.
Also in July Tilray, Inc. (NASDAQ: TLRY) announced in a press release that it closed its previously-disclosed acquisition from HT Investments MA LLC of the secured convertible note issued by HEXO Corp. (TSXV: HIP) Tilray Brands acquired the HEXO Note from HTI, which has a current principal balance of $173.7 million outstanding. The purchase price paid to HTI for the HEXO Note was $155 million, reflecting a 10.8% discount on the outstanding principal balance.
What this means: The conversion price of the HEXO Note of CAD$0.40 per share, implies that, as of July 11, 2022, Tilray Brands would have the right to convert into approximately 48% of the outstanding common stock of HEXO (on a non-diluted basis). By CRB Monitor's count, assuming the exercise Tilray would, through all of its subsidiaries, hold 273 cannabis licenses in either active or pending approval status.
Tier 1A CRB Curaleaf Holdings, Inc. (CSE: CURA) announced in a July 29th press release the opening of its Tampa Citrus Park dispensary. Curaleaf Tampa Citrus Park "expands the Company's retail presence to six locations in Hillsborough County and 51 across the Sunshine State." By CRB Monitor's count, Curaleaf (directly and through its subsidiaries) has been issued 123 cannabis licenses that are either active or pending approval.
Finally, Tier 1B CRB MJ Holdings, Inc. (OTC Pink: MJNE) announced in a July 14th press release that it has acquired MJH Research, Inc, a Florida corporation, to expand its cultivation operations. MJ Holdings, Inc. is a diversified holding company providing management and consulting services to the regulated cannabis industry and through its licensed subsidiaries provides cultivation and production management services and infrastructure development. According to the press release, "On July 8, 2022, MJ Holdings, Inc. entered into a Common Stock Purchase Agreement with MJH Research, Inc. and Sunstate Futures, LLC, a Florida limited liability company. Under the terms of the Agreement, the Seller agreed to sale all issued and outstanding shares of common stock (100,000 shares) of the Company to the Buyer. In consideration of the purchase of the shares of Common Stock, the Buyer agreed to issue the Seller 7,000,000 shares of its common stock. The transaction closed on July 11, 2022." Following the transaction, MJ Holdings holds, through its subsidiaries, 4 active cannabis licenses.
Select M&A/New Subsidiary Highlights:
Security/Exchange Highlights:
Select New Additions to CRB Monitor:
| | | | |
| --- | --- | --- | --- |
| Name | Ticker Symbol | CRBM Tier | CRBM Cannabis Sector (CLS) |
| | | Tier 2 | Personal Products |
| | | Tier 2 | Personal Products |
Cannabis News: Regulatory Updates
We continued to monitor the regulatory news cycle in July in real time, and in spite of some obvious distractions (global economic woes, Russia/Ukraine conflict, the upcoming 2022 midterms) there is always cannabis-related regulatory news to report.
A July 14th article on the website Truthout.com reported the results of a poll that suggests that nearly 6 in 10 Americans "want marijuana legalized." The July Poll, conducted by The Economist/YouGov, surveyed 1,500 adults and found that "most Americans would welcome the legalization of marijuana. Just 28 percent of Americans want to keep the drug illegal at the federal level…while nearly 6 in 10 Americans (58 percent) say THAT it should be legal to use recreationally." Not surprisingly, more of those who support legalization identified as Democrats (68%) as opposed to Republicans (43%).
Also in July it was reported that Switzerland has legalized medical cannabis. Switzerland is to join other European countries that have legalized cannabis for medical purposes. According to a July 27th article in Forbes, patients will be able to purchase cannabis with a medical prescription, beginning on August 1st.
The new regulations also allows for "the export of medical cannabis for commercial purposes through the authorization companies need to request from Swissmedic, the Swiss surveillance authority for medicines and medical devices."
Furthermore, the law only allows for cannabis products that contain CBD, with less than 1% THC content. With that said, the article states that "Switzerland is to start a trial program for adult-use cannabis, aiming to provide information to regulate cannabis in the whole country by selling adult-use cannabis products in Basel to around 400 volunteers."
According to cannabis informational website The Cannigma, 27 countries in Europe now allow cannabis (in some form) to be used for medical purposes only. Germany appears to be the only European country, at this time, that is anywhere close to legalizing recreational marijuana.
Meanwhile, in Missouri, citizens supporting legalization apparently failed to get enough signatures to get a referendum vote on the November ballot for recreational cannabis. According to an article in the Missouri Independent, the initiative "is 1,131 signatures short in the 6th Congressional District, which runs from Kansas City to the Iowa border, and 1,144 signatures short in the 7th Congressional District in southwest Missouri around Springfield and Joplin."
The article goes on to say that "the figures are unofficial and subject to amendment until the final Aug. 9 deadline for (Secretary of State) Ashcroft to determine whether the campaign succeeded or not, spokesman Madison Walker wrote in an email to The Independent.
And so it looks like the group that calls itself Legal Missouri 2022 has a bit more work to do to get recreational marijuana legalized any time soon.
In New England, it might be a surprise to some that there is still one state that has not legalized marijuana for adult use. The state of New Hampshire, which has legalized medical marijuana and decriminalized certain cannabis-related offenses, has yet to legalize recreational use. Why the delay? According to a July article on NBCBoston.com, "Several lawmakers don't see marijuana as a business opportunity, but a danger. Their objections to marijuana have often centered on the health risks of the drug and how it may connect to the opioid crisis."
The article goes on to explain that the governor of New Hampshire, Chris Sununu, is motivated by the data which says that New Hampshire has had a decrease in opioid deaths while nearby Massachusetts, which has legalized recreational marijuana, has had an increase. And this can be attributable to New Hampshire's reluctance to legalize adult-use cannabis. [Sununu vetoed a bill in 2019 that would have legalized growing marijuana at home.]
"While most of America has been seeing an increase in opioid-related deaths, New Hampshire's rate has fallen faster than any other state's, a trend Sununu has previously pointed to when saying it wasn't yet time to legalize cannabis."
With that said, the article cites a University of New Hampshire poll that says that the vast majority (74%) of New Hampshire residents support legalization of recreational use marijuana. Quoting the article, "While support for marijuana legalization has historically come from Democrats and young people, (the UNH) February poll shows more than two thirds of independents and slightly over half of Republicans in New Hampshire were in favor of the bill legalizing marijuana sales in state-run liquor stores that was rejected by Senate in April."
Finally, in mid-July it was reported in Marijuana Moment that US President Joe Biden said his administration is "working on plans" to fulfill his campaign pledge to free people who are incarcerated for marijuana. For those who have been following cannabis reform historically, the article points out that his statement "marks the first time that the president has publicly made a substantive comment about cannabis policy since taking office more than a year ago." The article goes on to say that "Biden has received about a dozen letters from lawmakers, advocates, celebrities and people impacted by criminalization to do something about the people who remain behind federal bars over cannabis." No executive action has happened yet related to pardons for cannabis offenses. And as we have pointed out a number of times, the 2020 Biden-Harris campaign platform was in favor of decriminalization but made no mention of cannabis legalization at the federal level.
CRBs In the News
The following is a sampling of highlights from the July 2022 cannabis news cycle, as tracked by CRB Monitor. Included are CRB Monitor's proprietary Risk Tiers.
Wondering what a Tier 1, Tier 2 or Tier 3 CRB is?

See our seminal ACAMS Today white paper Defining "Marijuana-Related Business" and its update Defining "Cannabis-Related Business"