In somewhat of a surprise ending to this election cycle, Georgia's run-off Senate election resulted in the appointment of Democrats Jon Ossoff and Raphael Warnock. The appointments caused a shift to an overall Democratic majority in the Senate and a unified party across both the legislative and executive branches. Because Congress plays the biggest role in influencing change in marijuana banking, insiders are speculating on what 2021 may bring to the cannabis industry.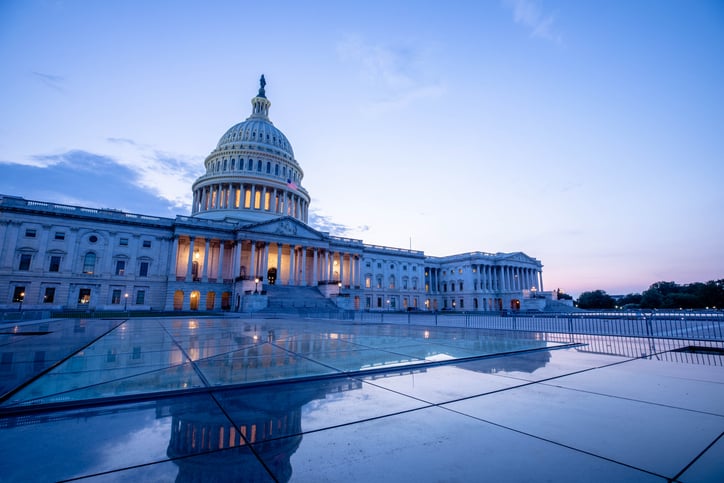 Federal Legalization vs. Decriminalization of Marijuana
Perceived risk has the largest impact on a financial institution's willingness to establish a relationship with a marijuana-related business (MRB). That risk is largely dependent on the legality of marijuana on both federal and state levels. While marijuana is currently still federally classified as a Schedule I Controlled Substance, numerous states have taken various approaches to allow for expanded licensing, regulation, and commercialization of marijuana. Some states have fully "legalized" marijuana while others have allowed for only medicinal use. Yet others have simply "decriminalized" it.
In an article published by the National Library of Medicine, the difference between "legalization" and "decriminalization" is described as:
"Legalization of cannabis [marijuana] is the process of removing all legal prohibitions against it. Cannabis [marijuana] would then be available to the adult general population for purchase and use at will, similar to tobacco and alcohol. Decriminalization is the act of removing criminal sanctions against an act, article, or behavior. Decriminalization of cannabis [marijuana] means it would remain illegal, but the legal system would not prosecute a person for possession under a specified amount. Instead, the penalties would range from no penalties at all, civil fines, drug education, or drug treatment."
While federal "legalization" of marijuana would dramatically reduce a financial institution's perceived risk around offering banking services to an MRB (assuming the state(s) in which the MRB operates has also legalized marijuana and the MRB is legitimately licensed), the chances of this happening in the near term appear to be lower than the alternative. More likely is the de-scheduling, and subsequent federal "decriminalization," of marijuana. In which case, additional legislation related to MRB banking almost certainly would also be required before any substantive changes would occur related to MRB banking.
Federal "Legalization" of Marijuana
The Marijuana Opportunity Reinvestment and Expungement Act (MORE) Act of 2020 passed the House in December 2020. We've previously outlined the challenges that lie ahead for MRB banking, even in the unlikely event that the MORE Act passes the Senate (Read more about the MORE Act here). An earlier version of the bill was sponsored by Vice President Kamala Harris, and newly-elected Georgia Senator John Ossoff is also reported to be a strong supporter of legalization.
However, there are several reasons why it is not probable that the MORE Act will pass in 2021. Because it calls for the most significant policy reforms, it lacks some support from Congress, even Democrats. There is also a recognition, even among supporters, that the bill lacks the regulatory framework needed to move forward. As such, the amount of revisions needed to address these weaknesses will take significant time and attention to move forward. Another potential pitfall for the future of the bill is that, in order to pass the House, a number of concessions were made, including some that impact social equity provisions, causing the withdrawal of support from some advocacy groups.
Federal "Decriminalization" of Marijuana
Smaller reforms, like decriminalization (perhaps through the Strengthening the Tenth Amendment Through Entrusting States [STATES] Act), are much more likely to have support by both houses of Congress. However, if marijuana is decriminalized, additional legislation, like the Secure and Fair Enforcement (SAFE) Banking Act, would likely be needed before any considerable changes could be made to impact the legality of MRB banking.
While the SAFE Banking Act will lead to some improvements in a MRB's ability to access financial services with depository institutions and insurance companies (NB, the law does not appear to protect non-bank financial institutions), it does not address the legality of marijuana, nor significantly reduce the risk exposure of the cannabis industry from a banking perspective. For more details, read our post on separating fact from fiction when considering the potential impact of the SAFE Banking Act.
The SAFE Banking Act has a better probability of passing the Senate, especially with the support of a Democratic Presidential Administration and Congress, including the Chairs of the Finance and Judiciary Committees. Decriminalization, rather than legalization, is more aligned with President Biden's views, as well as Merrick Garland, Biden's nominee for Attorney General. Garland is known for his centrist, "law-and-order" style, meaning it is not likely that he will be lenient on federal enforcement of marijuana without significant legislative change. That said, experts still question whether marijuana reform will be a top priority for the new Congress, considering the narrow majority held by Democrats and the ongoing concerns stemming from the COVID-19 pandemic that need to be addressed.
Real Change Takes Time
Regardless of which path the road to marijuana reform leads to, one thing is certain: significant change will take time to implement, as evidenced by the continual updates to hemp rules and regulations as a result of the Farm Bill, which was passed in 2018. Marijuana reform will certainly encourage new entrants to the cannabis market, yet it is likely that banks will continue to consider MRBs as high risk as long as they are heavily regulated, cash intensive, and associated with tax compliance concerns. Accordingly, MRBs should continue to expect challenges when looking for accessible and reasonably priced financial services in 2021 and beyond.
Is your compliance program backed by comprehensive data on the cannabis industry? Do you have access to reliable information about MRBs to determine your firm's level of risk exposure? Read more on our blog: You Don't Know Pot: 5 Fundamentals to Understanding, Identifying, and Monitoring for CRBs. Or visit our website to request more information and get in touch with our team.
The information provided herein presents general information and should not be relied on as legal advice. If you have specific questions regarding a fact, please consult with competent legal counsel about the facts and laws that apply.