James B. Francis, CFA
Managing Director of Publicly Traded Securities Research, CRB Monitor
CRB Monitor tracks nearly 1,300 publicly-traded, Cannabis-Related Businesses (CRBs) globally, which have 1,500+ traded securities. We categorize CRBs into our proprietary cannabis risk tier framework and cannabis-based sectors. CRB Monitor also unravels and maintains complex corporate structures, linking publicly-traded parent companies to their underlying operational plant-touching subsidiaries. Custodian banks, broker/dealers, and asset managers find our data essential for pre-trade compliance, risk management, index construction, and portfolio analytics.
CRB Monitor Securities Updates – April 2021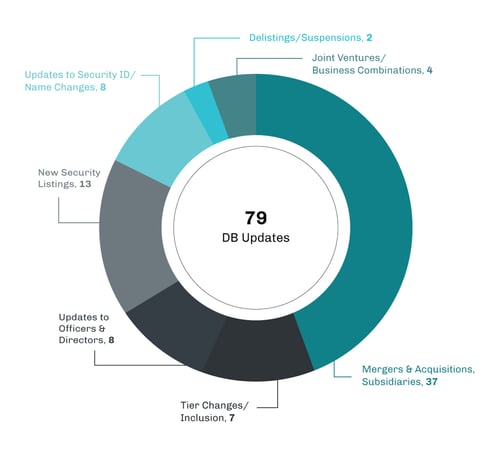 Source: CRB Monitor
Cannabis Securities News Highlights
We are now four months into 2021 and the cannabis news cycle has not let up. On the regulatory front, cannabis inched closer toward legalization (or at least normalization) with the US House of Representatives' passage, for a fourth time, of the SAFE Banking Act, with a vote of 321-101. Quite simply, if the SAFE Banking Act (aka H.R. 1996) were to become a law, US financial institutions could take on cannabis business clients without facing federal Anti-Money Laundering (AML) penalties. Once the legislation passed through the House in mid-April, a similar bill was introduced in the Senate with the support of 1/3 of current senators; however given the current list of priorities and gridlock in Washington, it remains to be seen when it will be taken up for consideration for a vote. But if/when it is passed in the Senate, it would hit President Biden's desk and would certainly be a game-changer if it were to be signed into law. The normalization of cannabis commerce would represent a significant step toward federal legalization. And while the Biden-Harris Administration has not come out in full support of legalization, it has shown support for decriminalization, which represents a giant leap from the position taken by prior administrations.
In addition to the US Federal Government's activities, we continue to see progress toward universal legalization at the state level. The Governor of New Mexico signed an adult-use legalization bill into law while the Minnesota's House of Representatives prepared to vote on adult-use marijuana as well. And we are seeing some progress in Connecticut, where adult-use legalization cleared a House judicial committee vote and will now make its way through the legislature before landing on Governor Ned Lamont's desk for his signature.
After a busy Q4 2020 and Q1 2021, investors were wondering what's next for CRBs. For those of us who have followed this space closely, the consolidation has been nothing short of breathtaking, with some of the largest Tier 1 CRBs going through some form of M&A activity. Two of the largest cannabis-linked issuers, GW Pharmaceuticals and Aphria , are no longer publicly listed following acquisitions by Tilray, Inc. (Nasdaq: TLRY) and Jazz Pharmaceuticals plc (Nasdaq: JAZZ), respectively. We have also seen a significant investment by British American Tobacco P.L.C. (LSE: BATS) in Tier 1B Organigram Holdings Inc. (TSX: OGI); and Tier 1A Cresco Labs Inc. (CSE: CL) acquisition of 100% of private Tier 1A Bluma Wellness Corp., which is now closed.
Also during the month of April, Canopy Growth Corporation (TSX: WEED) announced its acquisition of The Supreme Cannabis Company, Inc. (TSXV: FIRE). While this is not as large as the blockbuster deals we have witnessed in Q1 – this deal is valued at approximately $435 million – it represents, nonetheless, further consolidation in the cannabis industry. And given that the recent Tilray-Aphria merger placed Tilray at the top of the Tier 1 pure-play list (see performance commentary below) in terms of market capitalization, Canopy Growth appears to be hungry for market share and suggests that we might not have seen the last of this power-grab.
Of the thousands of news releases and regulatory filings reviewed in April 2021, our research resulted in a total of 346 updates to the CRB Monitor database (79 updates to issuers' records, 267 news releases added). The complete list of securities and detail for these updates is available to CRB Monitor Securities database clients, but below are highlights.
Select M&A/Subsidiary Highlights (Jim Update):
Security/Exchange Highlights:
Risk Tier/Inclusion Updates in CRB Monitor:
Select New Additions to CRB Monitor:
| | | | |
| --- | --- | --- | --- |
| Name | Ticker Symbol | CRBM Tier | CRBM Cannabis Sector |
| | | Tier 1B | Owner/Investor |
| | | Tier 2 | Personal Products |
| | | Tier 2 | Pharma & Biotech |
| | | Tier 2 | Personal Products |
| | | Tier 1B | Owner/Investor |
Cannabis-Linked Equity Performance (Jim Update)
For the second straight month, cannabis-linked equities corrected from their spectacular performance in January and February. As you may recall, CRBs were, by and large, disappointing in March, with many falling by double digits, and April was essentially a rerun of that episode.
On that note, Tilray, Inc. (Nasdaq: TLRY), which now sits atop the list of Tier 1 pure play cannabis companies in terms of revenue and market capitalization, fell by nearly 18% on heavy volume as investors continued to seize the opportunity to cash in on the positive spike in return in January and February. Now at more than $14 billion in market capitalization, Tilray's stock remains volatile and is a favorite of hedge fund traders and securities lenders, given its difficult-to-borrow status and arbitrage opportunities. Also not helpful to TLRY's performance was the latest earnings report of Tilray's merger partner, Aphria (TSX: APHA), following the announcement in April that APHA's earnings were significantly below consensus estimates. Now that this merger is complete, investors apparently did not take this news well and took their profits on the way out.
Also hitting the brakes in April 2021 was Tier 1 CRB Sundial Growers (Nasdaq: SNDL), which fell more than 21% during the month in a "Gamestop-like" behavioral pattern.
A pair of bright spots during the month of April 2021 were Green Thumb Industries Inc. (CSE: GTII) and Columbia Care Inc. (NEO: CCHW). Green Thumb Industries' stock was up more than 7% as investors remained optimistic about their near-term future earnings potential from New York State's recent legalization of adult-use cannabis. And in mid-March Columbia Care announced 2020 full-year earnings which outperformed analyst's expectations while the company made several key acquisitions in Maryland, Ohio, Virginia, and Pennsylvania. Columbia Care's stock was up 5% in April.
Consistent with the aforementioned March correction, The CRB Monitor Index of Top 10 Tier 1 cannabis-linked equities posted a negative 8.9% return on an equally-weighted basis. This performance trailed major equity market indexes (see SPY, EFA, and VWO in the chart below).
CRB Monitor "Top 10" Tier 1 Cannabis Companies
Source: CRB Monitor, Sentieo
Source: CRB Monitor, Sentieo
CRBs In the News – April 2021
April 2021 was a continuation of a busy news cycle for publicly-traded cannabis-linked companies. The following is a sampling of highlights from the April 2021 cannabis news cycle, as tracked by CRB Monitor. Included are CRB Monitor's proprietary Risk Tiers.
Wondering what a Tier 1, Tier 2 or Tier 3 CRB is?

See our seminal ACAMS Today white paper Defining "Marijuana-Related Business" and its update Defining "Cannabis-Related Business"