CRB Monitor Cannabis-Linked Securities September 2021 Update
James B. Francis, CFA
Chief Research Officer, CRB Monitor
CRB Monitor tracks ~ 1,400 publicly-traded, Cannabis-Related Businesses (CRBs) globally, which have ~1,600 traded securities. We categorize CRBs into our proprietary cannabis risk tier framework and cannabis-linked (CLS) sectors. In addition, CRB Monitor unravels and maintains complex corporate structures, linking publicly-traded parent companies to their underlying operational plant-touching subsidiaries. Custodian banks, broker/dealers, and asset managers find our data essential for pre-trade compliance, risk management, index construction, and portfolio analytics.
CRB Monitor Securities Database Updates
In 2021, CRB Monitor's research team has made more than 1,300 updates to securities' information and has added more than 5,800 news-related source documents to the CRB Monitor database. Here is a summary of the updates for September 2021: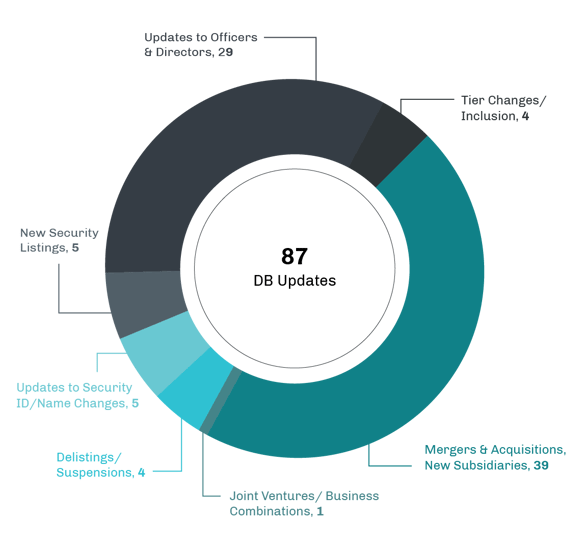 Source: CRB Monitor
Cannabis News Updates: M&A
CRB Monitor has been following several cannabis-linked mergers and acquisitions throughout the year, and while things are slowing a bit of late, there has been plenty of activity to report.
Canadian Tier 1B CRB HEXO Corp. (TSX: HEXO) finally closed its acquisition of all the issued and outstanding shares of 48North Cannabis Corp. (TSXV: NRTH). With this transaction, HEXO (formerly Hypothecary Corp.) has now expanded its footprint to 11 direct subsidiaries with more than 180 active cannabis licenses across Canada and in Europe. The 48North purchase added three new businesses: two Tier 1A Ontario cultivator/manufacturer/retailers, Good and Green and DelShen Therapeutics Corp.; and Tier 2 CBD manufacturer Rare Industries, Inc.
Another up-and-coming Canadian Tier 1B CRB The Valens Company Inc. (TSX: VLNS) announced in early September that it had completed its acquisition of Tier B Citizen Stash Cannabis Corp. (TSXV: CSC). Through this purchase, Valens takes ownership of Ontario-based Licensed Tier 1A cultivator/manufacturer/retailer Experion Biotechnologies Inc. This brings Valens' total number of active licenses under their control to eight.
And some divestiture news: Tier 1 CRB Acreage Holdings, Inc. (OTCQX: ACRDF) announced that it would be wrapping its operations in the state of Oregon with the sale of its Oregon Retail Chain, Cannabliss & Co., to Chalice Brands Ltd. The transaction was an asset-purchase agreement in which Chalice would acquire all the assets and assume the operations of Acreage's four Oregon retail dispensaries branded as Cannabliss & Co. According to Acreage's press release, "With the sale of the Cannabliss retail operations, Acreage has exited Oregon, which was negatively affecting the company's bottom line and utilizing management resources. Acreage will focus its resources on its core markets which will drive outsized returns for shareholders." With that said, Acreage's footprint in the US remains significant, with operations spread across 17 states with more than 100 active cannabis licenses to cultivate, distribute, dispense, and manufacture recreational and medical marijuana as well as hemp.
Active Canadian Tier 1B CRB Green Thumb Industries Inc. (CSE: GTII) continued to expand its US cannabis footprint with the closing of its acquisition of Massachusetts adult-use retailer GreenStar Herbals, Inc. Green thumb's buying spree continues in earnest, as this acquisition expands their national presence to 64 open retail locations, with licenses for 114 retail locations.
More Massachusetts cannabis news: Tier 1B CRB Jushi Holdings Inc. (CSE: JUSH), a vertically integrated, multi-state cannabis operator, announced that it would be moving into the Bay State with its acquisition of Nature's Remedy of Massachusetts, Inc. According to the press release, "Nature's Remedy currently operates two retail dispensaries, in Millbury, MA and Tyngsborough, MA, and a 50,000 sq. ft. cultivation and production facility in Lakeville, MA". With this purchase, Jushi's operations now span eight states, and their licenses to cultivate, dispense, etc., now total 45 that are either active or pending approval.
Select M&A/Subsidiary Highlights:
Security/Exchange Highlights:
Select New Additions to CRB Monitor:
| | | | |
| --- | --- | --- | --- |
| Name | Ticker Symbol | CRBM Tier | CRBM Cannabis Sector (CLS) |
| | | Tier 2 | Professional Services |
| | | Tier 2 | Professional Services |
| Crucial Innovations Corp. | | Tier 1B | Owner/Investor |
| | | Tier 1B | Owner/Investor |
| | | Tier 3 | Agricultural & Farm Machinery |
Regulatory Updates
There has been limited new progress at the federal level largely due to higher congressional priorities like infrastructure, budget reconciliation, and voting rights. With that said, at the end of September, the House Judiciary Committee approved a bill to federally legalize marijuana. The Marijuana Opportunity, Reinvestment and Expungement (MORE) Act of 2021 was passed by the Committee, which is chaired by the legislation's sponsor, Rep. Jerrold Nadler (D-NY), on a 26-15 vote. The legislation would remove marijuana from the Controlled Substances Act (CSA), allow people with cannabis convictions to have their records expunged, and create a federal tax on marijuana with the revenue going to support community reinvestment and other programs.
This is not exclusively about cannabis, but…In mid-September, it was reported that the U.S. House of Representatives is considering a vote on psychedelics research for military and marijuana banking as part of a defense bill. Representatives have introduced a series of drug policy-related amendments to defense legislation, which feature funding for research on the benefits of psychedelics for active-duty military personnel. The proposal also includes protections for banks that service state-legal marijuana businesses.
Other proposed amendments would ensure that the U.S. Department of Veterans Affairs (VA) can't deny home loan benefits to veterans just because they work in the cannabis industry, and would provide for a clinical trial into the therapeutic benefits of marijuana for veterans with chronic pain and post-traumatic stress disorder (PTSD).
In California, Governor Gavin Newsom signed a bill that would allow hospitals in the state to use medical marijuana to treat patients. Along with this new law, called SB-311, Compassionate Access to Medical Cannabis Act or "Ryan's Law", came concerns that, given that cannabis remains federally illegal, federal funds for California hospitals would be placed in jeopardy as the result of this new law.
And in Mississippi (one of a handful of states that has yet to legalize medical cannabis), Governor Tate Reeves (R) slowed the progress on a medical cannabis legalization bill, stating concerns about funding for cannabis-related programs. The draft version of the bill would levy the state's sales tax, currently at 7 percent, on marijuana, and a $15 per ounce excise. But the bill, about which Reeves has stated his concerns, does not specify funding for the Departments of Health, Revenue, and Agriculture to run and regulate it. Rather, the bill routes the marijuana revenue into the general fund. This has prompted concern from state health and agriculture leaders that lawmakers would not adequately fund the agencies to stand up such a program.
Cannabis-linked Equity Performance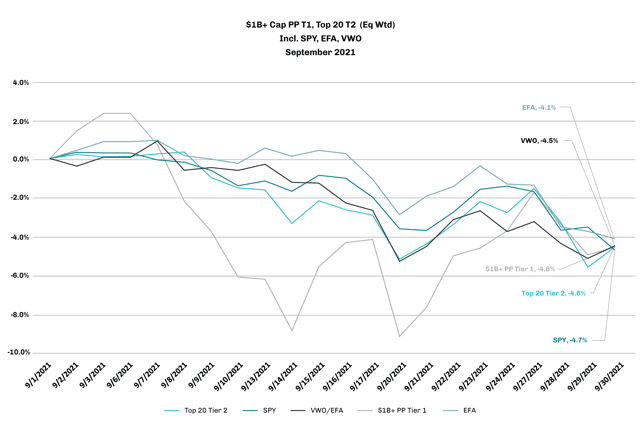 Source: CRB Monitor, Sentieo
The CRB Monitor basket of top 13 ($1b+ market cap) pure play Tier 1 CRBs, equally-weighted, fell by 4.5% in September 2021, pacing global equities for the month. We have added an equally-weighted basket of the top 19 Tier 2 CRBs to this chart, and it performed essentially the same. As you can see in the chart above, broad equity indexes were also lower as investors appear to be spooked by effects of the ongoing pandemic and related shocks to supply chains that are slowing economies worldwide.
Tier 1 Pure Play CRBs w/Mkt Cap Over $1B Returns - September 2021

A periodic disappointment for investors, Tier 1A Canopy Growth Corporation (TSX: WEED), extended its losing streak, down 17% in September and has lost more than 50% of its value in 2021 YTD. Regardless of positive earnings, WEED was downgraded in September by Bank of America analysts from "buy" to "neutral," citing supply chain-related challenges as the main cause. Still a major force in the cannabis industry, Canopy Growth holds more than 250 active cannabis licenses, either directly or indirectly through its subsidiaries. This sustained depression in price could potentially lead to an acquisition, given the more attractive fundamentals.
Still falling since early February 2021, Tier 1B Tilray, Inc. (Nasdaq: TLRY) was down nearly 17% for the month of September. Tilray's stock is actually up more than 20% for the year, but has fallen more than 80% from its high in February, its investors having suffered from the "Gamestop" effect. Through its subsidiaries, both direct and indirect, Tilray has a significant presence in both the U.S. and Canada, with ownership of close to 300 active cannabis licenses across and outside North America.
From the small cap group: Halo Collective Inc. (NEO: HALO), a Canadian-based Tier 1B CRB, closed down nearly 25% in September. Through its direct and indirect subsidiaries, Halo currently holds 31 active cannabis licenses that permit them to cultivate, wholesale, manufacture, retail, and transport both medical and recreational cannabis in the U.S. and Canada. Halo has been actively expanding its operations (see M&A announcement above); however, its stock continues to drop, now down more than 60% in 2021. This comes in spite of the fact that FY2021 earnings are expected to be up significantly YoY.
On a more positive note, Tier 1B Ayr Wellness Inc. (CSE: AYR.A), a Canada-based, vertically-integrated, U.S. multi-state operator (MSO) was up 7.6% for the month of September and essentially flat YTD. Now operating in nine states, Ayr Wellness holds 47 active cannabis licenses, for medical and recreational use, covering essentially every phase from cannabis cultivation to retailing. According to their latest investor presentation, Ayr is "on track to be the largest scale producer of high-quality cannabis in the U.S."
As noted above, an equally-weighted basket of the largest CRB Monitor Tier 2 companies had a -4.5% return for September, which was similar to the equally-weighted Tier 1 basket. With that said, the two portfolios deviated somewhat in return until the last week of the month. We will be writing more about the Tier 2 space in upcoming posts as we take a closer look at the Tier 1/Tier 2 return spread.
CRBs In the News
The following is a sampling of highlights from the September 2021 cannabis news cycle, as tracked by CRB Monitor. Included are CRB Monitor's proprietary Risk Tiers.
Wondering what a Tier 1, Tier 2 or Tier 3 CRB is?

See our seminal ACAMS Today white paper Defining "Marijuana-Related Business" and its update Defining "Cannabis-Related Business"