James B. Francis, CFA
Chief Research Officer, CRB Monitor
Cannabis-Related Equity Performance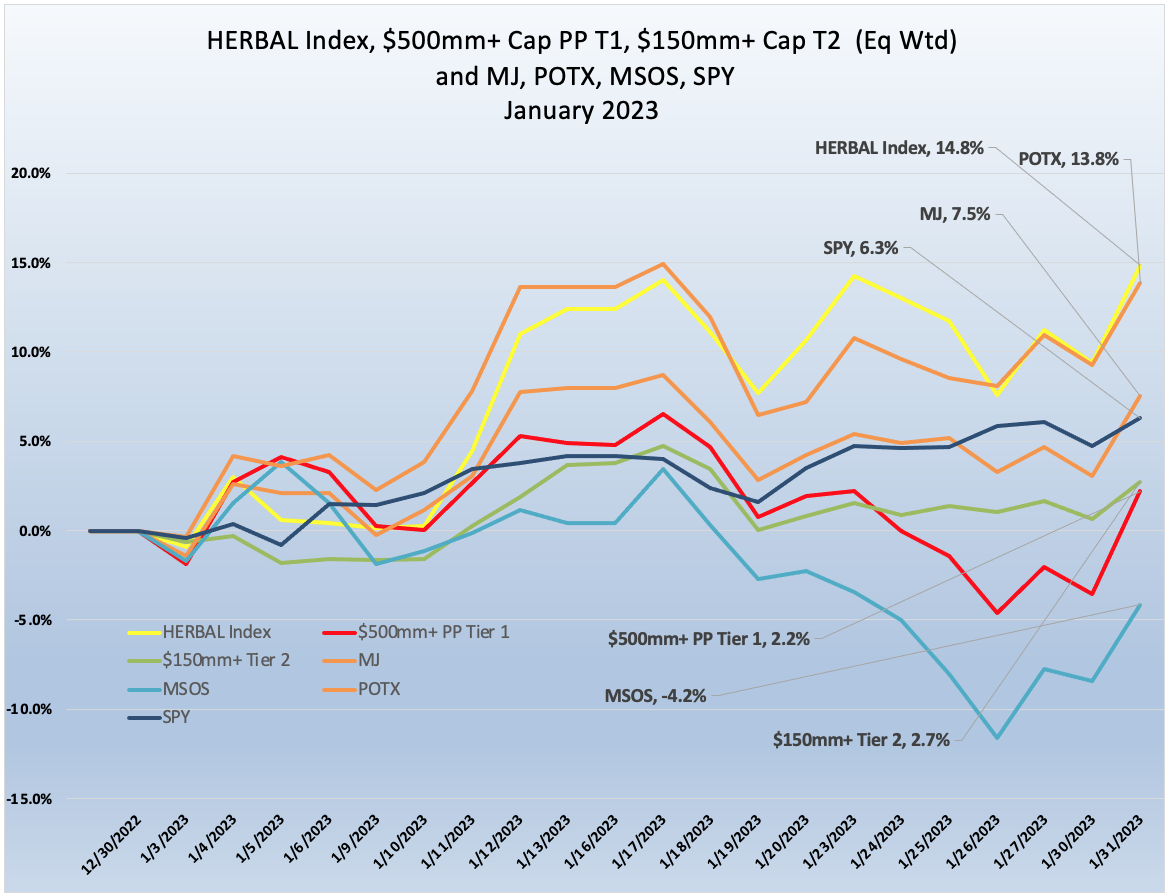 Source: CRB Monitor, Sentieo, Nasdaq
Cannabis Index Returns - A Nice Rebound
Equities rebounded globally in January as expectations built up that we have seen the peak of inflation and that if there is to be a recession at all that it will not be too severe. The Nasdaq CRB Monitor Global Cannabis Index (HERBAL), a mix of Pure Play Tier 1 and Tier 2 CRBs weighted by both investability and strength of theme (SOT), finished ahead of its peers for the month. A full description of HERBAL's strengths and benefits can be found here: Introducing: The Nasdaq CRB Monitor Global Cannabis Index.
The HERBAL index rebounded mightily in January 2023 and was stronger than its competitors in the cannabis equity universe, posting a 14.8% return for the month. HERBAL finished ahead of its closest rival in the cannabis thematic space, the Global X Cannabis ETF (Nasdaq: POTX) (13.8%). Similar to HERBAL, POTX is a pure play cannabis ETF with no US touchpoints and any deviations from the return of the HERBAL index will generally be due to differences in security weightings. HERBAL also outperformed the ETFMG Alternative Harvest ETF (NYSE Arca: MJ) (+7.5%) as well as the Advisorshares Pure US Cannabis ETF (NYSE: MSOS), which had a difficult January (-4.2%).
MJ's performance is likely to deviate from HERBAL's due to a significant percentage of non-Pure Play cannabis holdings, more specifically tobacco stocks with either very small or even no cannabis exposure at all. And more recently, MJ added a 20% US plant-touching component via a holding in its sister fund, MJUS. This position caused a drag on MJ's performance, as did it's non-Pure Play holdings. The US plant-touching component also has the potential to impact MJ's eligibility on investment platforms that restrict US cannabis exposure.
The self-described and largest US plant-touching fund, MSOS, has performance that can deviate materially from HERBAL's as well, largely due to its holdings of CRBs with US Marijuana touch-points. [POTX and HERBAL cannot hold any securities with direct US touch points while MSOS (and now MJ) can.]
The performance of the CRB Monitor equally-weighted basket of Pure Play Tier 1 CRBs with $500mm+ market was up 2.2% in January 2023, with the basket being negatively affected by the MSO component. Looking at the table below, we see how the CRBs without US touchpoints kept the basket above water for the month.
The CRB Monitor equally-weighted basket of Tier 2 CRBs with $150mm+ market cap finished the month in line with the Tier 1 CRB basket, posting a positive 2.7% return. This is no surprise, as we expect Pure Play Tier 1 and Tier 2 CRBs to display high correlation (~0.8) in the long term; with that said, their respective performance has a tendency to diverge in the short term. This can be due to (among other factors) the lag from the impact (positive or negative) of market forces that affect their sources of revenue that are derived from the Tier 1 group. We'll take a closer look at these later in this newsletter.
Tier 1 Pure Play CRBs w/Mkt Cap Over $500mm – January 2023 Returns


Source: CRB Monitor, Sentieo
CRB Monitor Tier 1
January 2023 played out as a tale of two baskets. After a completely forgettable 2022, CRBs awoke from that long nightmare with reasonably good performance in the aggregate, with radically different results for the Canadian group vs. the MSO group. Let's start with the bad news.
In the MSO basket, Curaleaf Holdings, Inc. (CSE: CURA) (-11.1%), Trulieve Cannabis Corp. (CSE: TRUL) (-12.4%), and Green Thumb Industries Inc. (CSE: GTII) (-9.8%) all struggled, as did Verano Holdings Corp. (CSE: VRNO) (-6.5%). The exceptions were Cresco Labs Inc. (CSE: CL) (0.0%) which closed the month flat, and TerrAscend Corp. (CSE: TER) (+18.1%), which had a strong month and continued to expand its operations in Maryland with the closure of its acquisition of a high performance dispensary at the end of the month, and in New Jersey and Maryland through its new partnership with Wana Brands.
Now the good news: The "legal" Canadian CRB basket fared much better than the MSO group, with most of the larger CAD CRBs outperforming. Tilray Brands, Inc. (Nasdaq: TLRY) (+20.4%), Canopy Growth Corporation (TSX: WEED) (+28.3%), and SNDL, Inc.(Nasdaq: SNDL) (+10.0%) all rebounded like Bill Walton while the MSO group struggled.
Cronos Group Inc. (TSX: CRON) (-2.3%) proved to be the lone exception in January, and one possible factor is that in late December major Cronos investor and tobacco giant Altria Group, Inc (NYSE:MO) announced that its wholly owned subsidiary, Altria Summit LLC, notified Cronos Group Inc. of "its irrevocable abandonment of its warrant to purchase additional common shares of Cronos and (ii) all rights that it may have held in the Warrant or any common shares underlying the Warrant for no consideration." While Altria will maintain its ownership stake in CRON, these warrants and rights will lapse due to their out-of-the-money status (the share price has fallen significantly below the exercise price of the derivatives.)
US and global equities rebounded in January as well, as investors' fears of protracted inflation and periodic tightening by the Fed were eased by better economic data. As such, the S&P 500 posted a positive 6.3% for the month, trailing most of the mainstream cannabis indexes.
Tier 2 CRBs w/Mkt Cap Over $150mm – January 2023 Returns

Source: CRB Monitor, Sentieo
CRB Monitor Tier 2
An equally-weighted basket of the largest CRB Monitor Tier 2 companies had a +2.7% return for January 2023, which was slightly ahead of the equally-weighted Tier 1 basket significantly. While they are highly correlated (please see the "Chart of the Month" below), there is no need to try to play the mean reversion game with them. We have always said that when these two portfolios deviate it could be a signal for investors to rebalance into (out of) the Tier 1 basket and out of (into) Tier 2's given their direct revenue relationship, but the time it takes to mean revert is not so easy to predict.
Performance across the Tier 2 basket was largely flat-to-positive in January, with the best performing Tier 2 CRB being NewLake Capital Partners, Inc. (OTCQX: NLCP) (+11.6%). By their own admission, "NewLake Capital Partners, Inc. is an internally managed triple-net lease REIT that purchases properties leased to state-licensed U.S. cannabis operators. NewLake currently owns a geographically diversified portfolio of 27 properties across 10 states with 8 tenants, comprised of 17 dispensaries and 10 cultivation facilities." In January, NewLake, which paid its investors a $0.39 dividend (9% yield), has become an interesting alternative to IIPR, which has been plagued by mismanagement over the last 2 years (see 2022 CRBM newsletters on crbmonitor.com).
The flip side of this good news was the persistent underperformance of Tier 2 REIT Innovative Industrial Properties, Inc. (NYSE: IIPR) (-11.4%), continuing in its downward spiral from last month. In spite of IIPR's great news that it has leased 100% of its properties, there's a bad moon arising. In the words of a January Motley Fool article entitled "This Might Be the Death Knell for Cannabis Stocks": "Despite that relatively good news, Innovative Industrial announced several defaults in its release. Three tenants were in default on obligations to pay rent at properties in Pennsylvania, Michigan, and California as of January 18. The REIT has also renegotiated leases to allow tenants to defer base rent payments on a limited basis in exchange for extended lease terms or additional default provisions."
Tier 2 perpetual roller coaster CRB Hydrofarm Holdings Group, Inc. (Nasdaq: HYFM) (+20.6%), rebounded in January on very thin volume. We shall not forget that HYFM's stock price was down 94% in 2022, so this positive return has very little significance at this point. A such we feel that HYFM is not entirely worthy of in-depth analysis, as any price move is likely to be significant given its low ($2) share price and poor liquidity. With that said, we will keep an eye on them as a possible takeover target, or potential candidate for delisting.
Chart of the Month: A Look at Tier 3 CRBs
The CRB Monitor definition of a Tier 3 cannabis-related business, pulled directly from the source is:
"Posing the lowest perceived level of risk to financial institutions, Tier 3 CRBs are typically larger, older businesses making a foray into the cannabis space and derive only "incidental" revenue from (1) selling some products and services to Tier 1 CRBs and/or (2) selling hemp-derived products. Basically, Tier 3 businesses are like Tier 2; the key difference is the relative portion of the company's revenue coming from these activities."
Some notable examples of Tier 3 CRBs are The Scotts Miracle-Gro Company (NYSE: SMG), Amazon.com, Inc. (Nasdaq: AMZN), CVS Health (NYSE: CVS), and Teva Pharmaceutical Industries Ltd. (NYSE: TEVA).
Because our objective is to cover the complete ecosystem of all publicly-traded companies with a connection to cannabis, it is of critical importance that we include Tier 3 CRBs in the CRB Monitor database. We do this in spite of the fact that their participation in the cannabis industry is considered "incidental". And this incidental relationship is fully realized when we take a peek at the performance of a basket of Tier 3 CRBs (433 of them) along with Tier 1's and Tier 2's and major broad equity indexes.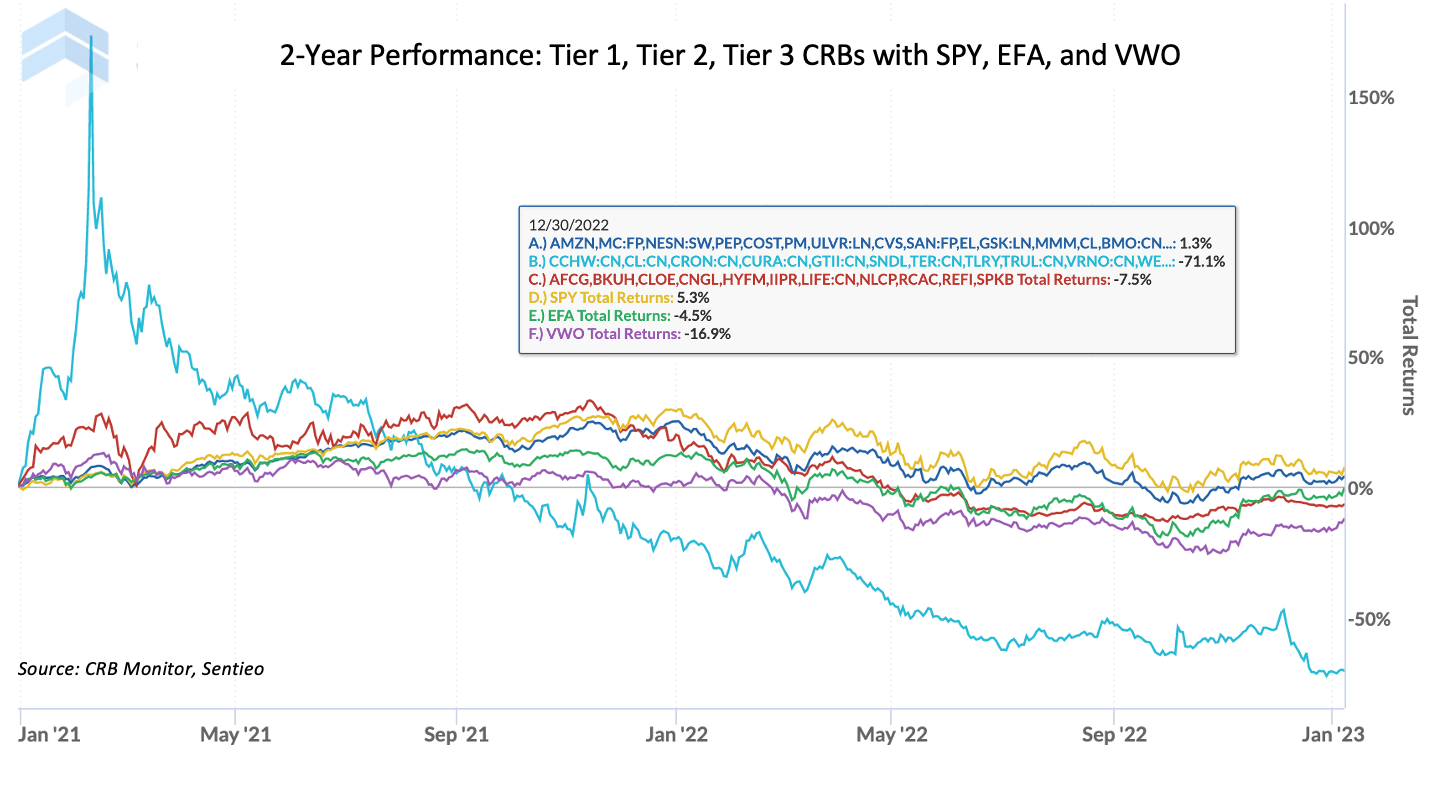 Source: CRB Monitor, Sentieo
The above analysis tracks the most recent 2-year performance equally-weighted baskets of Tier 1 (light blue), Tier 2 (red), and Tier 3 (dark blue) CRBs plus the performance of SPY (S&P 500 ETF), EFA (MSCI EAFE ETF), and VWO (Emerging Markets ETF).
Not surprisingly, Tier 3's have a high correlation (see table below) with US large cap equities (0.95), which is evidence that their cannabis-related revenue has little or no impact on performance. Tier 3's also have very low correlation with Tier 1 (0.32), which would explain the significant performance differential in both the short and long term. But what is surprising here is that for this period Tier 1's and Tier 2's (highly correlated with each other) also have very high correlation with VWO, the emerging markets ETF. It would require a deeper dive into factor performance to better understand these results. Suffice it to say the last couple of years have featured uncertainty related to our emergence from a global pandemic and related supply shocks; therefore, similarities between emerging markets and cannabis (an emerging industry) are not too shocking but are higher than expected.

Source: CRB Monitor, Sentieo
CRB Monitor Securities Database Updates - January 2023
CRB Monitor's research team monitors the information cycle daily and maintains securities' profiles to reflect the current state of the cannabis ecosystem. Here is a summary of the updates for January 2023:
Source: CRB Monitor, Sentieo
Cannabis Business Transaction News - January 2023
As we begin 2023, it is safe to say that cannabis M&A activity has stalled, which has been the state of affairs for close to two years. The largest deal in 2022 by far, the Cresco/Columbia Care acquisition, is now at risk of falling through was we approach its March deadline. A December article in mjbizdaily.com quoted recent comments from Cowen & Co. research: "Cowen "(believes) the 117th Congress' failure to pass the SAFE (Banking) Act in omnibus makes (Cresco's) acquisition of (Columbia Care) … incrementally less likely to close," wrote equity analysts Vivien Azer, Victor Ma and Seamus Cassidy."
Here are some of the January highlights:
A sobering trend that we have noticed over the last 12 months is that several businesses that found opportunity and hope in the cannabis industry in recent years are now exiting the space. [This is particularly evident in the Tier 2 and Tier 3 CRB space and we will report on this in an upcoming article.] One of the most notable of these is a pioneer in cannabis-related technology and Tier 2 CRB Akerna Corp. (NASDAQ: KERN). Late in January Akerna announced its upcoming merger with Gryphon Digital Mining, Inc. and (more significantly) the sale of its software business to private company POSaBIT Systems Corporation. This merger effectively results in Akerna's exit from the cannabis industry and when it closes, it's removal from the CRB Monitor database. In her LinkedIn post, Akerna CEO Jessica Billingsly stated: "Alongside many others in the cannabis industry, we have faced challenges and changes in the market. Through it all, our commitment to delivering the best products and services possible has never wavered. This will continue, as we believe these transactions will bring long-term benefits to all those involved."
Also in January, Tier 1B CRB Acreage Holdings, Inc. (CSE: ACRG.A.U.) launched adult-use cannabis operations in Connecticut at The Botanist dispensary in Montville. Acreage, a vertically integrated, multi-state operator of licensed, subsidiary CRBs in the U.S., is among the inaugural group of cannabis operators permitted to commence adult-use sales in Connecticut. This expansion results in an increase in Acreage's Active or pending-approval license total to 114 across 18 states.
On January 20th Tier 1B MSO Verano Holdings Corp. (CSE: VRNO) continued its expansion across the United States, announcing the opening of MÜV Navarre Verano's 63rd Florida dispensary and 121st nationwide. By their own admission, "Verano Holdings Corp. is a large, vertically-integrated, multi-state cannabis operator in the U.S., devoted to the ongoing improvement of communal wellness by providing responsible access to regulated cannabis products." According to the press release, "As a demonstration of Verano's commitment to provide a convenient and reliable experience for Florida patients, MÜV dispensaries feature online menus for effortless browsing of their extensive, award-winning product selection, including the Company's signature Verano Reserve and Sweet Supply flower, Encore edibles, and Savvy flower and extracts." With the closing of this acquisition, Verano's footprint expands to include 68 cannabis licenses in either active status or pending approval. Verano currently operates in 12 United States plus the District of Columbia.
Also during the month of January, Tier 1B Canadian CRB Delta 9 Cannabis Inc. (TSX: DN) issued a press release in which they announced the opening of their eighteenth retail cannabis store in the Province of Manitoba and 40th store overall. In their own words, "Delta 9 Cannabis Inc. is a vertically integrated cannabis company focused on bringing the highest quality cannabis products to market. The Company sells cannabis products through its wholesale and retail sales channels and sells its cannabis grow pods to other businesses." DN operates in 5 Canadian provinces and holds, through its subsidiaries, 70 cannabis licenses issued by Canadian authorities.
Finally, Tier 1B MSO TerrAscend Corp.(CSE: TER) issued a press release in January announcing the closing of its acquisition of Allegany Medical Marijuana Dispensary in Cumberland, Maryland. According to the announcement, TerrAscend "has acquired a 100% equity interest in AMMD for total consideration of US$10 million in cash, in addition to entering into a long-term lease with the option to purchase the real estate." With this acquisition, TerrAscend now operates in 7 states and 2 Canadian Provinces and holds 96 cannabis licenses in either active status or pending approval.
Select CRB Business Transaction Highlights:
Security/Exchange Highlights:
Select New Additions to CRB Monitor:
| | | | |
| --- | --- | --- | --- |
| Name | Ticker Symbol | CRBM Tier | CRBM Cannabis Sector (CLS) |
| | | 1B | Owner/Investor |
| | | 1B | Owner/Investor |
Cannabis Regulatory Updates - January 2023
We continued to monitor the regulatory news cycle throughout January in real time, and as with every past month we find that there are always developments which ultimately have an impact on the publicly-traded cannabis space. And we are painfully aware that any new developments related to state, federal, and even international governments' progress toward legalization ultimately have a profound impact on listed cannabis companies' valuations. With that said, here are some of the highlights from January 2023:

A January article in marijuanamoment.com reported that, according to recently released federal data, marijuana seizures by Customs and Border Protection (CBP) decreased to a historic low in Fiscal Year 2022. According to CBP data, the reasons for this drastic decline is seizures "(include) shifting enforcement priorities, but experts generally view the trend as a reflection of reduced demand for smuggled illicit cannabis as more states have moved to legalize marijuana and provide people with access in a regulated, domestic market."
The article notes that, "over the previous ten years, CBP marijuana seizures have decreased…from a total of 2,822,478 pounds in Fiscal Year 2012 to just 154,797 pounds in 2022. The annual decline has been substantial and has continued in recent years. The weight of marijuana seized fell by 73 percent between 2020 and 2022, from 319,447 pounds in 2021 to a figure of roughly half in 2022."

In CBD-related news, it was reported in January that the US Food and Drug Administration (FDA) has stated that it will "not be developing rules to allow the marketing of CBD as dietary supplements or food items." Sadly for the far-reaching, global CBD business, this non-action means that this multi-billion dollar industry will remain essentially unregulated. This decision followed the issuance of the FDA's "finalized guidance" on developing cannabis-based drugs. The guidance—titled "Cannabis and Cannabis-Derived Compounds: Quality Considerations for Clinical Research" is effectively the death knell for the regulation of hemp-derived cannabidiol. As we recall, hemp and its derivatives were (with some exceptions) made federally legal in the 2018 Farm Bill. Since that time, the FDA has come under pressure from industry groups and lawmakers from both parties to take action. Concerns about whether CBD can be used safely over the long term and possible effects on pregnancy were examined by an FDA cannabis task committee. Moreover, a significant stumbling block has been the emergence of delta-8 THC products, which the Drug Enforcement Administration (DEA) claims are not controlled narcotics.
As we continue to delve into the world of "legal" psychedelics, we will be adding stories that are relevant as they relate to that particular ecosystem. On that note, a January article in marijuanamoment.com reported that, according to Congressional researchers, there is a "growing gulf" between federal and state drug laws; and, as such, "states have begun to seek psychedelics reform." According to the article, The federal Controlled Substance Act (CSA) was the subject of a comprehensive report from the Congressional Research Service (CRS) that covers current laws, scheduling issues, state-level policy environments, and possible legislation. The report discusses the legalization of marijuana, safe drug consumption locations, and the nascent psychedelics reform movement. In the midst of the local reform revival, bipartisan lawmakers on Capitol Hill have also begun to examine psychedelics legislation.
Finally, Maryland is on the verge of legalizing recreational cannabis and legislators there are getting excited about the potential spike in revenue from sales. A January story on patch.com reported that Cannabis Public Policy Consulting, a Massachusetts-based cannabis data consulting firm, estimates that cannabis sales from licensed dispensaries in Maryland could reach $1 billion within about two years. Of course, this is conditional upon legalization passing the legislature, which is expected to happen during the 2023 session. According to the article, "The estimate of $1 billion in sales by the 20th month after legalization comes from a November survey about cannabis consumption in the state. Although about 4,600 Marylanders were screened for the survey, slightly more than 2,100 people, from 413 of the state's 468 zip codes, completed it.
CRBs In the News
The following is a sampling of highlights from the January 2023 cannabis news cycle, as tracked by CRB Monitor. Included are CRB Monitor's proprietary Risk Tiers.
Wondering what a Tier 1, Tier 2 or Tier 3 CRB is?

See our seminal ACAMS Today white paper Defining "Marijuana-Related Business" and its update Defining "Cannabis-Related Business"