James B. Francis, CFA
Chief Research Officer, CRB Monitor

Cannabis-Related Equity Performance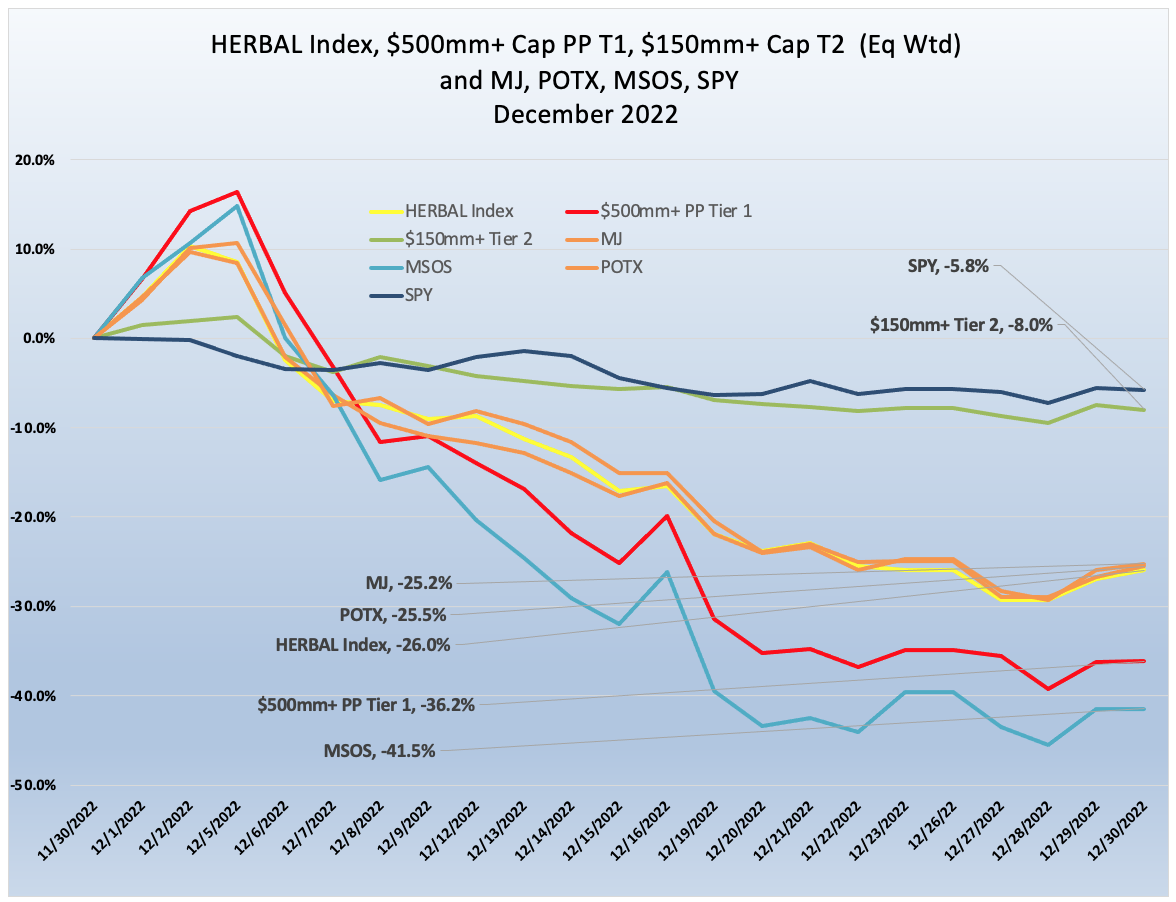 Source: CRB Monitor, Sentieo, Nasdaq
Cannabis Index Returns - A Long December
The Nasdaq CRB Monitor Global Cannabis Index (HERBAL), is a mix of Pure Play Tier 1 and Tier 2 cannabis related equities, weighted by both investability and strength of theme (SOT). A full description of HERBAL's strengths and benefits can be found here: Introducing: The Nasdaq CRB Monitor Global Cannabis Index.
The HERBAL index struggled in December 2022 along with the rest of the cannabis equity universe, posting a -26.0% return. HERBAL performed in line with its closest rival in the cannabis thematic space, the Global X Cannabis ETF (Nasdaq: POTX) (-25.5%). Similar to HERBAL, POTX is a pure play cannabis ETF and any deviations from the return of the HERBAL index will generally be due to differences in security weightings. HERBAL slightly underperformed the ETFMG Alternative Harvest ETF (NYSE Arca: MJ) (-25.2%) and outperformed the Advisorshares Pure US Cannabis ETF (NYSE: MSOS), which got slammed in December (-41.5%).
MJ's performance is likely to deviate from HERBAL's due to a significant percentage of non-Pure Play cannabis holdings, more specifically tobacco stocks with either very small or even no cannabis exposure at all. MSOS's performance can deviate materially from HERBAL's as well, largely due to its holdings of CRBs with US Marijuana touch-points. [MJ, POTX and HERBAL cannot hold any securities with direct US touch points while MSOS can.]
The performance of the CRB Monitor equally-weighted basket of Pure Play Tier 1 CRBs with $500mm+ market cap landed in between the Canadian and MSO Tier 1 baskets in December 2022, with a dismal return of -36.2%. Looking at the table below, we see that Tier 1 Pure Play CRBs were generally slammed across the board. We'll take a closer look below.
The CRB Monitor equally-weighted basket of Tier 2 CRBs with $150mm+ market cap outperformed the Tier 1 CRB basket in December, posting a negative 8.0% return. As a reminder, we expect Pure Play Tier 1 and Tier 2 CRBs to display high correlation (~0.8) in the long term; however, their respective performance has a tendency to diverge in the short term. This can be due to (among other factors) the lag from the impact (positive or negative) of market forces that affect their sources of revenue that are derived from the Tier 1 group. We'll take a closer look at these later in this newsletter.
Tier 1 Pure Play CRBs w/Mkt Cap Over $500mm – December 2022 Returns


Source: CRB Monitor, Sentieo
CRB Monitor Tier 1
What happened in December? Once again, cannabis equities fell entirely out of bed and onto their loyal investors on the floor directly below. President Joe Biden's October announcement regarding his intent to pardon and vacate the sentences of those who were previously convicted of cannabis possession-related offenses was like a distant memory that was somehow all but erased by the midterm elections in early November and subsequent failure by congress to include cannabis-related reform in the omnibus bill in December. In spite of the fact that an overwhelming majority of Americans favor legalization, enough of their representatives in the legislative branch have their AirPods turned up high enough to miss that message.
And so once again cannabis hit a wall and oozed to the floor, with the Tier 1 basket losing more than 36% of its value in December. We struggle to find any happy highlights, except to say that if ever there was a buying opportunity, investors should now be viewing cannabis equities, both in Tier 1 and Tier 2, as long-dated call options. Prices are now so low that the upside from a positive event overwhelms the downside from a negative event, given that there is very little space left for these stocks to fall.
In the MSO basket, Curaleaf Holdings, Inc. (CSE: CURA) (-35.1%), Trulieve Cannabis Corp. (CSE: TRUL) (-41.6%), TerrAscend Corp. (CSE: TER) (-43.9%), and Green Thumb Industries Inc. (CSE: GTII) (-32.2%) reversed course from a more-than-encouraging October and November, taking the bad news out of Washington on the chin. Rounding out the group of US plant-touching titans, Cresco Labs Inc. (CSE: CL) (-44.9%) and Verano Holdings Corp. (CSE: VRNO) (-38.6%) finished December losing a significant portion of their market capitalization.
Not to be outdone, the "legal" Canadian CRB basket was every bit as challenged as the MSO group. Tilray Brands, Inc. (Nasdaq: TLRY) (-30.5%), Canopy Growth Corporation (TSX: WEED) (-35.4%), Cronos Group Inc. (TSX: CRON) (-17.3%), and Sundial Growers, now called SNDL, Inc.(Nasdaq: SNDL) (-22.9%) all crashed like their US counterparts. In spite of the fact that cannabis has been legal in Canada for more than 4 years, investors have based these companies' valuations on the imminent legalization of marijuana in the US, which has yet to happen. With no resolution in sight, we consider these CRBs as vulnerable as the MSO group.
It is worth noting that US and global equities were negative in December as well, as investors' fears of protracted inflation and periodic tightening by the Fed sent equity markets lower. With that said, the drops (S&P 500 -6%, EAFE -2%, EM -2%) were not nearly as severe as those of companies in the cannabis industry.
Chart of the Month: Cash & Cash Equivalents /Market Cap
The balance sheet item Cash & Cash Equivalents is a critical measure of a company's health, given that these assets are an indication of security and sustainability. Cash also allows for the flexibility to acquire new subsidiary businesses as a cannabis company seeks to expand operations into new territories. Conversely, low cash and cash equivalents indicate a vulnerability to a downturn in business and the global economy, not to mention a stalling of federal cannabis legalization which we have seen. Looking at the trend of Cash & Cash Equivalents/Market Capitalization is an easy way for analysts to know when a company is in rough shape and possibly a target for acquisition, or possible bankruptcy.
The 2-year chart below shows this ratio over time for two groups of Tier 1 CRBs - the Canadian businesses (non US plant-touching) and the MSOs. It's interesting to see the more defensive position (from 30% to 60%) of the larger Canadian CRBs, which is a reflection of the steep drop in share prices while cash positions on the balance sheets remained reasonably high.
Specifically, we see that [Over this period, the overall market for pure play CRBs was down more than 70%.] Conversely, the MSO group has taken a leaner approach, carrying a more modest cash position relative to market cap over this period.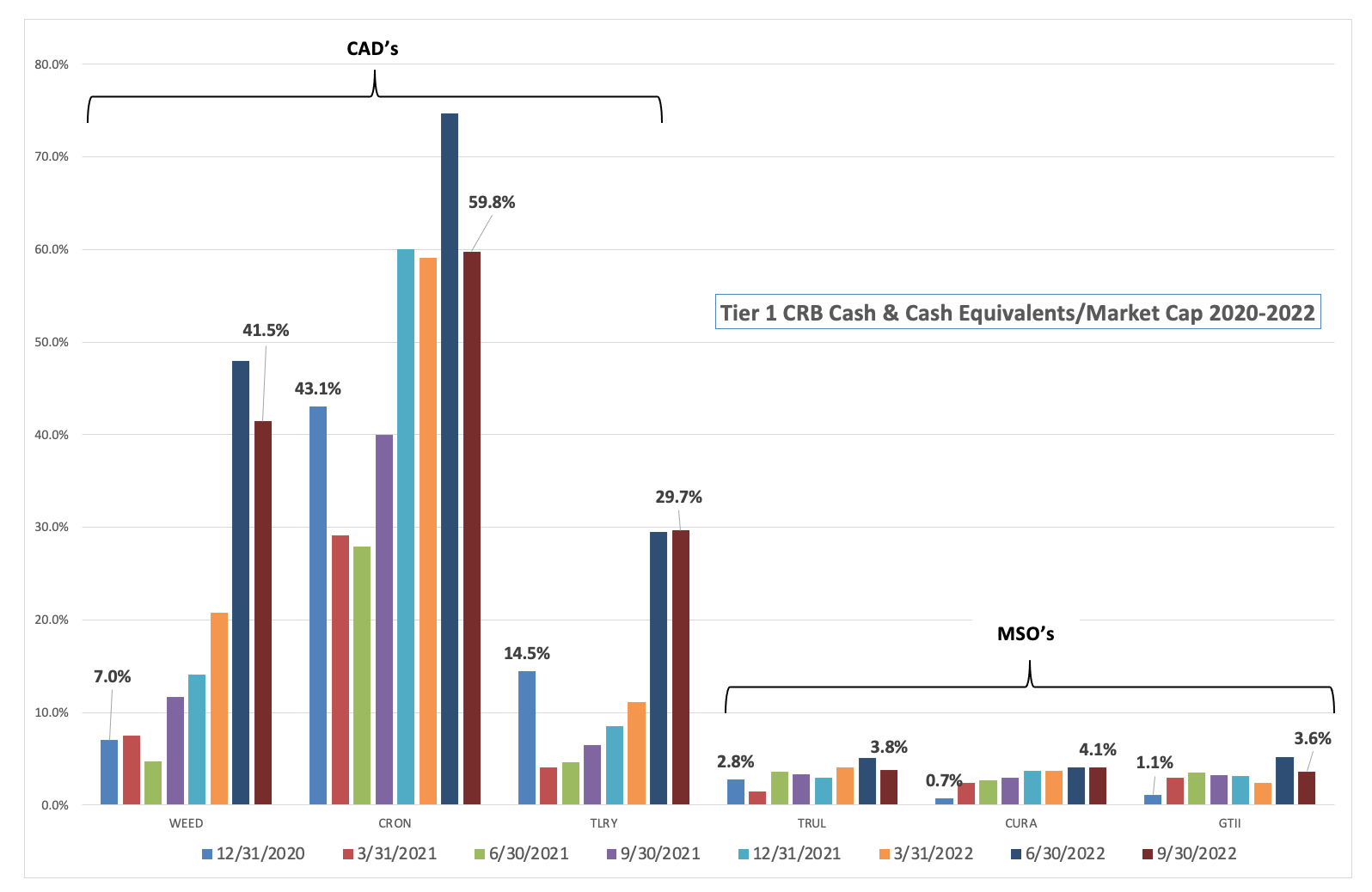 Source: CRB Monitor, Sentieo
Tier 2 CRBs w/Mkt Cap Over $150mm – December 2022 Returns

Source: CRB Monitor, Sentieo
CRB Monitor Tier 2
An equally-weighted basket of the largest CRB Monitor Tier 2 companies had a -8.0% return for December 2022, which outperformed the equally-weighted Tier 1 basket significantly. The sometimes wide spread between the top two tiers can be unsettling on a month-to-month basis; however, investors would be wise to invest in these two baskets with an eye toward the long term. And while they are highly correlated (as mentioned above), there is no need to try to play the mean reversion game with them. We have always said that when these two portfolios deviate it could be a signal for investors to rebalance into (out of) the Tier 1 basket and out of (into) Tier 2's given their direct revenue relationship, but the time it takes to mean revert is not so easy to predict.
Performance across the Tier 2 basket was mostly negative in December, with the best performing Tier 2 CRB being Silver Spike Acquisition Corp. II (Nasdaq: SPKB) (+0.7%). It is reasonable to assume that until a SPAC identifies its target, it is technically not operating in the cannabis space and therefore its performance will deviate from that of a company operating in the cannabis industry. In fact, Silver Spike announced in late November 2022 that it has "extended the permitted timeline to complete a qualifying transaction to May 27, 2023", which suggests that the company needs more time to determine what business it wants to be in.
Tier 2 REIT Innovative Industrial Properties, Inc. (NYSE: IIPR) (-14.9%) reversed course after two months of positive turns and seems to be falling back to earth, which seems logical given its close ties to US cannabis cultivators, which represent essentially all of IIPR's revenue. Aside from IIPR's well-documented operational shortcomings which we have highlighted for several months, the downturn in shares of publicly-traded MSOs will eventually have a negative impact their (and other Tier 2's) returns. This appears to have been the case in December, which brought IIPR's 2022 return just about in line with Tier 1 CRBs (-60%).
Trailing all other players in the Tier 2 basket was Hydrofarm Holdings Group, Inc. (Nasdaq: HYFM) (-38.2%), which resumed its slide after a brief rebound in November. It's hard to imagine that Hydrofarm had any room left to fall, but until its share price hits zero anything is possible. HYFM's price ($1.55) at the end of December was a breathtaking 94.5% lower than its level on 12/31/2021 ($28.56). In a December 8th article on the website SeekingAlpha.com, author Manuel Paul Dipold describes HYFM's dire situation as follows:
"From my point of view, Hydrofarm (NASDAQ:HYFM) is in a catastrophic situation, and I think the stock market is about to price in the risk of bankruptcy. The debts are high; interest payments are rising sharply. Cash flow is negative and will remain so for at least another two years. Even the issuance of new shares would flush very little money into the coffers due to the low share price, and they do not even have as much cash left as they burned in the last quarter alone."
CRB Monitor Securities Database Updates - December 2022
CRB Monitor's research team monitors the information cycle daily and maintains securities' profiles to reflect the current state of the cannabis ecosystem. Here is a summary of the updates for December 2022: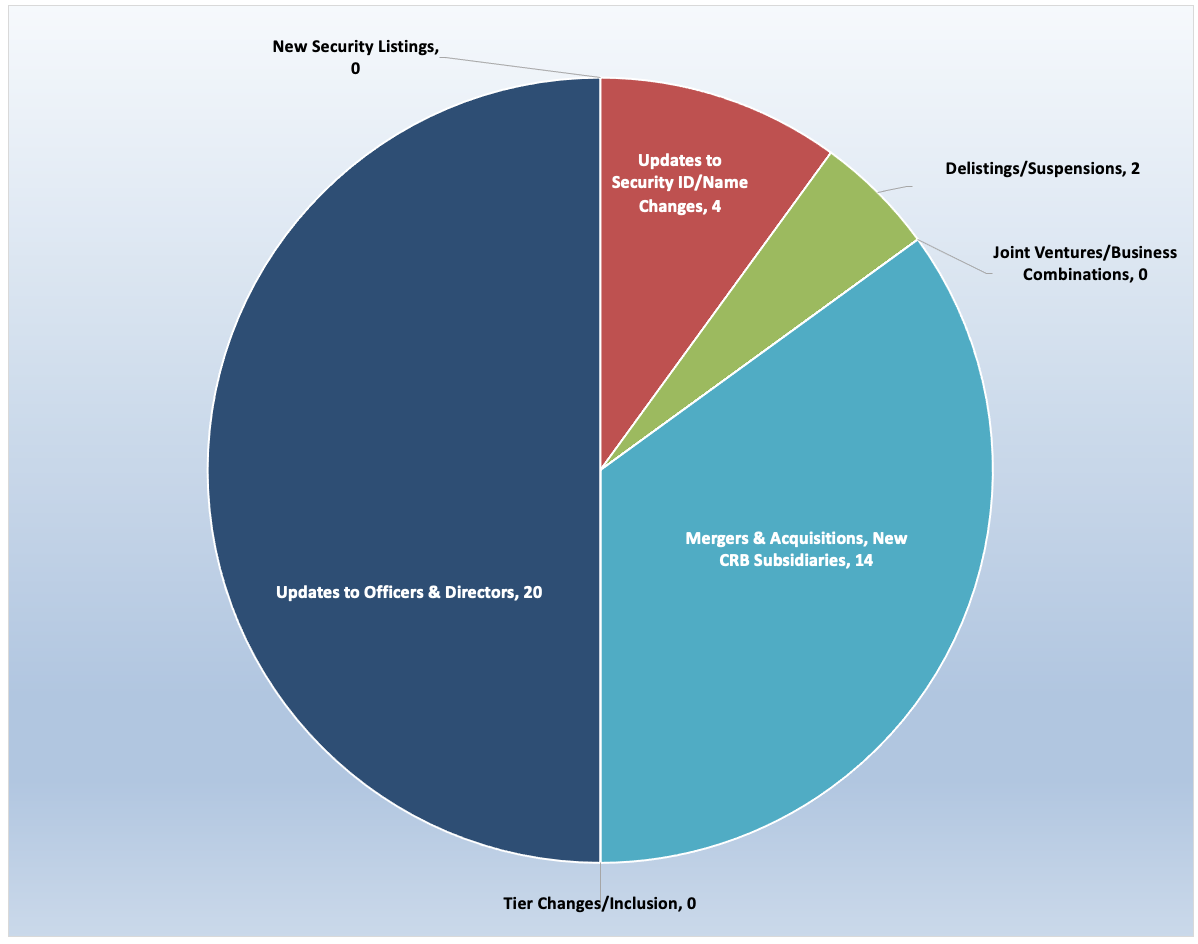 Source: CRB Monitor, Sentieo
Cannabis Business Transaction News - December 2022
While the cannabis equity market languished, we still witnessed CRBs continue to expand their operations in December 2022, in North America and internationally. With that said, M&A activity and operational expansion slowed considerably in 2022. But we maintain that the legal cannabis industry is well-positioned for growth, particularly in the US and globally. We believe this given the fact that only approximately 10% of the active cannabis licenses in North America are ultimately held, either directly or indirectly, by publicly-traded CRBs. There is reason, therefore, to be optimistic but investors and CRBs need progress in Washington to insure a successful future.
Here are some of the December highlights:
Tier 1B Alberta-based CRB Flowr Corporation (TSXV: FLWR) announced in December that it entered into a binding agreement with Avant Brands K1 Inc, where Avant Brands will acquire all of the shares of The Flowr Group (Okanagan) Inc. and certain other assets of the Company, comprising substantially all of the assets of the Company, for total consideration of $5,115,000 plus the termination of associated liabilities. When closed this sale will have a significant impact on Flowr's operations, reducing its number of active licenses from 10 to 6.
Also in December Tier 1B CRB High Tide Inc. (TSXV: HITI) issued a press release announcing that its Canna Cabana retail cannabis stores in Kitchener and Barrie, Ontario, have begun selling recreational cannabis products and consumption accessories "for adults". According to the release, These openings represent High Tide's 143rd and 144th stores nationwide and 45th and 46th in the province of Ontario.
In a second highlight of the month featuring High Tide Inc. (TSXV: HITI), the company issued a second press release announcing that it completed its acquisition of 100% of the equity interest of Jimmy's Cannabis Shop BC, resulting in High Tide's acquisition of two retail cannabis stores currently operated by Jimmy's in British Columbia for $5.3 Million. Following these openings, High Tide, a perennial favorite among investors in non-US plant-touching CRBs, will have 169 licenses in active status or pending approval.
In an M&A deal that was one of only a few in the last 18 months, Tier 1 CRB MediPharm Labs Corp. (TSX: LABS) announced in December that MediPharm and VIVO have entered into a definitive arrangement agreement (the "Arrangement Agreement") whereby MediPharm has agreed to acquire VIVO in an all-equity business combination transaction (the "Transaction"). The Transaction is expected to combine two highly complementary businesses, creating a unique and market differentiating international medical cannabis leader. Upon the completion of the Transaction, existing MediPharm shareholders are expected to own between 65% and 79% of the combined company resulting from the Transaction (the "Combined Company") and VIVO shareholders are expected to own between 35% and 21% of the Combined Company.
Tier 1A MSO Curaleaf Holdings, Inc. (CSE: CURA) issued a press release in December announcing their newest dispensary in the state of Florida, located in Tallahassee. According to the press release, this location is Curaleaf's 55th in Florida and 145th nationwide. The apparent stalling of the cannabis industry notwithstanding, Curaleaf's operations continue to expand. Now operating in 4 countries (US, Portugal, Spain, and Germany) and across 18 states plus the District of Columbia. This addition of this new subsidiary increases Curaleaf's licenses to 143 that are either in active status or pending approval. The announcement goes on to say: "The new location offers a broad selection of premium cannabis products, including high-quality flower and pre-rolls, BlueKudu Chocolate, Select Squeeze, Select X-Bites, Select Elite, Elite Live and Live Rosin vape cartridges, as well as other concentrates by Curaleaf."
Finally, Item 9 Labs Corp. (OTCQX: INLB) a Tier 1B CRB headquartered in Phoenix, Arizona, with medical cannabis operations in multiple U.S. markets announced in December that its dispensary franchise, Unity Rd., is expanding its footprint with a new store in Franklin Township in Somerset County, N.J. According to the press release, this marks the fourth U.S. state for Item 9's operations, and will be the first location to open on the East Coast. Through its subsidiary businesses, Item 9 currently holds 10 cannabis licenses including cultivation, manufacturing/processing, and retail./
Select CRB Business Transaction Highlights:
Security/Exchange Highlights:
Select New Additions to CRB Monitor:
| | | | |
| --- | --- | --- | --- |
| Name | Ticker Symbol | CRBM Tier | CRBM Cannabis Sector (CLS) |
| | | 1B | Owner/Investor |
| | | 1B | Owner/Investor |
Regulatory Updates - December 2022
We continued to monitor the regulatory news cycle in December in real time, and in spite of some obvious distractions (global economic woes, Russia/Ukraine conflict, midterm election results) there is always cannabis-related regulatory news to report and here is a sample of some of the more significant stories:
In December it was reported in High Times and other sources that local lawmakers in Washington, D.C. approved a bill to expand medical marijuana sales, giving the city's unlicensed cannabis "gifting shops" a path to the regulated market. According to the article, the bill, which was approved by the D.C. district council on December 20, comes after Congress included an existing prohibition on regulated adult-use cannabis sales in the nation's capital as part of the National Defense Authorization Act (NDAA).
The bill, called B24-0113 - Medical Cannabis Amendment Act of 2021, "would allow qualifying patients to obtain their medical cannabis and medical cannabis products from any dispensary registered in the District. Dispensaries would operate safe use treatment facilities as well as offer tastings and demonstrations and/or classes with the proper endorsements. It would allow delivery and curbside pickup services by dispensaries. It eliminates the count on the number of plants that a cultivation center can grow and increases the number of permitted dispensaries in the District. Among other things it removes certain prohibitions against returning citizens ability to take part in the medical marijuana industry."
In the words of the High Times article, "Half of the new licenses will be reserved for social equity applicants, which are defined as D.C. residents who have a low income, have spent time in prison, or are related to someone who was incarcerated for a cannabis or drug-related offense."
Also in December, Marijuana Moment reported that Del. Keith Hodges (R) of Virginia filed a bill (HB 1464) to create a regulated marijuana market in the Commonwealth of Virginia, but in the words of the article, "it's drawing mixed reactions from advocates, some of whom view it as a giveaway to large, multi-state operators at the expense of equity for people harmed by the war on drugs."
This is a classic case of a change in attitude toward legislation when there is new party leadership in the legislature. The article goes on as follows:
"Advocates have been pushing the legislature to take the step to allow sales to begin. Lawmakers did include regulatory language as part of the legalization bill they passed in 2021 under full Democratic control of the state government. However, those components were subject to reenactment by a future legislature, and lawmakers didn't do that in the 2022 session that saw Republicans back in control of the House of Delegates and governor's office."
Sort of a miniature version of SAFE Banking, Hodges' version of this bill would add a section stipulating that banks and credit unions that work with state-licensed marijuana businesses could not be penalized under state law simply because they service the industry.
On December 23, Congressman Ed Perlmutter (D-CO) made a final, "symbolic" plea for passage of the SAFE Banking Act to his congressional colleagues before leaving office. According to an article in Marijuana Moment Perlmutter filed the text of the bill with two key additions—as an amendment to large-scale omnibus appropriations legislation. In the words of the article, "The amendment included not just the banking language of his standalone legislation but also contained the provisions of two separate measures on expungement of prior marijuana convictions and gun rights for cannabis consumers." This amended version, called "SAFE Banking Plus" sadly never made it into the omnibus spending bill as cannabis advocates had originally hoped. And given the new, Republican-controlled House of Representatives, it is unclear if any cannabis reform-based legislation will make it to the floor in the next two years.
Finally, in mid-December Nashville lawmakers filed a bill to legalize adult-use marijuana in Tennessee. According to a story in The Tennessean, "Democratic lawmakers are renewing efforts to legalize marijuana in Tennessee as top Republicans reiterated their opposition to full legalization until the federal government reclassifies the drug." State Rep. Bob Freeman, D-Nashville, and Sen. Heidi Campbell, D-Nashville, are re-upping their bill called the Free All Cannabis for Tennesseans Act, which would legalize the recreational use of marijuana and provide a process for it to be grown and sold.
It appears as though this effort will likely be unsuccessful, given strong opposition from the Republican side. As such, Tennessee is one of just 11 states that has not legalized medical marijuana or decriminalized it in any way.
CRBs In the News
The following is a sampling of highlights from the December 2022 cannabis news cycle, as tracked by CRB Monitor. Included are CRB Monitor's proprietary Risk Tiers.
Wondering what a Tier 1, Tier 2 or Tier 3 CRB is?

See our seminal ACAMS Today white paper Defining "Marijuana-Related Business" and its update Defining "Cannabis-Related Business"