James B. Francis, CFA
Chief Research Officer, CRB Monitor
CRB Monitor Securities Database Updates
CRB Monitor's research team monitors the information cycle daily and maintains securities' profiles to reflect the current state of the cannabis ecosystem. Here is a summary of the updates for June 2022: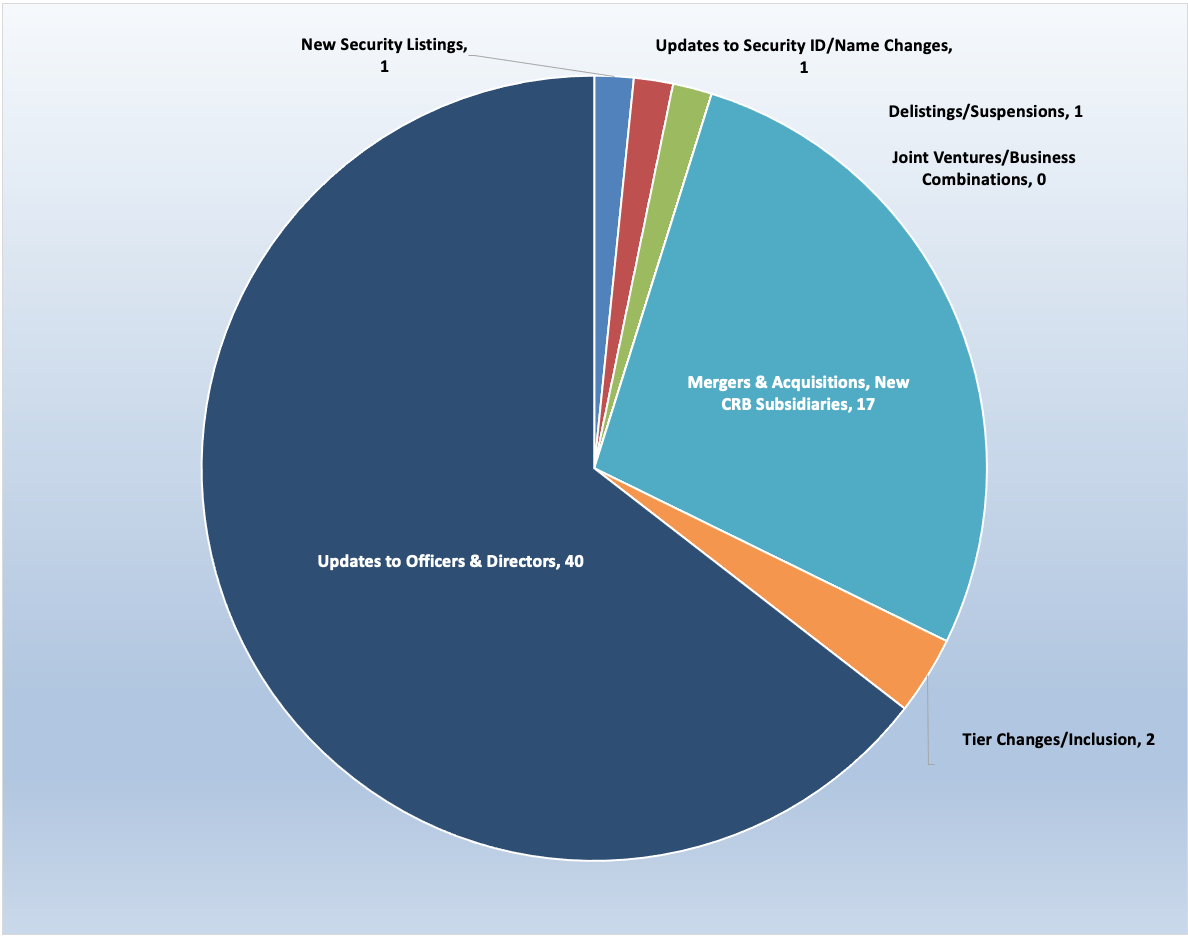 Cannabis News: M&A Activity
Along with the market downturn, cannabis-related M&A activity has tapered off significantly. With that said, we continue to see a steady stream of acquisitions of licensed CRBs by publicly-treaded companies. We expect this activity to continue into the foreseeable future, particularly for CRBs that are multistate operators (MSOs).
According to research by CRB Monitor, less than 10% of the active cannabis licenses issued in North America are owned by subsidiaries of public CRBs. The rate of acquisitions of licensed private CRBs is about 400-500 per year, which leaves a lot of room for growth across the US and Canada, not to mention globally as well.
Here are some of the June highlights:
Canadian Tier 1A CRB Sundial Growers Inc. (NASDAQ: SNDL) announced in June that it entered into a purchase agreement, in the form of a "stalking horse bid" to acquire all the assets of Tier 1B CRB Zenabis Global Inc. (TSXV: ZENA) including its wholly-owned subsidiaries. The press release provides some historical context for this transaction: "In December 2020, Sundial announced the acquisition of a special purpose vehicle (the "Investment") which owned $58.9 million of aggregate principal amount of senior secured debt (the "Senior Loan") of Zenabis Group. On June 1, 2021, HEXO announced it had acquired all the issued and outstanding common shares of Zenabis Global Inc. The Senior Loan remained outstanding following the acquisition by HEXO and bears interest at a rate of 14% per annum in addition to monitoring fees and royalties based on quarterly sales revenue. As at June 16, 2022 the outstanding unpaid principal balance is $51.9 million." Sundial Growers will assume control of six active cannabis licenses, all through Zenabis' Ontario subsidiaries. Sundial Growers operates in seven Canadian provinces and its subsidiaries hold 134 cannabis licenses for cultivation, manufacturing, retail, and testing.
Tier 1A CRB Medicine Man Technologies, Inc. (OTCQX: SHWZ) aka Schwazze, announced in early June that it closed the transaction worth $3.2 million to acquire substantially all the assets of Urban Health & Wellness, Inc. of Denver, Colorado. According to the June press release, the transaction includes the adult use Urban Dispensary, as well as a 7,200 square foot indoor cultivation facility. This purchase Schwazze's total number of Colorado dispensaries to 23 and grow facilities to four. Following this acquisition, Schwazze controls a total of 65 active cannabis licenses across 5 states (Colorado, Hawaii, Pennsylvania, New Mexico, and Massachusetts.)
Meanwhile Tier 1B High Tide Inc. (TSXV: HITI) announced in June that it closed its acquisition of Bud Heaven, which added two licensed retail operations in Ontario. This acquisition expands Schwazze's license count to 62 that are either active or pending approval. According to a press release, High Tide "acquired 100% of Bud Heaven for CAD$2.8 Million, by issuing 564,092 common shares of High Tide and will pay CAD$1 Million, in cash, upon settlement of the post-closing working capital adjustment." Now operating in six provinces, the acquisition increases High Tide's cannabis license count to more than 170.
Continuing its expansion across the US, Tier 1B MSO Verano Holdings Corp. (CSE: VRNO) announced in a mid-June press release the opening of MÜV Winter Haven , Verano's 48th Florida dispensary and 101st nationwide. time. According to the announcement, "MÜV Winter Haven is located in Polk County, the fastest growing county by population in Florida and the seventh fastest growing county by population in the country. The county experienced growth of three percent from 2020 to 20213." Verano's relentless expansion since its IPO in February 2021 has resulted in operations in 16 states plus Puerto Rico, and control over 87 cannabis licenses in either active status or pending approval.
Finally, Tier 1A MSO CordovaCann Corp. (CSE: CDVA) issued a press release announcing that on June 27, it acquired the rights to purchase assets of AuBio Labs, LLC through its wholly-owned subsidiary, CordovaCann Holdings, Inc. According to the announcement, "AuBio is an arm's length California-based company that holds licenses, equipment and a leased facility to provide cannabis extraction services and manufactured products for sale to licensed cannabis retailers in the State. The Assets will enable Cordova to produce a variety of cannabis products on both a white label and branded basis for the largest cannabis market in the world."
Besides California, CordovaCann operates in Washington State and Oregon, as well as in the provinces of Ontario, British Columbia, Manitoba, and Alberta. The company holds, through its subsidiary businesses, 19 licenses for cultivation, manufacturing, and retail.
Select M&A/New Subsidiary Highlights:
Security/Exchange Highlights:
Select New Additions to CRB Monitor:
| | | | |
| --- | --- | --- | --- |
| Name | Ticker Symbol | CRBM Tier | CRBM Cannabis Sector (CLS) |
| | | Tier 2 | Personal Products |
| | | Tier 2 | SPAC |
| | | Tier 1A | Licensed CRB |
| | | Tier 2 | SPAC |
Cannabis News: Regulatory Updates
We continued to monitor the regulatory news cycle in June in real time, and in spite of some obvious distractions (economic woes/impending Fed action, Russia/Ukraine conflict, the upcoming 2022 midterms) there is always cannabis-related regulatory news to report.
A June 22nd article in Politico reported that "Democrats are looking for a weed deal." According to this article, reporters interviewed more than a dozen lawmakers, staffers, advocates and lobbyists, all of which agreed that in recent weeks "the tone has changed on Capitol Hill." Apparently, the more progressive senators are slowly warming to another option: adding provisions to a broadly supported bill that would allow financial institutions to offer banking services to the cannabis industry, called the SAFE Banking Act. This should come as no shock to those of us who have been following the progress (or lack thereof) of any meaningful cannabis-oriented legislation that would pass both houses of Congress. And with the midterm elections approaching in the next few months, Democrats are beginning to look desperate to pass any legislation that they can take home to their constituents, who overwhelmingly support legalization.
The issue with SAFE Banking is that it is not supported by Democrats who are looking for legalization/decriminalization to pass first. Taking them out of sequence is a non-starter for senators like Cory Booker (D-New Jersey) who has stated that he won't support a bill that only helps the industry and does not do anything meaningful for people hurt by the war on drugs. And even if Democrats are willing to give in, the outlook for even SAFE Banking is uncertain, particularly if Republicans take back the Senate in the midterms. In the words of the Politico article, "SAFE may not even receive a hearing in either chamber under Republican leadership, let alone a floor vote. That is motivation enough for both Republicans who support cannabis banking and Democrats who want comprehensive legislation to find a middle ground."
Meanwhile in Kentucky, Governor Andy Beshear announced the members of the Team Kentucky Medical Cannabis Advisory Committee, a panel created to help him provide access to medical marijuana for patients with chronic pain and other serious medical conditions. A June 22nd press release provides the background for Beshear's executive order, which is aimed at the ultimate legalization of cannabis for medical use. Currently, medical cannabis is legal in 38 states and Kentucky is not one of them.
In Governor Beshear's words, "Polling suggests 90% of Kentucky adults support legalizing medical cannabis, while at the same time, far too many in our state who could benefit from it are suffering. It is simply time that something more is done," said Gov. Beshear. "I want to make sure every voice is heard as I am weighing executive action that could provide access to medical cannabis in the commonwealth."
In international cannabis news, Thailand became the first southeast Asian nation to legalize the cultivation and trade of marijuana, with some conditions. A June Washington Post article highlights the sometimes confusing, but optimistic details of the new regulatory framework. For example, The Thai Food and Drug Administration has removed marijuana and hemp from its Category 5 narcotics list, allowing cafes and restaurants across the country to serve cannabis-infused products that have no more than 0.2 percent tetrahydrocannabinol (THC), the plant's main psychoactive compound. With that said, there are some less progressive aspects of the law, as stated in the article: "Although Thailand legalized the use of medical marijuana in 2018, Thai Health Minister Anutin Charnvirakul warns that those who are caught using the drug in "nonproductive ways," such as smoking joints outside, will still be met with harsh penalties, and could face up to three months behind bars and a fine of about $780. Officials said they were not looking to cultivate marijuana-fueled tourism."
Cannabis-linked Equity Performance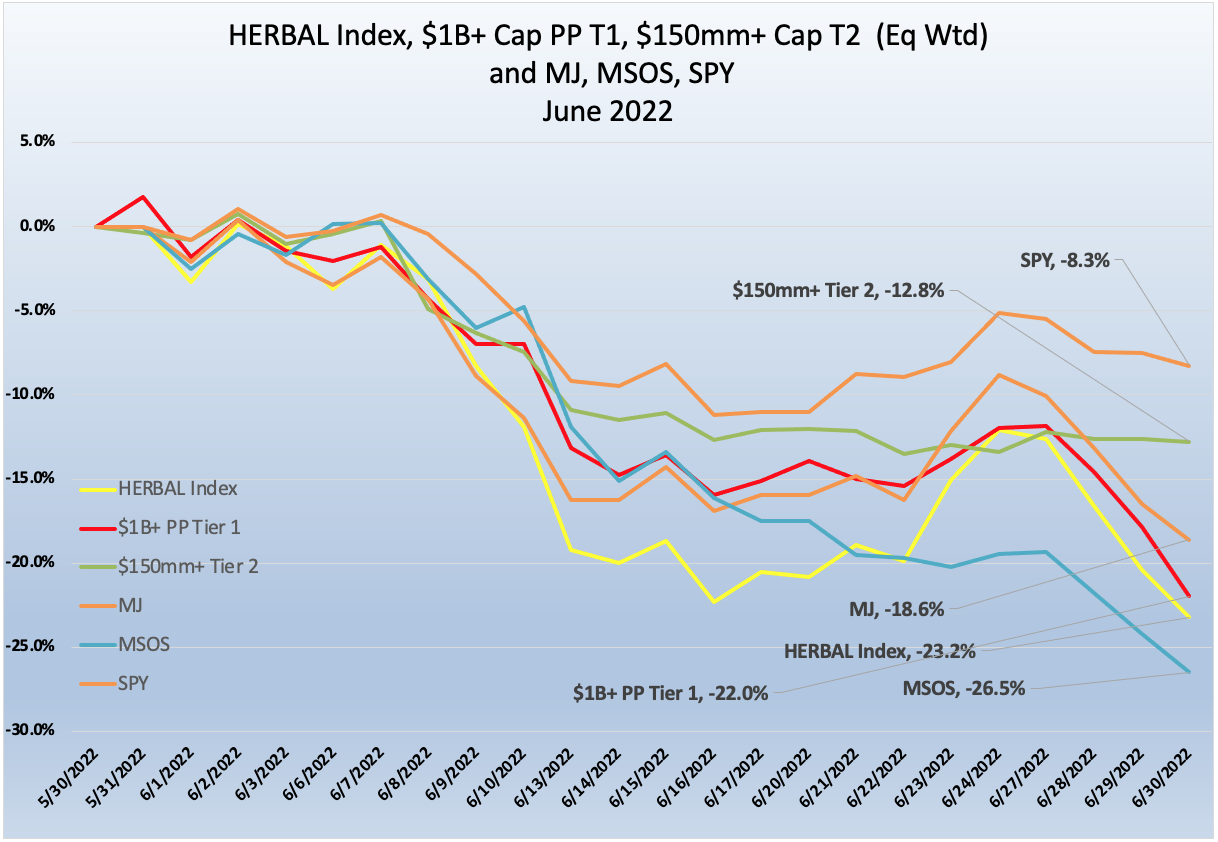 Source: CRB Monitor, Sentieo, Nasdaq
Cannabis Index Returns
The Nasdaq CRB Monitor Global Cannabis Index (HERBAL), is a mix of Pure Play Tier 1 and Tier 2 cannabis related equities, weighted by both investability and strength of theme (SOT). An excellent representation of the universe of legal, pure play cannabis equities, HERBAL was down 23.2% for the month of June 2022. HERBAL's performance was consistent with other cannabis-themed vehicles, like the ETFMG Alternative Harvest ETF (NYSE Arca: MJ). MJ's negative performance (-18.5%) was helped by the fund's 20% holding in non-pure play CRBs. The MSO-heavy Advisorshares Pure Us Cannabis ETF (NYSE: MSOS) lost -26.5% for the month of June. The MSOS performance will deviate from both HERBAL and MJ largely due to its holdings of CRBs with US Marijuana touch-points, which dominate in that fund. [MJ and HERBAL cannot hold any securities with direct US touch points.]
The CRB Monitor equally-weighted basket of Pure Play Tier 1 CRBs with $1b+ market cap lost 22% in June 2022. Similar to MSOS, the securities of multi-state operators negatively affected performance overall. The sad truth for investors is that the persistent headwinds that have had an impact for 18 months have not subsided.
The CRB Monitor equally-weighted basket of Tier 2 CRBs with $150mm+ market cap fared better in June, falling by 12.8%, which is clearly nothing to write home about. As we have indicated in the past, Pure Play Tier 1 and Tier 2 CRBs tend to display high correlation in the long term, but their respective performance has a tendency to diverge in the short term, given the occasional lag from the impact (positive or negative) of market forces. One lingering reality cannot be avoided, that Tier 2 CRBs will eventually inherit the overall success or failure of the Tier 1 universe.
Tier 1 Pure Play CRBs w/Mkt Cap Over $1B – June 2022 Returns


Source: CRB Monitor, Sentieo
CRB Monitor Tier 1
June 2022 was yet another month in which cannabis investors got hammered. The slow burn in this space has not been helped by the global markets, which continue to take it on the chin due to rising inflation, instability in Russia, and a pandemic that seemingly keeps re-emerging as a threat both here and abroad.
While we hate to sound like a broken record, it seems as though this piece of worn-out vinyl is stuck on the same song, and unfortunately it is not one of our favorites. The unavoidable truth about this industry that makes it unique, and also a massive pile of risk, is that it is, in the eyes of the US government, illegal. Regardless of state-by-state regulations, cannabis cannot be sold across state lines, nor can Canadian CRBs legally transact in the US. The only remedy for this speed bump for CRBs is some path to federal legalization, which does not look promising as we approach the midterm elections in just a few months. While Democrats attempt to breathe life into any form of legislation that might pass ahead of a possible lame duck period (see above), investors keep trying to come up for air as their losses from these companies sink further and further toward the bottom of the ocean.
The one positive Tier 1 CRB story from June was the performance of Jazz Pharmaceuticals plc (Nasdaq: JAZZ), which actually posted a positive return (+4.2%) amidst all the chaos of the Tier 1 basket. JAZZ has had recent performance that is quite un-CRB-like and there are a few reasons for this. As we wrote in our March 2022 newsletter, Jazz Pharma is "the a global biopharmaceutical company that acquired 100% of CBD giant GW Pharmaceutical (GWPH) in early 2021. As you might recall, GWPH is the manufacturer of Epidiolex, the only cannabis product in the world that is FDA-approved. As such, JAZZ's stock price is less sensitive to the legalization news cycle, which is clear from the performance chart." It is also worth noting that Epidiolex is not Jazz Pharma's only product, and this diversification across product lines is also a factor in share performance. [It is also important to note that CRB Monitor will be reviewing Jazz Pharma's current status as a Pure Play Tier 1 CRB in the coming months.]
On a much less celebratory note, the remaining Tier 1 CRBs in the +1 Billion market cap group were challenged yet again in the month of June. There are no bright spots here - at times we have been able to single out a few cases where better-than-expected earnings helped to prop up returns, but this time investors were handed little to be optimistic about. The Canadian titans of the cannabis industry, %), Canopy Growth Corporation (TSX: WEED), Aurora Cannabis Inc. (TSX: ACB), and Tilray Brands, Inc. (Nasdaq: TLRY) all ended the month in a free fall. The one Tier 1 CRB that seemed to perform a bit closer to normal was Cronos Group Inc. (TSX: CRON), which was down just 5% following a positive earnings report in May. At -32%, CRON is one of the best performing Tier 1 CRBs in 2022.
In the MSO group, once again there was little to get excited about in June. As in recent months, there were no winners, as the larger Tier 1 companies like Verano Holdings Corp. (CSE: VRNO) (-22.8%), Green Thumb Industries Inc. (CSE: GTII) (-27.2%), Trulieve Cannabis Corp. (CSE: TRUL) (-20.9%), and Curaleaf Holdings, Inc. (CSE: CURA) (-16.9%) all struggled as efforts in Washington failed to keep investors' hopes (and stock prices) up. Cresco Labs Inc. (CSE: CL) (-33.1%), provided no comfort to investors who might be getting a little impatient ahead of the closing of CL's acquisition of Columbia Care Inc. (CSE: CCHW).
Chart of the Month: Enterprise Value to EBITDA
Investors use the ratio of Enterprise Value (EV) Earnings Before Interest, Taxes, Depreciation, and Amortization (EBITDA) as an essential measure of a company's value, and there are some insights to be gained from it in the cannabis industry.
The numerator, EV, is a measure of the total current value of a company. EV includes in its calculation the market capitalization of a company plus short-term and long-term debt as well as any cash on the company's balance sheet. The denominator, EBITDA, is a measure of a company's overall financial performance and profitability. Therefore EV/EBITDA can be a proxy for Return on Investment (ROI) and bigger is better. As a point of reference, the average EV/EBITDA for the S&P 500 in 2021 was 17.2.
When we look at the chart below, we see just two CRBs that trade at EV/EBITDAs that could be considered "healthy" (Canadian CRBs Tilray and Sundial), and two that are looking ugly due to negative earnings in their denominator (WEED and CRON). The rest of the basket of Tier 1 Pure Play CRBs is largely unimpressive relative to market average, ranging from 4.8x to 9.3x.
What does this tell us? What it means is that much of the value has been drained out of these companies, and that in order to attract investment in the near term earnings will have to substantially improve.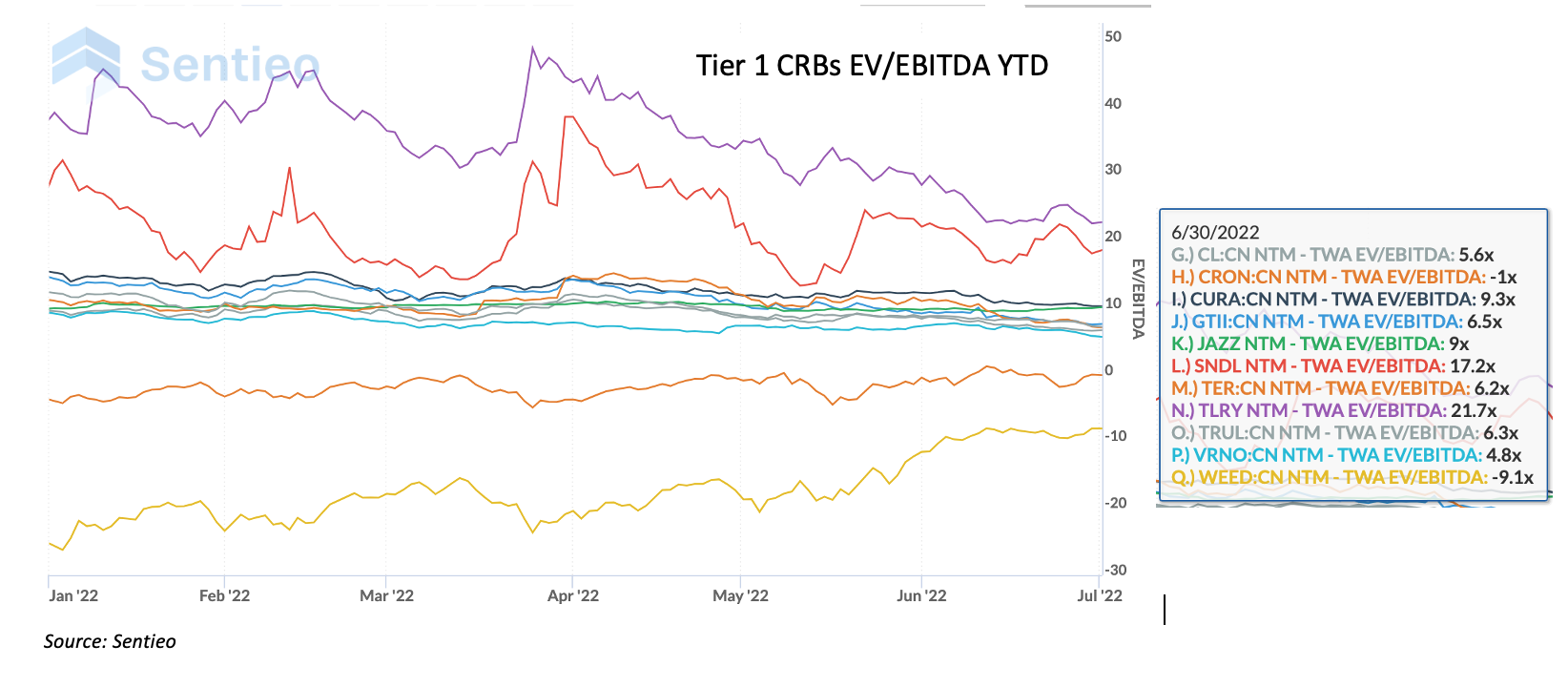 Tier 2 CRBs w/Mkt Cap Over $150mm – June 2022 Returns


Source: CRB Monitor, Sentieo
CRB Monitor Tier 2
An equally-weighted basket of the largest CRB Monitor Tier 2 companies had a negative 12.8% return for June 2022, which outperformed the equally-weighted Tier 1 basket by 9.2%, which was its second month of outperformance versus Tier 1. When these two portfolios deviate, it could be a signal for investors to rebalance into (out of) the Tier 1 basket and out of (into) Tier 2's given the direct revenue relationship, but the time it takes to mean revert is not so easy to predict.
The best performing stock in the Tier 2 basket in May was also one of the worst in June. Giving back nearly all of its good fortune was AFC Gamma, Inc. (Nasdaq: AFCG), a provider of institutional loans to high-quality cannabis companies nationwide in all aspects of production: cultivation, processing, and distribution. After returning 12% in the month of May, AFCG fell by 11.4% in June, in spite of the fact that the company declared a $0.56 quarterly dividend in June (a 47% increase from the prior year and an increase for the 4th consecutive quarter). Apparently this did little to prevent investors from taking their ball and going home with May's return.
The largest company in the Tier 2 basket, Innovative Industrial Properties, Inc. (NYSE: IIPR), continues to seemingly correct on a monthly basis. Down once again, this time by 16%, IIPR has lost nearly 55% of its value in 2022. Performance was lackluster in spite of the IIPR's quarterly dividend of $1.75, which was an increase of $0.25 YoY. This is likely to be the last time we reference a prophetic mid-April report by Blue Orca Capital (we promise) which recommends a short position in IIPR, and highlights several reasons why investors should view IIPR as overvalued. Reasons include: impairments due to tenant default, alleged illicit activity by tenants, and anxiety over falling CRB share prices and potential cash flow shortages. Given IIPR's disposition of being fully embedded in the US Marijuana space (particularly cultivation), their price sensitivity to these issues is understandable. One observation from the report: "…we think IIPR is more akin to a high risk cannabis bank, providing de facto for long term leases. This is significant, as a book of loans to cannabis companies should not trade at the same book multiple or yield as real estate assets."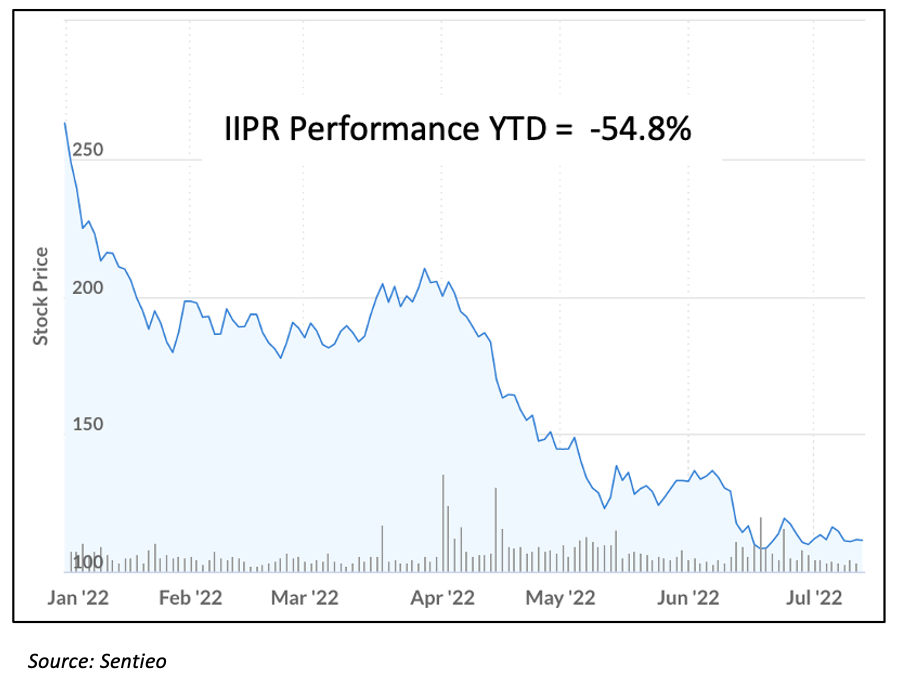 Given its size relative to the rest of the Tier 2 space, we continue to closely monitor IIPR as we consider it an indicator of the health of the overall cannabis ecosystem.
Finally, investors were treated to another painful month from perennial underperformer Hydrofarm Holdings Group, Inc. (Nasdaq: HYFM), which lost another 49.5% of its value in June. HYFM is now down nearly 88% YTD. A company with 100% exposure to one segment of the cannabis industry, Hydrofarm manufactures and distributes hydroponics products such as lighting equipment, climate control devices, garden accessories, and other related products, to cultivators. As we reported in March: HYFM's stock has not recovered from a dismal Q4 earnings report, in which they reported an $11mm net loss, in spite of an increase in sales over the quarter.
CRBs In the News
The following is a sampling of highlights from the June 2022 cannabis news cycle, as tracked by CRB Monitor. Included are CRB Monitor's proprietary Risk Tiers.
Wondering what a Tier 1, Tier 2 or Tier 3 CRB is?

See our seminal ACAMS Today white paper Defining "Marijuana-Related Business" and its update Defining "Cannabis-Related Business"