Week of May 13 - May 19, 2023
Do you love data and staying up to date with the latest cannabis-related headlines? Are you searching for industry news to inform your institution's approach to cannabis risk and compliance?
You've come to the right place.
Hashing Out the Truth
CRB Monitor's database growth by the numbers.
Tier 1 Marijuana-Related Business Counts
Weekly Summary (May 13 - May 19, 2023):
71,624 1A MRBs + 3,676 1B MRBs = 75,300 total
1A MRBs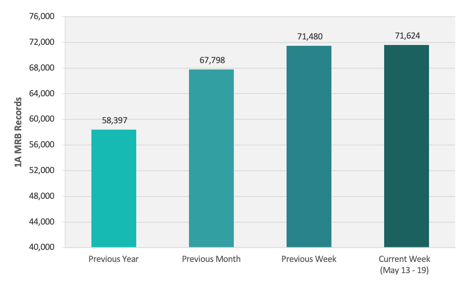 Tier 1A defined: Businesses in this tier literally touch the cannabis plant at some point along the supply chain from "seed to sale," and are generally licensed by a government agency or regulator. Effectively all of their actual or expected revenue is derived from the cultivation, production, testing or sale of cannabis.
Note on Tier 1A numbers: The Illinois DFPR-Cannabis Program released a list of approximately 2700 applicants in May for the state's upcoming license lottery. These applicants were added under the Conditional Adult Use Dispensing Organization License type for recreational retail dispensaries.
1B MRBs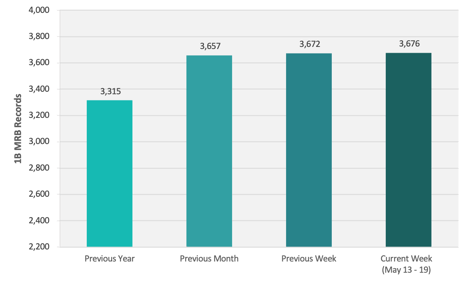 Tier 1B defined: Businesses that have a financial or controlling interest in a Tier 1A CRB. CRB Monitor generally considers 1B businesses as seemingly unrelated businesses highlighted as red flags by FinCEN in its marijuana banking guidance and are similar in nature to individual beneficial owners.
Marijuana Business Licenses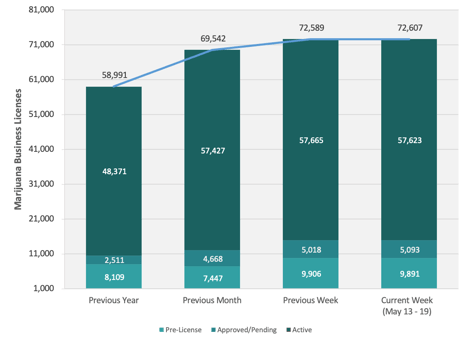 Note: Inactive licenses, unlicensed, and unknown licenses have been excluded.
Beneficial Owners Count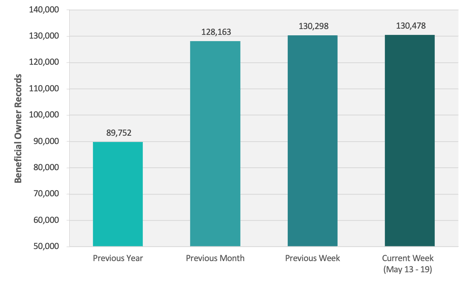 Beneficial owners defined: For beneficial owners, each economic owner or controlling person is classified into one or more categories based on their relationship to the linked CRB including: (1) Owner/Investor, (2) Board Member, (3) Corporate Officer, (4) Executive, (5) Non-commercial Registered Agent or (6) Senior Manager.



News of Note
A selection of relevant cannabis-related news. Items marked with

indicate links to licensed business profiles in the CRB Monitor database.
Adverse Media
Suspended Michigan Cannabis Processor Sued by Former Customer


Colorado Issues Another Warning of Potentially Unsafe MJ Durango Cannabis

Litigation
Missouri Medical Pot License Scoring Process Crooked, Companies Say





Hemp Naturals Agrees to $50K Settlement with SEC for Securities Violations


Investors Say Pot Fraud Suit Defendants Aren't Playing Along



CBD Stock Promoter Settles SEC Fraud Suit For $900K

Legalization & Regulation
PA Tries for Adult-Use Cannabis; DEA, Oregon Issue First Psychedelics Licenses
Minnesota Senate Approves Marijuana Legalization Bill, Sending It To The Governor
New York's Fledgling Adult-Use Cannabis Market Could Crash June 1
Florida AG argues adult-use marijuana ballot measure violates state Constitution
NH Senate Votes For Marijuana Study As Legalization Compromise Emerges In House
Common Cause Says Former Greenleaf Lobbyist Named to RI Cannabis Board


Missouri regulators submit final proposed rules to Secretary of State
DEA Says New Rules Coming For Synthetic Cannabinoids, CBD And Delta-8 THC
Alarms Sounding Over MJ Banking Bill That Could Undermine Financial Regulators
Top Federal Health Official Calls For 'Regulating' Marijuana Products
Licensed cannabis transporters sue Illinois Dept. of Agriculture


Lobbyist pleads guilty in Michigan marijuana bribery scandal
New Mexico adds insomnia as medical marijuana qualifying condition
Licensing Related
Oklahoma extends moratorium on medical marijuana licenses
Oregon to withhold cannabis retail licenses for unpaid taxes
1st N.J. Exclusively Recreational Cannabis Dispensaries Open



Marijuana business owner says OMMA denying due process in emergency shutdown
NY Cannabis Control Board Approves 50 Conditional Adult Retail Dispensary Licenses

Markets
Cultivation employees form first cannabis union in Connecticut
Troubled Skymint Loses Infamous Sports Complex in Michigan


Red White & Bloom Takes Hit on PharmaCo Deal



Indiva Posts $1.7M Loss, Focuses on Cutting Costs


Glass House Loses $39M Despite Increasing Revenue


Ayr Wellness Revenues Rise in First Quarter


Industry Players Spearhead Group to Solve Debt Crisis
SAFE Act Gave Stocks a Slight High, Earnings Harshed That Buzz

International
Costa Rica issues first medical marijuana cultivation license