As legislative sessions in some states draw to a close, it's been a busy few weeks on both the marijuana and psychedelic fronts. Top stories include a push to legalize adult-use cannabis in Pennsylvania and first-of-their-kind psychedelic licenses issued by the Drug Enforcement Agency and Oregon regulators. Governors have also signed various bills.

Under HB 1080 in Pennsylvania, it would be legal for adults 21 and older to cultivate, harvest, process, package, transport, display, possess, sell to a cultivation facility and purchase from a licensed cultivation facility.

But the Pennsylvania Liquor Control Board would operate adult-use retail stores, including fixing prices of cannabis products and deciding where the stores would be located. A 19% excise tax would be charged, 100% of which would go to the general fund. The board would be required to adopt regulations, including the licensing of cannabis establishments, by July 1, 2024.

Marijuana criminal convictions would be expunged. Industrial hemp with delta-9 THC under 0.03% would be regulated separately. Currently, naturally hemp-derived THC under 0.3% is not regulated by the DEA, but that may be changing.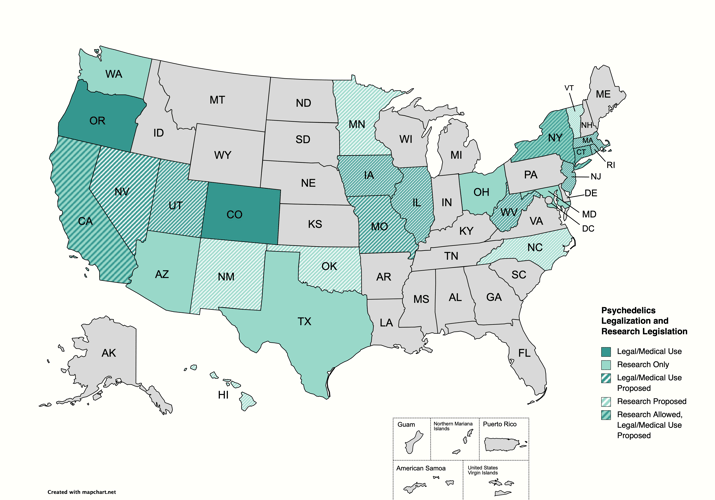 Map focuses on psilocybin and psilocin legalization, although some states allow, study, or seek to allow or study other types of psychedelics. It does not include decriminalization. Some states have multiple legalization bills pending. Color indicates highest use proposed. Map created using mapchart.net.

Governors sign marijuana bills in four states
Recently, governors signed the following cannabis bills:

These bills are currently sitting on a governor's desk:


Montana: HB 128, revising marijuana laws, including extending a moratorium on new cannabis businesses for two more years; HB 229, allowing probationary licenses for marijuana testing labs
Oklahoma: SB 475, modifying medical marijuana business license registration, including guidelines to address "straw owners" and fines
In New Hampshire, the Senate rejected a House-approved adult-use bill allowing for independent commercial sales. But Republican Gov. Chris Sununo is now saying he would support a program with state-run stores. A bill to legalize possession and use of cannabis for adults 21 and older, HB 360, has also been passed by the House and was scheduled for a Senate hearing Thursday, May 18.


Psychedelic treatment, research gets approval
Therapeutic research and use of psychedelics is gaining government support. Although still a Schedule 1 drug, the Drug Enforcement Agency has awarded its first license to grow psilocybin mushrooms to Ohio State University. The license allows the university, in partnership with psychedelics research and development company Inner State, to cultivate mushrooms for research purposes only under strict DEA guidelines.

"We believe that there is more to discover in psilocybin mushrooms than just psilocybin. The whole mushroom is reported to have multi-dimensional healing properties that may help to cure mental health issues, relieve pain as well as improve the quality of palliative care for cancer," said Inner State CEO Ashley Walsh in a May 12 news release.

And in Oregon, the first state to legalize adult-use of psilocybin, the Oregon Health Authority awarded its first treatment center license to EPIC Healing Eugene. Adults 21 and older may access psilocybin treatment services without a prescription or referrals, but they will need to complete an intake session. Centers can also sell psilocybin products produced and tested by licensed establishments.

To date, three manufacturers, one laboratory and five facilitators have received licenses under the Oregon Psilocybin Services Act, approved by voters in 2020.

Meanwhile, in Washington, the state legislature batted back-and-forth a bill that originally intended to legalize adult-use of psychedelics but was watered down. In the end, Gov. Jay Inslee on May 9 approved a psilocybin task force and therapy pilot program while partially vetoing SB 5263. Inslee said in his veto message that "changes were made to the legislation during the legislative process," and nine sections of the bill he was handed no longer aligned with the bill's content or applied.

"This bill takes important additional steps in exploring and understanding the potentials of psilocybin by continuing and supplementing the Health Care Authority's existing task force and by establishing a pilot program through the University of Washington," Inslee stated.

In Arizona, Gov. Katie Hobbs signed a budget that included $5 million to research psilocybin mushrooms for therapy.

In Colorado, SB23-290, establishing natural medicine regulation for psilocybin, psilocyn, mescaline and other psychedelics, has been sent to the governor's desk. It also allows for marijuana business deductions from state taxes.

And in Hawaii and Minnesota, bills to research psychedelic therapies are in conference committees.

However, a New Hampshire bill to legalize adult-use psychedelics and Vermont bills to create an advisory board and permit possession with a medical prescription were tabled.
-- Maria Brosnan Liebel, CRB Monitor News