James B. Francis, CFA
Chief Research Officer, CRB Monitor
Cannabis-linked Equity Performance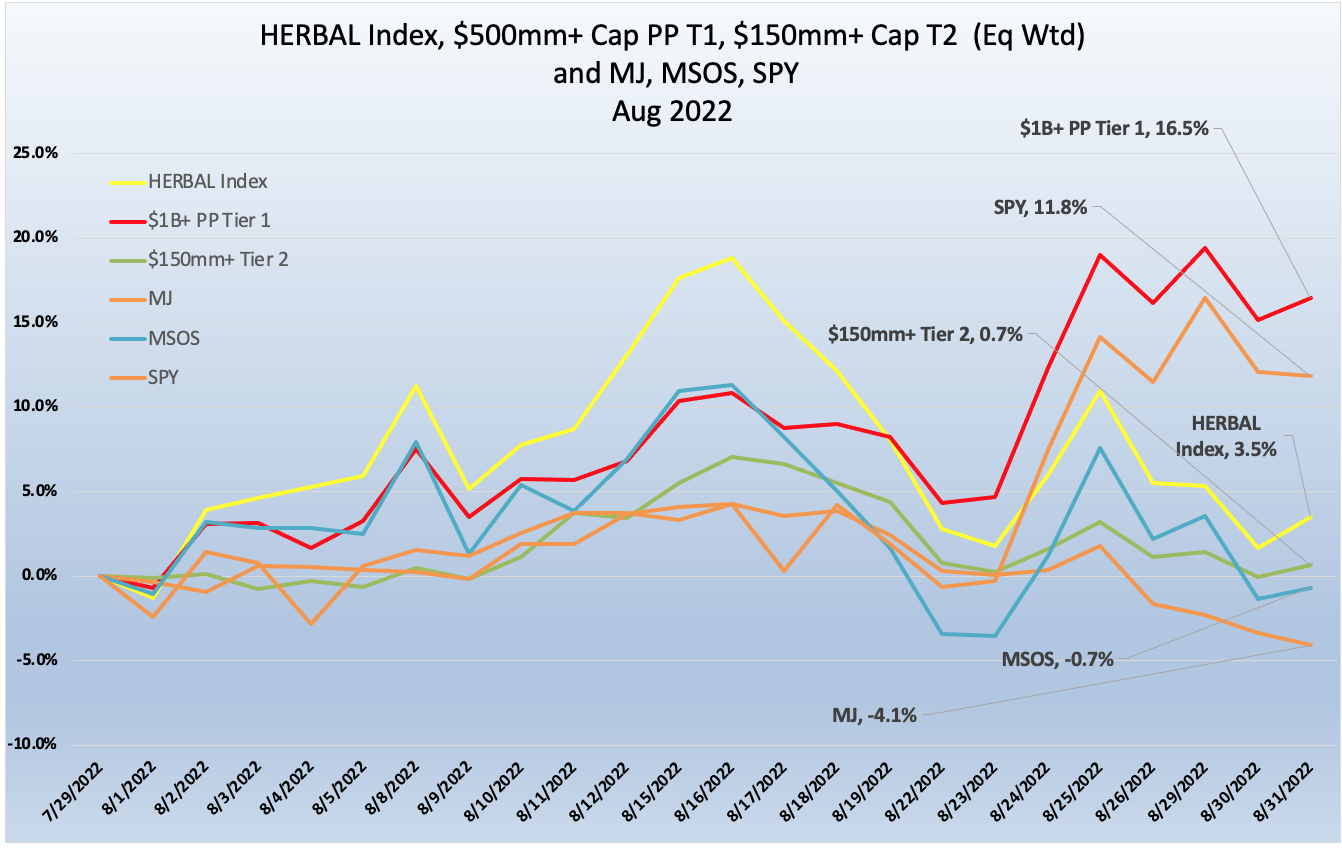 Source: CRB Monitor, Sentieo, Nasdaq
Cannabis Index Returns
The Nasdaq CRB Monitor Global Cannabis Index (HERBAL), is a mix of Pure Play Tier 1 and Tier 2 cannabis related equities, weighted by both investability and strength of theme (SOT). A full description of HERBAL's strengths and benefits can be found here: Introducing: The Nasdaq CRB Monitor Global Cannabis Index.
An excellent representation of the universe of legal, pure play cannabis equities, the HERBAL index was up for the second month in a row with a positive 3.5% return in August 2022. By comparison, HERBAL had significant outperformance (more than 7%) vs. the ETFMG Alternative Harvest ETF (NYSE Arca: MJ). MJ's performance (-4.1%) was negatively affected by the fund's 20+% holding in non-pure play CRBs. Additionally, the MSO-heavy Advisorshares Pure Us Cannabis ETF (NYSE: MSOS) was slightly negative for the month of August (-0.7%). MSOS's performance will deviate from both HERBAL and MJ largely due to its holdings of CRBs with US Marijuana touch-points, which dominate in that fund. [MJ and HERBAL cannot hold any securities with direct US touch points.]
The CRB Monitor equally-weighted basket of Pure Play Tier 1 CRBs with $500mm+ market cap came to life with a 16.5% return in August 2022. As indicated in the table below, Tier 1 companies performed well largely across the board and we will take a closer look at them in this newsletter.
The CRB Monitor equally-weighted basket of Tier 2 CRBs with $150mm+ market cap underperformed the Tier 1 CRB basket in August, returning just 0.7%. While we expect Pure Play Tier 1 and Tier 2 CRBs to display high correlation in the long term, their respective performance has a tendency to diverge in the short term, given the occasional lag from the impact (positive or negative) of market forces that affect their sources of revenue in the Tier 1 group.
Tier 1 Pure Play CRBs w/Mkt Cap Over $500mm – August 2022 Returns


Source: CRB Monitor, Sentieo
CRB Monitor Tier 1
Tier 1 CRBs continued their positive performance streak in August 2022, rewarding investors for their patience and overall strong stomachs. With that said, cannabis has not come close to fully emerging from the darkness just yet, as there is a 3-year bear market to overcome.
In the Canadian plant-touching realm, cannabis investors enjoyed strong performance largely across the board, with Tier 1B CRB Tilray Brands, Inc. (Nasdaq: TLRY) (+4.1%) and Cronos Group Inc. (TSX: CRON) (+13.1%). But the big Canadian CRB winner in August was Tier 1A Canopy Growth Corporation (TSX: WEED), up 43.4% in a continuation of its massive reversal following its nearly 18-month slumber. An article on the website Seeking Alpha highlights the long road that still lay ahead for Canopy Growth: "Despite the recent run-up, Canopy shares are still down nearly 60% since the beginning of the year, pulled lower in part by concerns about the profitability of the Canadian cannabis market, Congressional delays on decriminalizing weed in the US and the company's lackluster financial performance." We would echo that sentiment and believe it applies across the publicly-traded CRB market.
The MSO group also showed signs of optimism in August. Investors saw encouraging performance from Verano Holdings Corp. (CSE: VRNO) (+13.2%), Trulieve Cannabis Corp. (CSE: TRUL) (+13.5%), and Curaleaf Holdings, Inc. (CSE: CURA) (+16.7%) all outperformed the S&P 500 (see SPY return above). MSOs were all led by the performance of Green Thumb Industries Inc. (CSE: GTII) (+48.3%), which has seized analysts' attention in recent weeks. In an August article in Seeking Alpha which cites both an increase in revenue and net income in the most recent quarter as reasons for the surge in share price. And GTII's negative cash flow was explained by three factors: "…cash flow is perhaps the single most important financial metric for any company. For the first time in 10 quarters (also an industry record), Green Thumb had negative cash flow of -$15.4 million. While this surprised shareholders, management stated in the earnings call that it was expected. They gave three reasons. First, there were two large tax payments totaling $65 million vs. none in the first quarter. Second, There were large inventory builds in Maryland and Ohio, and inventory builds often skew quarterly results. Third, 2021 compensation bonuses were scheduled for this quarter. Management is confident Green Thumb will quickly resume its industry leading positive cash flow."

We are also seeing strong performance from Tier 1B Cresco Labs Inc. (CSE: CL) (+23.6%), which is now moving essentially in lockstep with Tier 1A MSO Columbia Care Inc. (CSE: CCHW) (+26.7%) as they near the closure of the closure of their M&A deal, whereby CL will acquire all of the issued and outstanding shares of CCHW.
Chart of the Month: Market Capitalization
Amidst all of this good news about two months in a row of positive performance, we thought it might be interesting to look at exactly how far this industry has fallen. This is not intended to throw a wet blanket over all of this success; in fact, it is to point out what a unique opportunity investors have that could easily disappear. We included the market cap with the top companies by market cap, with and without Jazz Pharmaceuticals plc (Nasdaq: JAZZ), which is slated to lose its Pure Play status in September. With its low correlation to other Tier 1 CRBs, JAZZ had positive impact over the period and removing it from the basket made things look substantially worse.



Source: CRB Monitor, Sentieo
CRB Monitor Tier 2
An equally-weighted basket of the largest CRB Monitor Tier 2 companies had a positive 0.7% return for August 2022, which underperformed the equally-weighted Tier 1 basket by 15.8%, which tended to underwhelm investors given the apparent recovery in Tier 1 space. With that said, when these two portfolios deviate it could be a signal for investors to rebalance into (out of) the Tier 1 basket and out of (into) Tier 2's given the direct revenue relationship, but the time it takes to mean revert is not so easy to predict. Therefore one could see August is an example of this divergence.
Investors were encouraged in August by a few Tier 2 CRBs, if they looked hard enough. For example, AFC Gamma, Inc. (Nasdaq: AFCG) (+6.0%) was positive for the second consecutive month. AFCG is currently the largest provider of institutional loans to cannabis companies nationwide in all aspects of production: cultivation, processing, and distribution. Fully committed as a provider in the legal cannabis space, AFCG's performance came on the heels of their declaration of a $0.56 quarterly dividend in June (a 47% increase from the prior year and an increase for the 4th consecutive quarter). In August, AFCG reported Distributable earnings which exceeded the declared dividend for the fifth consecutive quarter, and reported a book value of $17.03 per share as of June 30, 2022, an increase of $0.42, or 2.5%, compared to December 31, 2021.
And following its plunge nearly all the way into the abyss, Hydrofarm Holdings Group, Inc. (Nasdaq: HYFM). Exhibited a bounce, posting a positive 5.3% return for the month of August. With that said, HYFM is still down more than 80% in 2022. As we have profiled in the CRB Monitor database, Hydrofarm is an independent distributor and manufacturer of controlled environment agriculture (CEA) equipment that is used to grow, farm and cultivate cannabis (among other crops). To illustrate just how far HYFM has fallen, a share of its stock just one year ago cost more than $49 and by August 31, 2022, its price closed at $3.40. On August 8th, Hydrofarm announced its second quarter 2022 results, which provided little comfort to investors. In the press release HYFM reported that Net Sales decreased to $97.5 million compared to $133.8 million while Gross Profit decreased to $7.3 million compared to $29.6 million.
Finally, the largest company in the Tier 2 basket, Innovative Industrial Properties, Inc. (NYSE: IIPR) continued its 2022 slide, falling another 4.9% and now -63.9% YTD. IIPR is an internally-managed real estate investment trust ("REIT") focused on the acquisition, ownership and management of specialized properties leased to experienced, state-licensed operators for their regulated state-licensed cannabis facilities. On April 4th IIPR reported second quarter 2022 results and they apparently did not provide a whole lot of inspiration for investors as its share price continued to fall through month end. A few highlights from the report, which look like good news:
Generated total revenues of approximately $70.5 million in the quarter, representing a 44% increase from the prior year's quarter
Recorded net income attributable to common stockholders of approximately $39.9 million for the quarter, or $1.42 per diluted share, and AFFO of approximately $60.1 million, or $2.14 per diluted share (including the dilutive impact of the assumed full exchange of the 3.75% Exchangeable Senior Notes due 2024 (the Exchangeable Senior Notes))
Paid a quarterly dividend of $1.75 per common share on July 15, 2022 to stockholders of record as of June 30, 2022, representing a 25% increase over the prior year's second quarter 2021 dividend, equal to an annualized dividend of $7.00 per share
Cannabis-linked Equity Performance
CRB Monitor's research team monitors the information cycle daily and maintains securities' profiles to reflect the current state of the cannabis ecosystem. Here is a summary of the updates for August 2022: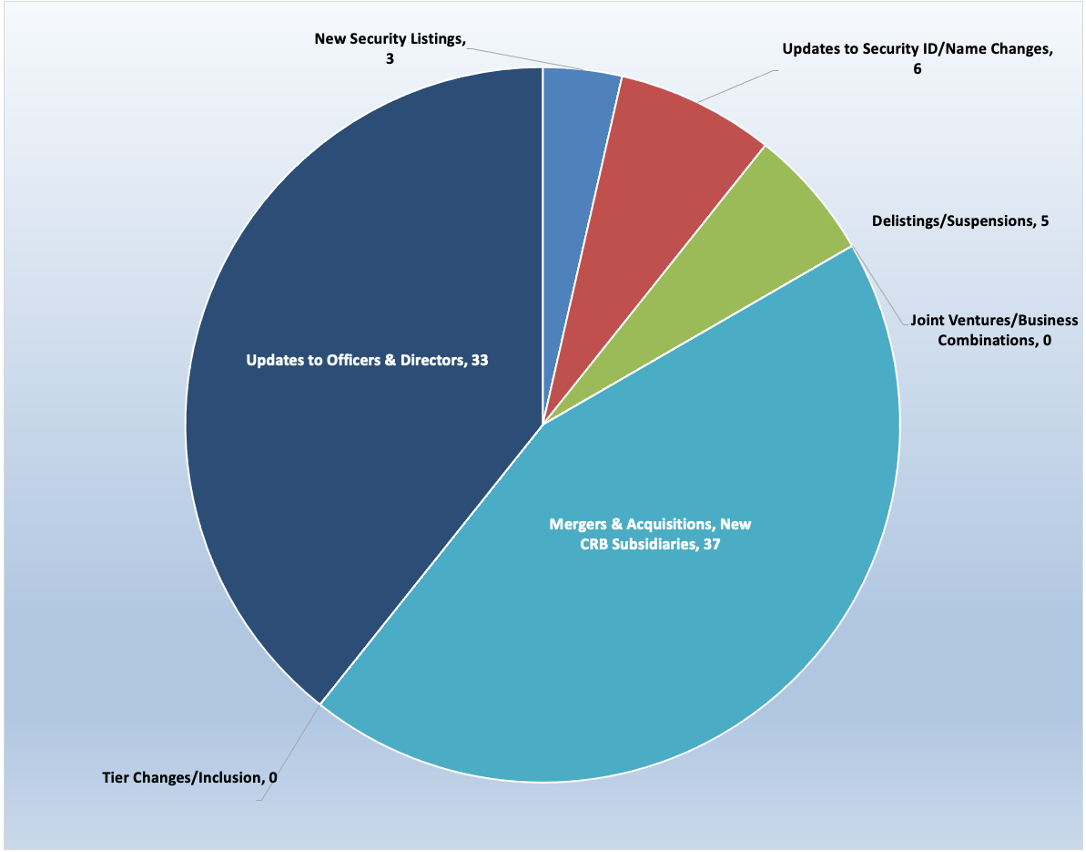 Cannabis News: M&A Activity
M&A activity in the publicly-traded cannabis space continued to be quiet in August. With that said, there has been a continuous parade of acquisitions of licensed, private Tier 1A CRBs by publicly-treaded companies. We estimate that approximately 10% of the active licenses in North America are ultimately held, either directly or indirectly, by publicly-traded CRBs. And so there is plenty of room for expansion of these subsidiary businesses, as long as balance sheets allow.
Here are some of the August highlights:
Early in the month of August, Tier 1A CRB Trulieve Cannabis Corp. (CSE: TRUL) expanded its retail operations into a new state with the announcement of the opening of its first Trulieve-branded dispensary in Arizona. According to the press release, "The new location will offer a wide variety of popular products including Trulieve brands such as Alchemy, Avenue, Co2lors, loveli, Modern Flower, Muse, and Roll One. Customers can also choose from a broad assortment of products from partner brands including Alien Labs, Connected, and El Blunto." Known as the first and largest medical cannabis provider in the state of Florida, Trulieve is licensed to operate in 15 states plus two Canadian provinces. By CRB Monitor's count, TRUL holds, either directly or through its subsidiaries, 127 cannabis licenses in either active status or pending approval.
Also in August, Tier 1B CRB High Tide Inc. (TSXV: HITI) announced in a press release that "further to its press release dated July 7, 2022, the Company has completed its acquisition…of eight operating retail cannabis stores in British Columbia and Alberta…for CAD$4.2 Million. The Company intends to complete the acquisition of the ninth store in Niagara, Ontario, pending regulatory approvals." These nine stores are a reference to a story that we shared in our July newsletter, which reported that HITI would be purchasing them from Choom Holdings Incorporated (CSE: CHOO). The press release goes on to list the locations of the acquired retail dispensaries. With this transaction High Tide's footprint in Canada expands to 173 cannabis licenses issued across six Canadian provinces.
In the midst of their quest for MSO domination, Tier 1B CRB Verano Holdings Corp. (CSE: VRNO) issued a press release in August announcing the opening of MÜV Tampa Himes on Friday, August 5, the Company's 54th Florida dispensary and 108th nationwide. According to the announcement, "MÜV Tampa Himes is the fourth MÜV retail location in Tampa, with storefronts on Dale Mabry, Preserve Walk Lane and West Kennedy. Tampa is the third largest city in Florida, with a population of over 385,0002." It seems that nearly every month we are reporting on a new Verano acquisition; this brings their total subsidiary license count to 90 that are either active or in some stage of approval.
Also in the news this month was Tier 1B TerrAscend Corp. (CSE: TER) who announced in an August 24 press release that it "completed its acquisition of KISA Enterprises MI, LLC (aka "Pinnacle"), a dispensary chain operator in Michigan, and related real estate assets from KISA Holdings, LLC, for total consideration of US$28.5 million. The acquisition is immediately accretive to TerrAscend on both a Sales and EBITDA basis. The acquisition includes six dispensary licenses, five of which are currently operational and located in the cities of Addison, Buchanan, Camden, Edmore, and Morenci. The addition of Pinnacle expands TerrAscend's retail footprint to 17 in Michigan and 32 nationwide." Now that this deal is closed, TerrAscend's subsidiaries operate in seven states in the US and two Canadian provinces. Through their subsidiaries, TerrAscend holds a total of 94 cannabis licenses that are either active or pending approval.
Finally, sometimes troubled Tier 1B MSO MedMen Enterprises Inc. (CSE: MMEN) issued a press release in August that announced the closing of a $67 million deal with Florida-based private company Green Sentry Holdings LLC for the Company's Florida-based operations, including its license, dispensaries, inventory, and cultivation operations. The deal is comprised of $63 million in cash and approximately $4 million in liabilities to be assumed by Green Sentry. The deal also includes the license of MedMen's trademarks in the state.
Ed Record, MedMen's CEO answered the question as to why Medmen is getting out of Florida: "We are pleased to announce the successful completion of this deal, particularly given the challenging economic environment we are operating in…The sale of MedMen's Florida assets marks an important step in the company's restructuring efforts designed to provide greater financial flexibility and a stronger, leaner operating structure – and ultimately put us on a path to being EBITDA positive." We will see how this retreat from a major market works out for Medmen. Following this transaction, Medmen continues to operate in seven states and holds, through its subsidiary businesses, 51 licenses that are either active or pending approval.
Select M&A/New Subsidiary Highlights:
Security/Exchange Highlights:
Select New Additions to CRB Monitor:
| | | | |
| --- | --- | --- | --- |
| Name | Ticker Symbol | CRBM Tier | CRBM Cannabis Sector (CLS) |
| | | Tier 3 | Personal Products |
| | | Tier 2 | Personal Products |
| | | Tier 1B | Owner/Investor |
Cannabis News: Regulatory Updates
We continued to monitor the regulatory news cycle in August in real time, and in spite of some obvious distractions (global economic woes, Russia/Ukraine conflict, the upcoming 2022 midterms) there is always cannabis-related regulatory news to report.
In August, it was reported that the state of California now features "a blizzard of cannabis legislation advancing through the legislature". A Marijuana Moment article summarized the bills that are currently at various stages in their legislative life, and they include the following:
SB 1326 from Sen. Anna Caballero (D): "would set the stage to allow for interstate marijuana commerce from California to and from other legal states, contingent on an official assurance that the activity would not put the state at risk of federal enforcement action."
AB 1706 from Assemblymember Mia Bonta (D): "meant to enhance justice reform provisions of the state's marijuana law by mandating the courts to process record sealing and other forms of relief for people with eligible cannabis convictions on their records in a specific timeframe. Courts would have until March 1, 2023 to seal records for qualifying cases that weren't challenged by July 1, 2020."
Additionally, SB 519 sponsored by Sen. Scott Wiener (D) would legalize the possession of certain amounts of psychedelics like psilocybin and MDMA by adults 21 and older. [While this is not a cannabis-related bill, we are now tracking relevant news in the psychedelics space that might be of interest to our clients.]
Now this, from Texas: A recent article on the website Reason.com cites a new poll that finds that 55 percent of Texas voters favor legalizing marijuana for recreational use. While the article concedes that the numbers are down a bit from the 60-percent support measured last spring, "it is still a pretty striking result in a state where Republicans outnumber Democrats, control the state legislature, and occupy all statewide elected offices."
The story goes on to say, "the survey…found that 65 percent of Democrats wanted to legalize recreational marijuana, compared to 63 percent of independents and 43 percent of Republicans. Forty-eight percent of Republicans opposed legalization, while 9 percent offered no opinion."
The most compelling point about this article is that, in addition to Texas, legalization is looking rather popular in several red states, in spite of resistance from their legislators. The authors site similar polls that show strong support in Iowa (54%), Louisiana (58%), and North Carolina (60%).
Meanwhile a battle is brewing in Missouri over a ballot initiative to legalize recreational marijuana. As reported in an August 10th article on KY3.com, "The November ballot initiative, known as Legal Missouri 2022 or Amendment 3, would create an amendment to the state constitution to legalize and regulate the cultivation, sale, possession and consumption of cannabis for people aged 21 and older. A similar amendment creating a legal medical marijuana trade passed at the polls in 2018." There are objections to the proposed legislation, including the fact that it does not decriminalize marijuana, a common feature in many states' legalization laws. There is also disappointment in the community with regard to the distribution of recreational marijuana licenses.
An August 18th article on Marijuanamoment.net reported that Senator Cory Booker believes that the SAFE Banking Act needs some changes after communicating with current and former cannabis regulators. In response to that he proposed 10 possible amendments that would allow equity. He says that this is to ensure that communities won't be harmed by marijuana policies while also supporting small cannabis businesses. The ten amendments are summarized in an article in Financial Regulation News, which reported: "The paper offers 10 recommended SAFE Banking Act amendments, including requiring financial institutions to demonstrate compliance with anti-discrimination laws such as the Equal Credit Opportunity Act; protecting Minority Depository Institutions (MDIs) and Community Development Financial Institutions (CDFIs); and elevating evidentiary requirements and limiting enforcement penalties for MDIs and CDFIs for servicing legitimate cannabis businesses."
In the words of Senator Booker, "For decades, largely Black and Brown communities have been disproportionately harmed by the prohibition of marijuana and are subsequently underrepresented in the emerging billion-dollar cannabis industry…We all agree that the path to ensuring true equity within the marijuana industry starts with decriminalizing cannabis at the federal level. Before moving forward, legislation like SAFE Banking requires changes to ensure that the communities most harmed by our broken marijuana policies receive support and small cannabis businesses can have the same access to capital as large multi-state operators."
Finally, it was reported on August 24th that a group of senators led by Senator Bob Casey sent a letter to the Secretary of State Antony Blinken requesting that the State Department give Marc Fogel and Brittney Griner the same status of "wrongfully detained" because they are both U.S citizens wrongfully imprisoned for medical marijuana in Russia. Other major cities have reacted to this statement made by the senators and in doing so some states such as California, South Dakota, and New York have started making moves approving legal consumption of marijuana.
A bipartisan group of senators led by Sen. Bob Casey (D-PA) sent a letter to Secretary of State Antony Blinken demanding that the State Department give Marc Fogel—another U.S. citizen imprisoned for medical marijuana in Russia—the same "wrongfully detained" status as Brittney Griner.
The article goes on to further explain the complexity of this issue here in the US: "Beyond the discrepancy in how the Biden administration has treated the Griner and Fogel cases, advocates have taken issue with the fact that the president is spending so much political capital to help one American who is detained for cannabis in Russia while refusing to take meaningful action to fulfill campaign promises to decriminalize marijuana domestically and free people who are incarcerated for it in U.S. prisons."
CRBs In the News
The following is a sampling of highlights from the August 2022 cannabis news cycle, as tracked by CRB Monitor. Included are CRB Monitor's proprietary Risk Tiers.
Wondering what a Tier 1, Tier 2 or Tier 3 CRB is?

See our seminal ACAMS Today white paper Defining "Marijuana-Related Business" and its update Defining "Cannabis-Related Business"