Week of November 4 - November 10, 2023
Do you love data and staying up to date with the latest cannabis-related headlines? Are you searching for industry news to inform your institution's approach to cannabis risk and compliance?
You've come to the right place.
Hashing Out the Truth
CRB Monitor's database growth by the numbers.
Tier 1 Marijuana-Related Business Counts
Weekly Summary (November 4 - November 10, 2023):
75,312 1A MRBs + 3,874 1B MRBs = 79,186 total
1A MRBs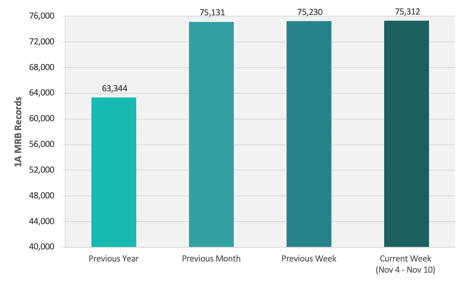 Tier 1A defined: Businesses in this tier literally touch the cannabis plant at some point along the supply chain from "seed to sale," and are generally licensed by a government agency or regulator. Effectively all of their actual or expected revenue is derived from the cultivation, production, testing or sale of cannabis.
1B MRBs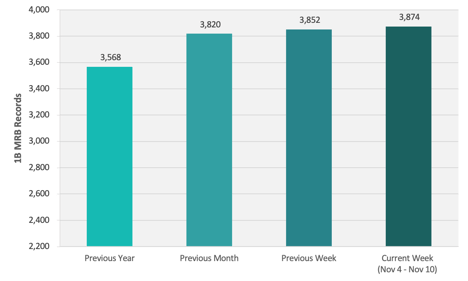 Tier 1B defined: Businesses that have a financial or controlling interest in a Tier 1A CRB. CRB Monitor generally considers 1B businesses as seemingly unrelated businesses highlighted as red flags by FinCEN in its marijuana banking guidance and are similar in nature to individual beneficial owners.
Marijuana Business Licenses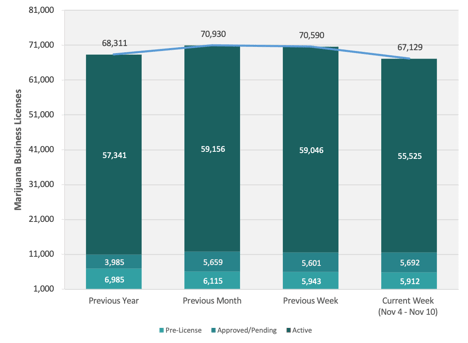 Note: Inactive licenses, unlicensed, and unknown licenses have been excluded.
Beneficial Owners Count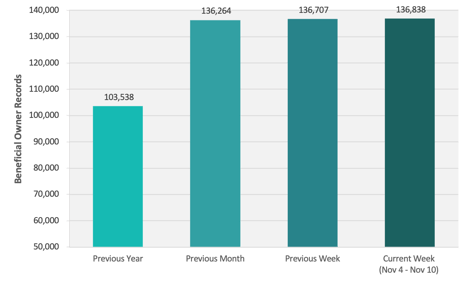 Beneficial owners defined: For beneficial owners, each economic owner or controlling person is classified into one or more categories based on their relationship to the linked CRB including: (1) Owner/Investor, (2) Board Member, (3) Corporate Officer, (4) Executive, (5) Non-commercial Registered Agent or (6) Senior Manager.



News of Note
A selection of relevant cannabis-related news. Items marked with

indicate links to licensed business profiles in the CRB Monitor database.
Adverse Media
Nasdaq extends stay of suspension for marijuana tech firm Agrify


Missouri marijuana retailer Shangri-La to pay $145K settlement in union dispute


Fire Ganja agrees to pay $625K penalty to maintain Rhode Island license


Michigan Issues Voluntary Recall for Armada Cannabis Co. Cider


Arizona Issues Voluntary Recall of Globe Farmacy Products for Possible Aspergillus


Judge orders 3 marijuana shops to close in Michigan U.P.



Litigation
Hemp growers sue Alaska agriculture officials in attempt to keep hemp products legal
High Seas Sues California Regulators for License Approval
A new appeal in the long-running legal battle over Alabama's medical cannabis
Cannabis Co. Curaleaf Sued Over Haircut To $85M Merger


Ore. Cannabis Biz Sues 'Neobank' Over Bounced Checks


Massachusetts Pot Co. Challenges NLRB GC's 'Unprecedented' Injunction Bid

Legalization & Regulation
Ohio Becomes 24th State to Legalize Adult-Use Cannabis
DEA likely to OK marijuana rescheduling, but election, lawsuits could get in the way
Florida Supreme Court Hears Arguments on Marijuana Legalization Ballot Measure
Ohio Regulators Unveil Marijuana Legalization Guide As They Prepare To Create Rules
California Marijuana Trade Org Asks Congress to Regulate Hemp Intoxicants

Licensing Related
Oklahoma Targets Cannabis Cultivator Sign Scofflaws
Maryland Opens Cannabis Business License Application Period
Vermont Limits Cannabis Licenses to Support Small Growers
Increased fees for Montana marijuana dispensaries on hold
Colorado regulators adopted revised marijuana rules
Texas DPS says more than 130 medical marijuana dispensary applications received so far
Pennsylvania looking for new medical marijuana track-and-trace provider


Arizona regulators filed revised marijuana rules
Dysfunction in Social Equity Programs Indicates Concept Still Evolving
Oversight Report Shows Improvement In Illinois Marijuana Industry Diversity

Markets
Ogen is latest Canadian cannabis producer to close its doors


Organigram Announces Interim Chief Financial Officer


The Cannabist Company Holdings Inc. shareholders elect board of directors


iAnthus Announces Results from Annual General Meeting


Congressional Researchers Warn That High Federal Marijuana Taxes Could Inhibit Industry

International
Drug users have legal right to use anywhere, says B.C. harm reduction nurses' lawsuit