James B. Francis, CFA
Chief Research Officer, CRB Monitor
CRB Monitor Securities Database Updates
CRB Monitor's research team monitors the information cycle daily and maintains securities' profiles to reflect the current state of the cannabis ecosystem. Here is a summary of the updates for March 2022: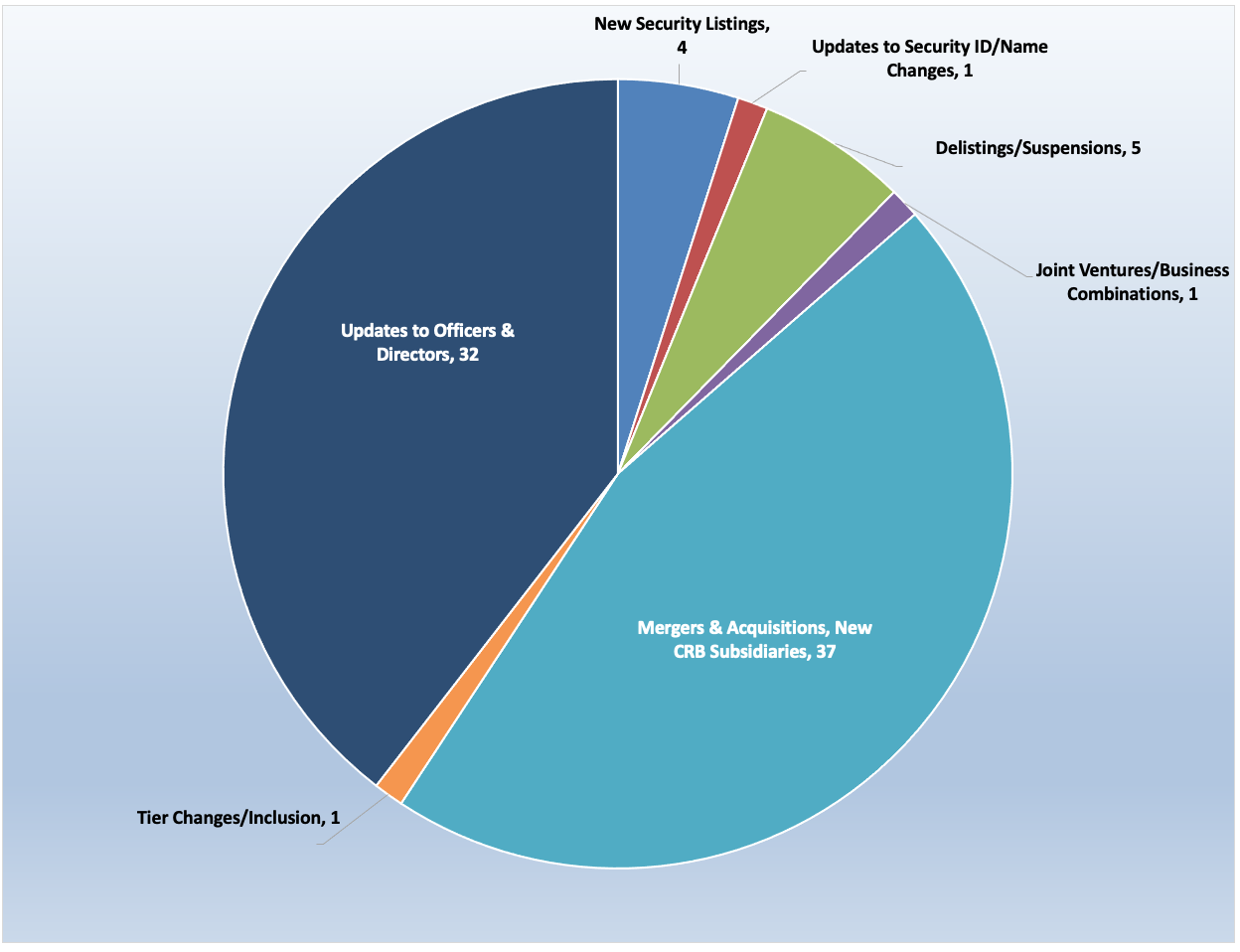 Source: CRB Monitor
News Flash: New Database Enhancements
CRB Monitor is pleased to announce the following securities database enhancements:
"Pure Play" tag

: Primarily for Tier 1 CRBs, a "Pure Play" CRB earns, or intends to earn more than 50% of its total revenue from its participation in the cannabis industry. [By definition, all Tier 2 CRBs are "Pure Play" and all Tier 3 CRBs are "non-Pure Play."]
Dividend tag

: For Tier 1 and Tier 2 securities, we are adding a "Y" to the security profile if the issuer currently pays a dividend and an "N" if it does not.
"Pre-IPO"

security status. For Tier 1 and Tier 2 CRBs, we will be adding cannabis-related businesses to the CRB Monitor database prior to their initial public offerings with the status "Pre-IPO."
License Roll-up

For Tier 1 CRBs, we have refined the cannabis license "roll-up" function to exclude relationships that are defined as "related business". Inclusion in this calculation is now limited to "Owner/Investor" relationships only.
* The Pre-IPO and License Roll-up are effective immediately. We will send out a notification to all CRB Monitor Securities Database clients with the effective date for the new securities extract file that displays the Pure Play and Dividend tags.
Cannabis News: M&A Activity
Following a fierce 2021, cannabis-related M&A activity has dropped off a bit; with that said, we are still seeing a handful of deals being announced in early 2022. Here are some of the March highlights:
In March, the MSO world was turned on its head as Cresco Labs Inc. (CSE: CL) announced that it would acquire all of the issued and outstanding shares of Columbia Care Inc. (NEO: CCHW), in a deal worth $2 billion. This represents a consolidation of the operations of two of the largest plant-touching, US marijuana businesses, and could be an indication of things to come.
The press release stated that shareholders of Columbia Care "…will receive 0.5579 of a subordinate voting share of Cresco Labs for each Columbia Care common share (or equivalent) held based on the closing price of CL on March 22, 2022. Furthermore, the Transaction provides Columbia Care Shareholders with "premiums per Columbia Care Share of approximately 16% based on the closing prices of the Columbia Care Shares and the Cresco Labs Shares, and 19%, based on the 20-day volume weighted average prices ("VWAP") of the Columbia Care Shares and the Cresco Labs Shares, each on the CSE as of March 22, 2022."
Once this deal has closed, Cresco Labs' operations will have expanded to 14 states plus Puerto Rico and the District of Columbia, and its license total will approximately double to 183 that are either in active status or pending approval.
More detail and CRB Monitor's analysis of the Cresco/Columbia Care deal can be found in our recently released blog post on the CRB Monitor website. We will provide further analysis as the deal gets closer to its close in Q4.
Also in late March, Canadian Tier 1B CRB RIV Capital Inc. (TSX: RIV) announced that it had entered into a definitive agreement to acquire ownership and control of Etain LLC and Etain IP LLC, owners and operators of legally licensed cannabis cultivation and retail dispensaries in the state of New York. The acquisition, valued at $247 million, is significant given that Etain is "the New York cannabis market's only women-owned and -operated business." The announcement goes on to describe Etain as "one of the state's original five medical cannabis licence recipients and one of only 10 approved vertically integrated operators…Etain has four operating dispensaries, including its Manhattan flagship store and locations in Kingston, Syracuse and Westchester."
What makes RIV Capital particularly interesting to us is their relationship to Tier 3 CRB The Scotts Miracle-Gro Company (NSYE: GRO). Scott's wholly-owned subsidiary, The Hawthorne Gardening Company, is a leading provider of nutrients, lighting and other materials used in the indoor and hydroponic growing segment, primarily to cannabis cultivators. Another wholly-owned subsidiary, The Hawthorne Collective, has been established to invest in emerging areas of the cannabis industry. We closely monitor their activities as the Hawthorne relationship could be interpreted as ownership in an Tier 1 CRB (the current interpretation is that it does not).
According to a March 30 press release, Canadian Tier 1B CRB Sundial Growers Inc. (NASDAQ: SNDL) completed its acquisition of all the issued and outstanding shares of Alcanna (TSX: CLIQ), a private sector retailer of beer, wine and spirits in North America. With this acquisition, Sundial is now "the largest private sector cannabis and liquor retailer in Canada". The deal, valued at approximately $320 million, increases Sundial's active cannabis license total by 88 to 159.
Also during the month of March, IM Cannabis Corp. (CSE: IMCC) announced the closing of their acquisition of Oranim Pharm, Jerusalem's Leading Medical Cannabis Pharmacy. IM Cannabis operates in the Israeli medical cannabis market by providing intellectual property and services to licensed producers, and according to the announcement, this acquisition "puts IM Cannabis at the forefront of medical cannabis distribution in Israel."
Select M&A/New Subsidiary Highlights:
Security/Exchange Highlights:
Select New Additions to CRB Monitor:
| | | | |
| --- | --- | --- | --- |
| Name | Ticker Symbol | CRBM Tier | CRBM Cannabis Sector (CLS) |
| | | Tier 2 | Food, Beverage & Tobacco |
| | | Tier 3 | IT Services & Software |
| | | Tier 3 | Agricultural & Farm Machinery |
| | | Tier 3 | Electronic Equipment |
| | | Tier 1B | IT Services & Software |
Cannabis News: Regulatory Updates
The news cycle was active in March with plenty of buzz surrounding efforts by members of the Federal government to keep legalization moving ahead. Facing a sharp divide along party lines, legislators continued to soldier on, led by Senate Majority Leader Chuck Schumer (D-NY) as well as (mostly Democratic) members of the House of Representatives. Most of this activity involves two critical pieces of legislation: The Marijuana Opportunity Reinvestment and Expungement (MORE) Act and the Secure and Fair Enforcement (SAFE) Banking Act. While the MORE Act focuses on legalization and decriminalization of marijuana, SAFE Banking is concerned with removing the existing barriers that prevent financial institutions from processing cannabis-related transactions.
According to a March article in Forbes regarding the MORE act: ""We expect the MORE Act to clear the House once again, but we view it primarily as a messaging bill as it has no viable path to passage through the Senate," said BTIG strategist Isaac Boltansky in a recent note to clients."
Both bills face headwinds in the US Senate, as Republicans are largely opposed to anything Democrats are in favor of; in addition, there is no indication that the President would sign a cannabis legalization bill that arrives at his desk. The Administration ran on a platform that endorsed decriminalization but made no commitment to legalization. With that said, they seem to take a positive stance on SAFE Banking.
As we reported last month, Senator Schumer announced that he'll formally introduce his bill to legalize cannabis in the Senate this April, saying that marijuana policy reform "is a priority for me." Schumer, a Democrat and the senior US senator from New York, made his comments at a February 4th event in New York City attended by fellow lawmakers and drug policy reform advocates. Schumer first said last July that he planned to introduce the Cannabis Administration and Opportunity Act (CAOA) to legalize and regulate marijuana at the federal level. Given that he might not even have the support of 100% of his Democratic caucus, this bill might not make it to the floor. Stay tuned!
In South Carolina, House Lawmakers Approved a Senate-Passed Medical Marijuana Legalization Bill In Subcommittee, and now it awaits approval in the House. The bill, called the South Carolina Compassionate Care Act (S.150), would "allow patients with qualifying conditions to possess and purchase cannabis products from licensed dispensaries. Smokable products, as well as home cultivation of cannabis by patients or their caretakers, would be prohibited. Simply possessing the plant form of cannabis could be punished as a misdemeanor." There is no guarantee that this bill will pass the South Carolina House, but this appears to be the furthest that a legalization bill has gone in that state.
Also in march it was reported that Michigan officials announced that they will be distributing nearly $150 million in marijuana tax revenue, divided between localities, public schools and a transportation fund. As stated in an article in Marijuana Moment, "All told in 2021, Michigan saw $1,311,951,737 in marijuana sales for adult-use and $481,225,540 for medical cannabis. In December alone, there were more than $135 million in recreational cannabis purchases and about $33 million in medical marijuana sales."
Also in Michigan, regulators have approved the state's first licensed cannabis consumption lounge, which is set to open this month. According to the same article: "Nowfal Akash, chief information officer of Trucenta, which will operate the newly approved Hot Box Social, said in a press release that the business's 'plan is to first use the space for corporate, social, and special events.'"
Cannabis-linked Equity Performance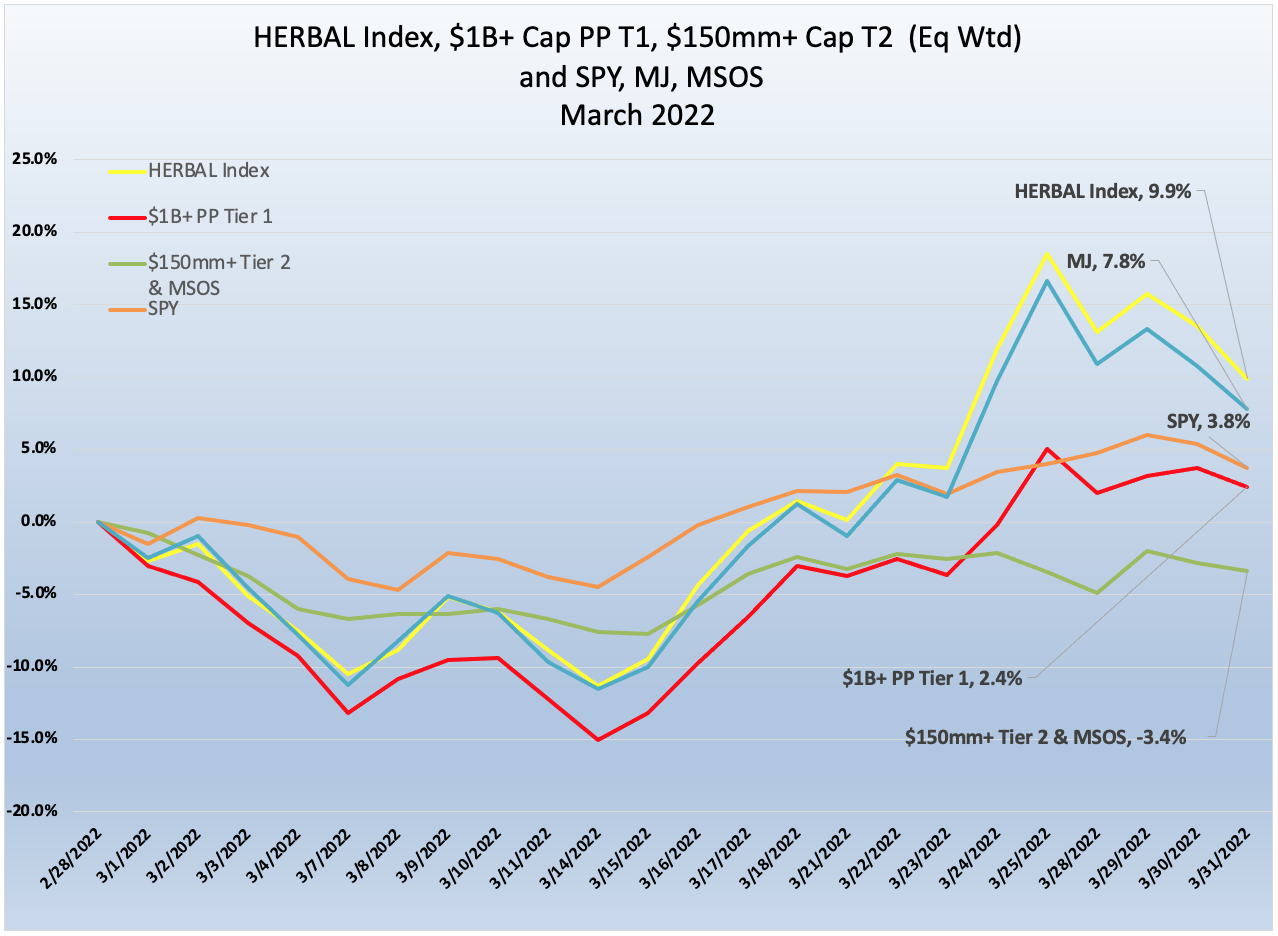 Source: CRB Monitor, Sentieo, Nasdaq
The CRB Monitor equally-weighted basket of Pure Play Tier 1 CRBs with $1b+ market cap was higher by 2.4% in March 2022. Performance was helped by investor optimism related to progress toward federal legalization in the US House of Representatives, but was tempered by the returns of several MSOs.
The CRB Monitor equally-weighted basket of Tier 2 CRBs with $150mm+ market cap was lower by 3.4% in March 2022. Pure Play Tier 1 and Tier 2 CRBs tend to display high correlation in the long term, but often will diverge in the short term, given the occasional lag from the impact (positive or negative) of market forces.
The Nasdaq CRB Monitor Global Cannabis Index (HERBAL), is a mix of Pure Play Tier 1 and Tier 2 equities, weighted by both investability and strength of theme. Up by 9.9% in March, HERBAL had a great month in both absolute terms and relative to its peers. HERBAL outperformed comparable products, like ETFMG Alternative Harvest ETF (NYSE Arca: MJ), which holds about 20% in non-CRBs (+7.8%) and MSO-heavy Advisorshares Pure Us Cannabis ETF (NYSE: MSOS) (-3.4%).
Tier 1 Pure Play CRBs w/Mkt Cap Over $1B – March 2022 Returns


Source: CRB Monitor, Sentieo
CRB Monitor Tier 1
In Tier 1 space, the story in March was the rebound of the Canadian CRB group and the less-than stellar performance of the MSO group.
Tilray Brands, Inc. (Nasdaq: TLRY), one of the only large CRBs with a positive return in February, exploded in March, up more than 27%. Most of this positive return happened on March 24, along with the upward pressure that you see on other Tier 1 Canadian CRBs (see chart). This one-day move is indicative of the sensitivity of pure play cannabis companies to the news cycle. In this case, TLRY along with its peers like Cronos Group Inc. (TSX: CRON), Canopy Growth Corporation (TSX: WEED), and Aurora Cannabis Inc. (TSX: ACB), all had this price jump on the same day. What happened? Not much, really. However, March 24 was the day that House Rules Committee scheduled a meeting for a few days later to prep a bill for the federal legalization of marijuana in the US. It was on this news (of a meeting) that shares of TLRY jumped 21%, and other companies followed suit, although their price moves were less dramatic. And as you can see on the chart below, the reaction was somewhat overstated, as share prices tended to give back some of their gains over the next few trade days.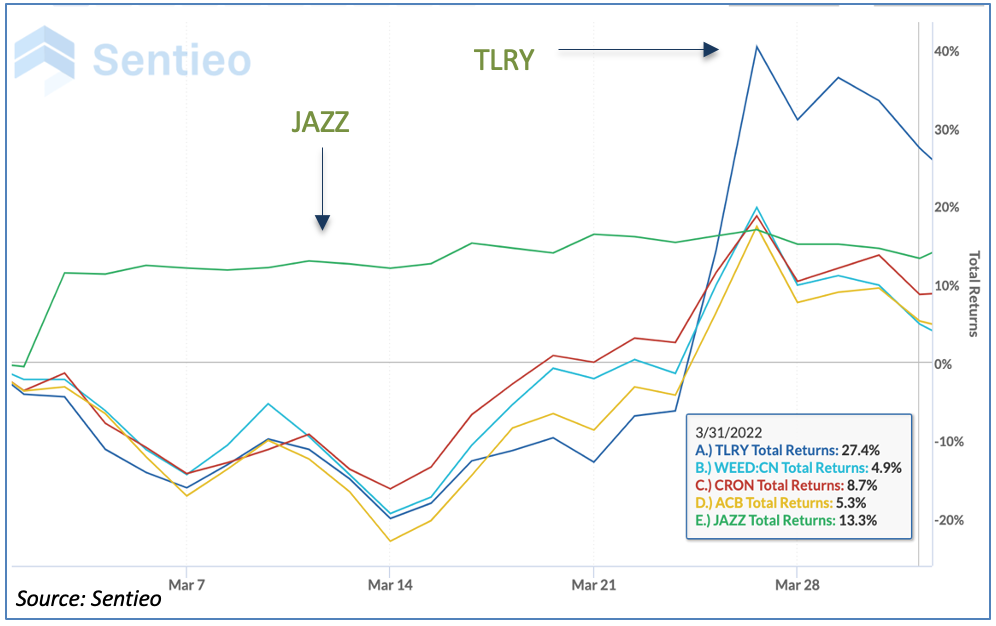 A completely different animal is Tier 1B CRB Jazz Pharmaceuticals plc (Nasdaq: JAZZ), the a global biopharmaceutical company that acquired 100% of CBD giant GW Pharmaceutical (GWPH) in early 2021. As you might recall, GWPH is the manufacturer of Epidiolex, the only cannabis product in the world that is FDA-approved. As such, JAZZ's stock price is less sensitive to the legalization news cycle, which is clear from the performance chart. JAZZ was essentially flat following an 11% pop on March 2nd. And that jump was related entirely to better-than expected Q4 financial results that were announced following the market close on March 1st. With all of that said, we continue to monitor JAZZ and periodically review its eligibility as a pure play CRB.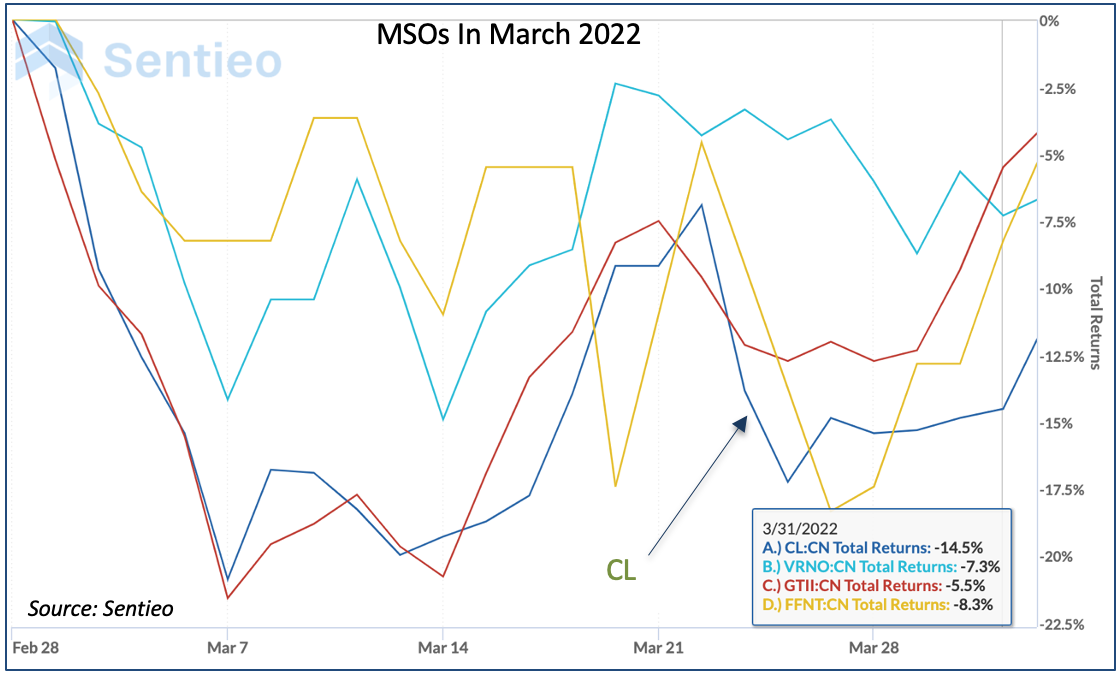 Why didn't this news-related rally in March have similar upward pressure on MSOs? From the chart below, we see that there was a fairly significant selloff leading up to March 7th and the March 24 news appeared to have little or no effect on these CRBs. Looking at Cresco Labs Inc. (CSE: CL), we can see that the 3/23/22 announcement of their acquisition of Columbia Care Inc. (NEO: CCHW) caused a positive price move on that day, but that is to be expected given the premium that was built into the deal. But clearly the acquisition was not enough to hold investors' interest, as CL's price experienced a precipitous drop and closed out the month down 14.5%. We see similar performance (if you can cut through all that short term volatility) from 4Front Ventures Corp. (CSE: FFNT), Verano Holdings Corp. (CSE: VRNO), and Green Thumb Industries Inc. (CSE: GTII) (see chart above).
Tier 2 CRBs w/Mkt Cap Over $110mm – March 2022 Return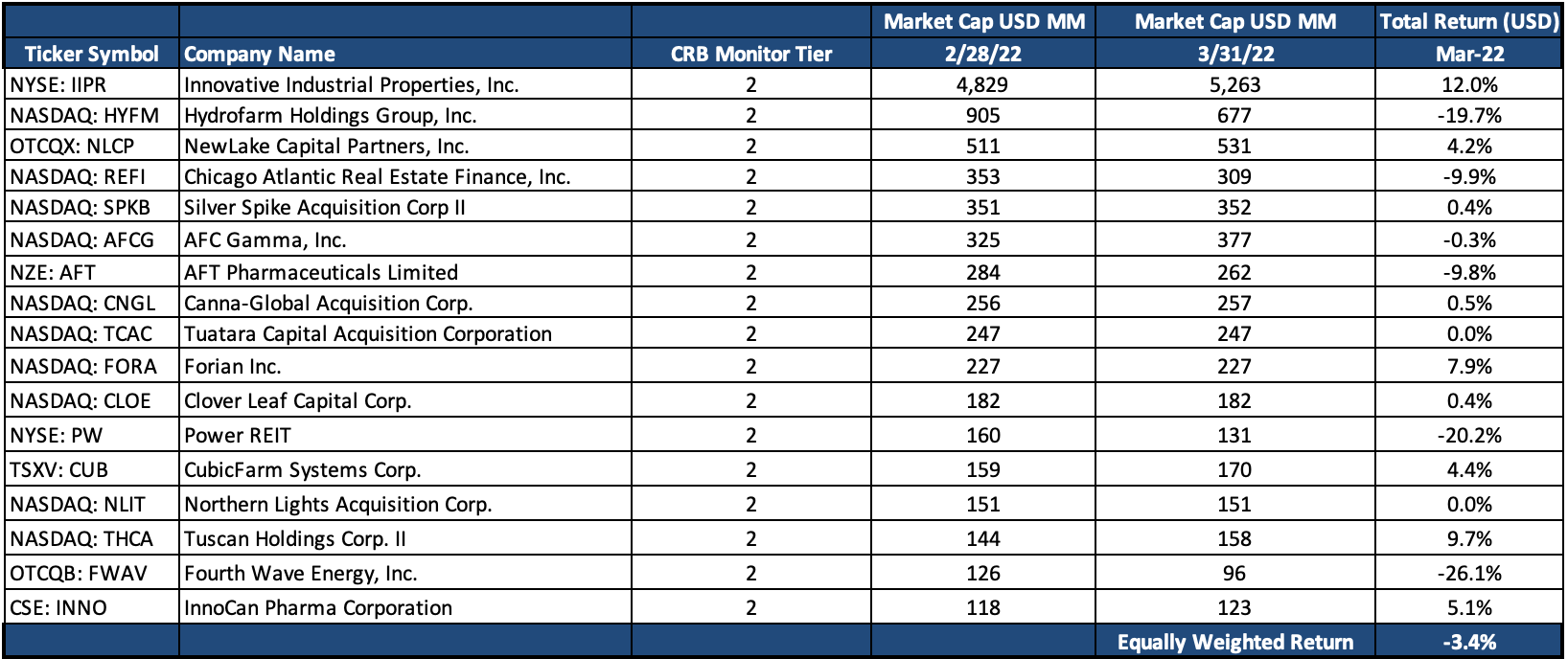 Source: CRB Monitor, Sentieo
CRB Monitor Tier 2
An equally-weighted basket of the largest CRB Monitor Tier 2 companies had a negative 3.4% return for March 2022, which underperformed the equally-weighted Tier 1 basket by 5.8%, and for the third month in a row. When these two portfolios deviate, it could be a signal for investors to rebalance into (out of) the Tier 1 basket and out of (into) Tier 2's given the direct revenue relationship, but the time it takes to mean revert is not so easy to predict.
Innovative Industrial Properties, Inc. (NYSE: IIPR), the largest Tier 2 by market capitalization, had a partial rebound from its miserable January (-24%) and February (-4.9%). Investors started coming back to IIPR, lifting its price by 12%. Much of this price move could be residual positive impact from the revelations from the US House of Representatives (see above), as there was a significant spike between March 24 and 28. We believe that, given their dependence on the cannabis industry, Tier 2 businesses will forever feel the impact when Tier 1's are particularly volatile.
Also struggling in March was Tier 2 Forian Inc. (Nasdaq: FORA), a provider of technology services primarily to companies in the cannabis industry. Forian's performance in March (+7.9%) was a reversal from a dismal month of February when their stock lost 15%. Once again, optimism over congressional action on legalization is a likely factor in the reversal, but time will tell as the process is by no means over, with passage in the Senate considered by many to be a long shot.
Dragging the Tier 2 basket down was Hydrofarm Holdings Group, Inc. (Nasdaq: HYFM), down nearly 20% in March and down more than 56% YTD. Hydrofarm manufactures and distributes hydroponics products such as lighting equipment, climate control devices, garden accessories, and other related products, to cannabis cultivators. HYFM's stock took a nosedive following its Q4 earnings report, in which they reported an $11mm net loss, in spite of an increase in sales over the quarter. This followed a weak Q3 2021, where Hydrofarm reported a 7% drop in revenues.
CRBs In the News
The following is a sampling of highlights from the March 2022 cannabis news cycle, as tracked by CRB Monitor. Included are CRB Monitor's proprietary Risk Tiers.
The following is a sampling of highlights from the March 2022 cannabis news cycle, as tracked by CRB Monitor. Included are CRB Monitor's proprietary Risk Tiers.
Wondering what a Tier 1, Tier 2 or Tier 3 CRB is?

See our seminal ACAMS Today white paper Defining "Marijuana-Related Business" and its update Defining "Cannabis-Related Business"