CRB Monitor Cannabis-Linked Securities August 2021 Update
James B. Francis, CFA
Chief Research Officer, CRB Monitor
CRB Monitor tracks ~ 1,400 publicly-traded, Cannabis-Related Businesses (CRBs) globally, which have ~1,600 traded securities. We categorize CRBs into our proprietary cannabis risk tier framework and cannabis-linked (CLS) sectors. In addition, CRB Monitor unravels and maintains complex corporate structures, linking publicly-traded parent companies to their underlying operational plant-touching subsidiaries. Custodian banks, broker/dealers, and asset managers find our data essential for pre-trade compliance, risk management, index construction, and portfolio analytics.
CRB Monitor Securities Database Updates
In 2021, CRB Monitor's research team made more than 1,250 updates to securities' information and added more than 5,500 news-related source documents to the CRB Monitor database. Here is a summary of the updates for August 2021:
Source: CRB Monitor
The Latest Blogpost in CRB Monitor: TGOD's Move to the CSE and its Potential Impact
On September 10, 2021, Tier 1 CRB The Green Organic Dutchman, Inc. (CSE: TGOD) announced that it had received its final approval to voluntarily delist its common stock and warrants from the Toronto Stock Exchange (TSX) and simultaneously list them on the Canadian Securities Exchange (CSE). TGOD is not considered a significant player in the cannabis space, given its small market cap (~$100mm) and low share price (~CAD 0.20); however, the change in listing to the CSE could have serious implications for cannabis-themed ETFs that include TGOD in their holdings. You can read about this event in full detail in our recent blog post on the CRB Monitor website.
Cannabis News Updates: M&A
While the month of August did not feature any blockbuster cannabis M&A deals, we continued to see publicly-listed cannabis businesses expand their operations across the United States. And CRB Monitor's research team identified mergers and acquisitions that resulted in 46 new subsidiary relationships for publicly-traded CRBs.
Canadian Tier 1B CRB Green Thumb Industries Inc. (CSE: GTII) continued the expansion of its U.S. cannabis operations with the closing of its acquisition of two businesses that are connected to Summit Medical Compassion Center, Inc., a non-profit corporation with vertically integrated cannabis operations in Rhode Island. This acquisition adds a vertically-integrated medical cannabis license to GTII's current diverse subsidiary network, which now consists of 59 active licenses across 14 states.
Jay-Z's Tier 1B cannabis venture, TPCO Holding Corp. (NEO: GRAM.U), aka "The Parent Company", enlarged its footprint in the state of California by acquiring an active, licensed retail dispensary in Ceres, CA. This acquisition, which is still pending approvals, will bring the total number of active cannabis licenses held by TPCO's California subsidiaries to 30, including retail, cultivation, and manufacturing.
Rapidly-expanding Tier 1B CRB Cresco Labs Inc. (CSE: CL) is seeking to expand its U.S. operations by acquiring Blair Wellness Center, a large CRB located in Baltimore, MD. This business intends to serve as both a dispensary and manufacturer/processor, as it is licensed for both activities. In the words of Cresco CEO Charles Bachtell, "This acquisition of Blair Wellness will represent a step toward building a meaningful, material position for Cresco Labs in Maryland – a state with tremendous growth potential over the coming years." Indeed, this acquisition will extend Cresco's reach in the US cannabis industry, as Maryland brings Cresco Labs' total state coverage to 11, with 74 active licenses include cultivation, retail, and manufacturing/processing.
And Canada-based Tier 1B Fire & Flower Holdings Corp. (TSX: FAF) announced that its strategic licensing partner in the US, Fire & Flower U.S. Holdings, has opened its first Fire & Flower branded store in Palm Springs, California. What's interesting about this transaction is that it is NOT an acquisition of a licensed US marijuana business, but rather a strategic partnership agreement whereby FAF will "license its Fire & Flower brand, store operating system and Hifyre™ technology platform for dispensaries in California, Arizona and Nevada." This is the way that FAF can participate in the US cannabis market indirectly while maintaining its Toronto Stock Exchange listing, which precludes any direct cannabis operations in the United States.
Select M&A/Subsidiary Highlights:
Security/Exchange Highlights:
Select New Additions to CRB Monitor:
| | | | |
| --- | --- | --- | --- |
| Name | Ticker Symbol | CRBM Tier | CRBM Cannabis Sector (CLS) |
| | | Tier 2 | Real Estate |
| | | Tier 2 | SPAC |
| | | Tier 3 | Personal Products |
| | | Tier 2 | Food, Beverage & Tobacco |
| | | Tier 1B | Owner Investor |
Regulatory Updates
August was a quiet month for progress on the cannabis regulatory front at the federal level, given that lawmakers are dealing with more pressing issues, including extreme weather, a new surge in the pandemic, voting rights legislation, and debate over infrastructure investment. Therefore, it would be reasonable to say that current cannabis legislation is in a bit of a holding pattern awaiting further action.
Things were a bit sleepy at the state level as well, although several states are posturing for new legislation in 2022. In Missouri, a group of activists has filed for 2022 ballot initiatives that would make it legal for adults 21 and over to purchase, possess and cultivate cannabis for personal use. A "yes" vote on this initiative would represent a significant move toward full legalization, given that Missouri has been slow to legalize marijuana for medical use, which recently went into effect in 2019 with Amendment 2, called the Medical Marijuana and Veteran Healthcare Services Initiative. According to a recent report by Thompson Coburn:
"Prior to 2019, only hemp-extract products were legal in Missouri, and only for those who suffer from epilepsy. The law authorizing such products, "Hemp Extract for Treatment of Intractable Epilepsy", was passed by legislature and signed into law in 2014. The Missouri Department of Agriculture manages hemp extract cultivation and production. Amendment 2 specifically exempted industrial hemp from its purview."
Similarly, in Arkansas, a group of vocal activists is pushing for adult-use legalization to be on the 2022 ballot. The Arkansas Recreational Marijuana Amendment of 2022, which is pending the collection of the required 89,000 signatures, would provide for the legalization of "cultivation, production, distribution, sale, transport, possession, and use of marijuana and products produced from marijuana for adult recreational purposes."
Stay tuned as things heat up at both the federal and state levels ahead of the 2022 election season!
Cannabis-linked Equity Performance
Source: CRB Monitor, Sentieo
The CRB Monitor basket of top 16 ($1b+ market cap) pure play Tier 1 CRBs, equally-weighted, dropped by 8.1% in August, while global equities were modestly positive for the month. Sellers were out in full force for most of August, with the majority of the largest Tier 1 pure play CRBs (see below) leaving investors scratching their heads. Following several stellar mid-month earnings announcements by premier Tier 1 CRBs, prices continued to drop, which made it appear as though cannabis stocks still looked overvalued to investors.
Tier 1 Pure Play CRBs w/Mkt Cap Over $1B Returns - August 2021
Tier 1B Jazz Pharmaceuticals (Nasdaq: JAZZ) tanked, just a few months after its blockbuster acquisition of CBD giant GW Pharmaceuticals and after beating consensus earnings estimates in early August. Whether the minus 22% return for August is sufficient for investors to jump back in for the long run is anybody's guess, and we will see if the new supplier to the world of the only FDA-approved cannabis product (Epidiolex) has made the right bet on the future of their company.
Tier 1B Trulieve Cannabis Corp. (CSE: TRUL), one of the best-performing (+58%) CRBs in the first quarter of 2021, is now one of the worst-performing over the last six months, having fallen more than 50% from its highs back in March. And this comes as TRUL announced, in mid-August, 2nd quarter revenues of $215 million and its 14th straight month of profitability. This announcement included the news that TRUL would be further expanding its US operations with, among other purchases, the acquisition of Harvest Health and Recreation, Inc. (CSE: HARV). All this good news and investors continue to sell out of this company. With that said, online cannabis blogger The Motley Fool sees TRUL as an "all-in Buy," citing the closing of the HARV acquisition as a smart purchase that makes the TRUL look like a real bargain. We would tend to agree, as TRUL's recent US expansion raises its total count of cannabis licenses that are either active or pending approval to more than 200 across 19 states (plus Ontario), which are an excellent determinant of a CRBs ability to generate future revenues.
Green Thumb Industries Inc. (CSE: GTII), a Tier 1B rising star amongst the largest pure-play CRBs, was one of the few companies to post a positive return in August, reported that its total Q2 revenue jumped by 85% to $221.9 million. Green Thumb has been steadily expanding its US operations in recent months, and this modest, but positive stock return appears to be a reflection of investors' confidence in the strategy. GTII's US marijuana license count, either active or pending approval, is now over 75, and its cultivators and dispensaries are located in 14 states.
IIPR's Performance – Breaking Away from Tier 1
Tier 2 REIT Innovative Industrial Properties, Inc. (NYSE: IIPR) (CLS Sector: Real Estate) has been on investors' radar over the last few years, and continues to intrigue us. IIPR, by its own admission, "is focused on the acquisition, ownership and management of specialized properties leased to experienced, state-licensed operators for their regulated state-licensed cannabis facilities."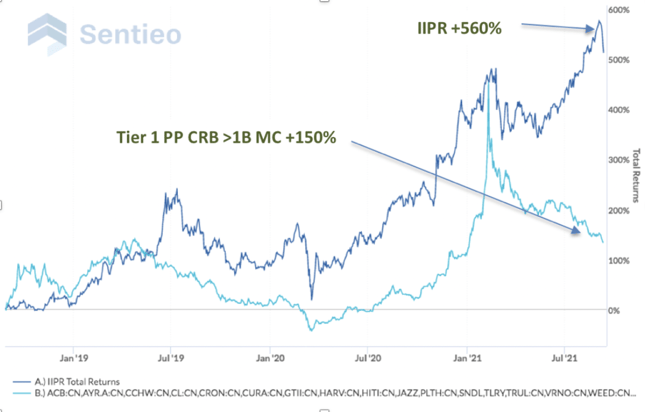 IIPR's revenues are derived from pure play cannabis businesses, but the company has no direct plant-touching operations. As such, IIPR qualifies as a Tier 2 CRB. What is peculiar, however, is the disconnect in long term performance between IIPR stock and the equally-weighted basket of plant-touching, Tier 1 CRBs. The comparative 3-year performance, as shown in this chart, differs by more than 400% over the recent 3-year period. And this is made possible due to the fact that REITs are constructed to provide both income and growth. By definition, a REIT must distribute 90% of its taxable income to shareholders in the form of dividends, which in the case of IIPR have grown steadily over the last few years in line with the company's spectacular revenue growth.
Investors are finding this to be an attractive way of gaining exposure to the cannabis industry without holding the shares of a direct, plant-touching, company while also earning significant income through the investment, which is rare in Tier 1 cannabis-related companies.
CRBs In the News
The following is a sampling of highlights from the August 2021 cannabis news cycle, as tracked by CRB Monitor. Included are CRB Monitor's proprietary Risk Tiers.
Wondering what a Tier 1, Tier 2 or Tier 3 CRB is?

See our seminal ACAMS Today white paper Defining "Marijuana-Related Business" and its update Defining "Cannabis-Related Business"