Week of March 6 - March 10, 2023
Do you love data and staying up to date with the latest cannabis-related headlines? Are you searching for industry news to inform your institution's approach to cannabis risk and compliance?
You've come to the right place.
Hashing Out the Truth
CRB Monitor's database growth by the numbers.
Tier 1 Marijuana-Related Business Counts
Weekly Summary (March 6 - March 10, 2023):
66,692 1A MRBs + 3,645 1B MRBs = 70,337 total
1A MRBs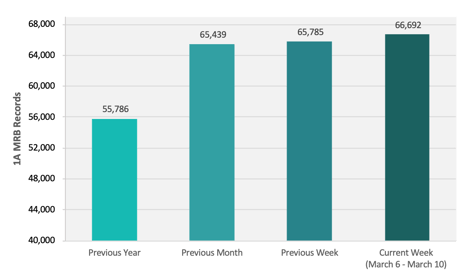 Tier 1A defined: Businesses in this tier literally touch the cannabis plant at some point along the supply chain from "seed to sale," and are generally licensed by a government agency or regulator. Effectively all of their actual or expected revenue is derived from the cultivation, production, testing or sale of cannabis.
1B MRBs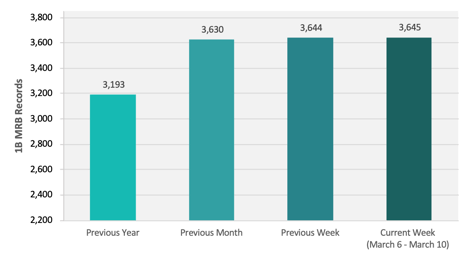 Tier 1B defined: Businesses that have a financial or controlling interest in a Tier 1A CRB. CRB Monitor generally considers 1B businesses as seemingly unrelated businesses highlighted as red flags by FinCEN in its marijuana banking guidance and are similar in nature to individual beneficial owners.
Marijuana Business Licenses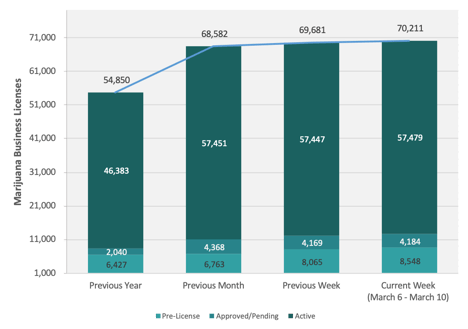 Note: Inactive licenses, unlicensed, and unknown licenses have been excluded.
Beneficial Owners Count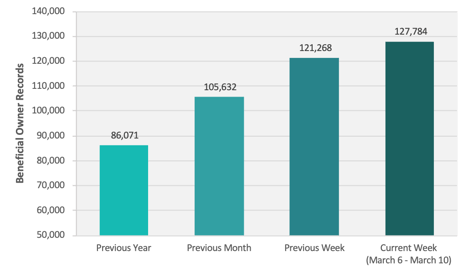 Beneficial owners defined: For beneficial owners, each economic owner or controlling person is classified into one or more categories based on their relationship to the linked CRB including: (1) Owner/Investor, (2) Board Member, (3) Corporate Officer, (4) Executive, (5) Non-commercial Registered Agent or (6) Senior Manager.
News of Note
A selection of relevant cannabis-related news.
Mergers & Acquisitions


Negative News
Michigan cannabis company Skymint in receivership after being sued
Investor in cannabis firm Tilray suing former and current boards, ex-CEO
Louisiana hemp manufacturer sues state to keep consumable products on shelves
Michigan regulators post monthly marijuana business disciplinary action report
Health and Safety Advisory: Green Street, LLC (dba The Chronic Boutique) has high levels of mold, yeast and aspergillum
Alaska regulators place administrative hold on Will's World Extracts
Judge allows suit filed by Pennsylvania medical marijuana delivery drivers

Legalization & Regulation
Oklahoma voters reject adult-use marijuana legalization
Virginia cannabis advocates push for changes to approved delta-8 bill
OMCIA Announces Opposition to Ohio Senate Bill 9
Georgia Lawmakers Again Consider Reworking State's Medical Cannabis Law
Delaware House Approves Marijuana Sales Bill Days After Passing Complementary Legalization Measure
Kentucky Medical Cannabis Bill Moves to Committee

Licensing Related
Illinois craft cannabis growers get extension to establish operations
International
Xebra Brands attain permission to cultivate, process industrial marijuana in México (Spanish language)
The International Narcotics Control Board released its Annual Report 2022
Argentina targets $50 million in medical cannabis exports by 2025
Canadian producers report 2,200 kilograms of lost or stolen cannabis since 2018
Other News
Hawaii, Delaware adult-use marijuana legalization outlook rosy after Oklahoma failure
These marijuana companies are doubling down on California
Altieri steps down as chief of marijuana advocacy group NORML
Nevada marijuana sales shrank 3.8% to $965.1M from mid-2021 to mid-2022
California launches $20M grant program to expand local retail cannabis programs
Missouri adult-use marijuana sales top $71.7 million in first month
OEDIT Announces 27 Companies Selected to Receive the Innovative Cannabis Business Pilot Grant
Trulieve Opening Medical Marijuana Dispensary in Palatka, FL