The 2020 presidential race has been like no other in history, with an election day that is expected to be just as unusual. While it's almost certain that Americans will need to wait until later than November 4th to learn of the final results, most bankers have already spent years planning for the possibility of big policy changes post-election, namely in regard to cannabis banking. Although there are several pending pieces of legislation that could affect marijuana banking, including five additional states with legalization up for a vote, full legalization on a federal level is likely still a ways off.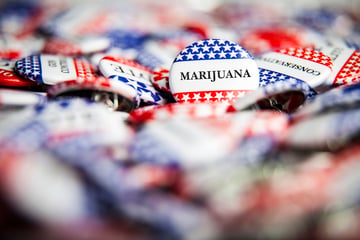 Senate Races Matter Most
Both presidential candidates have expressed non-committal stances on marijuana legislation in the past. President Donald Trump has effectively indicated that he prefers the status quo, yet has also offered support to allow states to individually legalize and regulate cannabis. And although former Vice President Joe Biden was a key player in the war on drugs in the 1980s and 90s, his present-day opinions may have somewhat softened. Nevertheless, he continues to oppose full federal legalization and his policy discussions related to marijuana initiatives mostly focus on decriminalization and correcting social inequities. Considering the two major candidates' similar viewpoints, the outcome of the Senate elections, rather than presidential, may be more influential on the future of marijuana banking for the near term.
Proposed Legislation
Several marijuana-related measures have been introduced or approved by Congress, and the future of these bills is primarily dependent on which party takes the Senate majority after the November elections.
This is the premier MRB banking bill and generally prohibits a federal banking regulator from penalizing a depository institution solely for providing banking services to a legitimate marijuana- or hemp-related business. It passed the House in September 2019.
If the Senate majority stays Republican, there is a chance that this bill, above all others, could be brought to the Senate floor.
If the Senate majority turns Democratic, it is possible that this bill will pass as a fallback, if other bills with broader cannabis legalization terms do not get pushed through first.
The primary purpose of this bill is to provide COVID-19 relief, however, it includes the STATES Act also, as a way to provide protections to MRBs in light of COVID-19 risks related to handling cash. This bill passed in the House once in May 2020 and again in October, although it was never brought up in the Republican controlled Senate. Many Republican Senators went out of their way to point out how the HEROES Act mentioned the word "cannabis" more than "jobs."
If the Senate majority stays Republican, it is almost certain this bill will not pass with the inclusion of the STATES Act. However, there may be a chance to make changes to include the SAFE Act instead.
If the Senate majority turns Democratic, it is possible that this bill will pass fairly early on in 2021.
Vice Presidential candidate Kamala Harris was the lead Senate sponsor and this bill calls for the decriminalization of marijuana, removes marijuana from the list of scheduled substances under the Controlled Substances Act, and eliminates criminal penalties for an individual who manufactures, distributes, or possesses marijuana. It was introduced to the Senate in July 2019.
If the Senate majority stays Republican, it is almost certain this bill will not pass through the Senate.
If the Senate majority turns Democratic, it is still unlikely that this bill will pass due to the wider stance it takes on federal legalization.
This bill defers the issue of legalization to the states and allows financial institutions to fully service MRBs that are in compliance with state regulations. It is an interim step before full legalization on a federal level. It was introduced to the House in April 2019.
If the Senate majority stays Republican, it is almost certain this bill will not pass.
If the Senate majority turns Democratic, it is possible that this bill will pass in late 2021
A Long Term Outlook on Federal Marijuana Policy
While many Americans may think they know the outcome of the election before it ends, there is simply no way to know for certain what will happen regarding marijuana policy. In the long run, legalization on a federal level will continue to be an issue that arises again and again, if for no other reason than growing tax revenues, which are estimated to be $128.8 Billion by 2025.
Regardless of any policy changes that happen over the next few years, it is expected that MRB banking will continue to be considered high risk, heavily regulated, and more costly than banking other industries. Federal legalization could even lead to more regulatory expectations for banks and BSA/AML requirements could be just as stringent.
How Banks Can Be Prepared
Senior management and directors of financial institutions know the importance of regularly staying abreast of regulatory changes at both the state and federal levels (as well as all other applicable jurisdictions). When planning for any changes to business operations, including additional product offerings and new markets, a strong board of directors will identify their risk appetite for establishing new policies. This should be at the forefront of a financial institution's MRB banking strategic planning processes. Adequate risk management processes will include accurate measurement of risk and the development of robust controls to mitigate risk exposure. Whether an institution is planning to bank with MRBs, or strictly avoid them, the need for comprehensive screening is essential.
Is your compliance program backed by comprehensive data on the cannabis industry? Do you have access to reliable information about MRBs to determine your firm's level of risk exposure? Read more on our blog: You Don't Know Pot: 5 Fundamentals to Understanding, Identifying, and Monitoring for CRBs. Or visit our website to request more information and get in touch with our team.
The information provided herein presents general information and should not be relied on as legal advice. If you have specific questions regarding a fact, please consult with competent legal counsel about the facts and laws that apply.