Week of October 28 - November 3, 2023
Do you love data and staying up to date with the latest cannabis-related headlines? Are you searching for industry news to inform your institution's approach to cannabis risk and compliance?
You've come to the right place.
Hashing Out the Truth
CRB Monitor's database growth by the numbers.
Tier 1 Marijuana-Related Business Counts
Weekly Summary (October 28 - November 3, 2023):
75,230 1A MRBs + 3,852 1B MRBs = 79,082 total
1A MRBs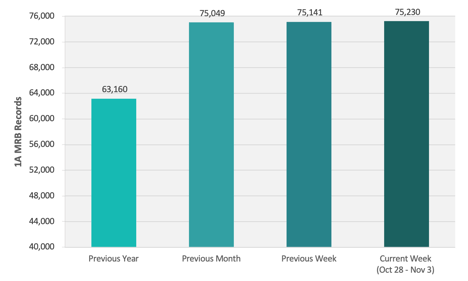 Tier 1A defined: Businesses in this tier literally touch the cannabis plant at some point along the supply chain from "seed to sale," and are generally licensed by a government agency or regulator. Effectively all of their actual or expected revenue is derived from the cultivation, production, testing or sale of cannabis.
1B MRBs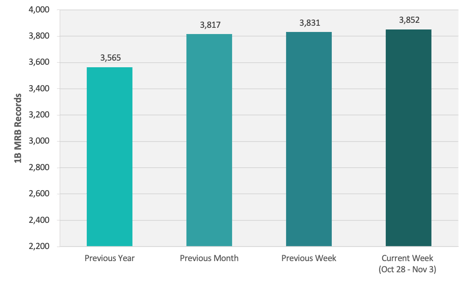 Tier 1B defined: Businesses that have a financial or controlling interest in a Tier 1A CRB. CRB Monitor generally considers 1B businesses as seemingly unrelated businesses highlighted as red flags by FinCEN in its marijuana banking guidance and are similar in nature to individual beneficial owners.
Marijuana Business Licenses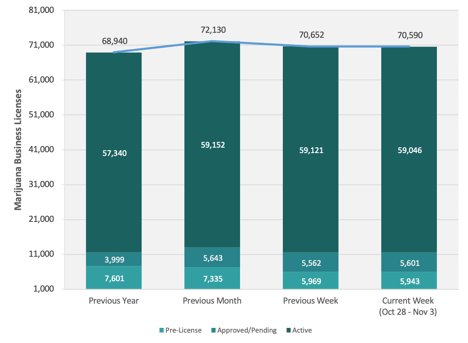 Note: Inactive licenses, unlicensed, and unknown licenses have been excluded. For the week of Sept. 23, the jump in pre-licenses was due to micro-business applications in Missouri.
Beneficial Owners Count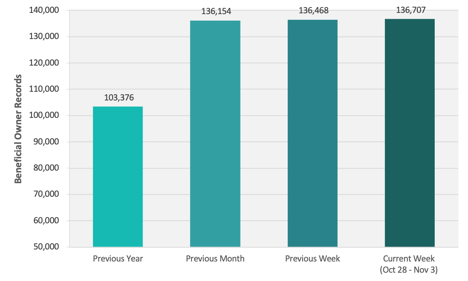 Beneficial owners defined: For beneficial owners, each economic owner or controlling person is classified into one or more categories based on their relationship to the linked CRB including: (1) Owner/Investor, (2) Board Member, (3) Corporate Officer, (4) Executive, (5) Non-commercial Registered Agent or (6) Senior Manager.



News of Note
A selection of relevant cannabis-related news. Items marked with

indicate links to licensed business profiles in the CRB Monitor database.
Adverse Media
Washington State Orders Second Testing Lab Suspension


Cannabis MSO Ascend Wellness settles lawsuit with fired Black former manager


Nevada Regulators Suspend The Hempire Company's Licenses


MedMen Announces Delay of Filing of Financial Statements


Denver Says Titan Health Products Contaminated with Spider Mites


Golden Roots fined, loses license for alleged BioTrack fraud in New Mexico

Litigation
Illinois suit aims to block opening of social equity marijuana licensee's store



Federal judge denies attempt to block Virginia's toughened hemp law
Hemp-derived cannabinoids aren't controlled substances, GA court says
Medical marijuana operator challenges $1M license fee hike


Hemp Co. Says Fla. Regulator Can't Block Out-Of-State Sales


Columbia Care Stiffed Exec After Fla. Expansion, Suit Says


Greenleaf Claims Pot Law Led To Bargaining Leverage Loss


Calif. Pot Biz Exec Exploited Equity License, Lawsuit Says


Employee says he was fired for reporting illegal activity at Trulieve cultivation facility

Legalization & Regulation
Cannabis Banking Compliance Challenges States, Too
New Medical Marijuana Laws Take Effect in Oklahoma
Hawaii state senator will push to license medical cannabis farms after federal raid
New FDA Documents Look Back On 50 Years Of Marijuana Research, Plans More Studies
Kentucky regulators filed hemp and medical cannabis rules
DEA Proposes Massive Increase in Delta-9 THC Production for Research
$170K worth of THC-laced candy and snacks seized from Eastern NC vape, tobacco stores
Connecticut Doubles the Adult Use Purchase Limit
PA House Committee Holds Marijuana Legalization Hearing, Considers State-Run Stores
Pennsylvania House Committee Approves Cultivator Sales Bill
House Committee Will Consider Lifting Cannabis Sales Ban in D.C.

Licensing Related
Startup or Scam? Bogus Cannabis Unions Not Just a California Concern
New Mexico Pursues Cannabis Retailers for Tax Violations
Chronic condition: NYC's Greenwich Village flooded with legal pot shop applications
Missouri marijuana regulators extend waivers through November
New York opens medical cannabis retail application window for MSOs
ABCA begins to wrangle D.C.'s wild west cannabis market
Marijuana MSOs among 6 new consumption lounge licensees in Nevada






Main Groff investor says DEA-licensed marijuana operator still open

Markets
Emerald Cup cancels 2023 Harvest Ball for cannabis cultivators
Report: Hemp-derived Cannabinoid Sales Outpace Legal Marijuana, Beer
Kansas City dispensary workers win union vote as Missouri's marijuana industry grows

International
Court Suspends Italy's CBD Ban Until January
Ireland's first medicinal cannabis clinic 'MEDICANN' is now open for patients
Canadian cannabis industry on track for record number of licensee exits