James B. Francis, CFA
Chief Research Officer, CRB Monitor
CRB Monitor Securities Database Updates
CRB Monitor's research team monitors the information cycle daily and maintains securities' profiles to reflect the current state of the cannabis ecosystem. Here is a summary of the updates for May 2022: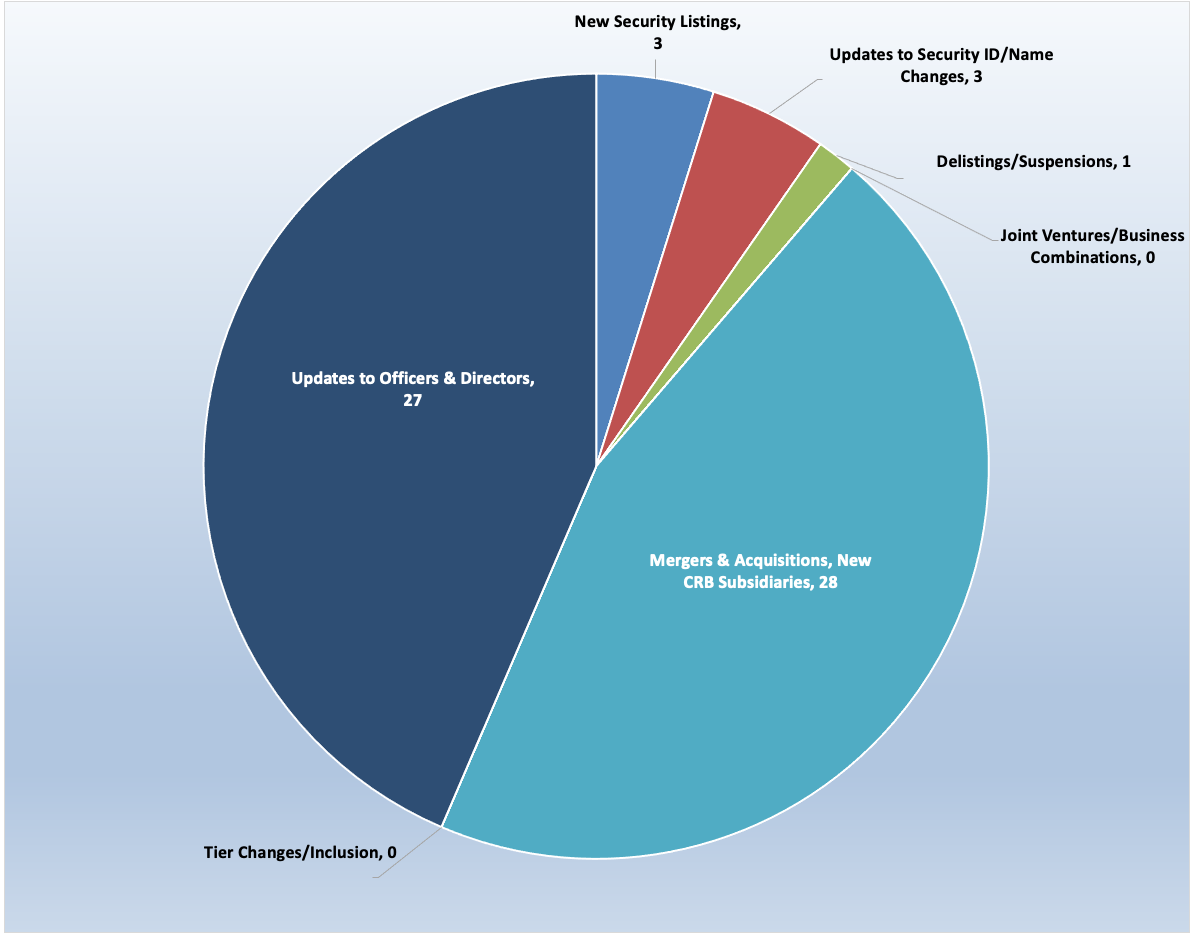 Cannabis News: M&A Activity
While the high-profile cannabis-related M&A activity that we were accustomed to in 2020 and 2021 has tapered off, we continue to see a steady stream of acquisitions of licensed CRBs by publicly-treaded companies. And this activity should continue into the foreseeable future, given that less than 10% of the active cannabis licenses issued in North America are owned by subsidiaries of public CRBs. CRB Monitor has observed that the rate of these acquisitions is about 400-500 per year, which leaves a lot of room for growth across the US and Canada, not to mention globally as well.
Here are some of the May highlights:
Early in May, well-known Tier 1B CRB & multistate operator (MSO) Acreage Holdings, Inc. (CSE: ACRG.B.U) announced in a press release that it has completed the sale of its cultivation and processing facility in Medford, Oregon, and in conjunction with the sale, closed its dispensary in Powell, Oregon. Acreage also announced that it completed the consolidation and conversion of its dispensary in Brewer, Maine to adult-use. One of the most geographically diverse MSO's, Acreage operates in 18 states with more than 100 licenses covering all aspects of the cannabis industry. In the words of Acreage CEO Peter Caldini, "We are thrilled to convert our Brewer dispensary in Maine to adult-use, further solidifying our leading retail market share position in the state...We look forward to expanding access to Maine residents as we continue to grow our footprint in this market. We are also pleased to have closed the sale of the facility in Oregon, as we work to complete our wind-down of operations in the state and focus on growing our presence in our core markets."
Also in May, Tier 1B MSO MedMen Enterprises Inc. (CSE: MMEN) issued a press release announcing a definitive agreement with Ascend Wellness Holdings, Inc. (CSE: AAWH.U) that will allow the sale of MedMen's New York operations to close for consideration of $15 million in additional value for MedMen shareholders. The transaction resolves the reported litigation between MedMen and Ascend Wellness concerning this transaction. According to the press release, "Under the terms of the settlement agreement, AWH will pay MedMen $88 million: $73 million as an assumption of debt and $15 million in cash. Other terms of the transaction will be as originally announced in February 2021." Following this transaction, MedMen now operates in seven states (NV, CA, MA, FL, VA, IL, AZ) and through its subsidiaries has ownership of 49 cannabis licenses in either active or pending status.
Late in May Tier 1B CRB Pharmadrug Inc. (CSE: PHRX) issued a press release announcing that it would be selling its wholly-owned German subsidiary, Pharmadrug Production GmbH, to Khiron Life Sciences Corp. (TSXV: KHRN). According to the announcement, "Pharmadrug GmbH is a medical cannabis distributor with a Schedule I European Union narcotics license and German EuGMP certification allowing for the importation and distribution of medical cannabis to pharmacies in Germany and throughout the European Union." Under the terms of the share purchase agreement PHRX has agreed to sell 100% of the securities of Pharmadrug GMBH for consideration consisting of 5,500,000 common shares in the capital of Khiron and a non-interest bearing promissory note in the principal amount of $1,100,000 which note will be payable one year from the date of issue.
As for the rationale for the sale, the press release notes that Khiron is better positioned to operate in the medical cannabis space in Germany; but more importantly, that "the Pharmadrug production was a cash drag and unlike The Company's biotech efforts, management did not believe the cash burn in the German operations added any value to shareholders."
It is also important to note that while Pharmadrug has sold its ownership stake in its one licensed business, they will still retain ownership of 1.1 million shares in Khiron Life Sciences and will therefore retain its Tier 1B status in CRB Monitor. They will, however, be downgraded to "non-Pure Play" given the reduced exposure to the German Tier 1A business.
Finally, Canopy Growth Corporation (TSX: WEED), once dubbed the "Google" of cannabis (before the roof essentially caved in), announced in May that it entered into definitive agreements providing Canopy Growth, a wholly-owned subsidiary the right to acquire, upon federal permissibility of THC in the U.S. or earlier at Canopy Growth's election, up to 100% of the outstanding capital stock of Ametrine Wellness (aka "Jetty Extracts"). This acquisition comes in the form of two separate option agreements whereby Canopy Growth has a call option to acquire up to 100% of the equity interests in Jetty. This is not dissimilar to previous deals that Canopy has made with conditional options to purchase equity interests in companies such as Slang Worldwide Inc. (CSE: SLNG), Terrascend Corp. (CSE: TER), Acreage Holdings, Inc. (CSE: ACRG.B.U), and Mountain High Products LLC. The common thread with these acquisitions is that all of these "future" subsidiary businesses have plant-touching, US Marijuana operations. In a not-so-subtle fashion, Canopy is laying the groundwork for a time when cannabis is legalized by the US federal government. [As such, the Canopy Growth company profile in CRB Monitor shows these subsidiaries as "Related Business - Option to Purchase" so that they are easy to distinguish from a subsidiary that is owned outright.]
Select M&A/New Subsidiary Highlights:
Security/Exchange Highlights:
Select New Additions to CRB Monitor:
| | | | |
| --- | --- | --- | --- |
| Name | Ticker Symbol | CRBM Tier | CRBM Cannabis Sector (CLS) |
| Harbin Pharmaceutical Group Co., Ltd. | | Tier 3 | Personal Products |
| DoorDash, Inc. | | Tier 3 | IT Services & Software |
| East West Bancorp, Inc. | | Tier 3 | Financial Services |
| Carmila S.A. | ENXTPA: CARM | Tier 3 | Traditional Retail |
Cannabis News: Regulatory Updates
We continued to monitor the regulatory news cycle in May in real time, and in spite of some obvious distractions (economic woes/impending Fed action, Russia/Ukraine conflict, the upcoming 2022 midterms) there is always cannabis-related regulatory news to report.
According to a May 25 press release, Rhode Island Governor Dan McKee (D) signed the bill that made Rhode Island the 19th state to legalize recreational marijuana.
Until the passage of this new law, Rhode Island was a medical marijuana-only state, with approximately 70 licenses in active status, largely for cultivation (an additional 150 are inactive). This new legislation adds 33 new retail licenses (24 standalone, 9 hybrid) issued for the sale of recreational marijuana.
Aspects of this law include:
A plan to adopt automatic expungement of prior civil or criminal marijuana possession charges

Legalizes the sale and possession of up to 1 ounce of cannabis for adults ages 21 and older, with no more than 10 ounces for personal use kept at a person's residence.

Creates a Cannabis Control Commission that is authorized to issue licenses to cannabis retailers and cultivators, and set regulations for the industry.

Approved hybrid licensees could start to grow and manufacture marijuana for adult consumers starting August 1, 2022.

There will be a two-year moratorium on new cultivation licenses issued in Rhode Island.
In the words of Gov. McKee, "This bill successfully incorporates our priorities of making sure cannabis legalization is equitable, controlled, and safe…In addition, it creates a process for the automatic expungement of past cannabis convictions. My Administration's original legalization plan also included such a provision and I am thrilled that the Assembly recognized the importance of this particular issue. The end result is a win for our state both socially and economically."
Meanwhile in Delaware, Gov. John Carney vetoed a bill in May that would have legalized possession of up to one ounce of marijuana by adults for recreational use. This angered many Democrats who have fought for years to make marijuana legal in Delaware. According to a US News article, "Carney reiterated his previously expressed concerns about legalizing recreational pot — concerns that did not dissuade fellow Democrats from pushing the legislation through the General Assembly." In the words of Betsy Maron, chair of the Delaware Democratic party, "Last year, we went as far as to include it in our party platform, which passed unanimously at the 2021 state convention…Delaware's voters have further solidified their voice on the matter by electing Democratic candidates to the legislature that support legalization. We are confident those legislators will override the veto knowing they have the support of Delaware's Democrats."
Also in May the US House of Representatives approved a far-reaching reform bill that would end marijuana prohibition by removing marijuana from the federal list of controlled substances. [Currently marijuana is on the DEA's list of Schedule 1 Controlled Substances.] The bill would expunge the records of those convicted of certain marijuana-related offenses, and reduce sentences for others. Through a tax on sales, it would also fund services in communities most impacted by prohibition and provide support for a more diverse and inclusive market.
And finally, cannabis industry website Marijuana Moment reported in a May article that the US Justice Department has stated that, according to new data, the number of Federal marijuana arrests continues to decline year-over-year as more states move to legalize cannabis. As stated in the report, "While there were still 2,576 Drug Enforcement Administration (DEA) marijuana arrests in fiscal year 2020, cannabis busts have dropped an average of 11 percent each year since 2010, when DEA made 8,215 such arrests."
What this suggests is that, in spite of the fact that cannabis is illegal in the eyes of the US federal government, legalization at the state level has had an impact on the overall number of cannabis-related arrests by the DEA.
Therefore, are we to assume that enforcement of the law has waned, even in the case of illicit cannabis cultivation, production and sales? The article goes on "…but advocates also say that the significant downward trend in cannabis prosecutions reflects discretionary decisions by DOJ amid the state-level legalization movement. While prior Obama-era guidance urging such discretion was rescinded under the Trump administration, the department has not signaled a renewed interest in going after individuals for simply possessing or using marijuana."
Cannabis-linked Equity Performance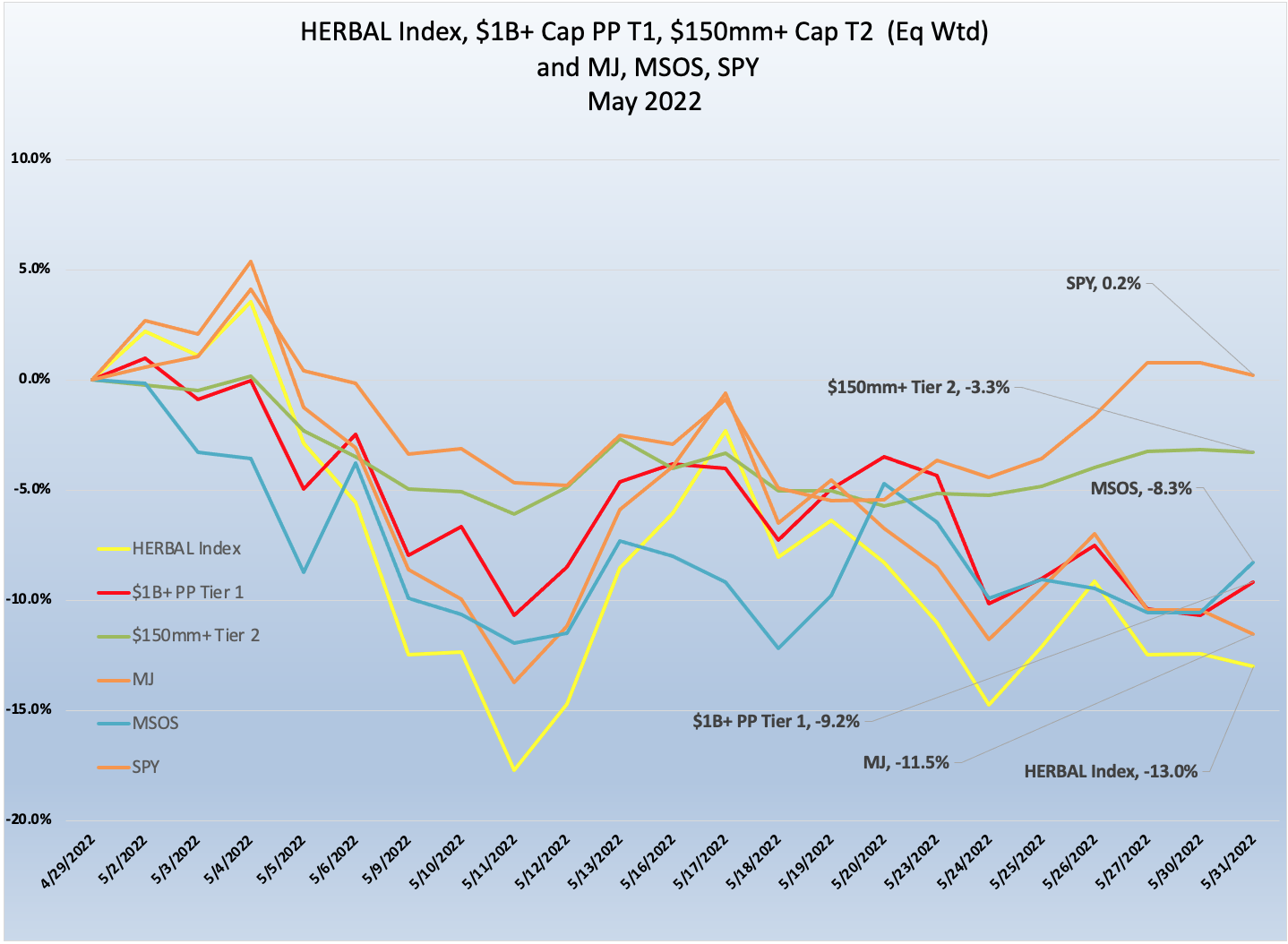 Source: CRB Monitor, Sentieo, Nasdaq
Cannabis Index Returns
The Nasdaq CRB Monitor Global Cannabis Index (HERBAL), is a mix of Pure Play Tier 1 and Tier 2 equities, weighted by both investability and strength of theme (SOT). An excellent representation of the universe of legal, pure play cannabis equities, HERBAL was down 13% for the month of May 2022. HERBAL's performance was consistent with other cannabis-themed vehicles, like the ETFMG Alternative Harvest ETF (NYSE Arca: MJ). MJ's performance (-11.5%) was dampened by the fund's 20% holding in non-pure play CRBs. The MSO-heavy Advisorshares Pure Us Cannabis ETF (NYSE: MSOS) lost -8.3% for the month of May. The MSOS performance will deviate from both HERBAL and MJ largely due to its holdings of CRBs with US Marijuana touch-points, which dominate in that fund.
The CRB Monitor equally-weighted basket of Pure Play Tier 1 CRBs with $1b+ market cap lost 9.2% in May 2022. Similar to MSOS, the securities of multi-state operators helped performance overall; however there is nothing that can sugar coat the downward spiral that has been cannabis equity performance over the last 1.5 years.
The CRB Monitor equally-weighted basket of Tier 2 CRBs with $150mm+ market cap fared much better in May, falling by just 3.3%, which we should call a victory in this environment. As we have indicated in the past, Pure Play Tier 1 and Tier 2 CRBs tend to display high correlation in the long term, but their respective performance has a tendency to diverge in the short term, given the occasional lag from the impact (positive or negative) of market forces.
Tier 1 Pure Play CRBs w/Mkt Cap Over $1B – May 2022 Returns


Source: CRB Monitor, Sentieo
CRB Monitor Tier 1
The long, slow death march of Cannabis-related equities continued throughout the month of May. The headwinds, for the most part, have only gotten stronger and (largely retail) investors are staying away en masse.
There is very little to feel good about in this volatile industry, during these jittery times. Cannabis equities are facing similar challenges to any other category of equities in the global universe, namely the relentless upward pressure on prices of nearly everything. Without much relief in sight, we are seeing the impact of inflation on essentially all equities, and cannabis is likely to take a bigger hit due to the fact that it's in the small- and micro-cap range. Combine this with the apparent inability for politicians to take any meaningful steps toward legalization, decriminalization, or any other legislation that might provide investors with even a modicum of optimism.
With that said, there were a couple of stocks in the MSO group that finished the month in positive territory. Wakefield, Massachusetts Tier 1A Curaleaf Holdings, Inc. (CSE: CURA) was up 3% in May after a dismal -17% return in April. Curaleaf is a large multi-state operator that is licensed to operate in 18 states plus the District of Columbia. CRB Monitor's most recent analysis tells us that Curaleaf, largely through its subsidiary businesses, has been issued 136 licenses that are either in active status or pending approval.
In mid-May, Beacon Securities analyst Russell Stanley issued a bullish outlook for Curaleaf Holdings Inc. issuing a strong "Buy" recommendation with a high projected price target of $18. Stanley cited Curaleaf's European operations as the main driver of future earnings, writing "With the German Health Minister recently indicating plans to prioritize development of an adult-use legalization bill, and the Justice Minister suggesting the market could open in 2023, CURA's European operations give it a unique and timely platform for growth in this market."
The only other large Tier 1 CRB closing out May with a positive return was Tier 1A Trulieve Cannabis Corp.(CSE: TRUL), which outperformed most of the cannabis space with a +1.1%. We could characterize this as a bit of a "dead cat bounce", as Trulieve stock lost nearly 30% of its value in April. With that said, Trulieve's May 12th press release announcing their quarterly financials was a nice surprise for investors, given that TRUL had record earnings in Q1 2022. Here are a few highlights:
Revenue increased 64% year over year to $318.3 million from $193.8 million and 4% sequentially.

Gross profit of $178.2 million and GAAP gross margin of 56.0% in the first quarter compared to gross profit of $132.4 million and GAAP gross margin of 43.4% in the fourth quarter of 2021.

Adjusted EBITDA of $105.5 million*, or 33.2% of revenue in the first quarter compared to adjusted EBITDA of $100.9 million*, or 33.0% of revenue in the fourth quarter of 2021.

Cash at quarter end of $267 million, bolstered by $45.1 million in cash flow from operations and the closing of $75 million senior secured notes at 8% due October 2026.
As a premier MSO, Trulieve is well-positioned for the future, operating in 17 states and holding, either directly or through its subsidiaries, 127 active or pending-approval cannabis licenses.
On the less optimistic side of the return spectrum was Tier 1B Green Thumb Industries Inc. (CSE: GTII) (-21.5%), which clearly did not rebound from its downward spiral just a month ago. GTII's stock has fallen more than 48% in 2022 and now trades very close to the price it was trading at 2 years ago (CAD 14). If you are looking to gain some insight into this precipitous fall, you could turn to Green Thumbs Q1 financials, which were reported on May 4th. But unfortunately, the report does not correlate with the abysmal stock performance. According to the Press Release, here are a few highlights:
Revenue increased 25% year-over-year to $243 million, flat compared to the fourth quarter of 2021

Seventh consecutive quarter of positive GAAP net income, delivering $29 million or $0.12 per basic and diluted share

Adjusted Operating EBITDA was $67 million or 28% of revenue

Ninth consecutive quarter of positive cash flow from operations, generating $55 million in the first quarter

Cash at quarter end totaled $175 million
Where investors might be skittish is in the apparent bet on federal legalization, but this is just speculation. In the words of CEO Ben Kovler, "We continue to have strong conviction in our core thesis and given the opportunity ahead, we will invest in markets where we know demand is coming. As I have said before, growth is not linear and there will be quarter-to-quarter fluctuations depending on when new markets open to adult-use sales as well as the timing of our infrastructure investments." We will continue to watch GTII, as its balance sheet is reasonably healthy and it is well-diversified, operating in 16 states with more than 74 cannabis licenses that are either active or pending approval.
Chart of the Month: Cash Flow from Operations
Cash flow From Operations tends to be a meaningful measure, particularly when times are rough. Quants frequently use this as a component of the Quality factor, because it is a true measure of the success of what a company actually does through its transactions, not its investments. And the last two years of cash flows are not looking good for some of the largest Tier 1 CRBs. The chart below tracks CFFO for 8 quarters ending March 31, 2022. Aside for 3 MSOs (TRUL, CURA, and GTII), the numbers are negative and further reinforce the impact of the headwinds that we mentioned in our narrative above. This is one indication as to why investors might be staying away from cannabis in 2022.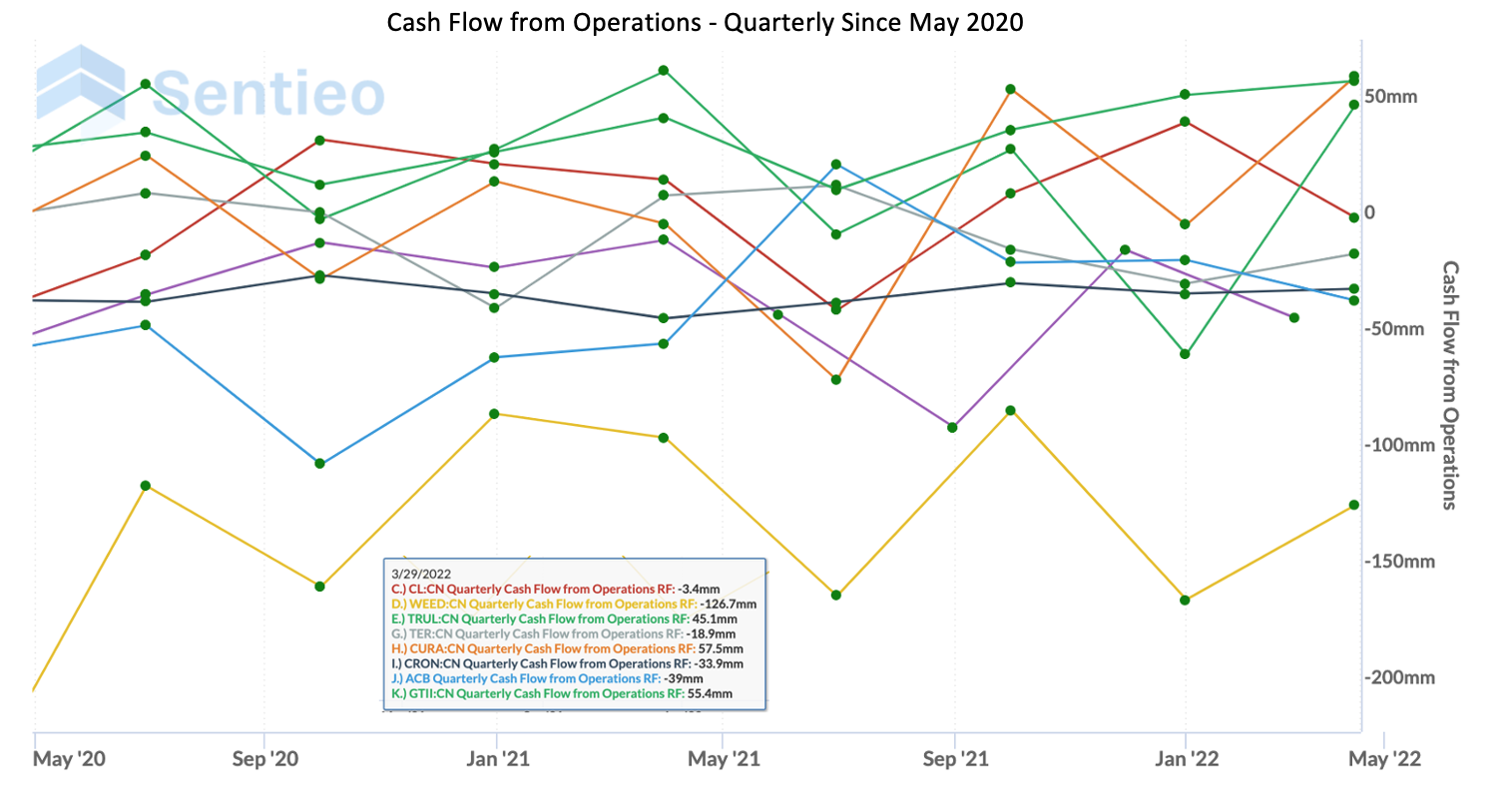 Source: Sentieo


Source: CRB Monitor, Sentieo
CRB Monitor Tier 2
An equally-weighted basket of the largest CRB Monitor Tier 2 companies had a negative 3.3% return for May 2022, which outperformed the equally-weighted Tier 1 basket by 10.6%, which was a reversal from the recent 3 month's relative returns. When these two portfolios deviate, it could be a signal for investors to rebalance into (out of) the Tier 1 basket and out of (into) Tier 2's given the direct revenue relationship, but the time it takes to mean revert is not so easy to predict. One unfortunate phenomenon was are seeing from May is that the largest Tier 2 companies by market cap had the most dismal returns (see table above); hence, a capitalization-weighted Tier 2 basket would have had a return that was much closer to the Tier 1 basket.
The best performing stock in the Tier 2 basket was AFC Gamma, Inc. (Nasdaq: AFCG), a provider of institutional loans to high-quality cannabis companies nationwide in all aspects of production: cultivation, processing, and distribution. The big news about AFCG in May was the announcement that the company entered into a senior secured revolving credit facility with $60 million of current commitments from two FDIC-insured banks and the ability to increase the facility to $100 million. According to the May 2nd press release, "AFC Gamma intends to use the available capital from the Credit Facility to fund unfunded commitments under loans to its existing borrowers, to originate and participate in commercial loans to cannabis operators that are consistent with its investment strategy, and for working capital and other general corporate purposes." This announcement received the stamp of approval from investors, as AFCG stock rebounded from a -27% YTD return to gain 11.9% in May.
The largest company in the Tier 2 basket, and getting smaller every month, Innovative Industrial Properties, Inc. (NYSE: IIPR), continued its 2022 downward spiral by losing 8% in May and is now down -46% YTD. We once again reference a prophetic mid-April report by Blue Orca Capital which recommends a short position in IIPR, and highlights several reasons why investors should view IIPR as overvalued. Reasons include: impairments due to tenant default, alleged illicit activity by tenants, and anxiety over falling CRB share prices and potential cash flow shortages. Given IIPR's disposition of being fully embedded in the US Marijuana space (particularly cultivation), their price sensitivity to these issues is understandable. One observation from the report: "…we think IIPR is more akin to a high risk cannabis bank, providing de facto loans to cannabis companies in exchange for long term leases. This is significant, as a book of loans to cannabis companies should not trade at the same book multiple or yield as real estate assets."
Finally, in the we-sound-like-a-broken-record category, Hydrofarm Holdings Group, Inc. (Nasdaq: HYFM), had another dreadful month as its stock lost another 27.9% of its value in May. HYFM is now down a breathtaking 75.8% YTD. A company with 100% exposure to one segment of the cannabis industry, Hydrofarm manufactures and distributes hydroponics products such as lighting equipment, climate control devices, garden accessories, and other related products, to cultivators. As we reported in March: HYFM's stock has not recovered from a dismal Q4 earnings report, in which they reported an $11mm net loss, in spite of an increase in sales over the quarter.
CRBs In the News
The following is a sampling of highlights from the May 2022 cannabis news cycle, as tracked by CRB Monitor. Included are CRB Monitor's proprietary Risk Tiers.
Wondering what a Tier 1, Tier 2 or Tier 3 CRB is?

See our seminal ACAMS Today white paper Defining "Marijuana-Related Business" and its update Defining "Cannabis-Related Business"