Financial relief for cannabis-related businesses feels closer than ever after a pair of bills were reintroduced with bipartisan support in Congress, including members of the important Senate Banking Committee. However, testimony during a Senate committee hearing yesterday indicated there may still be some hills to climb when it comes to passing banking reform.

After years of rejecting the cannabis market's access to banking services, the Senate Committee on Banking, Housing and Urban Affairs held a hearing on cannabis banking yesterday, its first since 2019. Titled "Examining Cannabis Banking Challenges of Small Businesses and Workers," the hearing featured Sen. Jeff Merkley, D-Ore., and Sen. Steve Daines, R-Mont., two of the sponsors of the new Secure and Fair Enforcement (SAFE) Banking Act and the Clarifying Law Around Insurance Marijuana (CLAIM) Act, both of which were introduced at the end of April.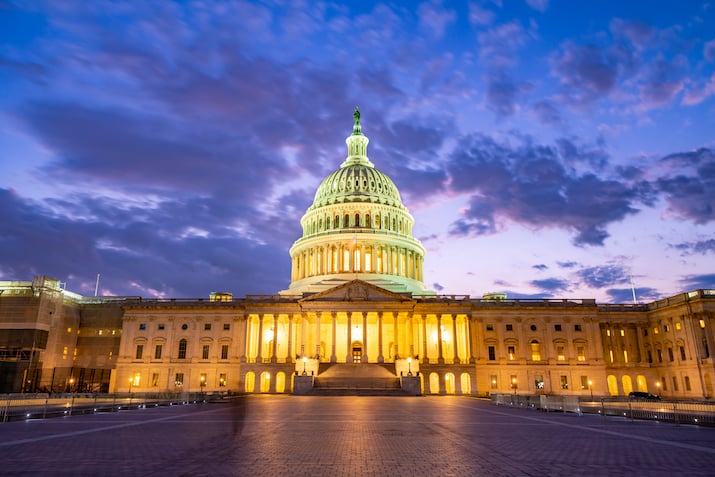 SAFE Banking Act Expanded for Wider Appeal
The current SAFE Banking Act (HR 2891/S 1323) prevents banking regulators from prohibiting, penalizing or discouraging banks from providing financial services to legitimate, state-sanctioned and regulated cannabis businesses, as well as service providers, such as lawyers and landlords. It includes protections for hemp and hemp-derived CBD.

Noting that nearly every state has legalized cannabis use in some way, Merkley, Daines and other committee members, including Chairman Sherrod Brown, D-Ohio, pressed the need for the SAFE Banking Act to reduce the criminal activity and physical dangers inherent in a nearly all-cash industry. They also said cannabis industry workers and service providers need the ability to deposit their cash income and obtain Small Business Association and mortgage loans. They added that support businesses, ranging from fertilizer companies to tradespeople who fix the buildings shouldn't have to worry about their accounts being placed at risk.

"There is nothing like a cash economy to facilitate money laundering. The lack of electronic records in this world makes it really easy to move money that shouldn't be moved." Merkley testified.

He said the bill is supported by people who believe, "The time has come to end the cash economy that hurts people in so many different ways."

However, opposition remains by some. Ranking Member Tim Scott, R-S.C., said the Department of Justice and national law enforcement groups have expressed concerns SAFE would create "loopholes" to money laundering enforcement.

Still, some in the industry are optimistic given the bipartisan and bicameral support on the issue. Erin Moffet, spokeswoman for the Cannabis Financial Industry Group, noted to CRB Monitor before the meeting how far Congress has come on cannabis policy since the SAFE Banking Act language was tucked into last summer's National Defense Authorization Act.

While banking regulation has been passed seven times in the House, this is the first time it was simultaneously introduced in the House and the Senate. "That was just huge," Moffet said.

"If that isn't a rapid change of how Congress addresses policy, I don't know what is," she said.

Moffet said she would not be surprised to see Senate committee hearings in the next couple of weeks lead to a marked-up bill going to the Senate floor for a vote before it adjourns in August. The House could move even faster by bypassing committee hearings, depending on what the final Senate bill looks like.

Curaleaf Executive Chairman Boris Jordan said during the company's fourth quarter 2022 investor call that he's hearing the House may vote on the bill in the fourth quarter and send it to President Joe Biden for signing in December.

Reggie Babin, senior counsel in the lobbying and public policy practice group at Akin Gump Strauss Hauer & Feld in Washington, D.C., and former chief counsel to Senate Majority Leader Chuck Schumer, D-N.Y., noted in a Marijuana Moment op-ed that changes were made to this bill to satisfy concerns of both sides of the political aisle.

"The ability of advocacy organizations on the Left and Right to put aside disagreements and focus on shared objectives, combined with a demonstrated willingness from those who represent the cannabis industry to also seek out common ground with these advocates, will go a long way in determining the success or failure of this and all future cannabis policy fights," he said in the op-ed.
SARs reporting would still be required

One of the changes Babin noted was to address "concerns on the Right with regards to money laundering and the challenge of keeping illicit cash from being funneled into the financial system."

In SAFE, banks would still need to comply with current Financial Crimes Enforcement Network guidance, including reporting suspicious transactions, relating to state-sanctioned marijuana businesses. Service providers would also become subject to SARs.

However, that guidance would "be streamlined over time as states and the federal government adapt to legalized medicinal and recreational cannabis policies," according to a news release from the bill's co-sponsors.

Specifically, the Department of the Treasury has 180 days from enactment to amend the Feb. 14, 2014, guidance regarding marijuana-related businesses or issue new guidance. It's to work with the Federal Financial Institutions Examination Council to develop uniform guidance and examination procedures for depository institutions.

However, Michelle Sullivan, chief risk and compliance officer for Dama Financial, pushed for a tougher framework than existing guidance. As a panel witness, Sullivan said Dama, which partners with banks to provide financial services to cannabis businesses, goes beyond federal high-risk banking requirements including "drilling down" to 10% ownership and performing onsite inspections and risk assessments. As a result, Dama rejects a "fair number of businesses" because they are not transparent and don't meet their diligence standards.

"Because of these experiences, we believe the SAFE Banking Act should be stronger and encompass a more stringent statutory framework. We can't simply rely on existing guidance without more robust legislation from Congress. It is quite possible that banking standards will be more lax after the passage of the SAFE Banking Act," Sullivan testified.

After the meeting, Sullivan told CRB Monitor that Dama Financial is not opposed to the SAFE Banking Act, but it's not written with enough teeth to guide financial institutions on the minimum requirements necessary to meet and maintain safe harbor protection. And while she thinks FinCEN needs to "step up and take ownership," there are still inconsistencies at the federal level because cannabis is still illegal.

She said if the bill passes in its current form today, banks will step into the industry that may not understand the oversight responsibilities and don't have the resources and expertise to enforce them. Then they'll exit the space, leaving cannabis companies scrambling for a new, affordable solution, just as they do today.

"Honestly, we feel the cart is before the horse. We think everybody should take a step back and solve the larger problem of legalization," she said.

Moffet said the costs of compliance would still be high for banks, but at least they should get best practices to help guide them. And as more banks are successful in the cannabis space, it will hopefully bring down implementation costs to the banks, resulting in increased competition to offer banking services that will eventually bring down banking costs for the industry itself.

CFIG supports clear compliance guidance for the cannabis industry. "We want to see the good actors be protected," Moffet said.

CRB Monitor is a founding board member and executive committee member of CFIG.
Insurance protection may also be on the horizon

The SAFE Banking Act also protects insurers from federal prosecution for providing services to state-legal cannabis businesses. Similarly, the more streamlined CLAIM Act (HR 2984/S 1359), introduced April 27, focuses on insurance providers.

Sen. Bob Menendez, D-N.J., a senior member of the Senate Banking Committee and chairman of an insurance oversight subcommittee, is a co-sponsor of the bill, along with Sens. Daines, Merkley, Rand Paul, R-Ky., and Jon Tester, D-Mont. In the House, Reps. Nydia Velazquez, D-N.Y., and Warren Davidson, R-Ohio, sponsored the legislation.

The business of insurance is largely regulated by the states, and some states, such as California, require cannabis businesses to have insurance coverage. But insurance companies are often reluctant to provide coverage to cannabis businesses because of discrepancies between federal and state laws.

"Insurance companies must be allowed to participate for the marketplace to function properly, they play a critical role for the development of small businesses," said Davidson in a news release. "The CLAIM Act takes needed corrective action by granting the ability to insure risk without having otherwise lawful markets blocked by regulators."

For state-sanctioned cannabis-related businesses, the CLAIM Act would prohibit penalizing or discouraging an insurer from providing coverages, including workers compensation, property, casualty and title insurance. It would also prohibit the federal government from taking adverse or corrective action on a policy to an owner or operator of a cannabis-related business or real estate or equipment leased to the business, solely because the owner or operator is engaged in cannabis. The act also applies to liability against business employees.

"Our legislation is simple and would finally level the playing field for legal cannabis businesses by allowing them to fully operate just as any other legal small business would: by permitting insurance companies to provide coverage to these enterprises without risking federal prosecution," Menendez said in a news release.
Insurance concerns were not discussed in Thursday's hearing.


-- Maria Brosnan Liebel, CRB Monitor News