Signaling the need to lasso a proliferation of medical marijuana businesses and organized crime, Oklahoma voters last week resoundingly defeated a ballot initiative to legalize adult-use marijuana, 62% to 38%.
State Question 820 would have legalized, regulated and taxed sales of marijuana for adults 21 and older. Not a single county supported the measure, although Oklahoma County came close with a 36-vote difference. Just over 25% of registered voters decided the contest.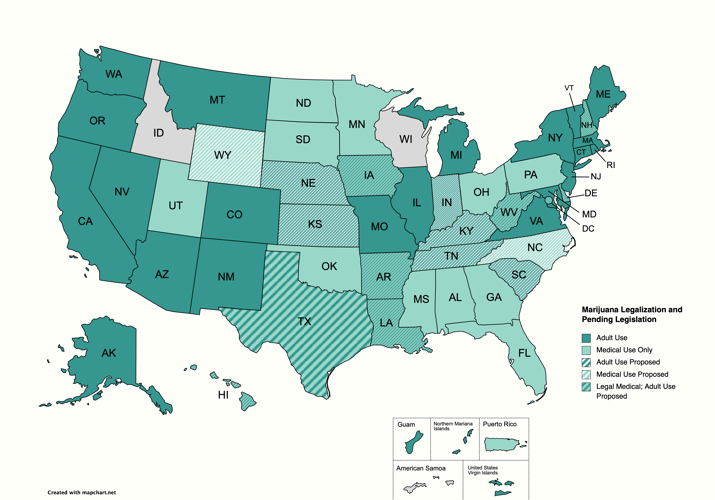 Blame for the defeat of the legalization initiative was generally placed on the raucous nature of the existing medical market in the state, where low economic and procedural barriers to licensing have led to a proliferation of lightly regulated cultivation operations that has brought an influx of non-residents using local nominee partners to circumvent residency requirements. Law enforcement has repeatedly tied the influx to out-of-state and international organized crime.
Attorney General Tom Ferguson applauded the initiative's defeat on Twitter. "Regardless of where one stands on the question of marijuana legalization, the stark reality is that organized crime from China and Mexico has infiltrated Oklahoma's medical marijuana industry," he said.
"I don't think that Oklahomans necessarily were taking a shot at marijuana on that legislation; they were taking a shot at crazy wild, Wild West, illegal black market, unregulated marijuana that has been going on," said Rep. Scott Fetgatter, a Republican who has introduced legislation to better regulate the medical marijuana market.
Marijuana is already big business in the Sooner State. Oklahoma voters approved medical use in 2018 with a program that has allowed for nearly 12,000 business licenses, including 7,078 growers and 2,877 dispensaries as of February, according to the Oklahoma Medical Marijuana Authority. A two-year moratorium on new business licenses was introduced last August. Nearly 10% of the state's 4 million residents are registered as patients or caregivers.
Still, cannabis-related tax revenues fell roughly 50% in fiscal year 2023 compared to the prior year, to $30.3 million in excise tax and $39.1 million in state and local taxes.
State legislators are trying to increase oversight of the medical market. On the day of the March 7 referendum defeat, the Oklahoma House passed HB 1350, which would create a temporary licensing program for medical marijuana businesses and require more information and procedures for annual licenses and renewals.
-- Maria Brosnan Liebel, CRB Monitor News