The New York Cannabis Control Board officially approved final regulations for its adult-use cannabis market on Sept. 12, opening the door to all license types — and not all applicants were pleased.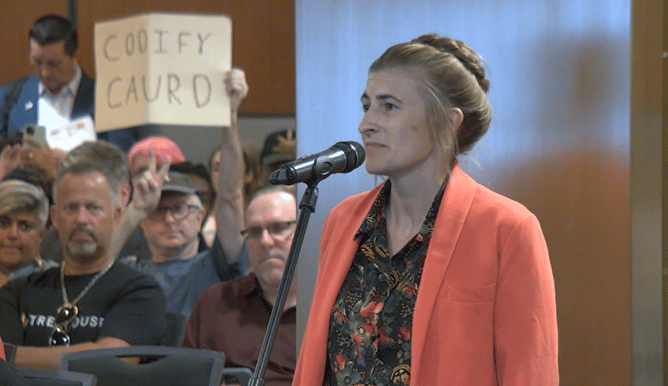 Renée St. Jacques, a policy director for the New York Farm Bureau, speaks at the New York Cannabis Control Board hearing.
After a summer of legal disputes, the CCB approved the finalized regulations for the state's legal cannabis market, which means the state is less than a month away from accepting applications for 10 different cannabis license types. These include:
Cultivator
Processor
Cooperative
Distributor
Retail
Microbusiness
Delivery
Nursery
On-site Consumption
The new regulations also allow for additional Registered Organizations (RO), which are vertically integrated and serve the medical market.
The 10 existing ROs, each of which are part of multi-state operators (MSOs), will also be permitted to apply to enter the adult use market, while Conditional Adult Use Retail Dispensary (CAURD) license holders are stuck waiting for the Supreme Court in Albany to allow their program to continue.
"You're hurting people tremendously. The CAURDs would have been better off if they had opened illicit stores," said Hoffman at the hearing. "We've got to codify CAURD. That's your solution. The solution is not to wait until CAURD is found unconstitutional. I am a lawyer, and I am telling you that's what's going to happen."
Earlier this year the state issued conditional licenses for adult-use retail, cultivation and processing, but those license types were limited to specific populations. CAURD licenses were made available to individuals with previous cannabis-related convictions in New York. Adult-Use Conditional Cultivator and Adult-Use Conditional Processor licenses were made available to existing hemp farmers in the state.
The roll out of those licenses has been rocky, with hemp farmers struggling to unload their supply due to a lack of legal retail outlets. The state currently has 23 retail locations in operation. About 440 provisional retail license holders are stuck in limbo due to an Aug. 18 court order preventing New York's Office of Cannabis Management (OCM) from processing any more applications.
"We are quite aware that there are eager applicants for all license types who have patiently waited as we considered the significant outpouring of comments from the public regarding these regulations," said CCB Chair Tremaine Wright. "We're excited to introduce to the public this next chapter of licenses in the cannabis industry in New York state."
The 10 ROs were originally supposed to wait until December 2024 to enter the adult-use market. But with the new regulations, they will be able to apply with everyone else in October and theoretically open by the end of this year.
The CCB in May proposed to allow ROs to enter the AU market sooner than December 2024 following a lawsuit filed March 16 by the Coalition for Access to Regulated & Safe Cannabis. The coalition represented MSOs that alleged the state's CAURD license program was illegitimate because that specific license type was never stipulated in the law that allowed for an adult-use cannabis market.
"You've got two groups of people, the farmers and CAURDs, that are balancing on the head of a pin. They're facing ruin here," said Hal McCabe, executive director of CANY at the hearing. "One RO's growspace can replace 10 of our cultivators now. You've got to allow us indoor grows if you're going to open up with the ROs, or else we won't be able to compete."
"There are so many barriers that our farmers have to face," added Renée St. Jacques of the New York Farm Bureau. "They need your help, and allowing the ROs to come in is not the answer. It's just going to push the farmers out."
The application period for the new license types will open Oct. 4. The window will remain open for 60 days, but retail applicants that have already secured property can get evaluated after just 30 days.
Applicants that qualify for Social and Economic Equity (SEE) will receive a 50% discount on application and licensing fees. Those qualified include persons of color, women and veterans.
The fact that the ROs will be able to enter the market earlier than expected was a point of concern, in part, because it created questions of how the state's existing medical canopy would be affected when a portion is diverted into the adult-use market.
"If the ROs in the state are allowed to also enter into the [adult-use] market, do we have an estimate of how much of their canopy will be increased?" asked board member Jennifer Gilbert-Jenkins. "We know that they can't divert any of the product that's already going into the medical market into the adult-use market. Do we have an estimate of how much we expect them to bring in?"
OCM Executive Director Chris Alexander was less concerned about the continued flow of medical cannabis.
"They each have about 100,000 square feet," said Alexander. "They're not operating at that level currently. As they transition over time, that will be their canopy, but we don't know exactly when they will complete their build-outs to transition over."
After the regulations passed unanimously, Alexander acknowledged the room full of CAURD holders and aspirants who were concerned with where the market might go.
"Today is a day of mixed emotions for many. We are excited to see the market launch. We're excited to see the steps to roll out licensing," he said. "I acknowledge our licensees who are currently working diligently to get open. We will continue to work diligently to realize the seeding opportunity initiative and what it represents for New York to take that necessary step to start a market in a way no one else has.
-- Zack Huffman, CRB Monitor News