New York's Cannabis Control Board scheduled a surprise meeting for the first Tuesday after Memorial Day during which it approved changes to the state's social equity fund, enforcement of the state's gray market and a settlement in the court case that delayed dispensary licenses in five regions, including Brooklyn.
The move was among the latest in a recent series of actions from New York's legislature and the CCB to bolster the state's nascent adult-use market, which has sputtered since it officially opened on Dec. 29, 2022.
After almost half a year of legal sales there are still only nine adult-use dispensaries serving the entire State of New York. Five of them are located in New York City, while three additional locations in upstate New York are only authorized for delivery.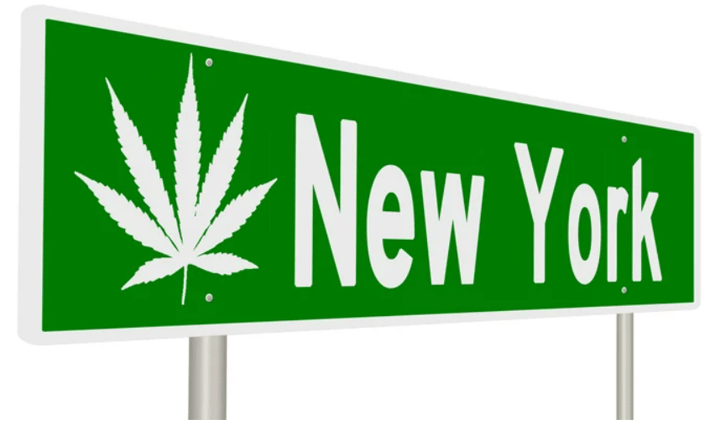 New York State established a Cannabis Social Equity Fund late last year. It seeded the fund with $50 million with the intent that an additional $150 million of financing would arrive by September 2022. Despite the fund being reportedly operated by former NBA star Chris Webber and shoe mogul Lavetta Willis, the $150 million never materialized.

Now the state is hoping to fill that funding gap by allowing debt-based investments. At the May 30 meeting the CCB amended the social equity fund's limited partner agreement (LPA) to allow it to make loans in addition to equity investments in cannabis startups.

"The equity markets in the cannabis space have become much more difficult than they were 18 months ago, partly because of national settling of wholesale prices in cannabis, but also the equity investors seem to be waiting to see how different states shakeout," said CCB Board Member Reuben McDaniel. "In New York we went down the journey of identifying investors, and we found that the best way for us to go was using a credit investor instead of an equity investor, and so this is a change to the structure of the LPA to make it available to accept a credit investor."

The board also approved new emergency regulations that would allow it to investigate and seize cannabis products from unauthorized sellers, such as the over 1,000 estimated sellers that sprang up in New York City after the state legalized adult-use cannabis. Since then, the city and state have struggled to crack down on illicit sales, in part, due to a lack of manpower.

"New legislation was put in place as a result of budget discussions signed by the governor," said Linda Baldwin, general counsel for the CCB. "As a result we have a great new framework to enhance our regulatory authority over unlicensed businesses that are selling cannabis. We had to develop new regulations which today are being proposed as emergency regulations because there has not been enough time to implement the full regulatory development process."

Finally, the CCB approved a settlement with Variscite NY One Inc., which sued the state last September claiming that the company's owner, Kenneth Gay, was unfairly excluded as a potential CAURD (conditional adult-use retail dispensary) license recipient which are reserved for individuals who have a prior cannabis conviction in New York. Gay has a prior conviction, but it was in Michigan.
Variscite sued the state in federal court last September, and a subsequent court order in November delayed the state's issuance of CAURD licenses. Following the CCB's approval, Variscite filed a motion to settle on May 31. Variscite agreed to drop its suit, and the CCB agreed to reserve a CAURD license for the company in the Finger Lakes region.
A judge for the U.S. District Court, Northern District of New York approved the settlement June 1.
Emergency effort to extend distribution licenses; new rules
New York's legislature and its Office of Cannabis Management are pushing other efforts to course-correct their state's flailing adult-use market.

A potentially catastrophic situation was narrowly avoided when Gov. Kathy Hochul signed a bill on May 31 that extended the expiration date for all distribution licenses. The bill sped through the state legislature because distribution licenses were set to expire on June 1, which would have effectively made it illegal for cannabis to be transported to dispensaries or processors.

Meanwhile, the CCB released an update to the state's more than 300 pages of regulations that govern the adult-use market. The new rules were introduced during the May 11 meeting of the CCB and are anticipated to be formally approved 60 days after.

Among the new rules is a provision that speeds up the clock for corporate medical operators to join the adult-use market. Originally, the state was making them wait three years, but now they can potentially start selling to the general public by Dec. 29, 2023.

A coalition of corporate medical cannabis operators sued the state on March 16, claiming that the OCM and CCB overstepped their authority when they gave first-mover privilege to new operators before the medical operators had a chance to convert to adult use. The plaintiffs claimed that OCM created a new type of license when it announced the CAURD license, when the state legislature was the only governing body authorized to do so.

That case is still pending in New York Supreme Court in Albany.
-- Zack Huffman, CRB Monitor News