New York's Conditional Adult-Use Retail Dispensary program remains on hold after a judge on Friday extended his injunction for at least two more weeks in the latest delay of the state's protracted rollout of retail cannabis licenses.

"Defendants, their agents and employees, are hereby restrained from awarding or further processing any more CAURD licenses and/or conferring operational approval upon any more provisional or existing CAURD licensees," wrote Judge Kevin Bryant, of the New York Supreme Court in Albany, in his Aug. 7 order. The judge scheduled a second hearing for Aug. 25, extending the injunction until then.

A quartet of veterans sued New York's Office of Cannabis Management and Cannabis Control Board on Aug. 2, claiming that the state improperly created the CAURD license and that it excluded social equity applicants, such as service-disabled veterans, in the event that they lack a cannabis conviction.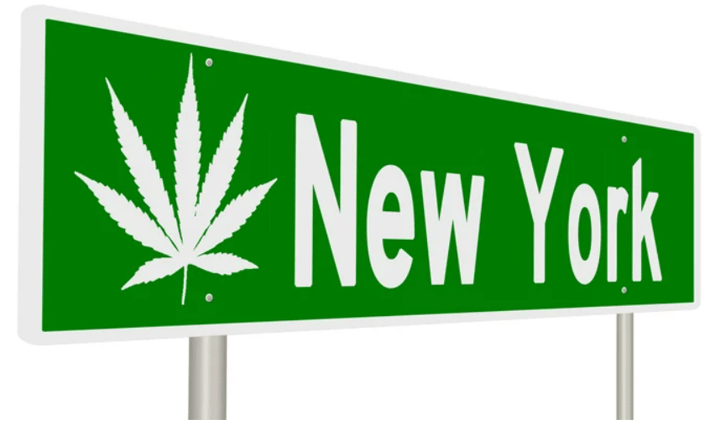 Delay opposed by aspiring operators
The efforts to block CAURD licenses has been met with strong opposition from aspiring operators who would benefit from the program, many of which appeared outside of the court on the morning of the Aug. 11 hearing.
"The plaintiffs do not speak for me. They do not speak for all service disabled veterans, they are not advocates for our community," said Osbert Orduna, CAURD applicant and chief executive of The Cannabis Place.

Orduna, who is a disabled veteran, spoke outside of the courthouse just prior to the Friday hearing among a group of about two dozen CAURD applicants in opposition to the injunction and its underlying lawsuit.

"If an injunction is granted and the TRO [temporary restraining order] continues, it would prevent our dispensary from opening, but we would have to continue to pay our lease. This would snuff the life out of our business and negatively impact our suppliers," said Orduna. "An injunction would also hurt their families and their communities. This is about the entire cannabis industry in New York."

The Cannabis Association of New York, which advocates for current and prospective cannabis operators, criticized the court order in a statement released after the hearing.

"Following today's court hearing, CANY is severely disappointed that the injunction will remain in place until the next hearing in two weeks," said interim Executive Director Hal McCabe. "This injunction continues to threaten tens of thousands of jobs, thousands of businesses, and the entire industry as a whole. Not only will there be no new licenses issued, but those unopened businesses already granted a CAURD license must stay closed."

There were a total of 463 CAURD holders, as of Aug. 1. Of those, only 20 have been approved to open for business: 16 retail and four delivery-only.

New York's Office of Cannabis Management classifies social equity applicants as anyone who lives in a community that was disproportionately impacted by the War on Drugs, or anyone that is a minority, woman, distressed farmer or service-disabled veteran. But among that group OCM has reserved CAURD licenses for those who also have a prior cannabis conviction from the state.

The lawsuit also included a demand for an emergency injunction which Bryant granted five days later when he ordered both parties to a hearing on Aug. 11 with a temporary restraining order against the issuance of CAURD licenses as well as a halt on operational approvals for existing license holders.

The CCB approves all license applications and is planning to hold its next meeting in September according to the minutes of their last meeting, though it has yet to publicly announce the specific date.
The latest in a string of cannabis program legal battles
The veterans' lawsuit is just the latest in a series of legal fights that OCM has had to endure since before the first legal sale of a joint to someone without a medical card.

In the lead up to the CCB issuing the first set of CAURDs last fall, Variscite NY One sued the state over its requirement that applicants have a prior cannabis conviction from New York. Variscite's majority owner, Kenneth Gay, has a prior record, but it's in Michigan.

Gay's lawsuit temporarily halted the issuance of CAURD licenses in the two regions in which he was applying for a license. The state would later settle the case by offering a single CAURD license to Variscite in the Finger Lakes region.

The CCB was sued again in March by the Coalition for Access to Regulated and Safe Cannabis (CARSC), which includes several New York Registered Organizations as members. The lawsuit alleged that the CCB had improperly created the CAURD licenses, while excluding the larger medical operators from the adult-use market until 2025.

New York's already-established medical cannabis market is controlled by 10 ROs, which is a license type that allows for vertical integration. Every RO is part of large, multi-state operation including, Curaleaf, Columbia Care, Acreage, GTI, iAnthus, MedMen, Pharmacann, Cresco Labs, Vireo Health and Etain, which is owned by Scott's Miracle-Gro.

OCM was originally going to make the ROs, which are each allowed a total of four dispensaries, wait until 2025 before they could enter the adult-use market, but the agency recently moved the start date up to the end of 2023, meaning that a sustained injunction against CAURDs could give them a stronger advantage against the few CAURD operations that are currently open for business.

Two months later, the CCB approved a regulatory update that moved up the start date for ROs to December 2023 to sell to the general public.

The case from CARSC remains ongoing, but last week the plaintiffs filed to join the veterans' case against the state. Whether or not they are successful in joining the case will likely wait until the Aug. 25 hearing.
-- Zack Huffman, CRB Monitor News