Minnesotans 21 and older will be able to possess, grow and use marijuana legally beginning Aug. 1, but retail sales of adult-use cannabis aren't expected to start until the first quarter 2025.

Minnesota became the 23rd state to legalize adult-use cannabis following Gov. Tim Walz's signing of HF 100 during a May 30 ceremony. It follows Delaware, which legalized adult use in April.

"We've known for too long that prohibiting the use of cannabis hasn't worked. By legalizing adult-use cannabis, we're expanding our economy, creating jobs, and regulating the industry to keep Minnesotans safe," Walz said in a news release.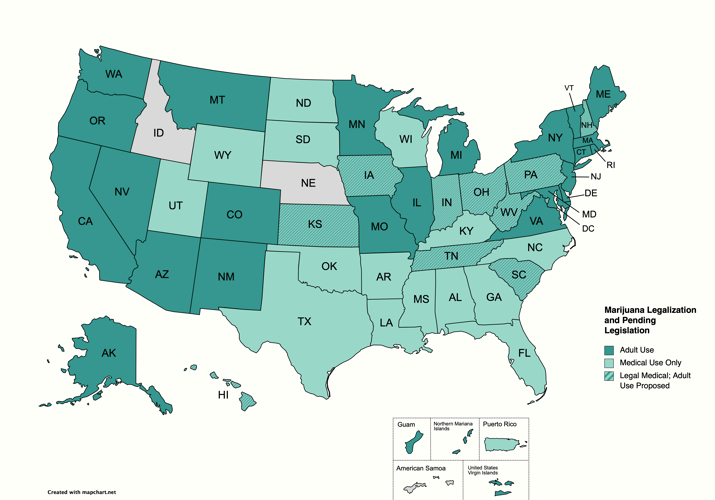 Map includes states with low-THC access for medical use. Some states have multiple legalization bills pending. Color indicates highest use proposed. Map created using mapchart.net.

The legislation creates the Office of Cannabis Management (OCM), which will establish program regulations. The current medical cannabis program will move from the state health department to OCM, and a Division of Social Equity will be created. Additionally, a 38-member advisory council will meet quarterly to review policy, take public testimony and make recommendations to the OCM.

The new OCM "will be incubating under the MN Dept. of Agriculture until it can be stood up," said Garry Bowman, public information officer for the Minnesota Department of Health, Health Systems Bureau, in an email. Since the advisory board is not a decision-making body, regulatory work can begin prior to its formation, he said.

The state has already begun searching for a vendor to help with the cannabis business licensing process. According to the RFP, officials expect to start accepting licensing applications in May 2024, with retail sales beginning Jan. 1, 2025, Bowman confirmed.

An OCM website has also been launched with some basic information about the new law.
Different fee structures for medical and adult use
As written, the law doesn't limit the number of cannabis business licenses in the state. "The office shall issue the necessary number of licenses in order to ensure the sufficient supply of cannabis flower and cannabis products to meet demand, provide market stability, ensure a competitive market, and limit the sale of unregulated cannabis flower and cannabis products," it states.

Local governments must allow at least one retail establishment per 12,500 residents. They can't ban businesses, but they can establish reasonable restrictions, such as near schools and parks.

Social equity criteria would be prioritized in a point-based licensing approval system. Other scoring priorities include veteran status, industry experience and business plans.

The law does set application and licensing fees depending on the type of business. For adult-use licenses, application fees range from $250 to $10,000. Initial license fees are as low as $0 for a microbusiness and up to $10,000 for a cultivator and manufacturer. Renewal adult-use license fees range from $1,000 to $30,000.

There's also a medical cannabis combination business category with a $10,000 application fee, $20,000 initial license fee and $70,000 renewal fee.

Currently, 15 medical cannabis dispensaries operate in the state. Until adult-use retail sales are up and running, only the 41,000 permitted patients and caregivers will be allowed to buy from these stores. But annual permit fees will go away July 1. Many of the law's provisions regarding medical cannabis businesses don't take effect until March 1, 2025.

Sales tax on recreational products is 10%, and local governments cannot establish their own tax. There's no tax for medical cannabis.

The law doesn't change Minnesota's industrial hemp program, but it does create regulatory oversight of cannabinoid products processed from hemp. Licensing and inspections of low-potency manufacturing and retail businesses will be required.

For personal use, adults 21 and older can possess up to 2 ounces of cannabis, 8 grams of concentrate and 800 mg of THC edibles in public. At home, they can possess up to 2 pounds and grow up to eight plants, with only four being mature at a time.

The law also automatically expunges prior non-felony marijuana convictions. Felony convictions will be reviewed by a Cannabis Expungement Board.

-- Maria Brosnan Liebel, CRB Monitor News