Last year, the U.S. Constitution's dormant commerce clause was successfully used to justify legal challenges to residency and social equity rules for marijuana businesses, creating speculation that these cases could eventually lead to cannabis being legally transported across state lines. But more recent rulings indicate those efforts could be sputtering out.
In New York, a new state court lawsuit and a new ruling from an existing federal case could become the latest court actions to impact the ongoing attempts to apply the dormant commerce clause to legal cannabis.
The Second Circuit Court of Appeals tossed most of an injunction that had been blocking new licenses in New York since December. Meanwhile, a coalition of corporate medical operators are asking a judge in state court to expand access to adult-use licenses to more than just those with prior in-state cannabis convictions.
The dormant commerce clause dictates that no state law may unduly impede the transfer of goods or services across state lines. But what happens when the product is legal in the state but illegal on a federal level?
"I've been predicting for a while, and gotten a lot of crap over it, that legal interstate commerce is going to happen in the courts," said David Rabinovitz, a Massachusetts-based cannabis consultant. "There's a few complications in there about how you're going to get it from one state to the other if you have to cross states where it's not legal. I happen to think you put it on a private jet and you fly it over."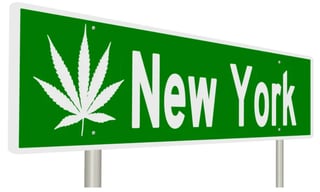 The Coalition for Access to Regulated & Safe Cannabis sued the Cannabis Control Board (CCB) and the Office of Cannabis Management (OCM) in New York's Supreme Court in the District of Albany in mid-March. The organization, which is currently unregistered in New York, reportedly includes at least four of the state's existing MSO medical operators: Acreage Holdings, Curaleaf, Green Thumb Industries and PharmaCann. The coalition also includes prospective operators in Brooklyn, who, until recently, were prevented from receiving adult-use retail licenses due to a court order.
The coalition describes itself in the lawsuit as "an unincorporated trade association comprised of prospective retail applicants, medical cannabis physicians who say the medical market is suffering and existing medical cannabis providers," all of which have been barred from the adult use market thus far.

The coalition's lawsuit argues that the CCB and OCM overstepped their legal authority when they created a special conditional adult use retail dispensary (CAURD) license, that was exclusively available to individuals with previous cannabis-related convictions in New York. The lawsuit claims that only the state legislature has the power to create such a license.

The plaintiffs also became the latest to lean on the U.S. Constitution's dormant commerce clause as a legal argument against cannabis regulation.

"Leaving aside (for the moment) the fact that many individuals impacted by the War on Drugs may not fall within the CAURD program, and the fact that the program violates the U.S. Constitution's Dormant Commerce Clause, defendants-respondents' decision to create the exclusive CAURD category in the first instance, and then provide those applicants with the first opportunity to obtain an adult-use retail dispensary license, violates (i) the [Marihuana Regulation and Taxation Act]'s plain and unambiguous provisions, and (ii) New York State's separation of powers doctrine."

While the clause's actual application to cannabis will likely continue to evolve, its use in court is not likely going away any time soon, according to Alexander Malyshev, a partner at Carter Ledyard & Milburn, who co-chairs the firm's cannabis, hemp and CBD practice.

"I expect that litigation over the dormant commerce clause is likely to continue, both at the district court level and at the appellate level," said Malyshev. "Residency requirements are likely not the final frontier for this litigation either, as it may ultimately move towards interstate import and export of cannabis, which implicates the same constitutional issues.

Maine rules in favor of interstate marijuana investment

The first major court win that used the dormant commerce clause came out of Maine, where the state's residency requirement for medical cannabis license ownership was struck down last summer.

Acreage Holdings was interested in buying into Maine's medical cannabis market by acquiring Northeast Patient Group. The only hitch was the state law forbade out-of-state ownership of medical cannabis operations.

So the companies sued the state in federal court, challenging the residency requirement as being in violation of the dormant commerce clause. The clause applies to any legal product traded across state lines, but many believe it offers no protection to cannabis due to the drug's current federal illegality. Instead of focusing trade in the product, the companies argued that the residency rule was hindering their ability to transport money across state lines — financing rather than flower.

The U.S. District Court of Maine agreed with the premise and ruled against the state. That ruling was then upheld in the First Circuit Court of Appeals in August 2022.

Since then, a federal judge in Missouri struck down that state's residency requirement about a month ahead of the November 2022 vote that brought legal adult use to the state. Additional lawsuits have been filed in Detroit, Michigan and Illinois.

Michigan resident Kenneth Gay sued the state in the U.S. Northern District of New York over its practice of restricting access to a CAURD license to those with prior cannabis-related convictions in New York. Gay's prior conviction took place outside of New York.

In November 2022, District Judge Gary Sharpe ordered an injunction barring the CCB from issuing CAURD licenses in Brooklyn, central New York, Finger Lakes, mid-Hudson and western New York, all regions in which Gay had applied to operate.

That injunction was reduced to just applicants in the Finger Lakes region by the Second Circuit Court of Appeals on March 28.

"I am pleased that a federal appellate court has limited an injunction in favor of the State of New York," said Gov. Kathy Hochul in a statement released after the ruling. "For the first time, New Yorkers in nearly every region of the state will have access to safer, high-quality, adult-use cannabis products. I am committed to ensuring New York continues to lead the nation in our safe and equitable approach to the cannabis market."

Rabinovitz speculated that the reduced injunction was the appellate court indicating the lower federal court overreached in its earlier ruling.

"I disagreed with the court. They're not saying out-of-staters can't apply. You have to have been convicted in New York. I don't quite understand why the federal judge ruled so heavily for the plaintiff," said Rabinovitz. "The flip side is I understand why the appeals court did what they did."

West Coast courts reject dormant commerce clause argument

Back on the West Coast, Gay followed up his legal attack in New York by filing a similar suit against the city of Los Angeles over its social equity restrictions for cannabis licenses. But the judge dismissed the case, saying that the plaintiff failed to show "irreparable harm."

A federal judge in Washington state delivered another blow to the dormant commerce clause's application to cannabis when it ruled in February against a lawsuit challenging that state's residency requirement for cannabis license holders. That case is currently awaiting a hearing in the Ninth Circuit Court of Appeals.

Both New York cases remain pending, but for now it appears that interstate cannabis trade might need a different path to legalization than the dormant commerce clause… at least until more states, like California and Washington, actually attempt to allow the trade of cannabis products.
- Zack Huffman, CRB Monitor News