The federal legalization of industrial hemp in 2018 has created a new sub-industry of intoxicating hemp-derived cannabinoids that some legislators and industry players feel is spiraling out of control. Products containing "novel cannabinoids" such as delta-8 THC can be easily found in gas station minimarts and convenience stores in most areas of the country. As a result, federal and state lawmakers have been creating legislation to regulate, and in some cases restrict, products containing hemp-derived compounds.

The 2018 Farm Act legalized hemp with no more than 0.3% delta-9 THC, the psychoactive component of cannabis. But as the act comes up for renewal, the Cannabis Regulators Association, a nonpartisan association representing cannabis and hemp regulatory agencies from more than 40 states and U.S. territories, is calling for a regulatory framework in regards to hemp-derived cannabinoid products.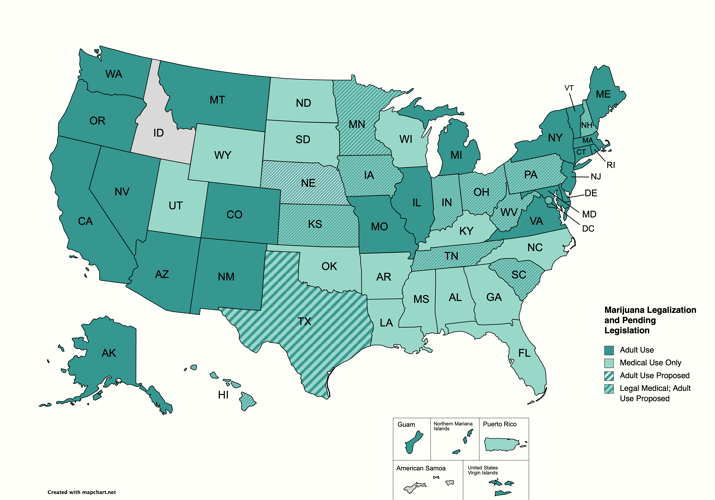 Map includes states with low-THC access for medical use. Some states have multiple legalization bills pending. Color indicates highest use proposed. Map created using mapchart.net.

In an April letter to legislators, the organization pointed to the "0.3% loophole," the "THCA loophole," and the "derivatives loophole." It says the 0.3% threshold applies only to dry weight of plants, but when used to create other products, the amount of THC can amount to hundreds of milligrams.

"For example, a 50-gram chocolate bar at 0.3% THC would have around 150 mg of THC (30 times the standard 5 mg THC dose established by the National Institute on Drug Abuse). A family sized pack of cookies weighing 20 oz can contain around 1700 mg of THC using the 0.3% THC threshold," it said in the letter.

It also said derivatives such as delta-8 THC, THCO acetates and hexahydrocannibinol (HHC) appear to be "an unintended outcome of copying catch-all language from the Controlled Substances Act," leading to chemically derived compounds that have not been well-studied.
Federal bills push for FDA regulation
After the Drug Enforcement Agency said synthetic delta-8 and delta-9 THC are illegal controlled substances, Reps. Morgan Griffith, R-Va., and Angie Craig, D-Minn., introduced bills in March to clarify the legalization of hemp-derived CBD and require the Food and Drug Administration to regulate products.

The Hemp and Hemp-Derived CBD Consumer Protection and Market Stabilization Act of 2023, HR 1629, would allow hemp, cannabidiol derived from hemp, and other hemp-derived products to be used as a dietary supplement, unless otherwise directed by the FDA.

The CBD Product Safety and Standardization Act, HR 1628, directs the FDA to regulate CBD as it would for other food ingredients, setting requirements for quality, labeling and other areas.

"The FDA has made it clear that legislative action by Congress is needed to solve its CBD regulatory problem and these two bi-partisan bills re-introduced by Reps. Griffith and Craig serve as the solution," Jonathan Miller, U.S. Hemp Roundtable general counsel, said in a press release distributed by Griffith. "The FDA's inaction over the past four years has had a devastating impact on U.S. hemp growers and has left thousands of unregulated products on the marketplace, raising health and safety concerns for consumers."

Both bills have been referred to the House Subcommittee on Health.

And this month, a DEA official said during a conference that the agency is in the process of modifying its rules regarding synthetic cannabinoids, according to Marijuana Moment.
States not waiting to regulate hemp
Meanwhile, as the production and value of hemp dropped dramatically last year, states have been passing their own laws that either clearly allow, regulate or ban hemp-derived THC.

Recently signed bills that regulate the use and sale of hemp products include:
Also, the Florida legislature this month passed SB 1676, limiting delta-9 THC to 0.3% on a wet-weight basis, prohibiting marketing to children and regulating packaging.

In South Dakota, however, a bill that would have allowed up to 5% hemp-derived THC in products was vetoed by Gov. Kristi Noem in March. She said in a veto letter that the South Dakota Department of Agriculture and Natural Resources worked with industry leaders and legislators last year on a compromise allowing 1% THC in products.

"South Dakota voters spoke clearly this past November: they do not want recreational marijuana," Noem wrote. "If I allowed this bill to become law, it would jeopardize the clearly expressed will of the people. Increasing the THC level to 5% would hinder our successful hemp program and undermine enforcement of our drug laws."

And in Arkansas, Gov. Sarah Huckabee Sanders signed a bill April 11 banning the growth, processing, sale, transfer and possession of delta-8, delta-9 and delta-10 THC.

-- Maria Brosnan Liebel, CRB Monitor News