As a new legislative year kicks off, federal and state legislators have filed hundreds of bills to expand legal access to marijuana and refine laws already on the books. Lawmakers are also opening their minds to the idea that psychedelics, particularly psilocybin mushrooms, may help treat mental illness and reduce use of opioids.
On the federal front, Sen. Chuck Schumer (D-NY) renewed the push for the SAFE Plus bank safe-harbor bill by holding meetings with Republican and Democratic senators, while Rep. Gregory Steube (R-FL) tries to move marijuana from Schedule I to Schedule III. Such a move likely won't help banking and financing of state-licensed operators, but it could allow for the pharmaceutical industry to enter the arena. Steube is also trying to protect vets from losing their benefits for using medical marijuana with H.R. 394, while Sen. Jon Tester (D-MT) and Sen. Dan Sullivan (R-Alaska) promote the VA Medicinal Cannabis Research Act.
At least 19 states, mainly in the Midwest and South, aim to legalize marijuana for adult recreational or medical use. North Carolina's Compassionate Care Act (S3) heads to the Senate floor after approval by three committees. And in Minnesota this month, committees in both the House and Senate approved their versions of omnibus adult-use legalization (H.F. 100, S.F. 73). Other states with one or more legalization bills under consideration are Arkansas, Delaware, Georgia, Hawaii, Indiana, Iowa, Kansas, Kentucky, Louisiana, Nebraska, New Hampshire, Oklahoma, Ohio, South Carolina, Tennessee, Texas and West Virginia.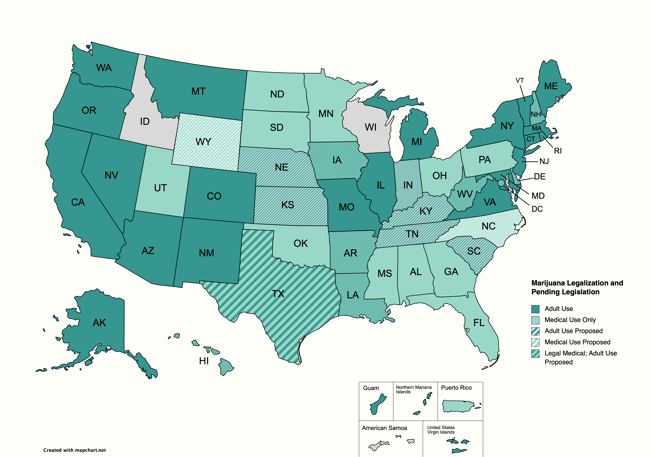 Cannabis businesses could find more financial support from a couple of states. Connecticut and New Jersey have bills that would allow businesses to deduct certain expenses from state income tax returns. New Jersey Democratic assembly members aim to establish a state bank for handling cannabis funds (A3170), and both houses have pending legislation to protect financial institutions and insurers doing business in the cannabis industry from state regulators.
Therapeutic Psychedelics Laws Advance
Several states have bills related to psychedelics. New York would establish a psilocybin mushroom pilot project and medical therapy board, appropriating $5 million, with A03581, S03520. On Feb. 22, a state senate committee amended Utah's SB 200 to authorize a medical psilocybin pilot program. The Psilocybin Behavioral Health Access and Services Act in New Jersey (A4911, S2934) would decriminalize use and production of the drug for health and wellness and would also expunge past offenses.
However, in Washington, a bill (SB 5263) to legalize psilocybin was gutted in the Senate Labor and Commerce Committee, and was re-written to continue studying the issue.
Other states with bills to research psilocybin and other psychedelics to treat mental health and pain conditions include Arizona, Hawaii, Minnesota, New Jersey and New Mexico.
-- Maria Brosnan Liebel, CRB Monitor News