James B. Francis, CFA
Chief Research Officer, CRB Monitor
CRB Monitor Securities Database Updates
CRB Monitor's research team monitors the information cycle daily and maintains securities' profiles to reflect the current state of the cannabis ecosystem. Here is a summary of the updates for April 2022: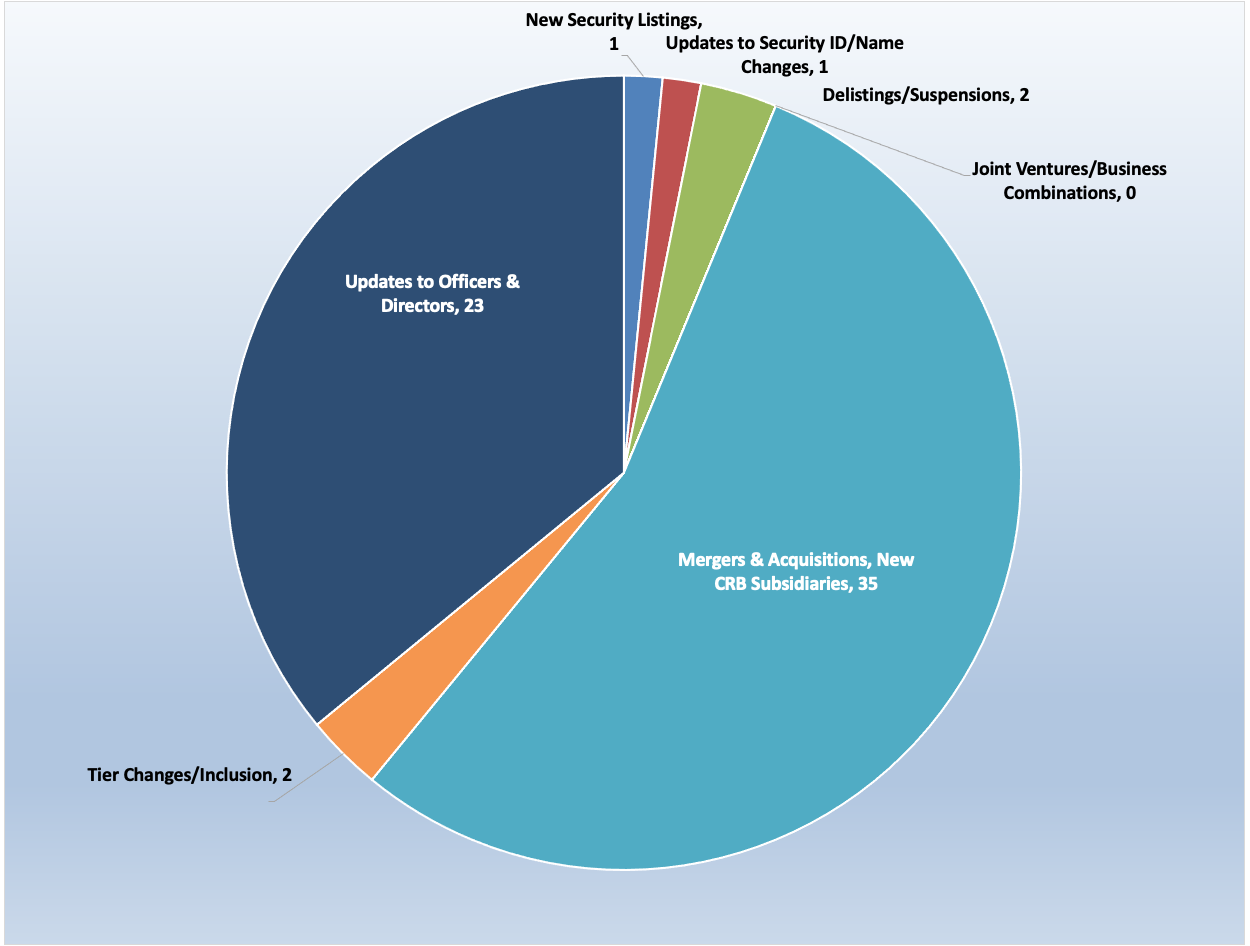 Source: CRB Monitor
Cannabis News: M&A Activity
Cannabis-related M&A activity heated up throughout 2021 but recently has lost its momentum, perhaps due in large part to the slump in the markets and complexities that are hitting the world economy and wreaking havoc on financials. With that said, cannabis companies continue to accumulate licensed Tier 1A businesses in significant numbers. CRB Monitor's most recent count has approximately 9,000 cannabis licenses that are ultimately controlled by public cannabis companies, via their subsidiaries.
Here are some of the April highlights:
Recently acquired by Tier 1B Cresco Labs Inc. (CSE: CL) (but not yet closed), Tier 1A Columbia Care Inc. (CSE: CCHW) continues on its quest to buy licensed cannabis businesses, acquiring its fourth Cannabist dispensary in West Virginia. According to the April 1st press release, "Columbia Care is currently one of two operators in the state manufacturing product, and is the only operator selling to third party dispensaries, with its product now available in 75% of the state's dispensaries." The combined Cresco/Columbia Care entity, when the acquisition closes in Q4, will hold (by current CRB Monitor counts) 190 licenses in either active or pending status and operate in 14 states plus Washington DC and Puerto Rico.
Meanwhile Tier 1B TerrAscend Corp. (CSE: TER), entered into a definitive agreement to acquire KISA Enterprises MI, LLC and KISA Holdings, LLC ("Pinnacle") a dispensary operator in Michigan, and related real estate, for total consideration of US $28.5 million. According to an April 14th press release:"The Transaction expedites TerrAscend's expansion into parts of Michigan that currently have limited access to Gage and Cookies branded retail locations. Following the close of the Transaction, TerrAscend's retail footprint will increase to 17 dispensaries in Michigan and 32 dispensaries nationwide." Following the close of this acquisition, TerrAscend's footprint expands to seven states and two Canadian provinces, and control (via its subsidiaries) of 84 cannabis licenses in various stages of approval.
Also in April, Tier 1B CRB MariMed Inc. (OTCQX: MRMD), a multi-state cannabis operator (MSO) announced that it completed its acquisition of Kind Therapeutics U.S.A., LLC, a vertically-integrated cannabis business in Maryland. In the words of the April 28th press release: "MariMed intends to expand all of aspects of the Kind business including adding 40,000 square feet of cultivation canopy, a state-of-the-art GMP kitchen, and new and innovative cannabis brands and products to be distributed throughout the robust Maryland cannabis marketplace. With the closing of this transaction MariMed will report 100% of Kind's revenue and profits in its financials. The transaction demonstrates progress and the Company's commitment to its strategic growth plan." Following this acquisition, MariMed operates in five states (IL, MA, HI, NV, MD) and has control, through its subsidiaries, of 18 cannabis licenses.
High Tide Inc. (TSXV: HITI), a Tier 1B CRB operating only in Canada, completed its acquisition of 100% of the equity interest of 2080791 Alberta Ltd. doing business as Boreal Cannabis Company, which operates two retail cannabis stores in Northern Alberta, for CAD$2.2 Million, plus the wholesale value of inventory (about $175,000). In the words of the original April 1st press release: "'Through its online consumption accessories sales, value-added CBD activities, and retail spaces, High Tide has managed to diversify itself within the cannabis value chain. We strongly believe Boreal Cannabis is in capable hands, and will continue to unlock value for not only shareholders, but our customers through competitive pricing and a customer-centric approach,' said Glenn Boisvert, Chief Executive Officer of Boreal."
Select M&A/New Subsidiary Highlights:
Security/Exchange Highlights:
Select New Additions to CRB Monitor:
| | | | |
| --- | --- | --- | --- |
| Name | Ticker Symbol | CRBM Tier | CRBM Cannabis Sector (CLS) |
| | | Tier 1B | Owner/Investor |
| | | Tier 3 | Media & Publishing |
| | | Tier 1B | Owner/Investor |
| | | Tier 1B | Owner/Investor |
| | | Tier 2 | SPAC |
Cannabis News: Regulatory Updates
We continued to monitor the regulatory news cycle in April in real time, and in spite of some obvious distractions (economic woes/impending Fed action, Russia/Ukraine conflict, the imminent 2022 midterms) there was cannabis-related regulatory news to report.
An April survey published by CBS News found that approximately two-thirds of Americans favor full legalization of cannabis. According to the article, "Nearly all who support legalization under state law, also support it under federal law, and vice versa. In fact legal recreational marijuana gets the same level of support whether the question is posed about the state level or federal level, suggesting the jurisdiction may not matter much to people." This is consistent with surveys that have been conducted in recent years, which should undoubtedly make the lack of progress on legalization in congress frustrating for most Americans.
In an excerpt from our March 2022 Newsletter: "Facing a sharp divide along party lines, legislators continued to soldier on, led by Senate Majority Leader Chuck Schumer (D-NY) as well as (mostly Democratic) members of the House of Representatives. Most of this activity involves two critical pieces of legislation: The Marijuana Opportunity Reinvestment and Expungement (MORE) Act and the Secure and Fair Enforcement (SAFE) Banking Act. "
The good news for proponents of legalization is that the MORE Act passed in the House of Representatives in April; however, the bad news is that the margin was a narrow 220-204, which suggests that any future legislation would likely fail if Republicans regain the majority in 2023.
And to add insult to injury, a 50-50 Senate would likely kill any legalization bill (including the MORE Act) that comes its way. According to a recent article in the Missouri Independent, "The American electorate, most elected Democrats and a handful of Republicans are largely in favor of legalizing cannabis. But an evenly split Senate continues to stand in the way of legislative efforts." And a recent article in the Hill echoes these concerns, and cites opposition from Democrats: "Schumer also faces a tall task in unifying (sic) Democrats on a path forward to legalization, as a few in his party have continued to express reservations about recreational marijuana…Sen. Joe Manchin (D-W.Va.), a key centrist, told The Hill he is 'very much supportive of medical marijuana,' though he still has concerns 'about legalizing recreational marijuana.'"
With all that said, we will continue to monitor progress at the Federal level and perhaps there will be a surprise by the end of 2022, but we will not hold our collective breath!
Now for some state-level news. In Pennsylvania, House lawmakers filed a companion bill to a Senate-passed measure in April that would provide banking protections and tax relief for marijuana businesses while the US Federal Government fails to pass their version of banking reform known as the SAFE Banking Act (see above.)
According to an article in Marijuana Moment: "The Senate version was amended as it moved through the body before final passage. Both bills would provide state-level protections to banks and insurers that work with medical cannabis businesses in the state, but the newer House bill also contains a provision concerning tax credit eligibility for the market that was removed from the Senate measure in committee…The language is meant to address a key challenge that cannabis companies face under federal prohibition. Currently, despite being required to pay federal taxes, businesses that work with controlled substances like marijuana are prohibited from making tax deductions that are available in other traditional industries. The restriction is due to an Internal Revenue Service code known as 280E."
The bill has now made its way to the Pennsylvania House of Representatives, which has not voted on it yet.
Meanwhile, the State Legislature in Louisiana approved a medical marijuana expansion bill (HB566) In committee in April. If passed, this law would shift authority over medical marijuana and more importantly, would expand cultivation in the state. This bill, which appears to be driven almost exclusively by missed revenue opportunities, would also remove the limit of two production licenses in the state, which are held exclusively by the agricultural centers at Louisiana State University and Southern University.
An article in Marijuana Moment quotes Gary Chambers, a candidate for the U.S. Senate, regarding the revenue potential of increased licenses in the State of Louisiana: "We are missing out on golden opportunities in this state to build a gateway to better roads, bridges and schools and this committee has the capacity to help us expand that industry."
Another marijuana bill sponsored by Rep. Joe Marino (I), HB 135, to allow the sale of medical marijuana to certain qualifying out-of-state patients also cleared the full Louisiana House in April with a vote of 72-22.
Finally, in late April Kansas lawmakers from both chambers started discussing a path forward for medical marijuana legalization in the state.SB 560, the medical marijuana regulation act to regulate the cultivation, processing, distribution, sale and use of medical marijuana, is being discussed along with a similar bill, HB 158. The overlapping provisions of these two bills read like medical marijuana legislation in many states (caps on THC content and individual purchase amount, provisions for taxation, administration of the program, etc.). According to the language of the bill: "The bill calls for five different license types: cultivators, processors, laboratories, distributors and retailers. People would be rendered ineligible for a medical marijuana licenses if they've been convicted of a felony, unless that conviction was expunged at least 10 years before the application is submitted."
Cannabis-linked Equity Performance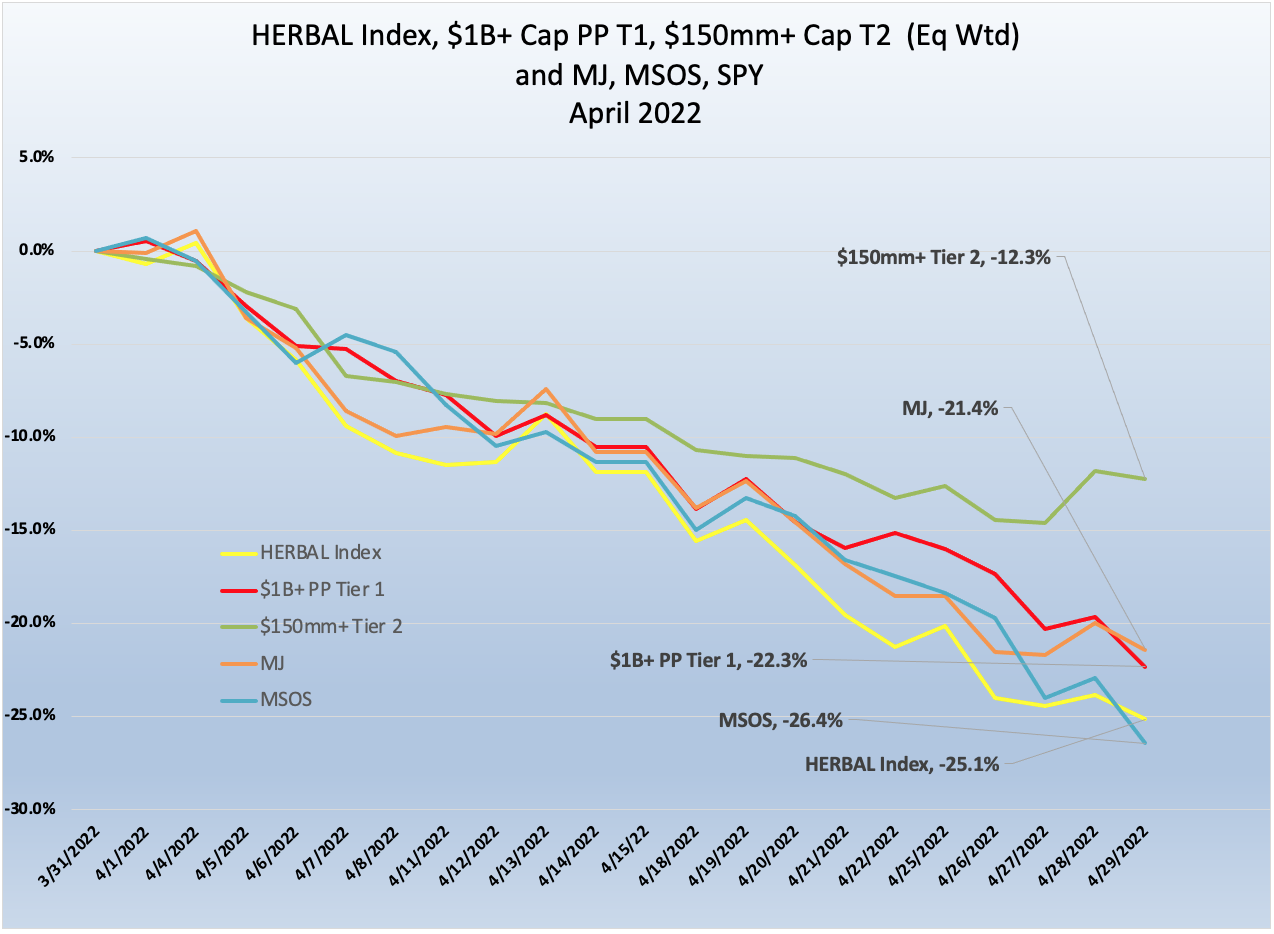 Source: CRB Monitor, Sentieo, Nasdaq
Cannabis-Themed Index Returns
The Nasdaq CRB Monitor Global Cannabis Index (HERBAL), is a mix of Pure Play Tier 1 and Tier 2 equities, weighted by both investability and strength of theme. A good representation of the pure play cannabis industry, HERBAL was down 25.1% for the month of April. HERBAL's performance was consistent with other cannabis-themed vehicles, like ETFMG Alternative Harvest ETF (NYSE Arca: MJ), whose performance (-21.4%) was dampened by holding 20% in non-pure play CRBs and MSO-heavy Advisorshares Pure Us Cannabis ETF (NYSE: MSOS) which lost -26.6% for the month of April.
The CRB Monitor equally-weighted basket of Pure Play Tier 1 CRBs with $1b+ market cap lost 22.3% in April 2022. Performance was helped by investor optimism related to progress toward federal legalization in the US House of Representatives, but was tempered by the returns of several MSOs.
The CRB Monitor equally-weighted basket of Tier 2 CRBs with $150mm+ market cap struggled in April as well, falling by 12.3%. Pure Play Tier 1 and Tier 2 CRBs tend to display high correlation in the long term, but their respective performance has a tendency to diverge in the short term, given the occasional lag from the impact (positive or negative) of market forces.
Tier 1 Pure Play CRBs w/Mkt Cap Over $1B – April 2022 Returns


Source: CRB Monitor, Sentieo
CRB Monitor Tier 1
Sadly, Cannabis equities had no reasons to celebrate in April. What happened? After an optimistic March, where investors had positive vibes from congressional action on SAFE Banking and the MORE Act, equities took a nose dive. What factors might have caused the Tier 1 performance chart to look like a double black diamond trail?
Once again we will take a look at the always-fascinating Tilray Brands, Inc. (Nasdaq: TLRY), which fell apart (-35.9%) following two months of positive performance (+25% for February-March). This came in spite of a respectable 3rd Quarter earnings report, in which Tilray reported its 12th consecutive quarter of positive EBITDA as well as a 23% increase in revenue (to $152 million) and 31% increase in gross profit (to $39.8 million). Investors must have believed that these numbers were baked into the previous two months' performance, as they apparently took their money and headed for the hills. Tilray, which effectively has no US marijuana touch points (except for Medmen warrants, where share ownership is conditional upon US legalization), would presumably derive much less benefit from US legalization than CRBs that operate in the States. Now that TLRY's price has fallen by about 70% over the last 12 months, is it time to jump in? Feel free to ponder this question and take a look at our recent blog: Cannabis Equities: Is This the Right Time To Invest?.
Tier 1 CRBs in the same Canadian boat with Tilray include Cronos Group Inc. (TSX: CRON) (-20.3%), Canopy Growth Corporation (TSX: WEED) (-20.8%), and Aurora Cannabis Inc. (TSX: ACB) (-24.2%). Like Tilray, their benefit from US legalization of cannabis will likely be dampened by the fact that they lack any direct, licensed subsidiaries in the United States; however, we view legalization as one factor among many that have an impact on share price.
At the risk of sounding repetitious, Jazz Pharmaceuticals plc (Nasdaq: JAZZ) has had recent performance that is quite un-CRB-like (see the chart above). There are a few reasons for this. As we wrote in last month's newsletter, Jazz Pharma is "the a global biopharmaceutical company that acquired 100% of CBD giant GW Pharmaceutical (GWPH) in early 2021. As you might recall, GWPH is the manufacturer of Epidiolex, the only cannabis product in the world that is FDA-approved. As such, JAZZ's stock price is less sensitive to the legalization news cycle, which is clear from the performance chart." It is also worth noting that Epidiolex is not Jazz Pharma's only product, and this diversification across product lines is also a factor in share performance. [It is also important to note that CRB Monitor will be reviewing Jazz Pharma's current status as a Pure Play Tier 1 CRB in the next few months.]
Finally, the Tier 1 MSO group had its struggles as well, as investors chose to escape any further pain and fled the scene in early April. Apparently no one was safe this time around, as large household names in Tier 1, like Verano Holdings Corp. (CSE: VRNO) (-18.3%), Green Thumb Industries Inc. (CSE: GTII) (-23.4%), Trulieve Cannabis Corp. (CSE: TRUL) (-29.6%), and Curaleaf Holdings, Inc. (CSE: CURA) (-16.8%) all collapsed under the weight of global inflation and political gridlock. Even Cresco Labs Inc. (CSE: CL) (-24.6%), fresh off the announcement of it's acquisition of Columbia Care Inc. (CSE: CCHW), joined the downward spiral.
Tier 2 CRBs w/Mkt Cap Over $110mm – April 2022 Returns

CRB Monitor Tier 2
An equally-weighted basket of the largest CRB Monitor Tier 2 companies had a negative 12.3% return for April 2022, which outperformed the equally-weighted Tier 1 basket by 10%, which was a reversal from the recent 3 month's relative returns. When these two portfolios deviate, it could be a signal for investors to rebalance into (out of) the Tier 1 basket and out of (into) Tier 2's given the direct revenue relationship, but the time it takes to mean revert is not so easy to predict. One unfortunate phenomenon was are seeing from April is that the largest Tier 2 companies by market cap had the most dismal returns (see table above); hence, a capitalization-weighted Tier 2 basket would have had a return that was much closer to the Tier 1 basket.
Innovative Industrial Properties, Inc. (NYSE: IIPR), the largest Tier 2 CRB by market capitalization, continued its 2022 downward spiral, falling 29.6% in April and now -44.1% YTD. What could be happening? A mid-April report by Blue Orca Capital (which recommends a short position in IIPR) highlights several reasons why investors should view IIPR as overvalued. Reasons include: impairments due to tenant default, alleged illicit activity by tenants, and anxiety over falling CRB share prices and potential cash flow shortages. Given IIPR's disposition of being fully embedded in the US Marijuana space (particularly cultivation), their price sensitivity to these issues is understandable. One observation from the report: "…we think IIPR is more akin to a high-risk cannabis bank, providing de facto loans to cannabis companies in exchange for long term leases. This is significant, as a book of loans to cannabis companies should not trade at the same book multiple or yield as real estate assets." If this were a reality regarding IIPR's business model, then the price compression would be understandable. With all that said, we will continue to monitor IIPR as 2022 plays out.
Tier 2 Forian Inc. (Nasdaq: FORA), a provider of technology services primarily to companies in the cannabis industry, all but collapsed upon itself in April, down 51%. Service providers to the cannabis industry are vital to the ecosystem, but given their specific risk they will always be highly sensitive to the sector's overall health.
Finally, Hydrofarm Holdings Group, Inc. (Nasdaq: HYFM), continued its downward slide with its stock price falling more than 37% in April and now down more than 66% YTD. Hydrofarm manufactures and distributes hydroponics products such as lighting equipment, climate control devices, garden accessories, and other related products, to cannabis cultivators. As we reported in March: HYFM's stock has not recovered from a dismal Q4 earnings report, in which they reported an $11mm net loss, in spite of an increase in sales over the quarter. Similar to Forian, Hydrofarm serves a narrow customer base, in this case cannabis cultivators, and they will feel every ounce of pain when the cannabis industry takes a hit like it has in 2022.
CRBs In the News
The following is a sampling of highlights from the April 2022 cannabis news cycle, as tracked by CRB Monitor. Included are CRB Monitor's proprietary Risk Tiers.
Wondering what a Tier 1, Tier 2 or Tier 3 CRB is?

See our seminal ACAMS Today white paper Defining "Marijuana-Related Business" and its update Defining "Cannabis-Related Business"