This week, Delaware became the 22nd state to allow recreational, adult-use marijuana as Gov. John Carney let a pair of bills become law without his signature.

HB 1, which removes all penalties for possession and use of up to 1 ounce of marijuana for adults 21 and older, took effect Sunday, 10 days after it was delivered to the governor by the general assembly. The Delaware Marijuana Control Act (HB 2), which establishes a legal framework for the cultivation and distribution of marijuana, became law Thursday.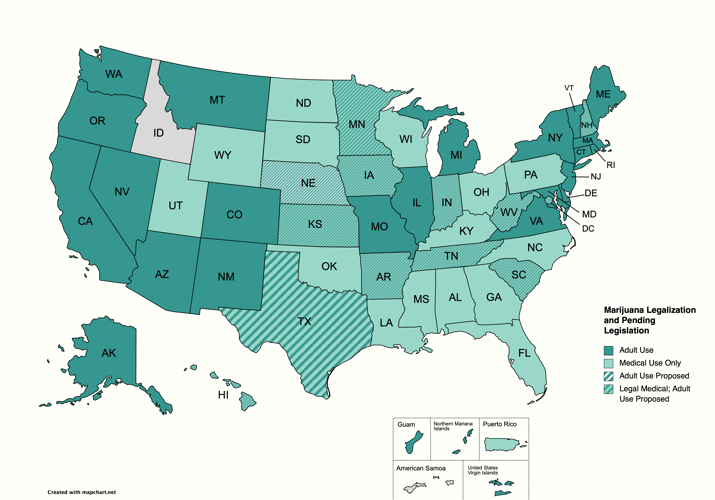 Map includes states with low-THC access for medical use. Some states have multiple legalization bills pending. Color indicates highest use proposed. Map created using mapchart.net.
The outcome wasn't surprising. Carney vetoed similar legislation last year and remained reticent about legalizing marijuana. However, more than two-thirds of the general assembly voted for the bills, and 60% of Delawareans support legal adult use, according to Rep. Ed Osienski, sponsor of the bills.

"I want to be clear that my views on this issue have not changed. And I understand there are those who share my views who will be disappointed in my decision not to veto this legislation," Carney said in a statement.

"I came to this decision because I believe we've spent far too much time focused on this issue, when Delawareans face more serious and pressing concerns every day. It's time to move on," he continued.

Osienski said in a statement, "I understand the governor's personal opposition to legalization, so I especially appreciate him listening to the thousands of residents who support this effort and allowing it to become law. I am committed to working with the administration to ensure that the effort to establish the regulatory process goes as smoothly as possible."

The Marijuana Control Act sets up a system to regulate marijuana similar to alcohol. A new Marijuana Control Act Oversight Committee will coordinate the implementation of this act with the existing Medical Marijuana Program and work with the Division of Alcohol and Tobacco Enforcement regarding enforcement policies.

Licenses will be available for retail, testing, manufacturing and cultivation facilities, with $5,000 application fees. Most retail, testing and manufacturing facilities will have a $10,000 biennial license fee. Cultivation license fees will be based upon canopy size, ranging from $2,500 to $10,000 biennially. There will also be social equity and microbusiness licenses available with discounted application and licensing fees. The commissioner shall begin issuing licenses in 14 months.

The act imposes a 15% sales tax on recreational sales, but not for medical use.
Minnesota legalization may be next
Meanwhile, in Minnesota, adult-use legalization bills are moving their way through the state legislature. HF 100 was passed by the state assembly April 25, while its companion, SF 73, reportedly was headed to the Senate floor this week. However, there will likely be reconciliation between the two bills regarding city and county control and other amendments. The legislature has until May 22 to vote on a final bill.

The act would allow for personal use, possession, cultivation and transport by people 21 and older. It would also establish an Office of Cannabis Management and provide for the licensing, inspection and regulation of cannabis and hemp businesses.

On April 20, Minnesota Gov. Tim Walz tweeted his support of the act. "Minnesotans are ready to legalize adult-use cannabis and expunge cannabis convictions in Minnesota," he wrote. "I'm ready to sign it into law."
SAFE Act revived
On the federal level, the cannabis banking safe-harbor proposal known as the SAFE Banking Act was reintroduced in the U.S. Senate and House on Wednesday by a bipartisan group of lawmakers with new hopes for passage this year after being narrowly defeated at the end of last year. The twin bills have 38 co-sponsors in the Senate, including five Republicans and independent Kyrsten Sinema, and 10 co-sponsors in the House, including four Republicans.
The newly introduced bills are stripped-down versions of last year's SAFE Plus legislation, which included late amendments related to criminal record expungement and social justice that some blamed for siphoning off Republican support at the last moment, leading to its defeat. The new bills focus on banking reform only, but they do include additional language expanding the safe harbor to federally-insured home mortgage lenders, Community Development Financial Institutions, and Minority Depository Institutions that make commercial loans to minority-owned businesses, according to a report in Marijuana Moment.
The bill's supporters say that 59 senators have indicated they would vote for the bill, including every Democrat, leaving them in pursuit of one more Republican vote to clear the chamber. Chances in the Republican-controlled House are less certain, where a number of representatives have already introduced related reform bills aimed at criminal justice, social equity and gun ownership that could condemn the bill to the same fate as 2022's SAFE Plus legislation.
Louisiana legislature kills adult-use as medical market doubles
Despite a quickly expanding market for medical marijuana in the state, Louisiana's Republicans in the state House Criminal Justice Committee voted to kill a Democratic proposal to legalize cannabis for adult use on Tuesday. The 9-5 committee defeat likely ends any effort this year to have Louisiana join the 22 other states that have legalized cannabis for non-medical use.
-- Maria Brosnan Liebel, CRB Monitor News